If you've been following my blog for a while, you'd know I'm a huge Isekai anime fan. I've watched a ton of anime in this genre and I still can't get enough of it. I know there are going to be people like me who crave more of this isekai awesomeness. So in this post, I'm going to recommend some of the most underrated isekai anime series of all time.
Why underrated? Because I don't want to make a list of the obviously popular isekai anime like Re:Zero or That Time I Got Reincarnated as A Slime. You've probably already watched them, and there are several other lists on the internet that include them. Which is why in this article, I'll be listing the ones that are not so mainstream but actually good.
What is an Isekai Anime?
Firstly, for those who don't know, let me explain what an isekai anime is. "Isekai" is a Japanese word which means "another world". It is probably the biggest new anime genre introduced in the last decade. Anime in this genre features the story of the main protagonist who gets swept away into another world, usually one filled with magic.
Why Is Isekai Anime Popular?
This theme really strikes a chord with most viewers who are unhappy with their lives. Most of the main characters in isekai anime lead a stressful, unsatisfying life until they are teleported to another world. In the new world, they flip over their lives and live a free, happy, and adventurous life.
This setting makes so much sense for watchers who are unsatisfied with their lives and are waiting for a chance to get a better life. So watching such isekai series acts as fodder for this kind of craving to start over one's life.
Now that we are done with the explanation, let's jump into the list of the underrated isekai anime series that you will love!
Underrated Isekai Anime Where The MC Is Stuck In A Game
This is the most popular isekai genre of all time. Famous titles like, Sword Art Online, Overlord and several other mainstream anime series fall into this category.
| | | |
| --- | --- | --- |
| Name | Seasons | Episodes |
| Digimon Adventure | 1 | 54 |
| Log Horizon | 3 | 62 |
| My Next Life as a Villainess: All Routes Lead to Doom! | 2 | 24 |
| The Bears Bear a Bare Kuma | 1 | 12 |
| Death March to the parallel world Rhapsody | 1 | 12 |
Death March to the parallel world Rhapsody
Death March is an isekai anime with a harem where a game developer is mysteriously transported into the game world he developed. As soon as he arrives, he is surrounded by enemies, forcing him to use a random spell that obliterates them and raises his level exponentially.
Now he hides his powers and works as a trader in a nearby town.
This anime lacks many of the badass, overpowered moments. Because the main protagonist wants to hide his power.
The Bears Bear a Bare Kuma
The Bears Bear a Bare Kuma is another great, but underrated isekai anime in the slice of life genre.
A rich teen girl becomes addicted to VR as she has nothing else to do in life. One day, she gets a special gift-bear equipment for playing the game for a huge amount of time. This gear set has the highest buffs.
She also gets to explore a new world that other players haven't seen yet. But the catch is that she can't log out either. However, she didn't care about it because she despised her reality anyway.
In this new world, her cute bear costume and superpowers make her instantly famous.
This anime tells the story of an overpowered "kuma" girl who flips the power balance in the new world in an instant!
---
Related >> Best Slow Life Isekai Anime Recommendations For You!
---
My Next Life as a Villainess: All Routes Lead to Doom!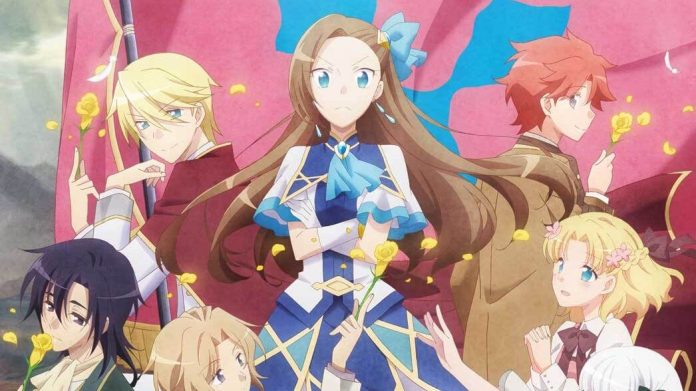 Here we have an underrated isekai romance-harem anime series. The main character of My Next Life As A Villainess is a girl who mysteriously teleports inside her favourite dating simulation game. The plot twist is that she has been reincarnated as the game's villain.
She knows the villain will either die or live a horrible life after a certain period of time because of her gaming experience. Knowing the plot points where the villainess' life will crumble, she is determined to take steps to avoid them and survive!
However, her personality makes her a favourite among a harem of boys and girls. Everyone is in love with her, but she is blind to it.
This anime is a wholesome series where you get to see the main character win everybody's hearts unknowingly. It is a fun anime and is recommended for people who don't look for action or adventure in their anime.
---
Related >> 13 Best Romance Manga that will make you feel all warm and fuzzy inside!
---
Log Horizon
With the latest Elder Tale update, 30,000 Japanese players are unable to log out.
In a world where people are panicking, Shiroe, a veteran player, master strategist, and college student, is off to explore the world.
He then forms a new government with his friends and other veteran players to keep order in this strange land.
Log Horizon is an Isekai anime that combines fantasy, adventure, and politics and produces an ultimate fictional story.
Digimon Adventure
Digimon was one of the first isekai animes ever released. However, it goes under the radar for most people because it is a kid's anime. Yes, it is meant for kids and it does have a child-friendly themes like "power of friendship" and all, but it is still a decent watch when it comes to the isekai genre. That said, it is a fact that the plot gets repetitive and boring with time. So at the end of the day, it really depends on you whether you'll like this kind of show or not.
Digimon is basically about the adventure of the "chosen children" in the digital world. They are required to solve mysteries in the digital world in order to save the real world from being destroyed. With the weight of the world on their shoulders, the children must team up with good digimon and defeat the impending evil.
This anime has a sequel but I'm not gonna consider them because the main character changes on the second season. Other than that, there are like, 10 movie sequels for this anime.
---
Related >> Popular Kids Anime for both Parents and Children
---
Underrated Isekai Anime Where The MC Is Summoned Into Another World
Name
Seasons
Episodes
Rising Of The Shield Hero
2
38
Mairimashita Iruma-kun
2
44
GATE
2
24
Restaurant to Another World
2
24
I'm standing on 1,000,000 lives.
2
24
How a Realist Hero Rebuilt the Kingdom
1
(2 parts)
26
Cautious Hero
1
12
Arifureta: From Commonplace to World's Strongest
2
25
Tsukimichi Moonlit Fantasy
1
12
The Dungeon of Black Company
1
12
Kemono Michi
1
12
Tsubasa Reservoir Chronicle
2
56
Princess Connect Re dive
2
25
Banished from the Hero's Party, I Decided to Live a Quiet Life in the Countryside
1
13
Problem Children are Coming from Another World, aren't they?
1
10
Problem Children are Coming from Another World, aren't they?
One day, a few of the most juvenile delinquent kids got a mysterious envelope that transported them into a fantasy world. Among them is Izayoi, our main character. His strength sets him apart from. Boredom drives him to defeat a few gods. Yes, he is THAT powerful. All he craves is a good fight.
They were all called to another world to stop the evil and save the world (cliched, I know.)
Banished from the Hero's Party, I Decided to Live a Quiet Life in the Countryside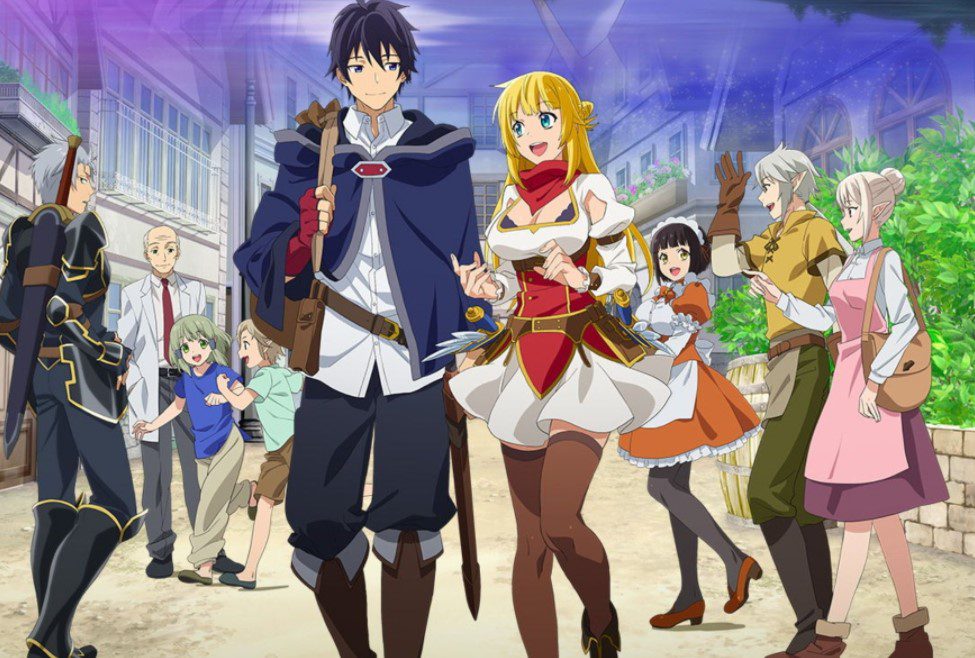 As the title implies, the main character is expelled from the hero's party. His coworker calls him too weak to be in the hero's party and continues to belittle him. Recognizing his own limitations, the MC leaves the party.
So ended his adventures to save the world. But now, he has a new life ahead of him. Away from the ruckus of the world, he chose to live in a small village at the very end of the world.
He opens a pharmacy, helps the villagers, and lives simply. But trouble comes crawling, and he must defend everything he holds dear.
Princess Connect Re dive
Let me be honest, Princess connect Re:Dive's MC is bland and boring. This anime's main character is simplistic, but that is a calculated design by the author. Usually, isekai authors give the MC a weak character so that the viewers can see themselves as the MC and experience the world in his shoes.
The MC also can't speak for a good part of the show. But that doesn't stop this anime from being a good isekai anime. Because this show is centered around the girls who form a party with the main character.
This anime is mostly about the characters' eating and having fun. However, there are many hidden mysteries and evils that they reveal every now and then. But in Princess Connect Re:Dive 1 is the ideal anime for slice of life fans!
Tsubasa Reservoir Chronicle
This is one of the oldest isekai anime there is, yet not many talks or knows about this show. This anime was made in the mid 2000's and has average animation, and very less bgm. But if these are not a problem for you, then you can give this truly underrated isekai anime a shot.
While I've listed it in isekai anime where MC is summoned to a new world, that is not what happens in this anime. Rather, the MC's party willingly travels from one universe to another, one isekai world to another. Why? Because each of the member in the party has their own agenda, but they travel together and support each other.
If you keep an open mind, keeping your inner critique locked away, then you will actually find its story beautiful.
One other interesting fact about this anime is that it is related to the xxxHolic anime, as a few of the characters are common in both shows.
Kemono Michi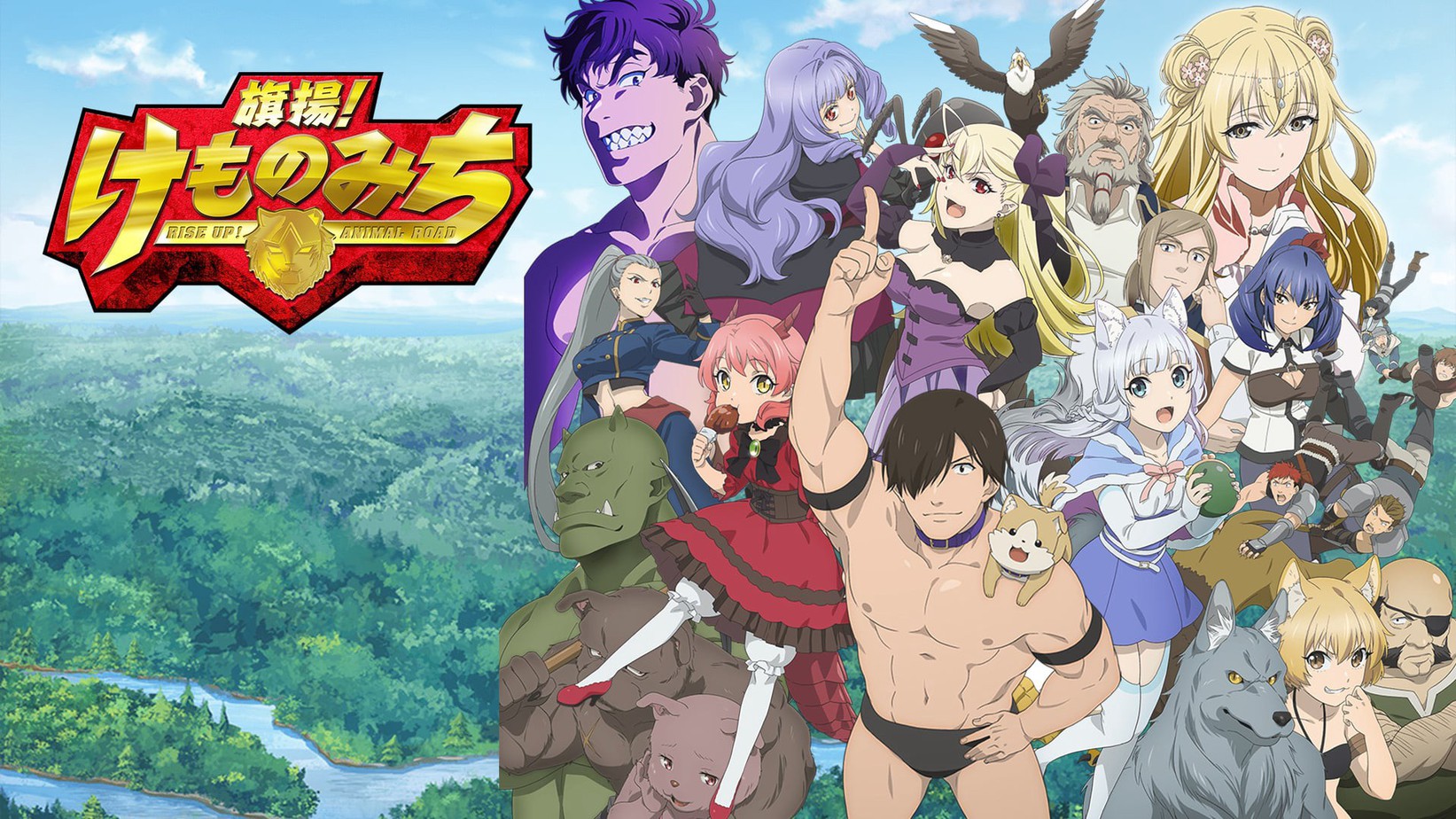 Kemono Michi is about a pro wrestler who is transported into a fantasy world. He was supposed to defeat the demon lord. But he had other ideas.
The role of a hero is to slay demon beasts and kill the demon lord in order to protect mankind. However, the main character is obsessed with animals. Believing that demon beasts are similar to animals on Earth (except these are far more deadly), he can only see them as cute creatures. So he couldn't think of slaying demons. Therefore, he ignores the princess's request to kill them and keeps collecting demons to open a pet store.
The Dungeon of Black Company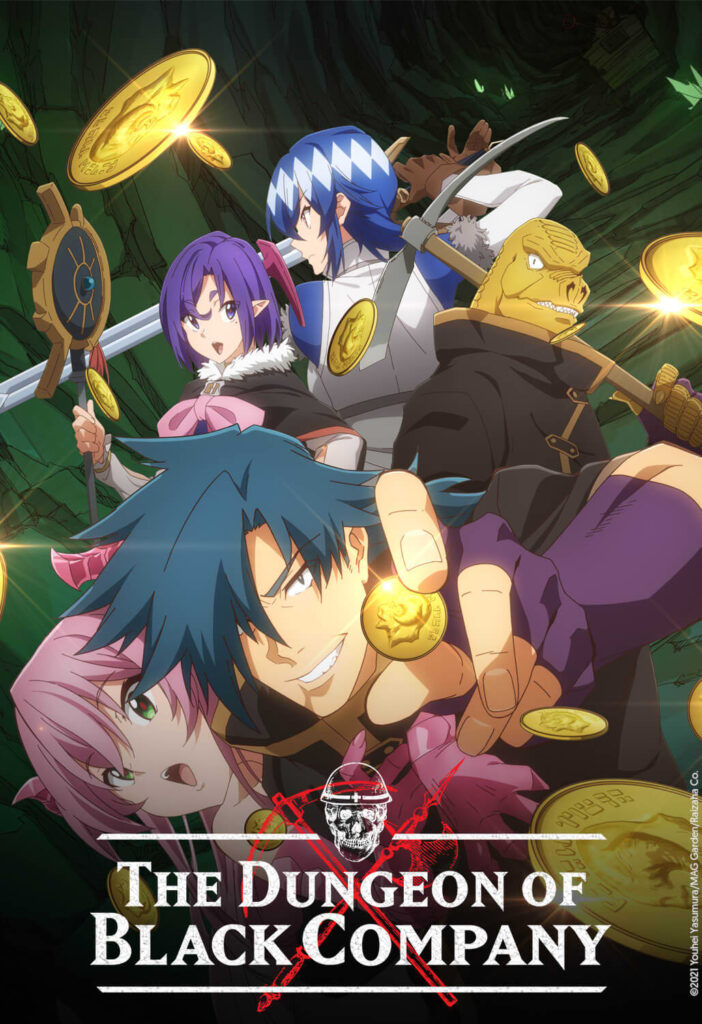 This is an underrated isekai anime about a NEET who has finally become a rich man in real life is mystically summoned into a fantasy world. All his hard work to climb up to the highest point in society was all shattered as he had to work in a mine to earn a living in the isekai world.
However, as a NEET, all he desires is to make a living without any physical labor and be his own boss. Therefore, he starts a mining company with the help of dungeon monsters and rivals the company that was abusing him for low pay. Now, the war between these two companies to take each other down begins.
Tsukimichi Moonlit Fantasy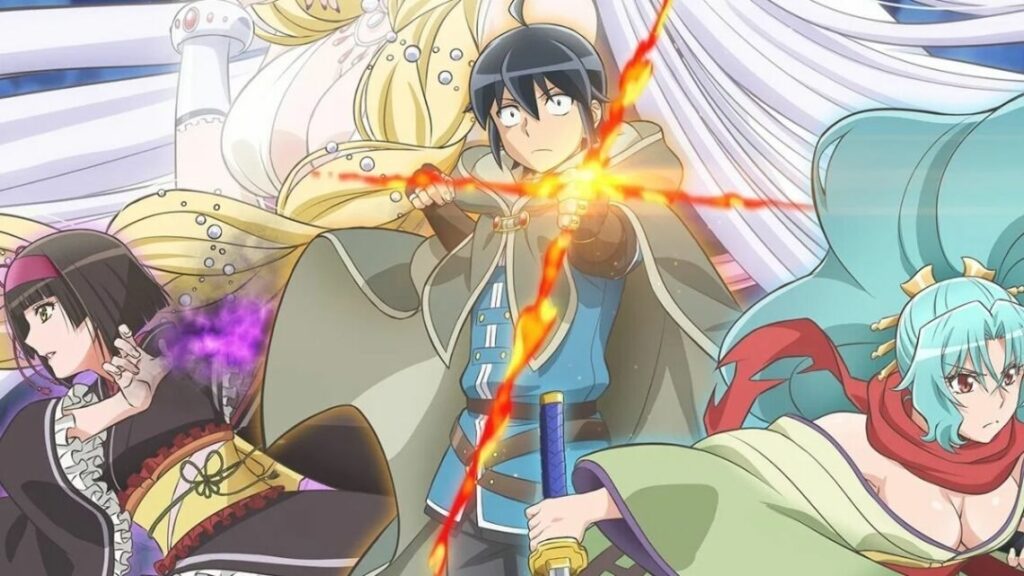 A new world is opened up to the MC in Tsuki Ga Michibiku Isekai Douchu when he is summoned there by a goddess.
Unlike most other anime in the isekai genre, the main character is not a "hero" and is not tasked with defeating the demon lord.
In fact, the goddess of the new world hates him (because he looks ugly) and casts him to the world's darkest corner, where only monsters live.
It is the story of how he survives the odds and becomes the ruler of a nation of monsters, all the while forming connections on the human continent.
---
Related >> Everything You Need To Know About Tsukimichi Moonlit Fantasy
---
Arifureta

Hajme is betrayed and left for dead in a dungeon after being summoned with his classmates to a fantasy world. Initially, he was shy and normal. But the betrayal changed his personality.
To survive in the dungeon, he ate monsters and inherited their powers. He becomes the only known man with monster powers. He also saves a vampire girl who was also betrayed and trapped in the dungeon's deepest floor on his way out and partners up with her.
This is the story of how a betrayed couple rises above the world and lives freely, true to themselves.
Cautious Hero
In Cautious Hero, the main character is summoned to another world to save it, just like in every other isekai anime. This is a common setup in this genre, after all.
The MC is overly cautious despite his overwhelming abilities. He has several backup plans and only fights when he is certain he will dominate.
He even obliterates the enemy's bodies, leaving only their bones, just in case.
This is a great anime with a fantastic story.
How a Realist Hero Rebuilt the Kingdom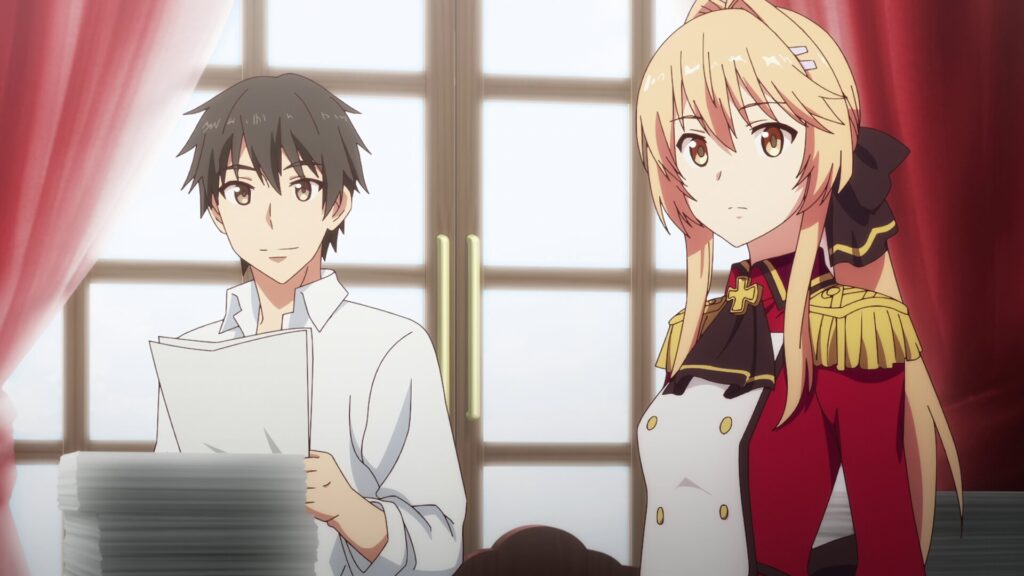 This is one of the few underrated isekai anime with a non OP MC. The main character in this anime is a smart guy who is tasked with rebuilding a kingdom that almost went bankrupt.
Not only that, he also had to safeguard the kingdom from other human kingdoms as well as demons.
It is so satisfying to watch him reform the entire governing body and implement new strategies in order to save the kingdom. A must watch was isekai lovers.
I'm standing on 1,000,000 lives.
The title of this anime sounds super dark and interesting, and the anime actually lives up to the expectation. Just like any other average isekai anime, the MC and his schoolmates are randomly summoned into a fantasy world by a mysterious, faceless being who could be none other than God.
They were given quests by this God and they had to complete them in order to go back to their original world. Not only that, they can also get a new skill or profession for finishing these quests.
Now, the main character has to complete quests in the fantasy world, help the people living there, and ultimately save his original world from impending doom.
This anime could get unexpectedly dark, so it might not be something everyone will like, but I can assure you that this show will keep you on the edge of your seat!
Restaurant to Another World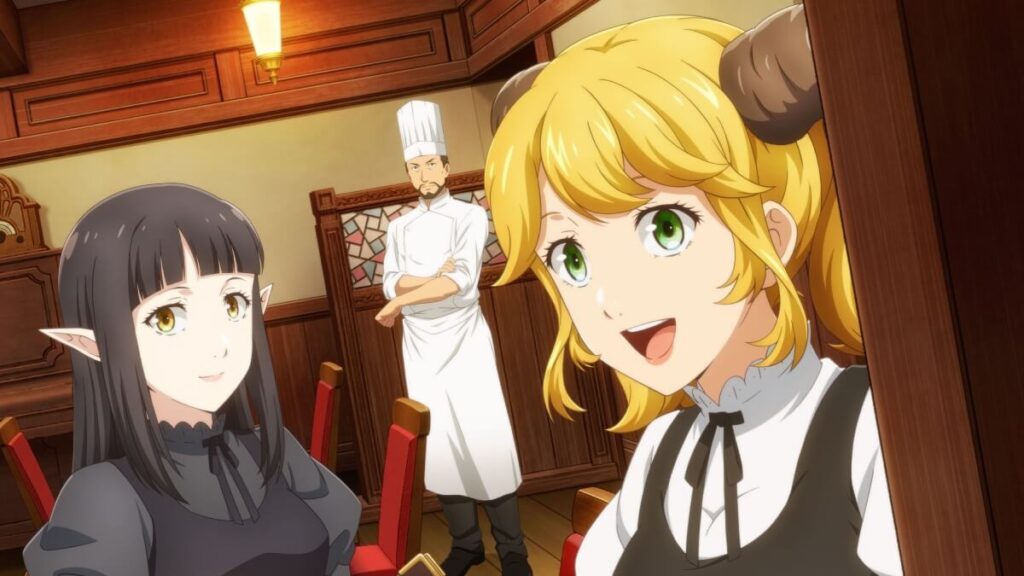 Isekai Shokudou – The Dinner to Another Universe is a slow-paced, relaxing isekai anime with little action or adventure in the narrative or plot. But don't get me wrong, it is still a great anime if you want to watch a feel-good isekai anime.
Nekoya is a popular western restaurant that the main character owns. He is also the only chef at this restaurant. Every seven days, a "Nekoya" door appears in various isekai locations.
People from other worlds discover this restaurant and become regular customers, enjoying the modern world's pleasures. From the other world's royal members of the human kingdom to monster races, everyone enjoys the delicious food that the MC makes, which is quite satisfying to watch.
Gate
While Gate is an isekai anime, the MC is not "summoned" into another world. Rather, he is a part of the Earth's army that invades and explores another world. But this is such a good show that I absolutely wanted this title on this list.
A large, gate-shaped, mysterious portal appears in Japan, allowing beings from another dimension to invade.
Youji Itami, a defense force officer and Otaku on his way to a doujin convention, acted quickly to save as many people as possible from this sudden invasion.
The Japanese military repelled the primitive invaders who only used swords and shields and took control of the other dimension's gate.
Three months after the attack, Youji has been assigned to lead a JSDF task force to the world beyond the gate, dubbed the "Special Region."
What mysteries lie beyond the gate?
Mairimashita Iruma-kun
If you like anime with magic schools, this is the anime for you. The main character of this underrated isekai anime is a human boy named "Iruma" who is brought to the demon world after being adopted by a devil. It's hard for Iruma to be known as a human in the world of demons because humans are only seen as delicious, mythical creatures that are supposed to be their food. Since he is a normal person, he doesn't have any magic powers, unlike other students in his demon academy. However, he used a magical ring that the devil gave him and accidentally became the strongest "demon" in the school. Not only that, he could also be the next demon lord, too!
Rising Of The Shield Hero
Now, The rising of the shield hero might not be an underrated isekai anime, but it is not mainstream either (at the time of writing this list), so I'm adding it to the list.
The main character of this anime, Naofumi Iwatani, is reading a book in the library when he gets pulled into a fantasy world.
His role was to be one of the "four cardinal heroes," and he was called in as the "shield hero." The heroes are the only thing that can help that world fight off the monsters from other worlds.
Even though he is a "hero," Nafumi is betrayed by the king and the princess who summoned him. The princess frames him for false assault, and the entire kingdom begins to despise him, making his life a living hell.
Despite that, Nafumi has to level up, become stronger, fight monsters, and find a way to make money in order to continue living in this strange land, so that one day he can find a way to return to his original world.
Underrated Isekai Anime Where The MC Is Reincarnated Into Another World
Name
Seasons
Episodes
Mushoku Tensei: Jobless Reincarnation
1
(2 parts)
23
So I'm a spider, so what?
1
24
Ascendance of a Bookworm
2
26
By the Grace of the Gods
1
12
The World's Finest Assassin Gets Reincarnated in Another World as an Aristocrat
1
12
The Faraway Paladin
1
12
Grimgar fantasy and ash
1
12
Saga Of Tanya The Evil
1 Season &
1 Movie
12
Knight's & Magic
1
13
Wise Man's Grandchild
1
12
In another world with my smartphone
1
12
I've Been Killing Slimes for 300 Years and Maxed Out My Level
1
12
Cheat Pharmacist's Slow Life: Making a Drugstore in Another World
1
12
Cheat Pharmacist's Slow Life: Making a Drugstore in Another World
Reiji, a corporate slave, was transported to another world one day. He started making potions that worked better than the existing ones and didn't taste like crap. The  potion maker, Reiji, now lives outside the village, running his own pharmacy.
This is a peaceful isekai anime with plenty of waifus to keep it interesting. Over all, this show is a pretty chill fantasy slice of life anime with a comforting story, decent animation, and a good amount of comedy.
I've Been Killing Slimes for 300 Years and Maxed Out My Level
The main character of this underrated slice of life isekai anime died of overwork as an office worker. However, after her death, she was reincarnated in another world filled with magic! Due to the hard and stressful times she had in her previous life, she wanted to take it easy and relax in her new life.
This anime belongs to a new category of anime called the 'slow life isekai' genre. As the title implies, the main character of this anime lives for 300 years, killing slime, the weakest monster in the world, on a daily basis for money.
She was also an immortal, by chance. So she relaxes and lives her life as she pleases. She makes new friends, helps others, and becomes a local legend.
In another world with my smartphone
This is another isekai, ecchi, and harem anime where the main character is killed accidentally on Earth. However, he was transported to a fantasy world.
The main protagonist was mistakenly killed by God, and he offered him to take anything from his world to his reincarnation world as apology.
To make amends for his premature death, he is also granted superhuman powers.
I have to warn you that this anime has a handful of fanservice scenes, so watch this show when you're alone!
---
Related >> Top 10 Ecchi, Harem Anime You Must Watch!
---
Wise Man's Grandchild
Merlin Wolford was once a national hero in Earlshide, praised for his power and achievements. However, h e prefers a quiet life and spends his time raising an orphan he saved. This orphan is actually a  normal salaryman from modern-day Japan, Shin, who has been reincarnated into Merlin's world while keeping his memories. Shin grows in talent in both magic and martial arts, much to Merlin's delight.
However, Shin has no social skills, no common sense, and a mediocre sense of responsibility. Because of this he is sent to a magic school.  Amidst the kingdom's Magic Academy, Shin grows up with other teens.But, living a normal life is impossible because he becomes a local celebrity almost immediately.
Knight's & Magic
Knights and Magic is an underrated isekai anime where the main character dies and is reborn in the magical Fremmevilla Kingdom. The Silhouette Knights are tasked with keeping the Kingdom's wild beasts in check. In the new world, our protagonist is a nobleman endowed with magical powers.
So he enrolls in Royal Laihaila Academy to hone his magical skills and master the Silhouette Knights. He even decides to make his own Silhouette Knight, something that hasn't been done in centuries.
Saga Of Tanya The Evil
Like what it says in the title, the main character of this isekai anime is evil. That is, more self centered and doesn't care about others. This anime is about a salaryman who dies and gets reincarnated as a little girl in a fantasy world. This world isn't beautiful or fun. It is always in a battle with other nations.
Not only that, but the MC has declared war on the God that reincarnated him as a girl in this chaotic world. The being that calls itself God acknowledges his/her disbelief and forces Tanya into difficult wars, hoping she'd one day stop resisting and start believing in God. Now she has to fight every day as a military soldier and fight with other countries in order to live and defeat God.
Grimgar fantasy and ash
Grimgar fantasy and ash is a short, 12 episode long, underrated isekai anime that I think is a masterpiece. Usually, the main characters in such shows are overpowered, or at least intelligent. However, in this anime, the main characters are not very strong, nor very intellectual. I adore the realism that they've brought into a fantasy anime.
The main cast struggles to survive in an unknown world filled with monsters. Being realistic as it is, this anime also has times when some important characters die.
The Faraway Paladin
The Faraway Paladin is an isekai anime that I think is super underrated. This is probably a reincarnation isekai anime, as the MC remembers his past life. However, the reincarnation itself has not been explicitly shown or mentioned in the show.
This is another dark anime where the world is at the mercy of demons and other monsters. The main character is a human raised by three such human-turned-monsters. His undead family taught him everything about the world, the gods and money. He was also taught how to sword fight and use magic.
However, there comes a time when he has to leave his home and travel to find other humans. This is where the story truly begins.
The World's Finest Assassin Gets Reincarnated in Another World as an Aristocrat
Lugh was a man who was about to stop being an assassin, but he was betrayed by the same group he had worked for his whole life. After he died, he met the goddess and agreed to kill the hero of the world he was about to be reincarnated into. He was born into a family of assassins in the new fantasy world, and he trains day in and day out in order to kill the hero who will appear in another 18 years. He also learns the assassination tricks in the new world that uses magic as a weapon.
By the Grace of the Gods
Among all the underrated slice of life isekai anime series, this one is my favorite! The MC is reincarnated into a fantasy world after being killed by overwork in his previous life in By the Grace of the Gods.
After his death, the gods reincarnate him in another world, bringing unused mana from Earth with him. As a child reincarnated in this fantasy world, the protagonist spends three years alone in the woods, learning about the new world and taming slime monsters.
One day, he meets and saves a royal family member and becomes involved with the outside world. From there, the MC becomes an adventurer, goes on adventures, and eventually starts his own business with the help of slime in order to make a living on his own.
Ascendance of a Bookworm
At first glance, this anime might seem like a peaceful isekai anime about trading and crafting. But don't be fooled. The second half of this anime is full of exciting, high-paced events. To put it simply, this show manages to create a perfect plot which is interesting through and through.
A bookshelf kills the anime's main character in the real world. Soon after, she awoke in a child's body in another world. She gets to start over in her life, but this time she has the memories from her old life. The MC learns to read and write as she was a huge bookworm. However, to her surprise, books don't exist widely in this new world.
The isekai world lacked technology and didn't even have paper yet. So the main character takes up the task of inventing new technology in this world and eventually creating her beloved books. She also starts a business selling her previous life's knowledge.
What's more, this anime has a magical and fantasy side, which only makes it even better.
So I'm a spider, so what?
So I'm a spider, so what? is one of the most brutal and darkest isekai anime there is. In this anime, the main character has to kill tens of thousands of monsters and humans in order to survive.
Unlike any other normal anime, the main character of this anime is reincarnated as a spider in a dungeon.
Right from the moment she hatched from her egg, danger was at her doorstep. She has to survive the harsh dungeon where everything wants to eat her. Not only that, humans of that world treat monsters as danger and want to get rid of them all. Our main character also has to deal with the dungeon raiders and save herself.
This anime will keep you on the edge of your seat and make you want to binge watch the entire season in one sitting! It is that good!
Mushoku Tensei: Jobless Reincarnation
Mushoku Tensei is probably the most popular isekai anime that was released in 2022. But I still feel that it is underrated because it is not as mainstream as the other series in the same genre.
This story follows a shut-in man who dies and gets reincarnated in a magical world. Here he gets a second chance to relive his childhood life, but with the memories and intellect of his past life. He diligently learns magic and travels across the land on a job. However, he gets stuck in the middle of a magical disaster and gets thrown off to the farthest end of the planet. Now he has to find his way back home, and search for his family.
---
Related >> Mushoku Tensei – The Anime That Will Make Isekai Great Again
---
That's it for this post! These were some of the underrated isekai anime series. Hope you found something new to watch!
If you liked this article, consider hitting the bell icon in the bottom corner to subscribe to post notifications!