With the popularity of anime all around the world, we've been seeing a huge boom in the cosplay industry. From displaying them at anime cons to cosplaying just for fun, things only get more interesting. So that's why we've covered a list of a total of 15 best anime cosplay ideas that you can try in order to look unique.
Whether you want to impress everyone at an anime con or you're just trying to do it as a hobby, you can replicate the following 15 cosplays in order to look totally unique and different from the rest.
Tanjiro from Demon Slayer
Cosplay Link: https://www.instagram.com/p/CQcgiBsh7-F/
Cosplayer: @kintraku (Instagram) 
Unique Aspect: Crazy cool visuals, Cosplay editing services 
The first unique cosplay on our list is from kintraku on Instagram. When you look at the beautiful cosplay, you're enchanted by the beauty of the editing that he provides. What's amazing is that Kintraku is not only a cosplayer, but he's also a cosplay editor. So, if you want cool looking effects and animations on your cosplays, make sure to follow and reach out to him!
Overall, the cosplay looks amazing, and a lot of Kintraku's cosplays have unique animations that have been made by a lot of unique editing. It features Tanjiro from Demon Slayer along with his water breathing style. What makes this cosplay unique is the visual effects and the transition of poses that Kintraku has crafted. Truly a work of art.
Yor Forger from Spy x Family
Cosplay Link: https://www.instagram.com/p/CgyM-6DvyP6/
Cosplayer: @yut_maau (Instagram) 
Unique Aspect: Great quality, on-point cosplay items 
The next one is as beautiful as it gets. Starting with Yor Forger, who is in her usual attire with an unusual mask. Of course, she's in her killer pose, ready to attack her opponents. What makes this unique is that the cosplayer has the right clothes, hairstyle, and overall getup, which makes all the fans fall for her. In both images, the cosplay is so on point that it looks like Yor from the anime has been reincarnated into the real human world. How's that for a spin-off series?
Well, if you want to look cute and different in any upcoming events, Yor Forger's cosplay will be great since she's become quite popular in the recent months of Spy x Family's release.
Lena from 86
Cosplay Link: https://www.instagram.com/p/CbmiL70rpAu/
Cosplayer: @mizukii.cos (Instagram) 
Unique Aspect: Aesthetically pleasing 
86 got popular for one and only reason. And that reason is the main female character named Lena. Well, this cosplayer has done an amazing job of portraying Lena, and the overall setting just resembles what she's all about. The white background and high-quality cosplay material just make you want to say "wow."
And due to the fan following of Lena and the accuracy of this cosplay, the cosplayer nailed it. There aren't a lot of words other than "perfect" that come to mind when looking at this flawless cosplay.
Makima from Chainsaw Man 
Cosplay Link: https://www.instagram.com/p/CbIro-DqZaD/
Cosplayer: @mk_ays (Instagram) 
Unique Aspect: Mind-blowing accurate
Makima has always been a little bit of a baddie, so it's quite hard to mimic her in a cosplay. Well, this cosplayer, who goes by the name of Ays, is known for making some of the most fire cosplays on Instagram. However, with this one, she totally nailed it. The main reason that it is so good is that her sitting post really asserts the dominance pose and it is full of confidence.
And with such accurate hair along with the easy to replicate attire, you should try out Makima's anime cosplay if you want to look different from the rest of the otakus.
Gojo from Jujutsu Kaisen
Cosplay Link: https://www.instagram.com/p/CgZ2GJqPaAP/
Cosplayer: @seiif_cosplay (Instagram) 
Unique Aspect: High-quality, accurate, flawless
Gojo has been slaying from day one. But in my opinion, this cosplay slayed the whole persona of Gojo. So, a lot of otakus have been saying that 2D waifus and husbandos are better than 3D. Well, looking at this cosplay will surely change your mind. Firstly, look at the amount of effort our friend has made in making the best possible cosplay.
Secondly, if you're a Gojo fan and you scroll through the cosplayer's feed, you will most certainly fall in love with this cosplay due to the fact that it's so well done. So if you want to assert dominance in an anime con, Gojo is one of the best choices you should go with.
Also Read >> All Dio Poses From JoJo's Bizarre Adventure
Marin from My Dress Up Darling
Cosplay Link: https://www.instagram.com/p/ChE52qDOjTJ/
Cosplayer: @elisheva_cosplay (Instagram) 
Unique Aspect: Cute, accurate and on-point
My Dress Up Darling has been one of the most successful series due to Marin, and this cosplay just slayed it with her Marin-like confidence and a beautiful pose that captured everyone's hearts. All you need is a blond wig, really good makeup skills, and high-quality clothes in order to replicate it. So if you want to look like Marin at an anime con, I'd say that's a really good choice.
This Marin cosplay is also quite cute, so if you're into cute stuff, Marin is probably the best choice you can go with. Not only will this cosplay be relevant since the anime is new, but it will also blow everyone's minds with its cuteness.
Roxy from Mushoku Tensei
Cosplay Link: https://www.instagram.com/p/CgU3R8KNJvn/
Cosplayer: @thala_lol (Instagram) 
Unique Aspect: Realistic cosplay items, awesome photography
Roxy has been prone to a lot of controversies, but in a good way for the fans. This is one of the cutest cosplays on our list thanks to the flawless cosplayer and the visual effects. The cosplayer is holding Roxy's staff, which is glowing with light. It just screams cuteness, and every Mushoku Tensei fanboy or fangirl will be head over heels for this cosplay.
Another thing to mention is that the photography in this cosplay is professional and it just looks pleasing to the eyes.
Sasuke from Naruto Shippuden
Cosplay Link: https://www.instagram.com/p/CegbAn1uy-u/
Cosplayer: @txcosart (Instagram) 
Unique Aspect: Very high-quality
Sasuke always has an emo-ish vibe, and this cosplayer just killed it when it came to mimicking Sasuke's whole persona. I mean, just look at the photo and tell me a single difference that you see. From the attire, hairstyle, eyes, to the expressions, everything looks similar to Sasuke when he was finally ready to take revenge.
If you want to cosplay a memorable anime character, nothing is more reliable than cosplaying Sasuke Uchiha from Naruto.
Also Read >> Most POWERFUL Susanoo Users In Naruto, Ranked
Yumeko Jabami from Kakegurui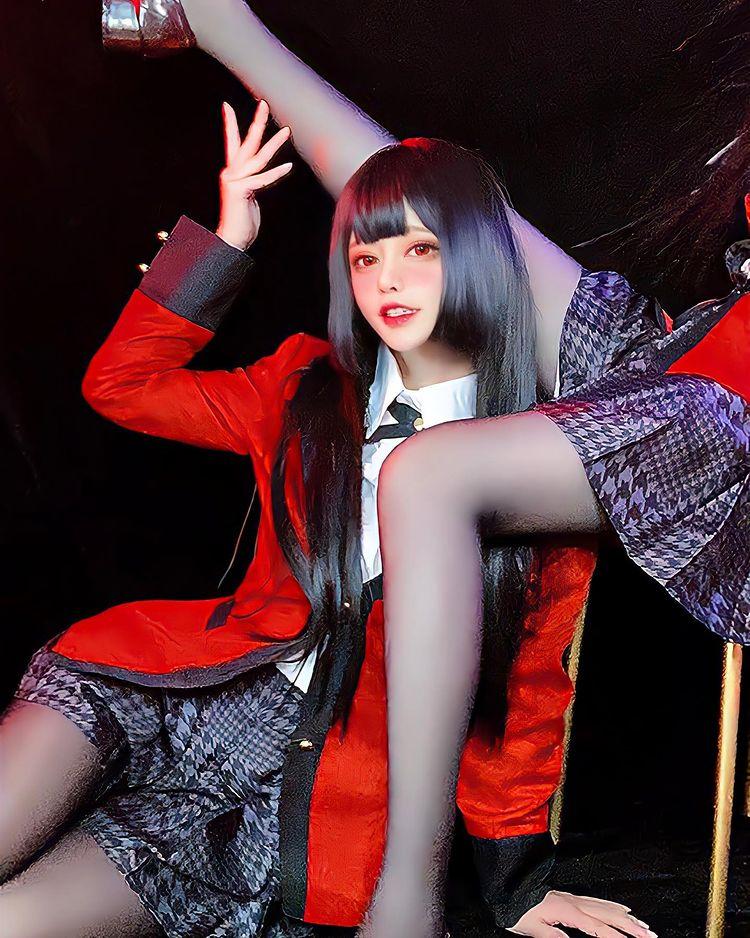 Cosplay Link: https://www.instagram.com/p/CfdGbILrASJ/
Cosplayer: @asu48515ss (Instagram) 
Unique Aspect: Great photography, realistic cosplay of the anime character.
Much like Makima, Yumeko Jabami's cosplay isn't something everyone can handle. It requires a specific badass personality, and this cosplayer nailed it with every single aspect of being Yumeko. Firstly, just look at the hair and how well they look. Secondly, the photography looks amazing. And lastly, the whole expression on the cosplayer's face reminds us of Yumeko thanks to the keen level of dedication that was put in to make this cosplay come to life.
If Yumeko was real, she would probably look like our cosplayer named Asu.
Albedo from Overlord
Cosplay Link: https://www.instagram.com/p/CXtLqT8v0PF/
Cosplayer: @genko_cosplay (Instagram) 
Unique Aspect: Amazing quality, anime-accurate cosplay
Albedo is easily one of the most fan-favorite characters overall. This is due to her overall persona, beauty, and freaking personality that everyone is attracted to. Even the main character cannot keep his composure when Albedo starts to tease him.
Well, this might be one of the best Albedo cosplays of all time since Genko put so much work and effort into crafting one. The cosplay material looks especially premium, so if you have the budget to afford something this premium, you should surely go for it!
Asuka from Evangelion
Cosplay Link: https://www.instagram.com/p/Cg57SOahKTQ/
Cosplayer: @_qs95_ (Instagram) 
Unique Aspect: Simplistic but powerful 
If you think Evangelion has the hardest cosplay to replicate, just look at how brilliantly this cosplayer has done her job. Firstly, the whole attire is fire, but with the prop in her hand, her cosplay looks even better.
So if you're someone who likes to cosplay anime characters with swords, shields, or their main powers, it's not that difficult to buy or make a prop. But it will surely ten fold the amount of respect people will have for your cosplay. This Asuka cosplay is just perfection. 
Hinata from Haikyuu
Cosplay Link: https://www.instagram.com/p/CaxtykjPD90/
Cosplayer: @chickenbonk (Instagram) 
Unique Aspect: Anime accurate, great photography 
A lot of people underestimate Haikyuu's fanbase. Just because an anime is a sport doesn't mean people don't enjoy it. On the contrary, Haikyuu has made things special for all the volleyball lovers, and every otaku thinks about Haikyuu the first thing when they hear the word "volleyball". Well, this cosplayer has done an amazing job of crafting some of the best Hinata cosplays from the Haikyuu anime.
So if you want to show your athletic side, all you need to do is to buy the relevant cosplay clothes and a wig, and you're good to go. Don't forget to show your jumping and explosive powers to the fans out there!
Baki from Baki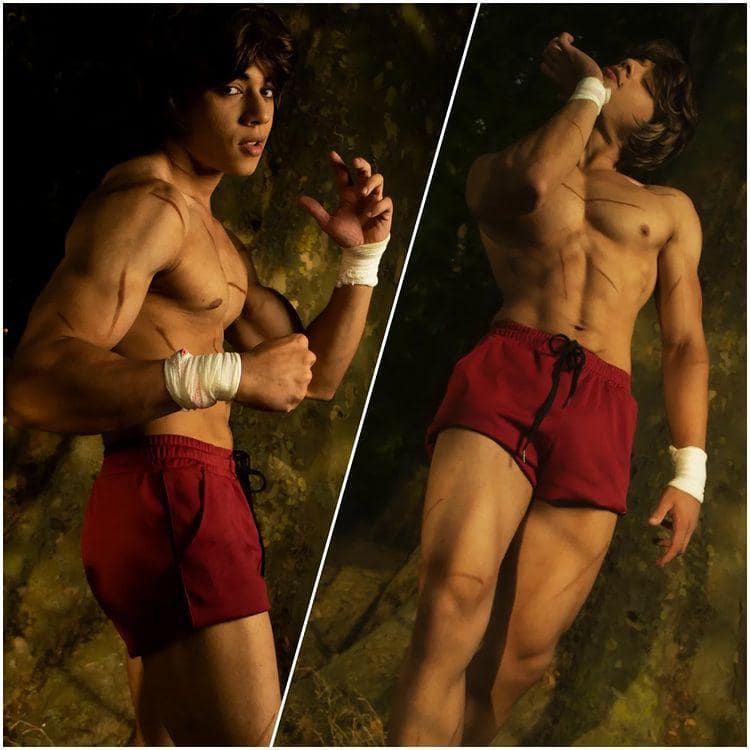 Cosplay Link: https://www.instagram.com/p/CgsAlklL5q0/
Cosplayer: @zeku_zilla (Instagram) 
Unique Aspect: Simplistic, accurate, great shape 
For all the fitness enthusiasts out there, Zeku Zilla has a special treat for you. This cosplay looks more real than Baki from the Baki series. Just look at the badass expression of the cosplayer coupled up with her sheer shredded but buffed physique. This is a state of art cosplay that you're going to see. 
Zac has probably the most ideal MMA style physique to not only look badass but handsome and similar to Baki. So if you have a shredded physique, you can do any cosplay. From Baki to any JoJo character, it's all up to you!
Hyakkimaru from Dororo
Cosplay Link: https://www.instagram.com/p/BvcpDX9n5w3/
Cosplayer: @zumiii_zhr (Instagram) 
Unique Aspect: Aesthetically pleasing, looks real 
Hyakkimaru is a character that maybe hasn't said a word for like 20 episodes and was still popular enough to make on many character polls. Zumi has done an amazing cosplay which really took our hearts and melted them down due to the sheer quality and details added to it.
The makeup is insane and the cosplay looks like he's an isekai version of Hyakkimaru who got transferred into the human world. The photography is also insane, and overall, this is my personal favorite cosplay due to the sheer amount of effort and an anime-native feel added to it.
All in all, if you're a makeup expert, then Hyakkimaru cosplay will make sure to amaze every single otaku out there.
Tatsumaki from One Punch Man
Cosplay Link: https://www.instagram.com/p/CdBZ2MFjdUw/
Cosplayer: @owllit (Instagram)
Unique Aspect: Amazing visuals
The S-Class badass but somehow cute-looking superhero, Tatsumaki, has always been a fan favorite for a variety of reasons. While we won't go deep into the One Punch Man lore, let's just talk about how flawless this particular cosplay is. Especially if you consider the background and the overall color selection, it's amazing. Now, if you look at the actual cosplay, she's done an amazing job of overall portraying Tatsumaki's personality, and she nailed it when it comes to anime-oriented clothes.
So if you're someone who loves Tatsumaki and wants to gain a lot of fans at an anime con, then you know Tatsumaki is the way to go.
Related >> Female Characters In One Punch Man – 20+ Beautiful Girls From The Hit Manga
Final Verdict
All of the aforementioned cosplays are wonderful, and they each have a unique aspect and an interesting side to them. These cosplays are fairly easy to do but will still require a considerable amount of time and effort to set up. So if you're passionate, you should definitely try cosplay since it's something every otaku dreams of. So why not just do it? Moreover, if you're interested in getting your cosplays edited, you should check out Kintraku's Instagram.