Do you like anime lolis? Of course, right? They're small and cute, and they have an adorable personality.
As you might already know, age is not the only factor that is considered for a character to be "loli". As long as a female anime character has an underdeveloped body, a.k.a. a child-like appearance, she can be counted as a loli. The male counterpart of this term is "shota," which is out of the scope of this article, but I'm just putting it out there.
With that out of the way, let's jump into the listing of the cutest things we've ever seen in our lives!
Note: I've compiled my list of the cutest anime loli characters that I know, and so it is very possible that your favorite girl might be missing. If so, make sure to mention her in the comment section below and show your unending appreciation for her.
So let's begin the listing! (in no particular order)
17+ Cutest anime lolis who are just too adorable
Anya Forger
Kanna Komui
Nadeshiko Kagamihara
Yui Hirasawa
Taiga Aisaka
The Platelets
Nanachi
Rem
O-Tama
Levy McGarden
Rikka Takanashi
Kaede Azusagawa
Senko-san
Mio Akiyama
Yoshino
Fuko Ibuki
Shinobu Oshino
Filo
1. Anya Forger, the Trending Anime Loli
Anime – Spy x Family
Anya Forger is the newest addition to the cute anime loli gang who is extremely popular among fans.
She is a peanut loving, hyperactive child who is also a psychic. She has the ability to read minds, but she keeps it a secret.
Anya believes that if her foster parents find out about her ability they will abandon her.
What makes Anya the most loved child character in anime is obviously her personality. She is sometimes witty, but most of the times dumb and does hilarious things.
Recommended >> 10+ Best Spy X Family Characters That We All Love
2. Kanna Komui
Anime – Miss Kobayashi's Dragon Maid
Kanna is a young dragon with a "gothic loli tribal theme" dressing style. She was banished from her world (temporarily) as a consequence of her pranks.
Having nowhere to go, she stays at Kobayashi's place after finding that  Tohru, a fellow dragon, was living there.
I believe we can all agree that Kanna is the kawaiiest of all the anime girls. Whenever you search for "cute anime lolis" you'll 100% find her there.
3. Nadeshiko Kagamihara
Anime – Yuru Camp
Nadeshiko is a totally moe girl who came to love camping ever since she had her first encounter with Rin Shima, a solo camper.
She has a more active and energetic personality, however she acts like a grandma at times (which is most definitely cute.)
4. Yui Hirasawa – The very definition of Moe
Anime – K-on!
Moe = K-on! What else can I say? This anime has a lot of moe-ness and the one who stands at the top of all the other cute characters in that anime is Yui.
Yui is one of the main protagonists of K-on! She plays the role of Lead Guitarist and Vocalist in the music band called 'After school tea time'.
She has a fun seeking, cheerful personality.
5. Taiga Aisaka, the Best Legal Loli In Anime + A Tsundere!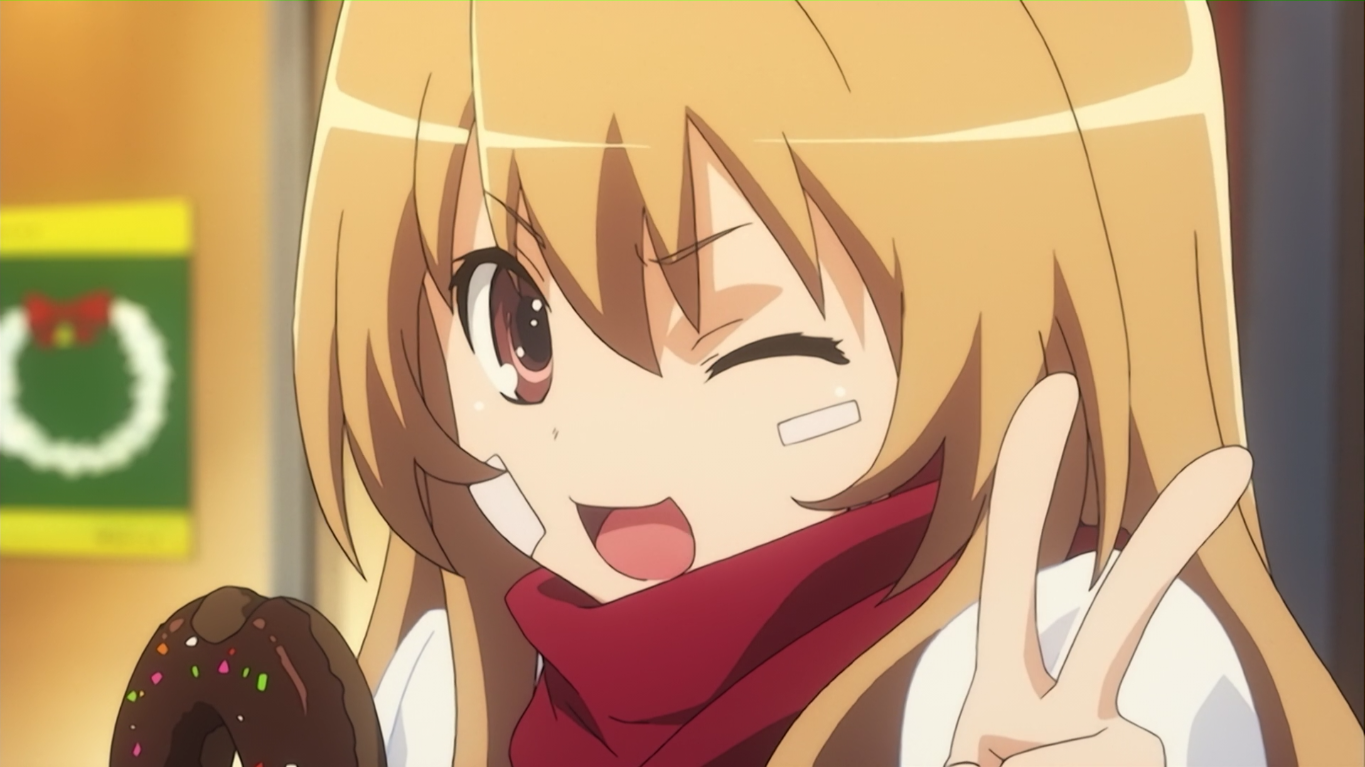 Anime – Toradora!
Taiga is infamously known as the "palmtop tiger" because of her short height and here short temper. She is the very definition of Tsundere showing extreme mood swings.
Although she might be seen as an extremely tough character in the beginning, she shows her sweet and weak side as the show progresses.
6. The Platelets
Anime – Cells at Work!
Children are always cute and charming. That's probably why most of the characters in this list are characters below the legal age.
Platelet is a minor loli character in Cells at Work! Her responsibility is to heal injuries and form blood clots to stop bleeding. She is small, polite and innocent with a strong leadership quality.
7. Nanachi, the Cutest Monster Loli in Anime
Anime – Made in Abyss
After surviving the curse of the 6th layer, her body gets deformed into a rabbit-like form.
Nanachi has a vast knowledge of the abyss as a result of being stuck there for a long time. She is a medicine expert too.
8. Beatrice
Anime – Re:zero
Beatrice is the very definition of a cute gothic loli. She is without a doubt one of the best girls from Re:zero.
She is one of Echidna's servants and belongs to the Oni (demon) race.
After being saved by Subaru, she falls in love with him and stays by his side and becomes very devoted to him, even though he rejects her saying that he loves Emilia. After that, she understood there are more ways to love a person and started looking after Subaru like a mother would.
9. O-Tama
Anime – One Piece
O-Tama belongs to the Wano kingdom which is overrun by one of the four emperors of the sea called Kaido.
Despite being in a state of turmoil she puts on a cheerful demeanor and cares for Luffy who saved her from Kaido's henchmen.
Recommended >> 30+ Most Popular Female Characters From One Piece
10. Levy McGarden – small and cute anime loli
Anime – Fairy Tail
Levy is the member of the Fairy Tail guild who loves reading. She has a cheerful, upbeat, and easy going personality. She is also a very kind and forgiving person as she forgave Gajeel Redfox even though he tortured her and her teammates. Levy is a tiny and cute anime girl who'll make your heart skip a beat with her cuteness.
11. Rikka Takanashi
Anime – Chūnibyō Demo Koi ga Shitai!
Rikka is a cute anime loli who always wears an eye patch. Chunibyou a.k.a Middle school (8th grader) syndrome patient. She believes that she is a sorceress who is possessed by the "Tyrant's Eye" that will reveal destinies. And if anybody sees her eyes, it will be considered as signing a contract with her. So, she wears a medical eye-patch over her right eye to seal her "Tyrant's Eye".
12. Kaede Azusagawa – The sweet sister character
Anime – Rascal does not dream of Bunny girl senpai
After being bullied online, she is smitten by the adolescence syndrome which makes her to lose her memories.
She then becomes a shut-in who lives with her brother, Sakuta. She develops a completely new and cute personality after her memory loss, becoming the kawaii imotou character we all know and love.
13. Senko – Motherly + Legal Loli
Anime – The Helpful Fox Senko-san
Senko is a 800 year old Kitsune fox girl – a fox demigod, probably the oldest of all the other anime lolis in this list. One day she appeared at Kuroto's house claiming that she had come to pamper him to his heart's content.
She often describes herself as the wife-mother of Kuroto, which is a perfect description of her role in caring for him. Senko-san is the best anime girl in terms of care and affection.
Recommended >> Kitsune Girls: Top 10 Cutest Fox Girl Waifus In Anime
14. Mio Akiyama
Anime – K-on!
Mio is another member of the After School Tea Time band. She is mature, calm and collected but gets easily scared by gross or gory things. She is also extremely shy. Just imagining herself being the center of attention made her faint.
15. Yoshino – Kawaii loli with split personality
Anime – Data a Live
She has two personalities: Yoshino and Yoshinon. As Yoshino she is extremely shy and delicate, but the kindest at the same time. As Yoshinon she is outspoken and bold.
Whenever she wears a puppet she becomes her alter ego, Yoshinon. But if she isn't with her puppet she becomes extremely fragile and nervous.
16. Fuko Ibuki – Weirdest of all the cute anime lolis in this list
Anime – Clannad
Fuko is an oddball. She is always alone, carving wooden starfish, which she gives out as presents to random people.
Whenever someone reminds her about starfish, she completely loses her grip on reality and keeps grinning daydreaming about starfish. Despite all this, it's super cute to see her clumsy personality.
She also refers to herself as "Fuko" instead of saying "I" or "me." 
17. Shinobu Oshino
Anime – Monogatari series
Unlike other anime lolis mentioned in this list Shinobu is not always a loli. That is, her appearance can also change to that of an adult woman.
Shinobu was originally a human princess named Rola. She was cursed so that everyone who comes close to her will commit suicide.
She then meets a purebred vampire that turns her into a vampire.
A while later, after losing most of her powers she became emotionless and literally did nothing, other than sitting in the same spot with her hands clasping her knees.
But she reverted to her old cheerful, condescending personality after regaining her powers.
18. Filo – bird loli
Anime – The Rising Of The Shield Hero
Filo, another cute loli, is a member of the Shield hero's party. She was bought as an egg at the slave trader's place.
Due to her association with Naofumi she grew into the Filolial Queen (The queen of her species/race.)
She has a very playful and energetic personality and shows great love for her master Naofumi.
So that's it! These were some of the best, kawaii anime girls to ever exist. Hope you liked it. Before you go, make sure to hit the bell icon in the bottom right corner to subscribe for post notifications.
Buh-Bye!!