Do you like to see sports anime where the characters push themselves beyond their limits to rise as the best of the best? Do you like to see them putting their blood, sweat, and tears into a single thing that they're living for?
If so, get ready to binge watch, because here's a list of the best sports anime that'd satisfy your craving!
Over the years, we have been getting more and more amazing anime series that focus on sports. From the most common ones like soccer and baseball to more obscure ones like shogi and ballroom dancing, we have anime in all sports genres.
List of the greatest Sports anime you must watch
Here is a list of all the sports anime that we think are worth watching. We loved it, so there's a good chance you will love it as well.
The animes are not listed in any particular order, but we've added the MyAnimeList scores of each and every anime on this list. It should help you identify the anime that fans loved more.
Alright, here we go—these are the 30+ anime that we recommend!
Blue Lock
Free
Sk8 the Infinity
Keijo
Kengan Ashura
Ping Pong The Animation
Welcome To The Ballroom
One Outs
Yowamushi Pedal
Hoshiai no Sora
Inazuma Eleven
Ahiru no Sora
Clean Freak! Aoyama Kun
Days
Hinomaruzumou
Major
Shakunetsu Kabaddi
Beyblade
Ryman's Club
Rifle Is Beautiful
Capeta
Tiger Mask W
Ultimate Muscle
Kings Avatar
Birdie Wing: Golf Girls' Story
Hajime no Ippo
Haikyuu!!
March comes in like a lion
Kuroko no Basket
Yuri!!! On Ice
Diamond no Ace
Megalo Box
Prince Of Tennis
Uma musume: Pretty Derby
All Out!!
Blue Lock
Sport: Football
Rating: 8.29
Seasons: 1
Aired: 2022-2023
Where To Watch: Netflix, Crunchyroll
Blue Lock is an ongoing anime series that started airing in fall 2022. It has an unrelenting hype among fans because of its amazing story and characters.
Not many sports anime have gotten the same hype as Blue Lock because many anime watchers don't show any interest in sports anime. However, this anime blew all the dogma away.
This is a story about a Japanese football team that aims to be the best in the game. Each member of the team is highly competitive and quirky, so there's never a dull moment in this show.
Free!
Free! One of the best man-service animes Being a swimming-themed anime with tons of hot boys, this anime offers the best male fanservice.
Haruka, Makoto, Nagisa, and Rin were close friends who loved swimming. They won an elementary school relay. They put the trophy in a time capsule to recover when they're older.
Rin moved to Australia to become a professional swimmer and Olympic champion. The other three eventually separated.
Haruko, Makoto, and Nagisa reconnect in high school. After reminiscing, they dig out the time capsule and meet Rin.
Rin challenges the three to a prefectural tournament swim.
The three buddies form a swim club with a classmate and Rin's sister as manager to prove him incorrect. Can they defeat Rin, the best-trained swimmer they ever knew?
Sk8 the Infinity
Sport: Skating
Rating: 8.03
Seasons: 1
Aired: 2021
Where To Watch: Crunchyroll
Skating took way too long to be considered an actual sport. However, the true beauty of skating is the freedom and swagger of the skaters. This is beautifully shown in SK8: The Infinity.
From amazing animation to amusing characters, SK8: The Infinity has it all. The story is about a red-haired guy who is madly in love with skating. However, he doesn't have any experience skating. He only has a ton of experience creating skateboards.
On the other hand, we have our white-haired guy, who is a natural at skating. These two form a wonderful team as they challenge the big guys in their sports.
Keijo
Sport: Keijo (fantasy sport)
Rating: 6.93
Seasons: 1
Aired: 2016
Where To Watch: Crunchyroll
This is a really unique anime that mixes sports and ecchi successfully. "Keijo" is a fantasy sport that allows only girls to participate.
The girls have to knock off their opponents only using their ass and breast. As you can imagine, this makes for a very hilarious and entertaining watch.
Regardless, other than ecchi, we have all the other aspects of a normal sports anime, such as friendship, rivalry, and hard work.
Kengan Ashura
Sport: Mixed Martial Arts
Rating: 7.44
Seasons: 2
Aired: 2019, 2022
Where To Watch: Netflix
Kengan Ashura is an insanely amazing martial arts anime with top-notch animation, background music, and an interesting plot.
The anime features a fighting tournament similar to MMA. Our main character is a badass dude who thirsts for revenge. He doesn't mind doing the dirty work of rich people in order to get his revenge.
It is a treat for watchers to see the MC push himself beyond his capabilities in order to become a better fighter.
Kengan Ashura is an anime that'll keep you on the edge of your seat and give you that adrenaline rush.
Recommended >> The Top 6 Times Anime's Successfully Featured Martial Arts
Ping Pong The Animation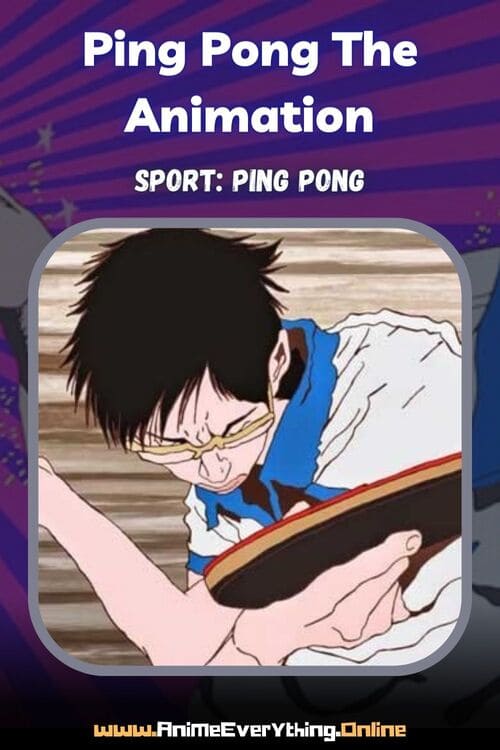 Sport: Ping Pong
Rating: 8.62
Seasons: 1
Aired: 2014
Where To Watch: Crunchyroll
Ping Pong The Animation is an underrated gem in the sports anime genre. This show has a very unique animation style, which might be off-putting to some fans.
However, the art style was designed to be the way it is because it gives us a truly wonderful experience.
The story of this show is so good that you won't be able to drop it. It is about a genius ping-pong player and the lives of his friends and rivals.
This is a must-watch for anyone who is looking for something new that hasn't been done before.
Welcome To The Ballroom
Sport: Ballroom Dancing
Rating: 8.19
Seasons: 1
Aired: 2017
Where To Watch: Crunchyroll
Let me be honest; I didn't even know ballroom dancing was a competitive sport until I watched this anime.
I know that the very fact that it is ballroom dancing makes it sound boring and lame. But trust me, this anime is so much better than what you can even imagine.
The story is about a high school guy who only joins ballroom dancing because of the girl he likes. However, it is a treat to watch him give his blood, sweat, and tears in order to become the best at the sport.
One Outs
Sport: Baseball
Rating: 8.33
Seasons: 1
Aired: 2008-2009
Where To Watch: N/A
One Outs is a baseball-themed anime, but it is more than that. The true focus of the story is the main character, who plays mind games and gambles everything he can.
If you are looking for a show with a smart MC that manipulates everyone, then One Out is the perfect anime for you.
It has a nostalgic animation and art style that might be appealing to older fans. However, the fact that the anime does not show much attention to baseball itself is kind of a bummer, not gonna lie.
Recommended >> Top 10 Best Mindgame Anime Series
Yowamushi Pedal
Sport: Bicycle Racing
Rating: 8.07
Seasons: 5 + 1 Movie
Aired: 2013-2023
Where To Watch: Netflix, Crunchyroll
Who would've thought I would binge on five seasons of an anime about cycling? I didn't, that's for sure.
Yowamushi Pedal is about bicycle racing, and it tells the story in such an amazing way.
Like every standard sports anime, we have victories, losses, painful training, and characters with passion like fire.
While the story might get a little repetitive at some point, I wouldn't let that stop me from recommending this show because it is worth it.
Hoshiai no Sora
Sport: Soft Tennis
Rating: 7.59
Seasons: 1
Aired: 2019
Where To Watch: Crunchyroll
Hoshiai no Sora is more than just an anime about sports. It is about mental health and the lives of a certain bunch of students.
It is a perfect blend of slice of life and tennis game that makes an interesting watch.
The dynamics between the MC and his friends are heartwarming. Along with their dark personal lives, it adds a bit of mystery to the show.
Overall, I would recommend this anime for those who are looking for something more than your average sports story.
Inazuma Eleven
Sport: Football
Rating: 7.68
Seasons: 5
Aired: 2008-2019
Where To Watch: Netflix
Inazuma Eleven is a globally successful anime about football. This anime was targeted more towards a younger audience as it has supernatural powers.
However, don't let that stop you from watching this great anime. Because underneath the flairy actions lies a beautifully executed story.
This anime has hundreds of episodes for you to binge, so get ready for days of fun if you decide to watch Inazuma Eleven!
Ahiru no Sora
Ahiru no Sora is a fantastic basketball anime that exceeds fans' expectations in every way.
From the characters to the plot, this anime has nothing lacking. We get to see a bunch of delinquents who give their all to their beloved sports.
This is all thanks to our MC, who is a kind soul who inspires everyone with his play. The story also gets emotional and sad at some points, which makes this a special anime in the hearts of fans.
Clean Freak! Aoyama Kun
Sport: Football
Rating: 6.96
Seasons: 1
Aired: 2017
Where To Watch: Crunchyroll
Clean Freak! Aoyama Kun is a very lighthearted anime about a clean freak who is passionate about football.
You can already see how contradictory he is. Being clean on a football field? It's next to impossible if he actually wants to play the game.
In this anime, we see how he exactly does that and how he deals with his teammates. It is a fun and hilarious show that should give you a few laughs.
Days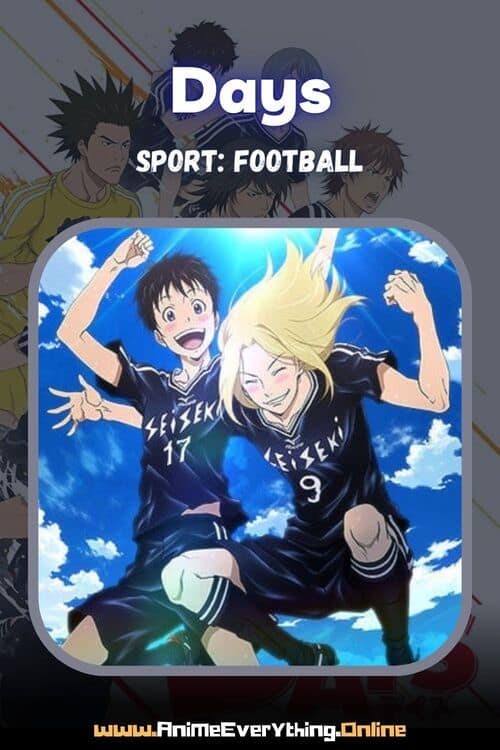 Sport: Football
Rating: 7.16
Seasons: 1
Aired: 2016
Where To Watch: Crunchyroll
Days is yet another football anime that deserves a bit more attention in the fandom. While the show does not have anything unusual compared to your average sports anime, it does what it does well.
In this anime, we have two friends who are also kind of rivals and play on the same team. We get to see them train together, play difficult matches, fail miserably, and overcome their obstacles.
If any of the above makes you want to watch it, then you are going to love this anime.
Hinomaruzumou
Sport: Sumo Wrestling
Rating: 7.56
Seasons: 1
Aired: 2018-2019
Where To Watch: Crunchyroll
Let's be honest. Most sports anime are about western games, but very few like Hinomaruzumou focus on Japanese sports.
This anime is about sumo wrestling. And before you lose interest, let me tell you that it is really interesting.
Firstly, since the sport is new to most of us, it is kind of intriguing. However, the action and camaraderie we witness in this show are too good not to watch.
The only thing I would complain about about this anime is that it does not have a sequel yet.
'Major' and 'Major 2nd'
Sport: Baseball
Rating: 8.22
Seasons: Major – 6 + 1 Movie, Major 2nd – 2
Aired: 2004-2020
Where To Watch: Crunchyroll (Major 2nd)
Every baseball fan would dig this show because we get to see the entire life of a man who dedicated his life to baseball.
The first season starts off with the MC as a child, and the latest season has him as a grown adult with a child.
In between, we get to see the epic adventure of a stubborn Japanese guy who makes it to the Major League and wrecks havoc.
If that's not enough, we also get to see the second generation in action. Our MC's son becomes the main character at some point, so there's really no end to the amazing baseball action in this anime.
Shakunetsu Kabaddi
Sport: Kabaddi
Rating: 7.04
Seasons: 1
Aired: 2021
Where To Watch: Crunchyroll
Kabaddi is a South Indian sport that is slowly becoming popular around the world. However, the MC of this anime has no interest in it.
As a matter of fact, he hates sports all together because of his past experience with soccer.
This is why he abandoned his hobby and became a live streamer. However, one day, he is kind of forced to see his school's Kabaddi team in action.
The sheer intensity of the sport draws him in, and thus his adventure as a Kabaddi player begins!
Beyblade
Sport: Beyblade (fantasy sport)
Rating: 6.75
Seasons: 3
Aired: 2001-2003
Where To Watch: Netflix
I know what you're thinking. Beyblade is just a kids show, and it shouldn't be on this list.
But if you really think about it, Beyblade is a competitive sport, even though it is just a fantasy concept.
After the anime's release, we also kind of got Beyblade tournaments in real life as well, so I think Beyblade fits this list perfectly.
Of course, the anime could get childish at times, but it is undeniable that it has a legendary story that is globally popular.
Ryman's Club
Sport: Badminton
Rating: 7.38
Seasons: 1
Aired: 2022
Where To Watch: Crunchyroll
Badminton games are popular in the corporate world. Our MC represents a bank and plays on behalf of them.
However, thanks to his troubled past, he tanks the game, even though he is supposed to be a prodigy at the game. He is fired because of his poor play.
But all is not lost, because a beverage company offered to hire him as a part of their badminton team.
This anime is all about how our MC bonds with his new teammates and overcomes his trauma.
Rifle Is Beautiful
Sport: Rifle Shooting
Rating: 6.18
Seasons: 1
Aired: 2019
Where To Watch: HIDIVE
With Rifle is Beautiful, we get to experience yet another obscure sport: rifle shooting.
It is a competitive game that tests accuracy, precision, and confidence. The anime revolves around a high school girl who tries to revive the rifle shooting club in her school.
This is a hilarious slice-of-life anime that you shouldn't miss if you're looking for a lighthearted sports series to binge on.
Capeta
Sport: Go Kart
Rating: 7.83
Seasons: 1
Aired: 2005-2006
Where To Watch: N/A
Go-Karting is a sport that is not widely known, but this anime shows just how intense Go-Karting can be.
The story is about a young boy who has lost his mother. During the time he was having a hard time at school, his father built him a go-kart.
Soon enough, go-karting became his life and everything he needed. This is the perfect anime for those who love racing sports.
Tiger Mask W
Sport: Wrestling
Rating: 6.93
Seasons: 1
Aired: 2016
Where To Watch: Crunchyroll, TubiTv
Tiger Mask is a legendary wrestling anime that was popular in Japan during the 80s and 90s.
This anime is the third sequel of that legendary story where we get to see some amazing wrestling action.
However, you don't have to watch the first two because the stories are only losely connected.
In this anime, there is an evil organization that trains pro wrestlers and attempts to monopolize the wrestling industry. They also do it in a very cruel way, beating their opponents up to the point where they break their bodies permanently.
Our MC is one such victim's son who wants to take revenge. This is a good show with comedy, action, and a bit of drama and adventure.
Ultimate Muscle
Sport: Wrestling
Rating: 6.90
Seasons: 3
Aired: 2002-2006
Where To Watch: N/A
Ultimate Muscle is yet another wrestling anime series that a lot of us might have watched during our childhood.
It is a sequel to the famous Kinnikuman anime, where we get to see the son of Kinnikuman as the MC.
However, you don't need to watch the Kinnikuman series to get started on Ultimate Muscle. Because Ultimate Muscle is about our MC named Kid Muscle and Kinnikuman is about his father.
This is a very hilarious anime that gets dramatic at some points. But what sets this anime apart is its fantasy world and interesting characters.
Overall, Ultimate Muscle is definitely worth watching if you like watching wrestling.
Kings Avatar
Sport: e-sports
Rating: 7.89
Seasons: 3
Aired: 2017, 2020, 2023
Where To Watch: N/A
Until now, we've only been talking about physical sports games. However, e-sports also fall under the category of sports.
Kings Avatar is about a popular game's legendary player who gets fired even though he was the top player.
He then starts from scratch and builds his own team in order to come back and take his position as king.
This is a Chinese anime that is very popular for its great animation and unique concept.
Birdie Wing: Golf Girls' Story
Sport: Golf
Rating: 7.49
Seasons: 2
Aired: 2022-2023
Where To Watch: Crunchyroll
Golf is a sport that is assumed to be boring because only old and rich people play it. However, it is also a place for gamblers who bet things on a game.
One such person is our protagonist, Eve. She is a well-known figure in underground glofing because of her crazy skills.
But as a twisted fate would have it, the undefeated underground golfer was completely crushed by a professional golfer who played completely clean.
Hajime no Ippo
Sport: Boxing
Rating: 8.75
Seasons: 5
Aired: 2000-2014
Where To Watch: Crunchyroll
Hajime no Ippo is a boxing anime that revolves around the protagonist, Makunouchi Ippo, and his friends training and growing into professional boxers.
Even if you're not a fan of boxing, this anime will take you into the world of hooks and jabs, giving you the kind of motivation that you've never felt before. It's that captivating.
One of the strong suits of this anime is the character development. It has unique, lovable characters, each with their own goals and dreams. What makes this anime amazing is that it clearly depicts how the characters pour their hearts and souls into boxing so that they can achieve their goals.
Haikyuu!!
Sport: Volleyball
Rating: 8.44
Seasons: 5
Aired: 2014-2020
Where To Watch: Crunchyroll, Netflix
One way or another, you've probably heard about this volleyball anime that took the world by storm.
This anime is about how a volleyball team that has been deteriorating from its former glory grows and gradually progresses towards the top with the arrival of the astounding duo: Shoyou Hinata, who aspires to become like the legendary player called "Little Monster,"  and Tobio Kageyama, the volleyball prodigy.
This anime is all about how they grow together as a team, understanding and supporting each other despite their differences, and how they train themselves to reach the national level tournaments.
March comes in like a lion (3-gatsu no Lion)
Sport: Shogi
Rating: 8.39
Seasons: 2
Aired: 2016-2018
Where To Watch: Crunchyroll
Unlike any other anime on this listing, 3-gatsu no Lion is an indoor sports anime. This anime is about a Shogi prodigy, Rei Kiriyama marching forward through the professional Shogi world, despite the struggles and suffocations in his personal life.
This anime perfectly balances the sports theme as well as the personal life of Rei, which warms up the hearts of the watchers. It will take you on an emotional journey, making you feel happy, sad, amused, and thrilled at times.
Kuroko no Basket
Sport: Basketball
Rating: 8.07
Seasons: 3 + 1 Movie
Aired: 2012-2017
Where To Watch: Crunchyroll, Netflix
While the other sports anime focus on "realism," Kuroko no Basket lets loose the restraints of reality and creates an enchanting story.
This anime is about how Tetsuya Kuroko, a person with a weak presence who supports his team by passing the ball, and his teammates battle stronger opponents in order to become the best Japanese high school team by winning the Interhigh Championship.
Yuri!!! On Ice
Sport: Figure Skating
Rating: 7.90
Seasons: 1
Aired: 2016
Where To Watch: Crunchyroll
Yuri!!! On Ice is a fresh and unique sports anime that focuses on Ice skating where the main protagonist is not a high school student. Yeah, it's a big deal, because literally every sports anime is focused on high schoolers, but this one is different (well, technically, it doesn't make any big difference, but y'know, it just gives a different "flavor").
This show is about Yuri Katsuki, one of Japan's figure skaters, who admires a Russian skater and five-time world champion, Victor Nikiforov. Seeing Yuri perform a routine he uses on video, Victor offers to become Yuri's mentor, leaving his profession as a skater. After that, with the man he admired as his mentor, Yuri trains to become the world champion.
Diamond no Ace
Sport: Baseball
Rating: 8.11
Seasons: 3
Aired: 2013-2020
Where To Watch: Crunchyroll
Diamond no Ace is a captivating anime about baseball. It is about Eijun Sawamura, a pitcher with a unique style who aspires to become the ace of Tokyo's prestigious Seidou High School. They train rigorously and face formidable foes in order to become the best team in Japan.
This anime has a straightforward story line with lovable characters. In addition to that, it also has amazing character development.
Megalo Box
This is a sports anime that takes boxing one step further. Megalo Box is an evolution of boxing that utilizes mechanical limbs known as "gear" to enhance the speed and power of its users.
This anime is about a man called "Junk Dog," who fights matches dictated by his boss, Gansaku Nanbu. After losing to the Megalo Box champion (who was disguising himself as an ordinary man) and being challenged to fight him again in the championship match, Junk Dog begins at the very bottom of the ranked list and fights his way up to the top.
In short, with a mind-blowing story line and gorgeous art style and music, this is a one-of-a-kind sports anime.
Prince Of Tennis
Sport: Tennis
Rating: 7.86
Seasons: 3 + 5 OVA series + 1 Movie
Aired: 2001-2022
Where To Watch: Crunchyroll
This anime is about a tennis prodigy, Ryouma Echizen, who's determined to prove himself and surpass his father, who is a tennis legend. Ryouma pushes himself hard so that he can achieve his goals someday. He faces off against top-notch opponents one after the other to reach the summit of the world of tennis.
Unlike many other sports anime, this show is not about starting from the bottom and working on their skills to the point they reach the "pro level." Ryouma is already skilled when it comes to tennis, but he has to go even further to become the best in the world.
Uma musume: Pretty Derby
Sport: Derby
Rating: 7.30
Seasons: 2
Aired: 2018, 2021
Where To Watch: Crunchyroll
Do you like horse races? Probably not. They're just horses running, right? What could be fun about it? Well, what if the horses were girls and they performed a special dance after their races? That'd be pretty, wouldn't it?
This anime starts off with a country horsegirl, Special Week, transferring to Tokyo's Tracen Academy to train and become the best horsegirl in Japan, just as she promised to her mother.
This is a one-of-a-kind anime where sports are actually made beautiful, which gives off a light and positive vibe. I mean, it's got super moe horse-girl characters racing each other. What else could make an anime more beautiful?
All Out!!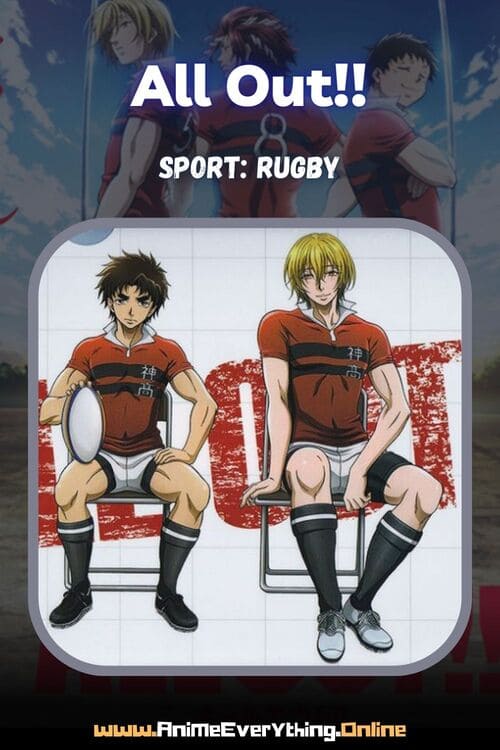 Sport: Rugby
Rating: 7.05
Seasons: 1
Aired: 2016
Where To Watch: Crunchyroll
All Out!! is a rugby anime that centers around a team that has no coach or advisor. Without anyone's help, they try everything they can by learning to play rugby from rugby books; however, they never win a single game.
One day, the main protagonist calls a retired professional rugby coach on a whim, but it ends up being their first ignition—their very first victory. After going through grueling training and strengthening the bond among the team members, they become stronger and stronger every day with the combined goal of participating in the International Rugby Game.
That's it for this article. These are the 35 best sports anime that you should watch in 2023.