Anime has some of the most motivational characters. It is also one of the most popular forms of entertainment animation, and it's pretty easy to see why. One reason for the continued popularity of anime is its profound ability to talk about complex human issues that appeal to everyone irrespective of their race, culture, or gender.
The characters' complexity provides fans with comic, inciting, aggravating, and sometimes even inspiring words of wisdom applicable in the real world.
The truth is sometimes we all need that lift, a boost in our mindset to keep us going when we are feeling down.
Here are the top 20 motivational anime quotes that have left fans worldwide completely marveled.
Best quotes from the following characters:
Armin Arlet
Esdeath
Holo
Lina Inverse
Seiya Kanie
Miche
Riki Naoe
Erwin Smith
Natsu Dragneel
Hange Zoe
Nico Robin
Sasha's Dad
Mion Sonozaki
Izuku Midoriya
Ymir
Naruto Uzumaki
Ichigo Kurosaki
Levi Ackerman
Sanae
Milly Thompson
20 Great Anime Quotes That'll Help Motivate You
Armin Arlet's Motivational Quote
You have to be willing to lose some of the things you currently have to get what you dream of.

Esdeath's Cold Hard Truth
A cold fact. One that should inspire you to develop yourself.
Holo's Wise & Meaningful Quote
Often we focus too much on the poor result rather than the process of how we got there.
Lina Inverse's Motivational Quote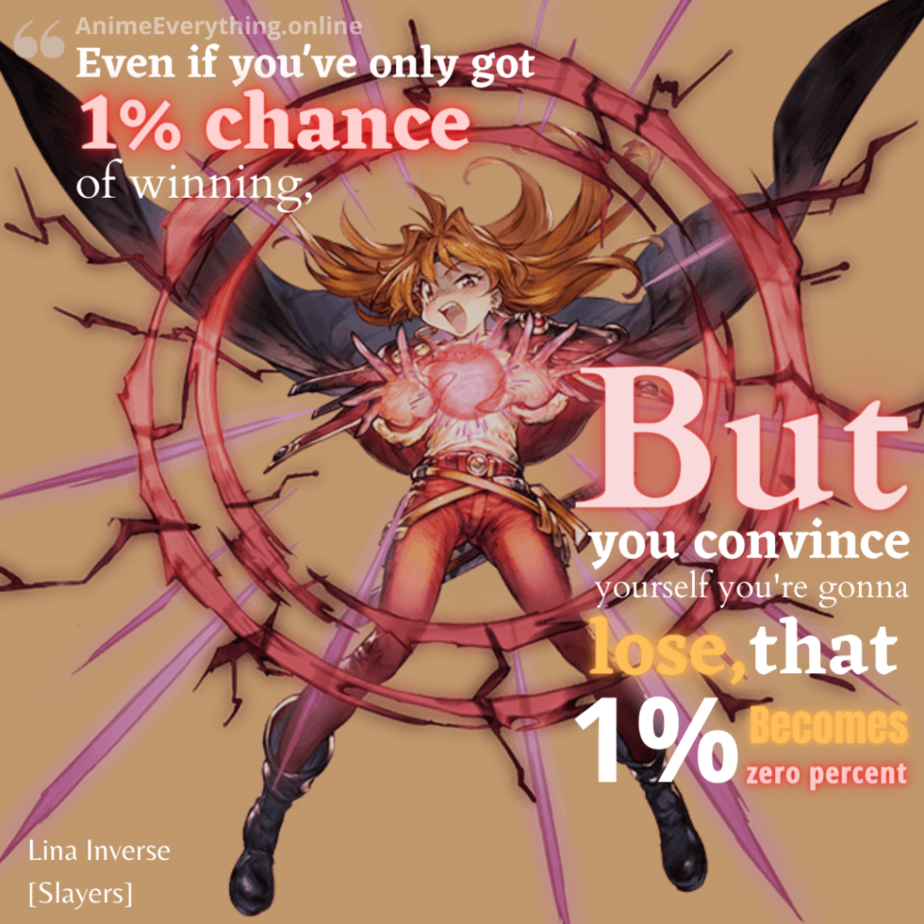 The world is already rooting against you; you can't afford to be one of them.
Seiya Kanie's Inspirational Quote
 It's hard to make people see your vision if you can't see it yourself
Miche's Most Motivational Quote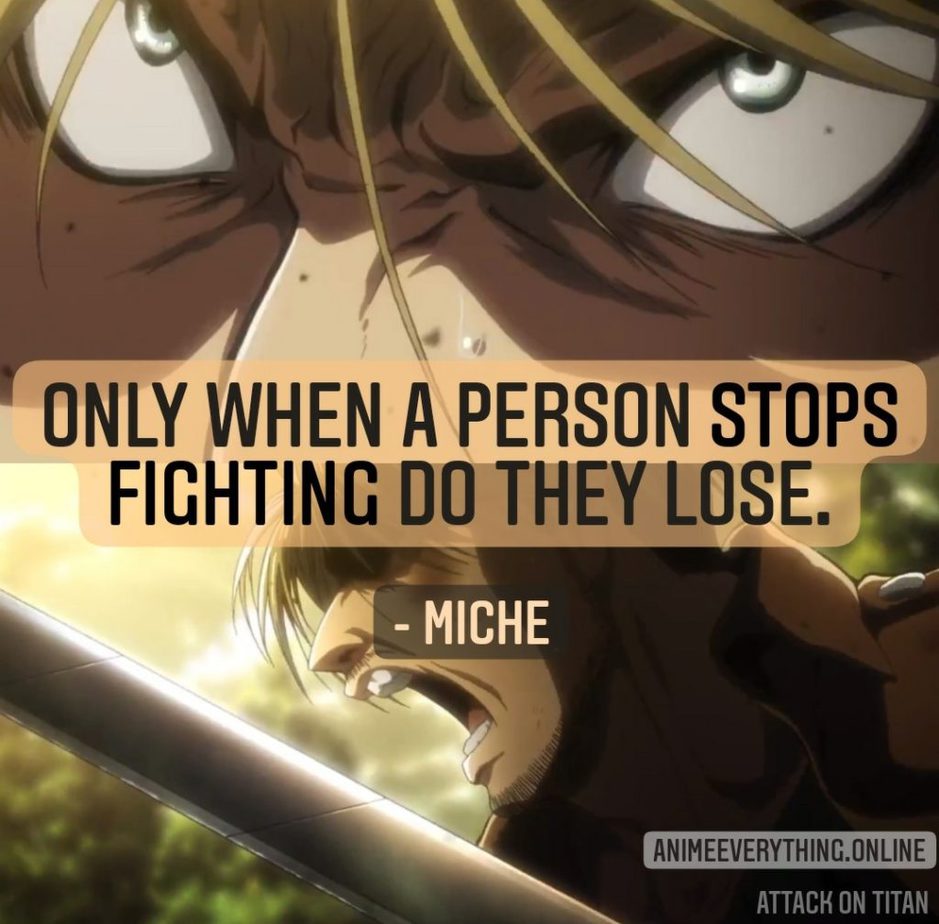 As long as you're alive, you have hope. So, aspire for more, aim for greatness, earn that degree, open your own high-quality UK essay writing, and never settle for less.
Riki Naoe's Best Life Quote
Tackle your problems head-on, no matter how hard they seem.
Erwin Smith's Most Logical Quote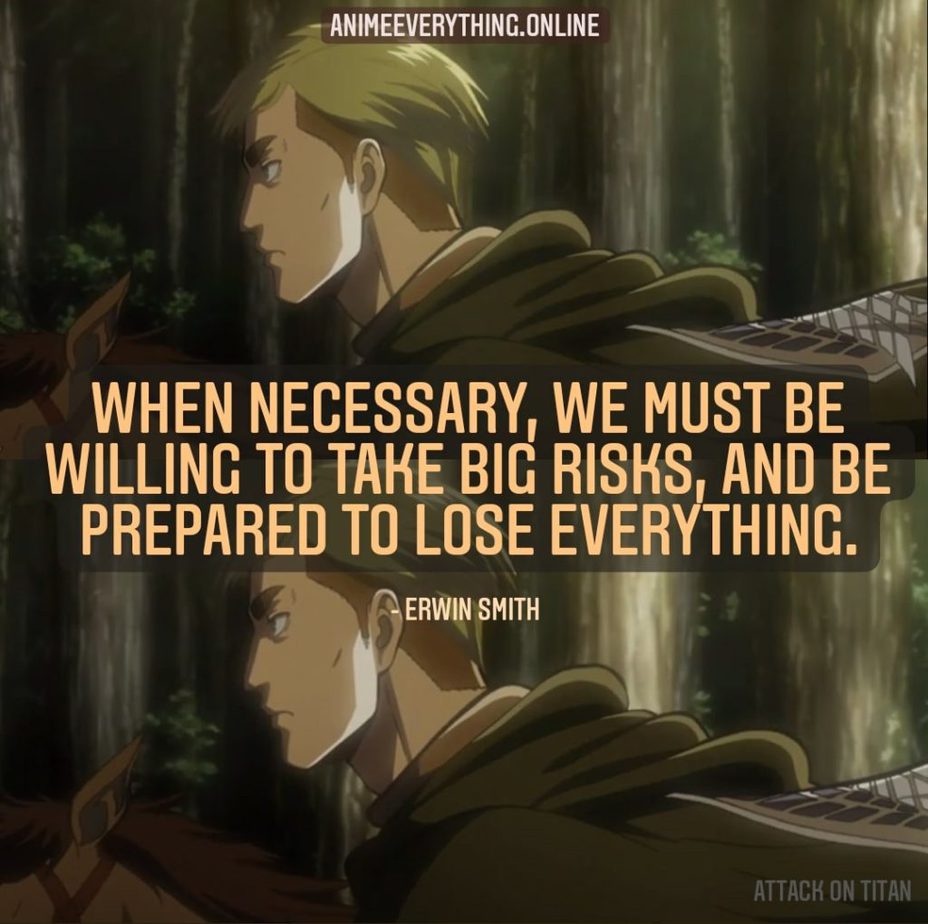 Be cautious, but don't hesitate when it comes time to leap. Without a doubt, Attack on Titan has some of the best quotes in anime.
Natsu Dragneel's Motivational Quote
Let your dream keep you warm when life gets too cold to handle.
Hange Zoe's Reality Check Quote
Don't limit yourself to mediocrity just because you feel you don't deserve the best.
Nico Robin's Life Lesson
If you refuse to learn from your errors, you will most certainly repeat them.
Wise Words From Sasha's Father
Iron sharpens iron. Sometimes you need to love first before getting loved in return.
Mion Sonozaki's Motivational Quote
 Go all out. Live your life to the fullest and never give up till the end.
Izuku Midoriya's 'Never Give Up' Mindset
Until you succeed, don't get tired, no matter how much you fail.
Ymir's Most Valuable Life Advice
People will always have opinions no matter what you do, so live life as best as possible.
Naruto's Most Inspirational Quote
If life gives you lemons, sell them and buy oranges.
Ichigo's Hustle Quote
Don't live life with regrets of what could have happened. Stay in the present.
Levi's Most Valuable Life Lesson
Life is full of uncertainties, so when you live, live intentionally.
Sanae's Motivational Quote
Tough times don't last forever. The sun will shine again.
Milly Thompson's Life Advice
Start little, pace yourself, and your reward will surely come.
Author Bio:
Jessica Chapman is a writer for college paper.org reviews. She also edits the Easy Essay blog. She is into sport and politics, and she also enjoys traveling. Find her on Twitter.