20+ Shingeki no Kyojin or Attack on Titan Quotes from the following characters:
Erwin Smith
Hange Zoe
Eren Yeager
Sasha's dad
Ymir
Levi Ackerman
Miche Zacharias
Armin Arlet
Kenny Ackerman
Eren Kruger
Attack on Titan is a fantastic anime which is easily one of the best anime of the decade. It features a world where remnants of humanity has enclosed themselves within walls to stay away from the "Titans."
Titans are mysterious creatures that feed upon humans by instinct. They don't need food to live, but they still hunt humans for whatever the reason.
Humans have lived peacefully within the walls for over a hundred years, while only a few brave souls ventured outside the walls to reclaim their land. They were called the Scout regiment.
However one day, the titans break the outermost wall and begun their attack on humanity. This marks the beginning of this legendary anime!
Here are some of the best, meaningful quotes from Attack on Titan!!
Best Attack on Titan Quotes from Season 1 to Season 3
Erwin Smith Quotes
If we only focus on making the best moves, we will never get the better of our opponent.

– Erwin Smith
When necessary, we must be willing to take big risks, and be prepared to lose everything.

– Erwin Smith
Adhere to the principles you vowed while giving everything you've got.

– Erwin Smith
---
Hange Zoe Quotes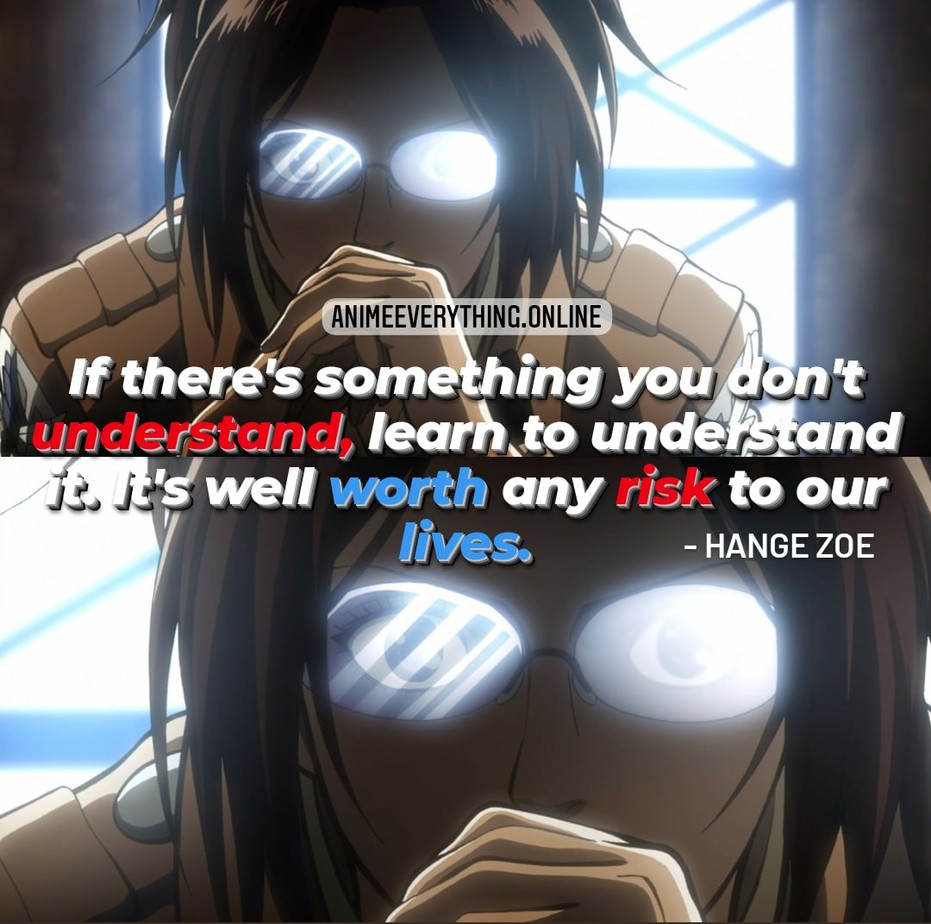 If there's something you don't understand, learn to understand it. It's well worth any risk to our lives.

– Hange Zoe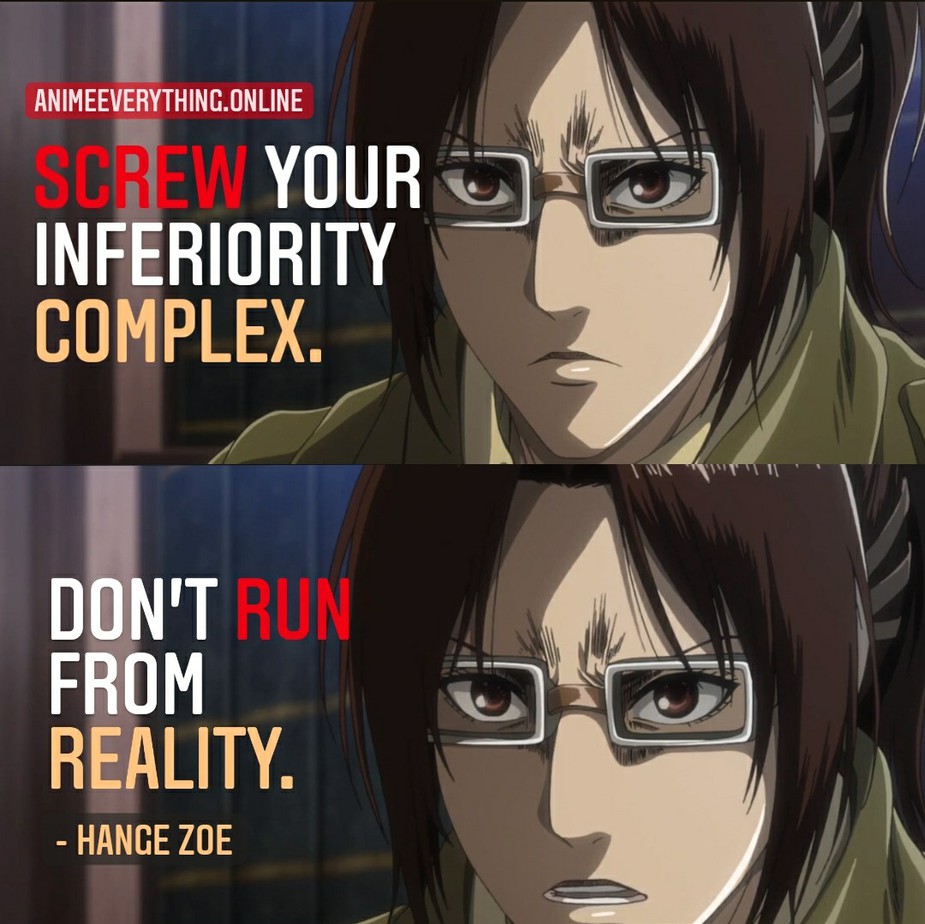 Screw your inferiority complex. Don't run from reality.

– Hange Zoe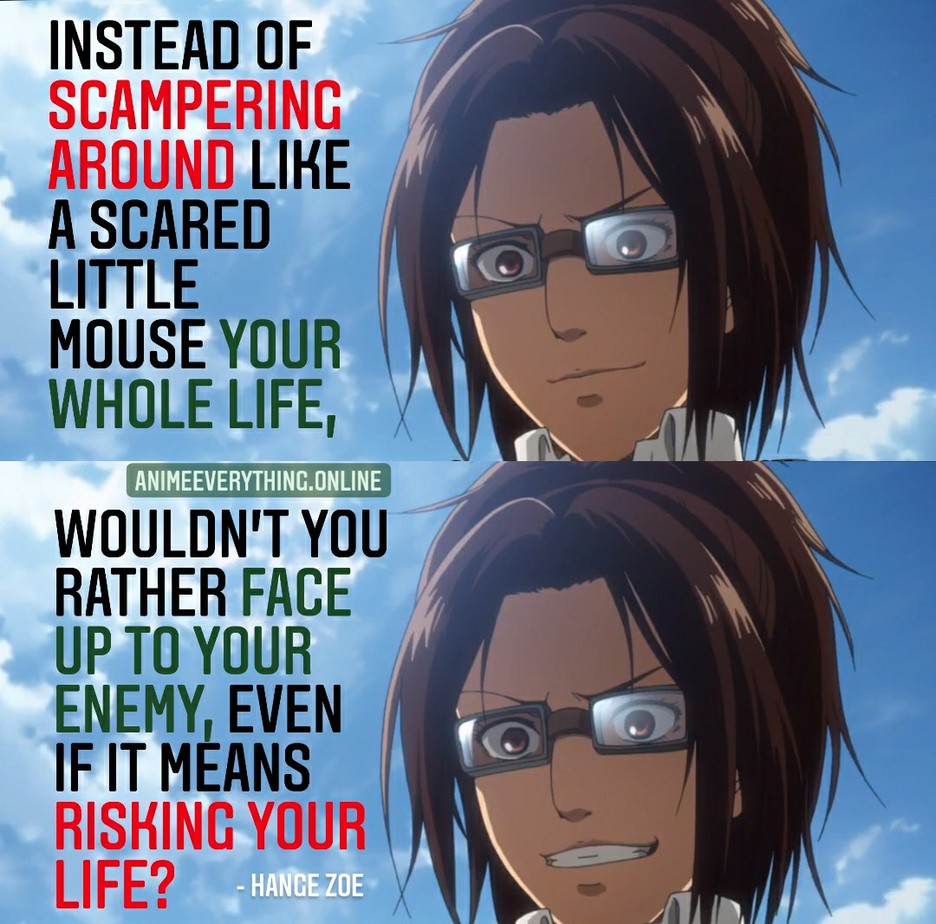 Instead of scampering around like a scared little mouse your whole life, wouldn't you rather face up to your enemy, even if it means risking your life?

– Hange Zoe
---
Eren Yeager Quotes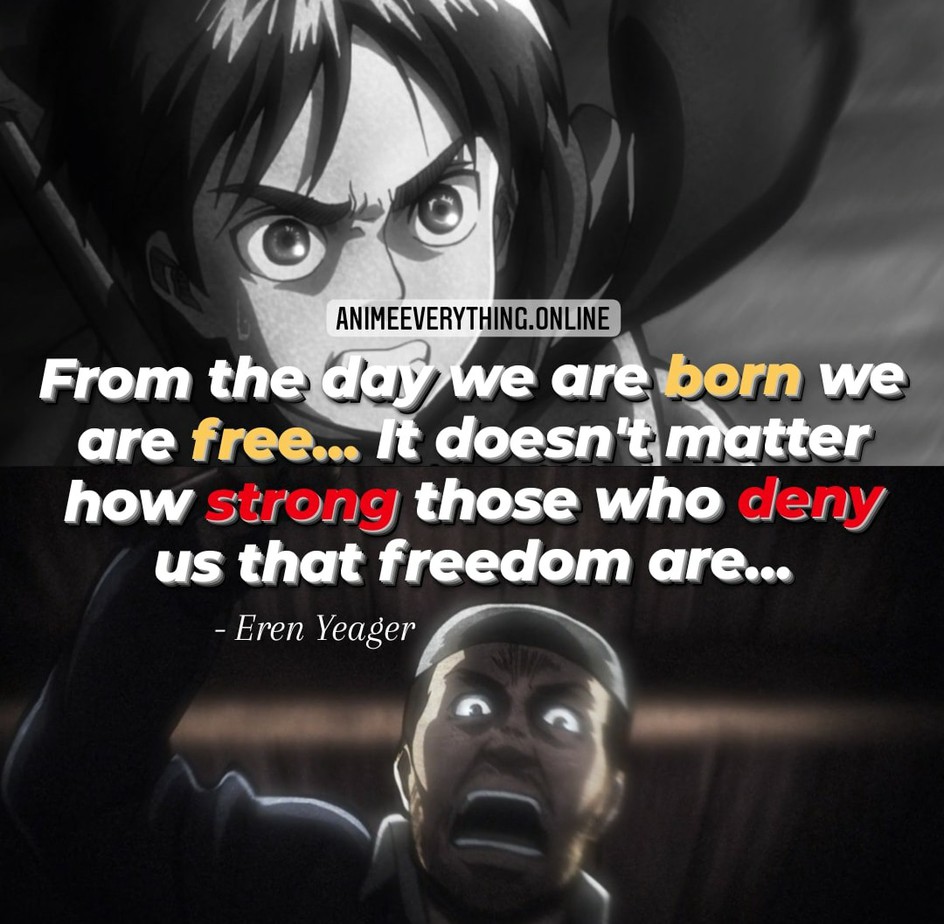 From the day we are born we are free… It doesn;t matter how strong those who deny us that freedom are…

– Eren Yeager
Yeah, I know. We will live as long as we can eat and sleep. But… we're living like… Like livestock!

– Eren Yeager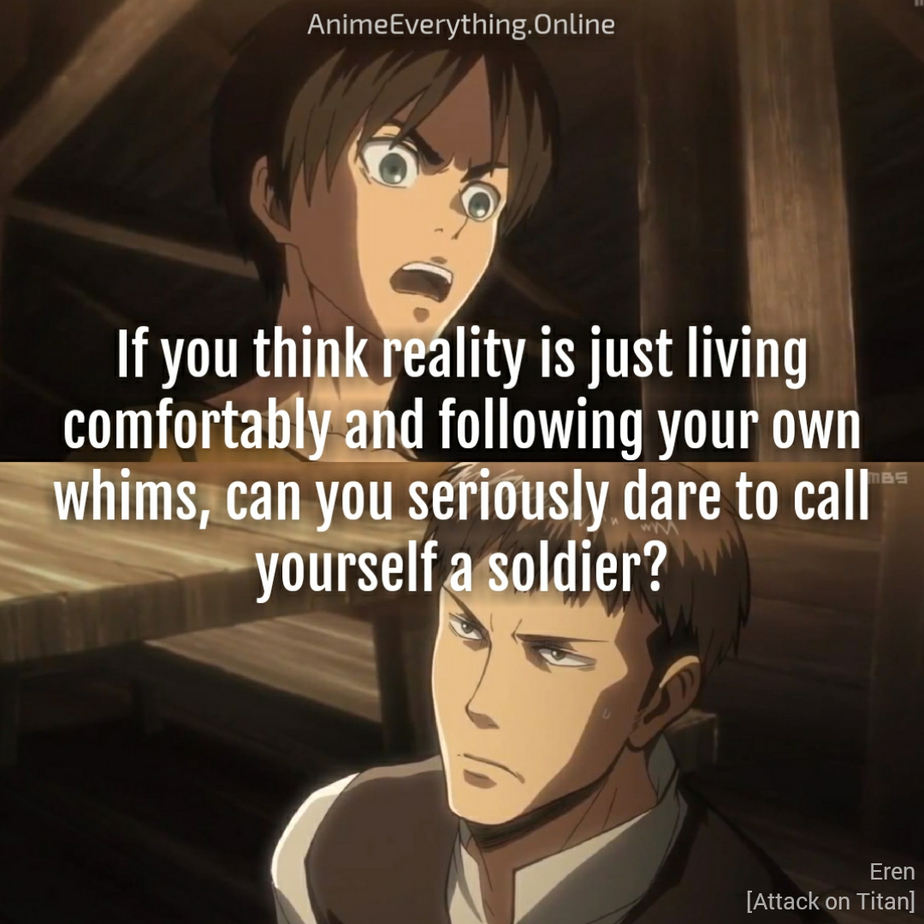 If you think reality is just living comfortably and following your own whims, can you seriously dare to call yourself a soldier?

– Eren Yeager
---
Sasha's Dad Quote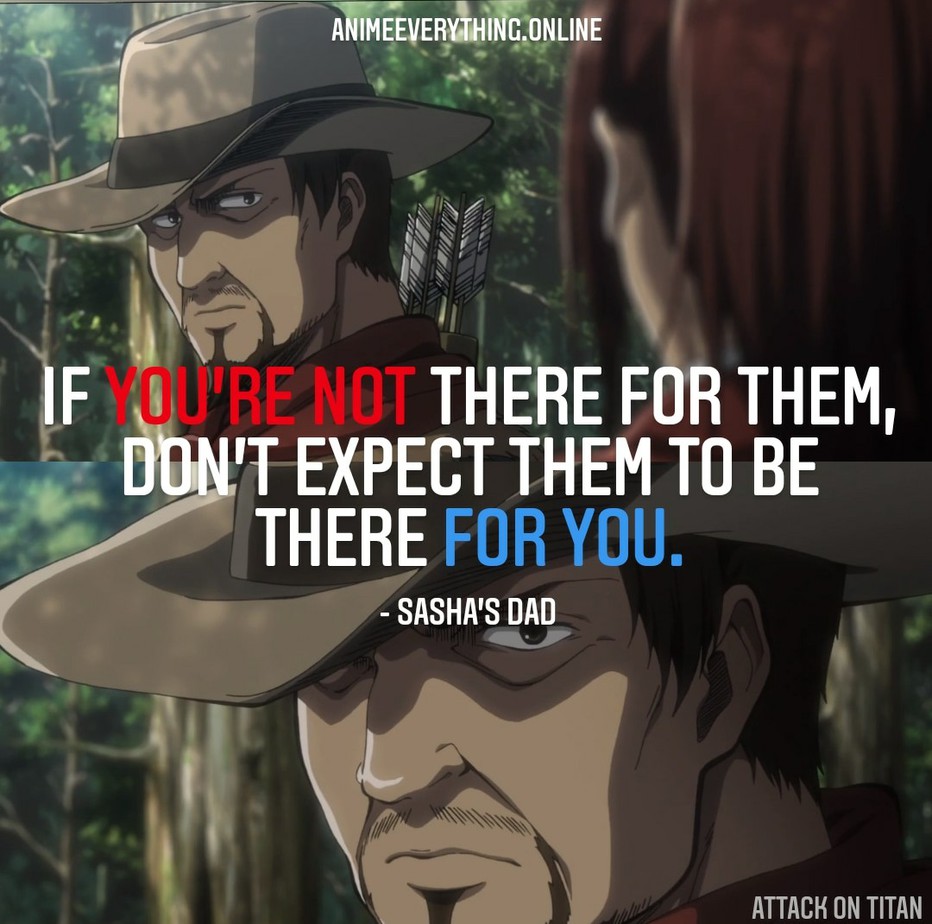 If you're not there for them, don't expect them to be there for you.

– Sasha's dad
---
Ymir Quote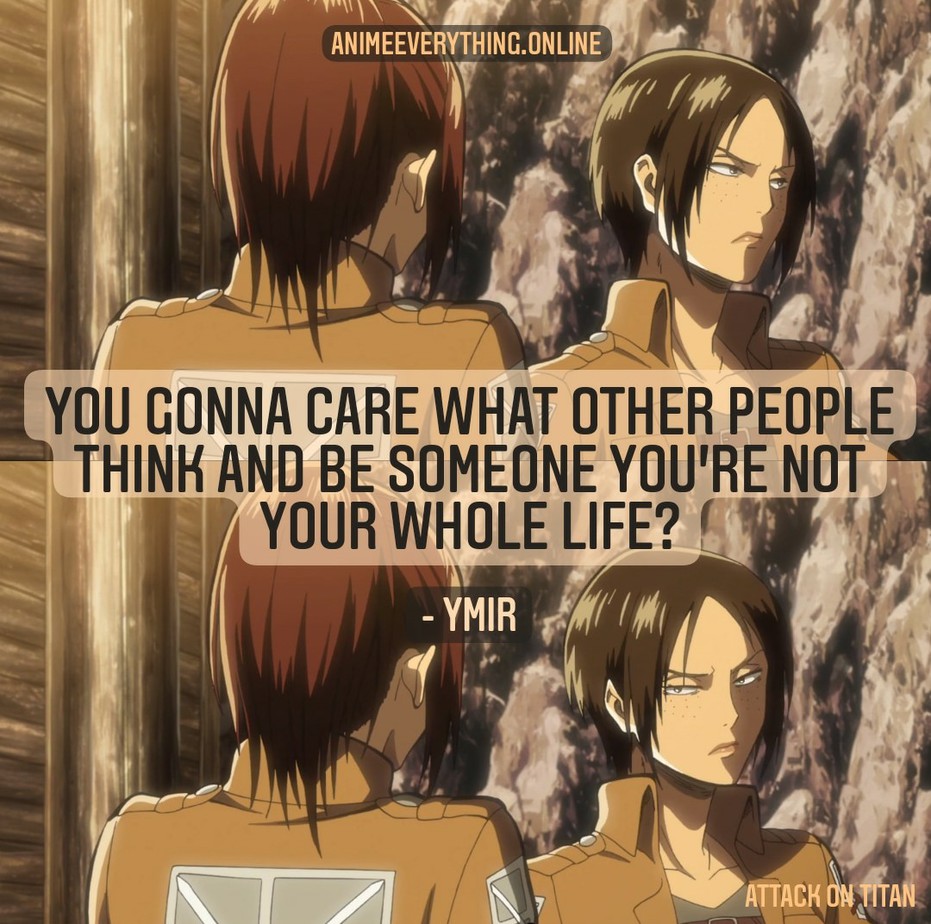 You gonna care what other people think and be someone you're not your whole life?

– Ymir
---
Levi Quote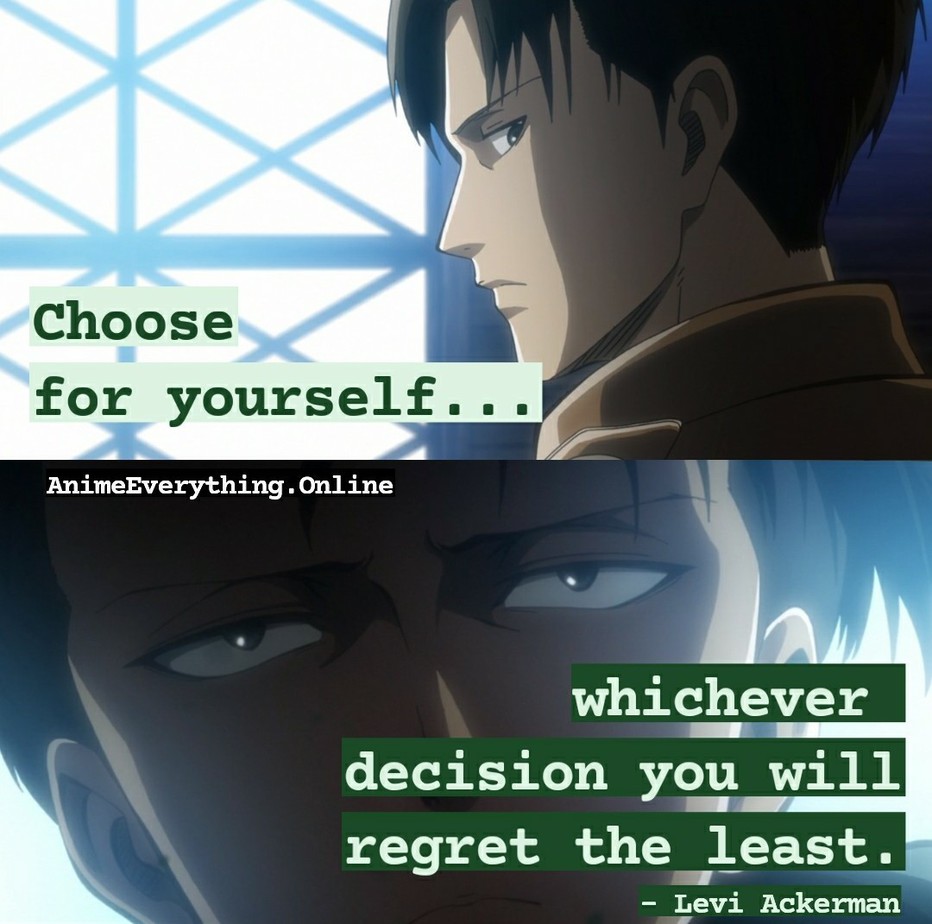 Choose for yourself… whichever decision you will regret the least.

– Levi Ackerman
---
Miche Quotes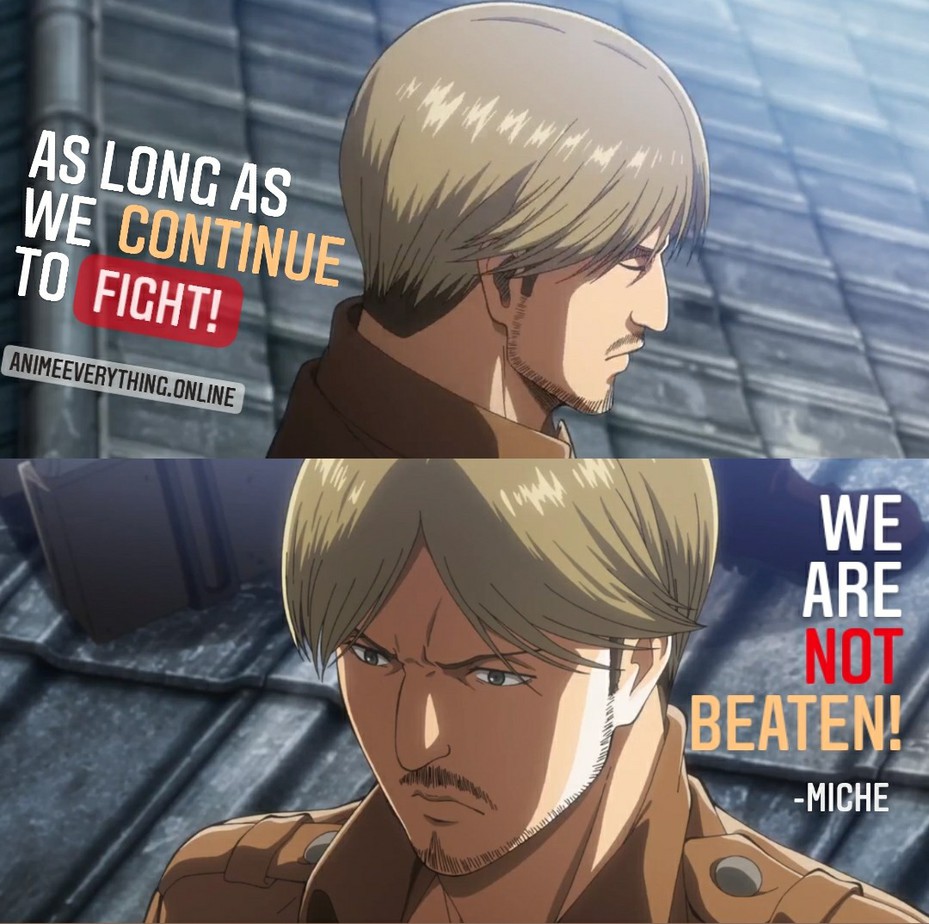 As long as we continue to fight, we are not beaten!

– Miche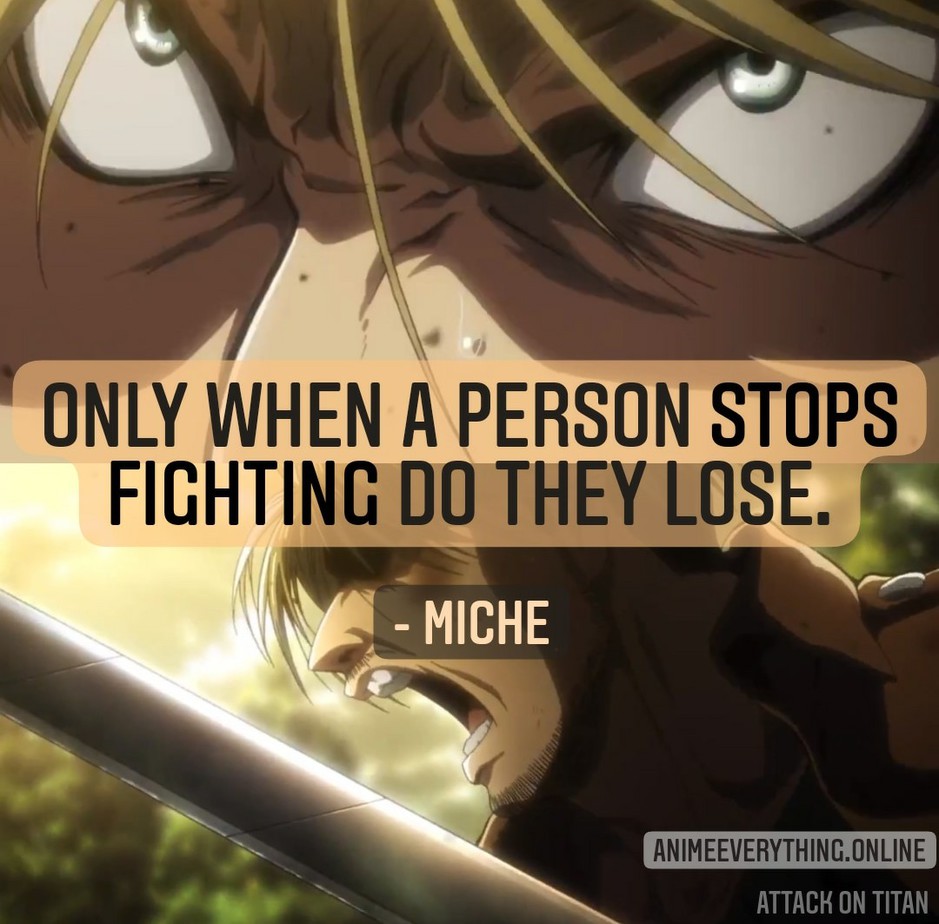 Only when a person stops fighting do they lost.

– Miche
---
Armin Arlet Quotes
The strong devour the weak. It's almost as if the world is doing us a favor by making it easy to understand.

– Armin Arlet
After the fact, it is easy to say, "we should have done something else." But no one knows how things will turn out.

– Armin Arlet
If there's anyone who can bring change, it will be someone willing to sacrifice what they care for.

– Armin Arlet
I am not losing, because I don't run.

– Armin Arlet
---
Kenny Ackerman Quotes
Keep drawing breath till I run out and die? Can you even call that livin'?

– Kenny Ackerman
Everyone had to be drunk on somethin' to keep pushing on… Everyone was a slave to somethin'

– Kenny Ackerman
---
Eren Kruger Quote
The only truth on this world is that there is no truth. Anyone can become a god or a devil. All it takes is for people to believe it.

– Eren Kruger
---
Mikasa Ackerman Quotes
This world is cruel… But it's also very beautiful.

– Mikasa Ackerman
---
That's it! These were the 20+ meaningful Attack on Titan quotes from season 1 to season 3. Hope you enjoyed this post (^^)