Did you just finish watching Ao Ashi and looking for more similar anime to binge on? While you eagerly wait for season 2 of this anime, check out these 10 other soccer anime like Ao Ashi that will keep you entertained.
Ao Ashi is a top rated sports anime that has a score of 8.23 on MyAnimeList. This is fairy amazing considering the average score on the platform is 7. The show focuses on our main character Aoi as he goes on a huge journey to become a world class player. The first season of the anime covers his initial days in the Esperion team where he struggles to keep up.
What makes this anime special is its thrilling story telling and interesting characters. It also has accurate information about the football game which is crucial in such shows.
If you enjoyed this anime and are looking for more, here are my top 10 list of soccer anime similar to Ao Ashi.
1. Blue Lock
The Football Association hires Jinpachi Ego as a coach after realizing the Japanese National Team needs an overhaul. The new coach thinks the national team needs a powerful striker. He builds a place where 300 strikers must battle each other.
Yoichi Isagi, one of many contenders, enters the Blue Lock to overcome his past failures. The series covers his quest to become the world's top striker. This is one of the best soccer anime and manga like Ao Ashi that is loved by many fans.
Comparitively, we can even say that Blue Lock is more popular than Ao Ashi because of its controversial nature. Instead of going for a "team sports" theme, they delibrately chose the opposite route. Overall, it is a fasinating show that is a must watch for sports anime fans.
2. Days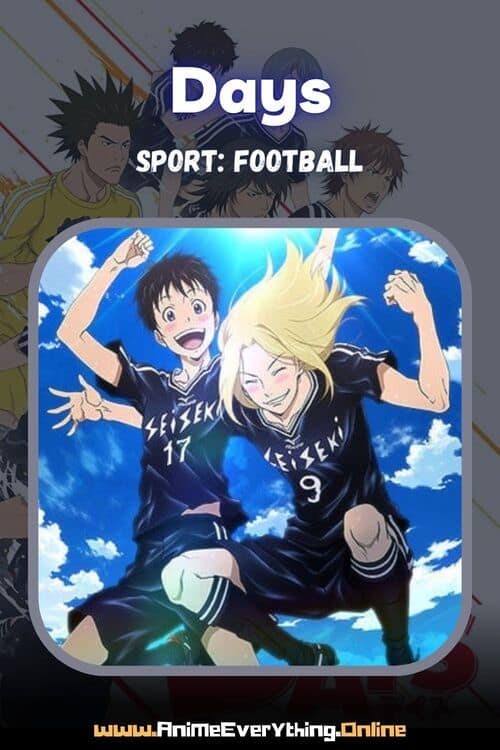 One night, Jin and Tsukashi, two strangers, meet by chance. Jin is a soccer genius, but Tsukashi is a plain guy who doesn't stand out. After meeting each other, Jin is likely to show Tsukashi the game he loves.
Days is the perfect example of a sports anime. The main character won't give up, and the team is driven by friendship and teamwork.
While this anime isn't very unique or controversial, it has lovable characters. This anime focuses on the friendship theme as well as the competitive theme just like every other show in the genre. But one thing that stand out in this anime is its main character. He is a complete newbie to the world of football.
Despite not having any special gifts, he fights along his teammates and aims for the top.
Recommended >> 35 Most Popular Sports Anime To Watch In 2023
3. The Knight In The Area
The Knight in the Area is about two brothers, Kakeru and Suguru. Kakeru becomes the coach of a regular high school football team, while his brother Suguru is the best player on the Japanese national team. But a terrible accident changes the boys' lives.
So that Kakeru can live, his brother's heart is put into him. Once Kakeru realizes what has happened, he decides to become a soccer player and help Japan win the World Cup, which was his brother's dream. He finally has to deal with the scar that has held him back for so long.
This is such an emotional anime that takes a pretty unique route from all the other anime in the genre. Regardless, this is one of the best soccer anime like Ao Ashi that you can binge watch right now.
4. Captain Tsubasa
Possibly the most well-known soccer manga in the world is Captain Tsubasa. It's been around since 1981 and was written by Yoichi Takahashi. The anime series centers on a young man named Tsubasa, who aspires to help Japan win the FIFA World Cup.
Tsubasa has the talent from a young age to impress everyone around him. His soccer career took off after he found a mentor, and he started to perform in the biggest matches. One of the most well-known manga series in the world, the series has sold more than 80 million copies over the years.
While the animation and artstyle of this show might feel a little out dated, I can guarantee that the story is more than makes up for it. If you liked either Ao Ashi or Blue Lock, then I'm sure you will love Captain Tsubasa as well.
5. Inazuma Eleven
Inazuma Eleven, which is based on the well-known Nintendo DS game of the same name, is about a soccer team that is about to disband. The club's first generation captain's grandson, Mamoru Endo, is determined to save the group.
He strives to return Inazuma Eleven to the top by bringing in new players, such as the formidable Shuuya Gouenji.
Inazuma Eleven is honestly a kid's show about soccer with superpowers, but the competitive theme and the struggle to become a better player is the same as every other title in this list. So, if you just finished watching Ao Ashi and want more exciting soccer anime, give Inazuma Eleven a try!
6. Clean Freak! Aoyama Kun
Soccer is all about the players getting themselves dirty as they play vigorously. But our hero Aoyama is a clean freak!
Due to his mysophobia, everyone admires and respects him from afar. Aoyama plays football despite his constant urge to remain clean. Through out his matches, he does not do anything that would get dirt on him.
Aoyama avoids contact with everyone and maintains a distance because of this too.
But, as Fujimi High School's soccer club's playmaker he is exceptional. Especially, in the last five minutes of the match, Aoyama forgets about cleaniness as he can bear it for that long. Fujimi's underdog team will struggle to reach the Nationals. Aoyama and striker Kaoru Zaizen will prove that even a neat freak can become a great soccer player.
7. Whistle!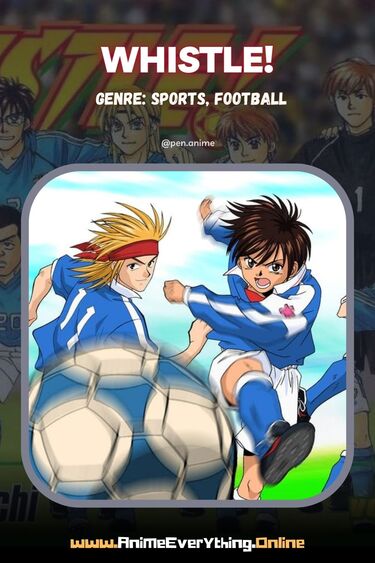 The popular manga series Whistle! was created by Daisuke Higuchi. The show aired back in 2002 and have a decent MAL score of 7.39. Studio Comet was the company responsible for the anime adaptation.
It centers on the youthful Kazamatsuri Shou, who aspires to play professional soccer.
His inability to play soccer at a high level is what stands in the way of his desire the most. But he begins honing his skills once he enrolls in Sakura Jousui High. His teammates' and friends' encouragement enables him to go closer to his goal.
Overall, this is a worth watching soccer anime like Ao Ashi where we get to see the main character get results through hard work.
8. Giant Killing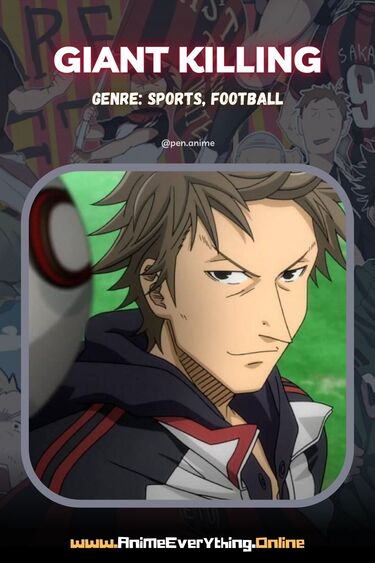 Giant Killing's protagonist is the team's coach, which adds an intriguing twist to the genre. But this also the reason why I've ranked it this low on this list.
The board of directors decides to recruit Takeshi Tatsumi as a last resort when East Tokyo United can't seem to stop losing. games. Their supporters, and team morale were decreasing at a threatening rate.
Tatsumi was a soccer prodigy in his youth, but the league views him as a traitor because he left the ETU years ago. Regardless, he is certain that he can lead the underdogs to victory using his abilities.
9. Victory Kickoff!!
A 39-episode anime series created by TYO Animations called Ginga e Kickoff (also known as Victory Kickoff!!) was broadcast in 2012.
The show followed sixth-grader Shou Oota, who enlists the aid of a female professional football player to try to reunite his previous football squad and lead them to victory.
Only a small number of fans even know about this show, earning it the title of "hidden gem" in the genre. It has a decent score of 7.20 on My Anime List which makes this a pretty good show in the genre.
10. Hungry Heart: Wild Striker
Another classic soccer animation about Kano Kyosuke, who loves football thanks to his brother. Kyosuke was expected to mature as a soccer player at the same rate as his older brother, Seisuke Kano, but he couldn't.
He quit soccer after this. Kyosuke's rookie management sees his potential and wants him back on the field. He takes advantage of a second chance to become the world's best striker.
This anime aired back in 2002, so its animation style might not be on par with what we are getting nowadays. However, the story is still neat. It also a bit of comedy and slice of life elements in it.
That's it for this post! These are the top 10 soccer anime like Ao Ashi that you will love.
---
Loved the recommendations? Share it with a friend!
---