Hey guys, Welcome back to Anime Everything Online! Today, I want to dive into the topic that many of you are curious about: making money with anime. In this video, I'll be sharing my anime blogging income report for the month of March 2023. So, if you've ever wondered if it's possible to earn income through anime content, stick around because I'm about to reveal the details.
Overview
I'm Silver, the proud owner of Anime Everything Online. I've been blogging about anime for almost four years now, and today, I'll be walking you through my blog's income report for the month of March, 2023 and I'll go over different income sources that contribute to my earnings.
But before we jump into the numbers, let's talk about the basics. Anime blogging is an excellent way to monetize your love for anime. By creating a website, you can share recommendations, review shows, list fan-favorite characters, and more. It's an opportunity to turn your passion into profit!
And if you're looking for ways to turn blogging into a full blown income stream, don't forget to subscribe to my blog by hitting the bell icon at the bottom of the screen. Because I'm going to be sharing my business tips as well as juicy anime and manga recommendations!
My Blog's Income Sources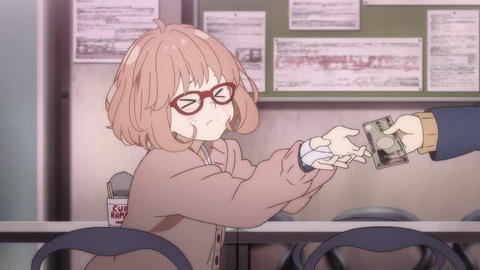 Alright, let's get down to business. You are reading this article on my anime website, featuring over 500 articles crafted with love over the years.
To monetize my website, I rely on several income sources: Adsense, Ezoic, Amazon Affiliate, and Fiverr. Let's break them down one by one.
Recommended >> Blog Milestone Reached – 100,000 views!
Ezoic Revenue Report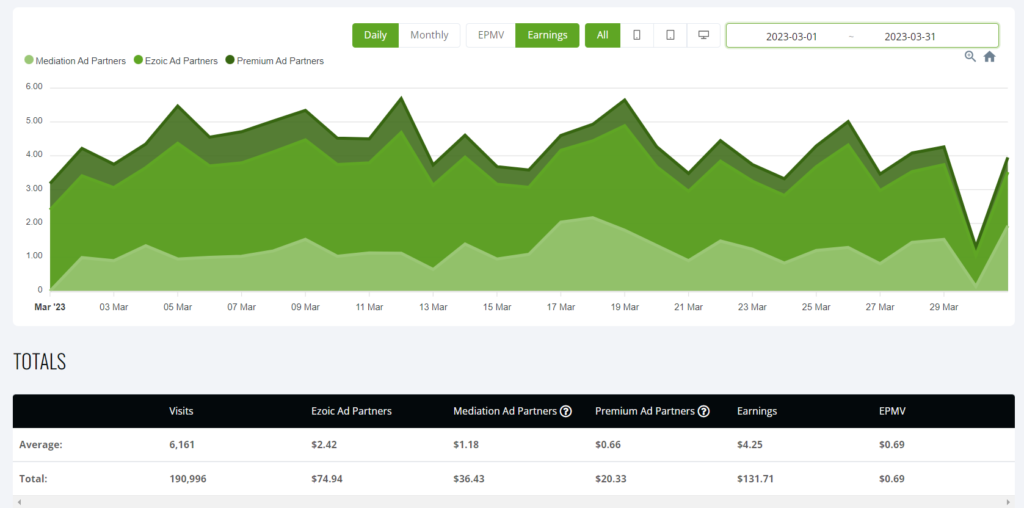 First up, Ezoic. Ezoic is the biggest mention in blogging income report as they are my number one way to monetize this website. In March 2023, my website attracted over 200,000 visitors, primarily from Google. From this traffic, I earned a total of $131.71 from Ezoic. This includes revenue from their traditional ads as well as their Youtube alternative, Humix, which allows us to publish videos and generate additional income.
You can join Ezoic and enjoy their premium site speed optimization, YouTube alternative and ad network using the button below.
Adsense Revenue Report
Now, let's talk about Adsense. As you can see, I earned $37.67 through Adsense. By the way, for those wondering if Ezoic pays more than Adsense, the answer is a resounding yes! Ezoic pays over 2x more than Adsense.
Amazon Affiliate Revenue Report
Moving on, we have Amazon Affiliate. Now, March isn't the prime time for affiliate product sales in the anime niche. Typically, I see better revenue during the year-end thanks to Christmas and New Year. So, for this month, I only made $2.26. It might seem unfair considering the total sales generated through my affiliate links on Amazon amounted to around $130. But hey, it is what it is.
Fiverr Revenue Report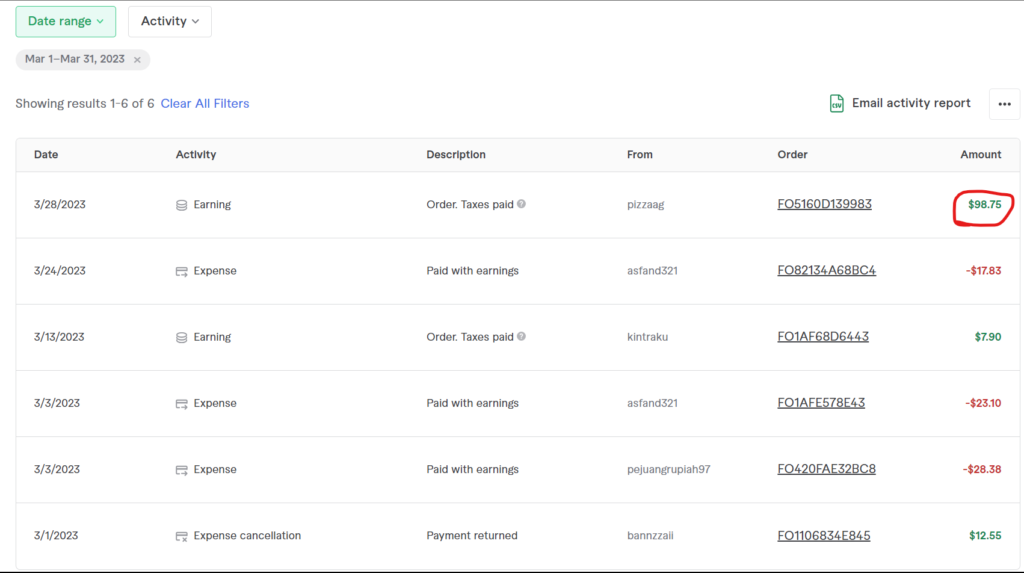 Now, let's talk about the second biggest contributor to my blog's income report. The hidden gem of my income sources—Fiverr. On Fiverr, I offer various services related to anime, such as selling backlinks and accepting paid guest posts. This gig is especially popular among anime merch stores and other anime-related websites looking to improve their SEO.
In March, I sold an order for $125, but after Fiverr's commission and taxes, my earnings amounted to $98.75. For a single order, it is not too bad. Fiverr has been an incredible platform for me, and I've made around $4000 so far with anime content, and I'm planning to make an indepth article about that soon.
I know there are other earnings shown in the above image, but they are the sales from my Instagram promotion. And the red ones are the amount I spent on buying services from Fiverr.
Summary
So, to summarize, in March 2023, with my anime blog attracting 200,000 visitors, I made a grand total of $270.39. Now, some of you might be disappointed with this figure, and trust me, I feel the same way. In other niches, with the same amount of traffic, I could easily earn over $2000. However, the advertising landscape for anime websites is quite different, with fewer advertisers looking to place their ads in this niche.
It's important to consider various factors that influence ad revenue, such as the demographics of my audience. Out of my total traffic, only 33,000 visitors come from the U.S., while the rest are from countries like Brazil and Russia, which have lower CPM rates. But despite these challenges, I remain passionate about sharing my love for anime and connecting with fellow fans like you.
And that's a wrap, folks! Thank you for joining me today for this anime blogging income report. I hope this glimpse into my earnings has shed some light on the possibilities of making money with anime content. Remember, it's not just about the numbers—it's about following your passion and sharing it with the world.
Feel free to leave any questions or comments down below, and I'll be happy to respond.
Until next time, keep exploring the amazing world of content creation and stay passionate!
---
Loved this article? Share it with a friend!
---