Valentine's Day is a time for love, and what better way to celebrate than by watching some of the most romantic anime series of all time? Whether you're looking for a heartwarming love story, a steamy romance, or just a good old-fashioned love triangle, there's something for everyone on this list of the top 10 romantic anime series.
Why Do Fans Enjoy Romantic Anime Series?
Romantic anime series are popular with fans because they give them a unique way to escape—a safe way to explore their own feelings and fantasies.
These shows are not always heartwarming. They also contain several real life challenges that viewers can relate to, such as the feeling of being misunderstood, navigating difficult relationships, and dealing with heartbreak.
List of the best romantic anime series to watch this Valentine's Day
In this section, I'll be sharing ten of the best romantic anime series that you can watch with your lover this Valentine's Day. From the classic tear-jerking romance of Clannad and Kimi Ni Todoke to more upbeat romantic comedies such as My Little Monster and Ouran High School Host Club, there is something for every couple.
So, without further ado, here are the top 10 romantic anime series that are perfect for the occasion:
Clannad
Toradora!
Fruit Basket
Kimi ni Todoke
Wotakoi: Love Is Hard For Otaku
The Pet Girl Of Sakurasou
Rascal Does Not Dream Of Bunny Girl Senpai
Your Lie In April
My Little Monster
Horimiya
Given
Nana
Kaguya sama love is war
Love, Chunibyo & Other Delusions!
Kokoro Connect
Tsurezure Children
Shikimori's Not Just A Cutie
Recommended >> 35+ Best Rom Com Anime You Must Watch
17/17. Shikimori's Not Just a Cutie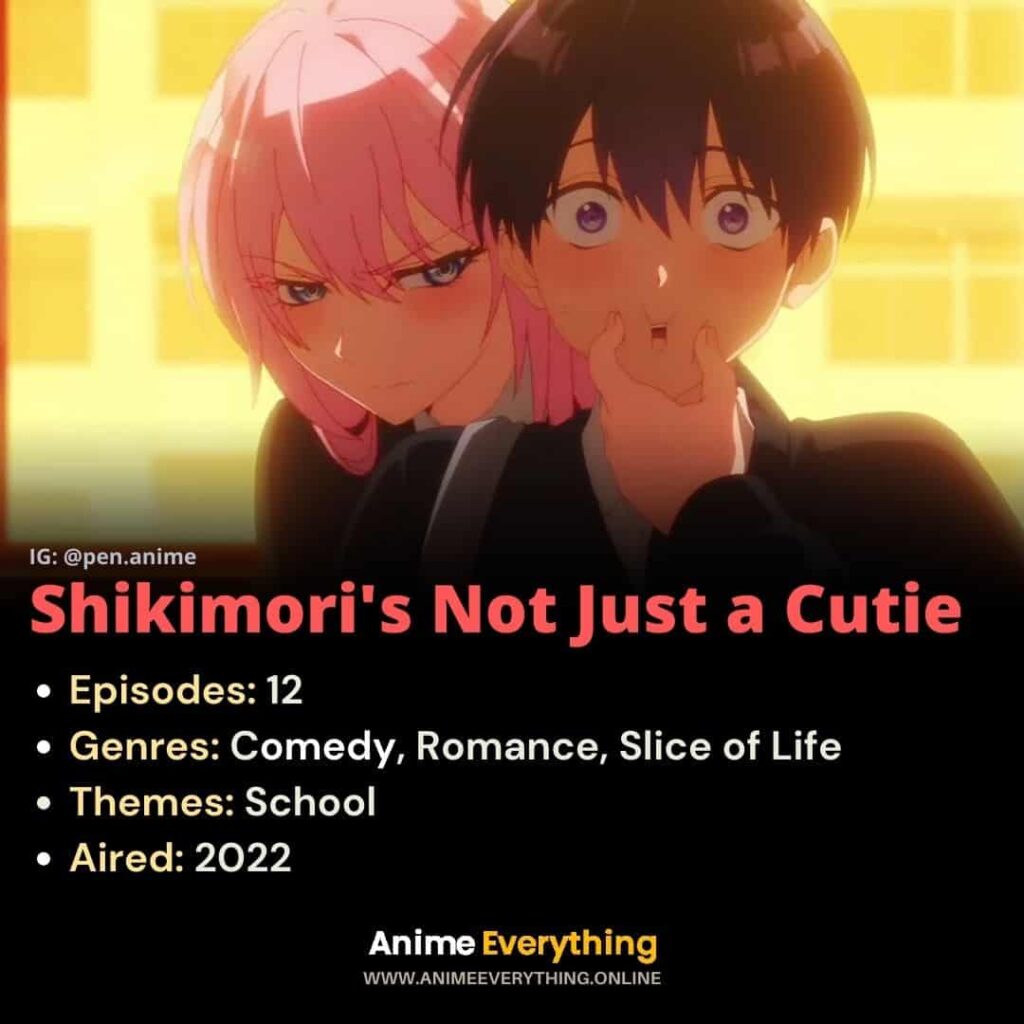 Shikimori's Not Just A Cutie is yet another perfect romantic anime series to watch with your loved one. This is a slice of life anime series about a boy who is a magnet for bad luck. He is way too frail for a boy and is nothing like the typical main character you see in other anime series.
However, we have our female MC, Shikimori, protecting him all the time. She is smart, extroverted, strong, and most of all kind towards Izumi.
The entire anime is a cute love story between Shikimori and Izumi as we watch them form a bond that only strengthens over time.
16/17. Tsurezure Children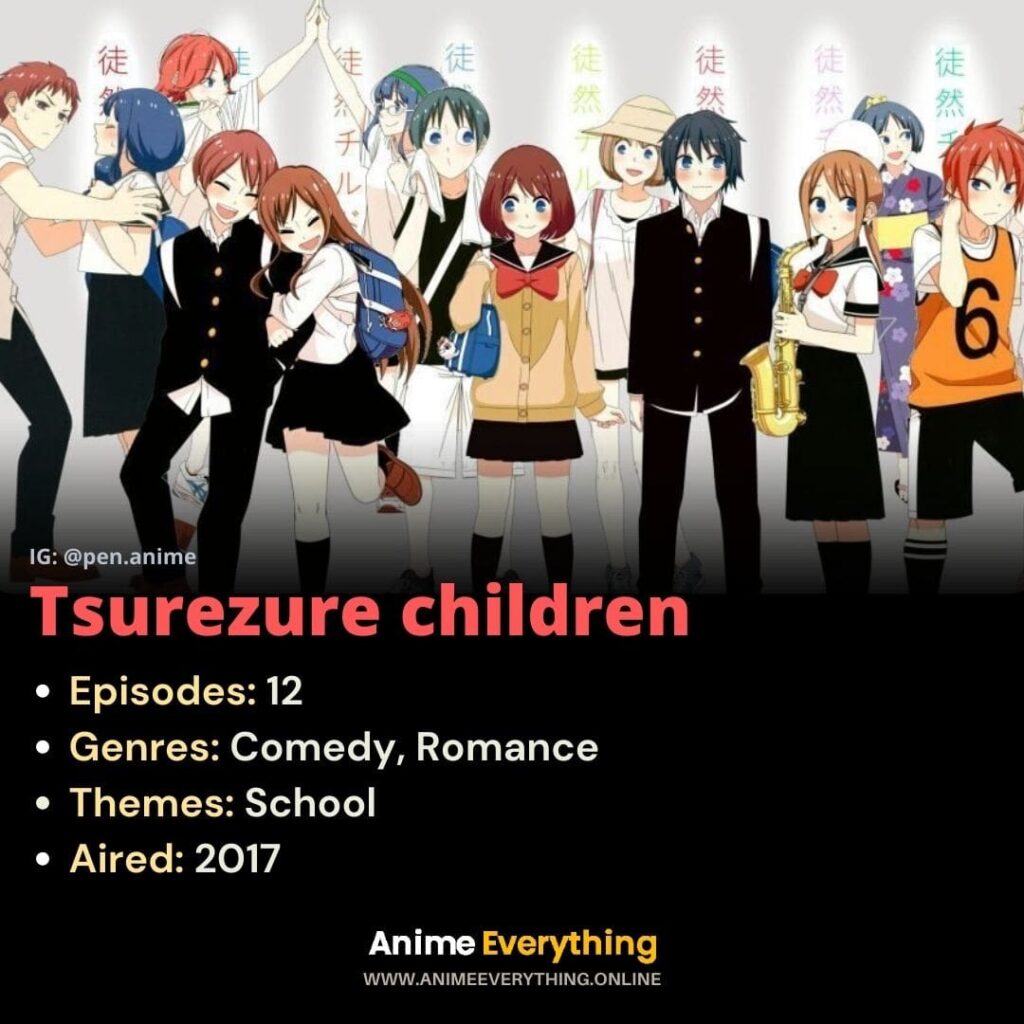 Tsurezure Children is a fun-filled short anime series where each episode lasts for about 10 minutes.
This anime is about the love lives of several high school couples. Slice-of-life situations are used to show the essence of love and all of its complexities.
What I adored about this anime is the comedic element. The show manages to be extremely hilarious, all the while maintaining the romantic mood, which is perfect for couples who are looking for a way to laugh and get their hearts racing at the same time.
15/17. Kokoro Connect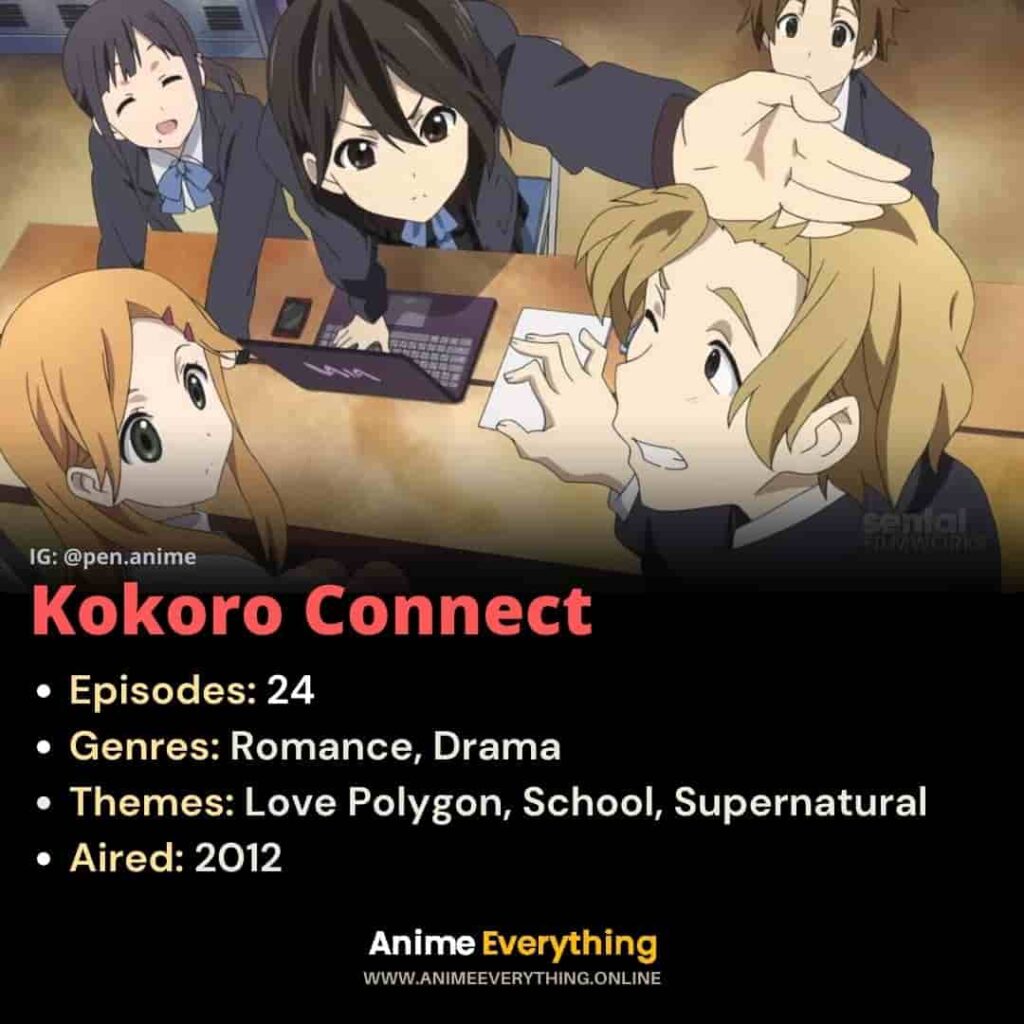 Kokoro Connect is an interesting anime with a unique premise, featuring a group of five high schoolers who are suddenly able to switch bodies with each other.
These five are boys and girls who have known each other for a while. Some have secret crush on the other, and there is even a love triangle brewing between two of them.
Thanks to the body swap, they have to live the lives of the others, and gain a new perspective on life and friendship.
This is a perfect romantic anime series if you are looking for something new and interesting to watch.
Recommended >> Top 10 Romantic Anime With Vampires
14/17. Love, Chunibyo & Other Delusions!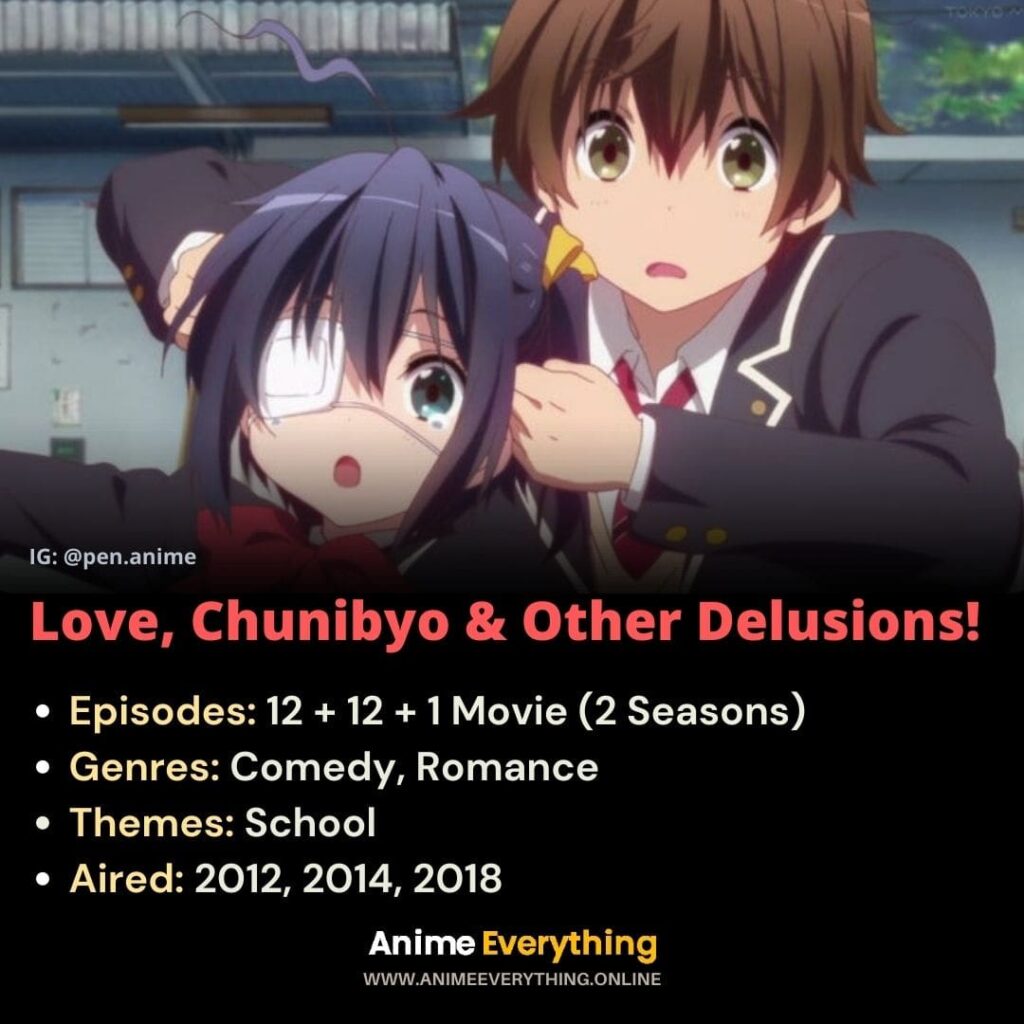 Next on our list of the best romantic anime series is Love, Chunibyo & Other Delusions! It is another comedy anime that takes the romance and drama routes as the series progresses.
The main female character, Rikka, is a high schooler who acts childish, making up imaginary powers and enemies. The male MC, Yuuta, who had acted like that himself in the past, is very embarrassed by her behavior and tries to fix her.
Rikka's antics and Yuuta's response to her is a treat to watch, as it is so hilarious. It is a great contrast between the two characters, as Rikka's naivety and Yuuta's self-consciousness play off each other in amusing ways.
13/17. Kaguya sama love is war
Kaguya sama love is war is easily the best romantic comedy anime series in the history of anime in my opinion.
It is a super hilarious show about two extremely intelligent and capable high schoolers, Miyuki Shirogane and Kaguya Shinomiya, trying to one-up each other in their battle of the wits.
They both don't want to be the first to confess, as they see it as a sign of weakness. So they play tricks and games to make each other confess. They take it to absurd levels, which leads to a lot of hilarity.
The series gets better and better as the story progresses, with its third season being an absolute masterpiece. If you haven't already watched it, then I strongly recommend that you do, as it is one of the most popular anime series of recent years.
12/17. Nana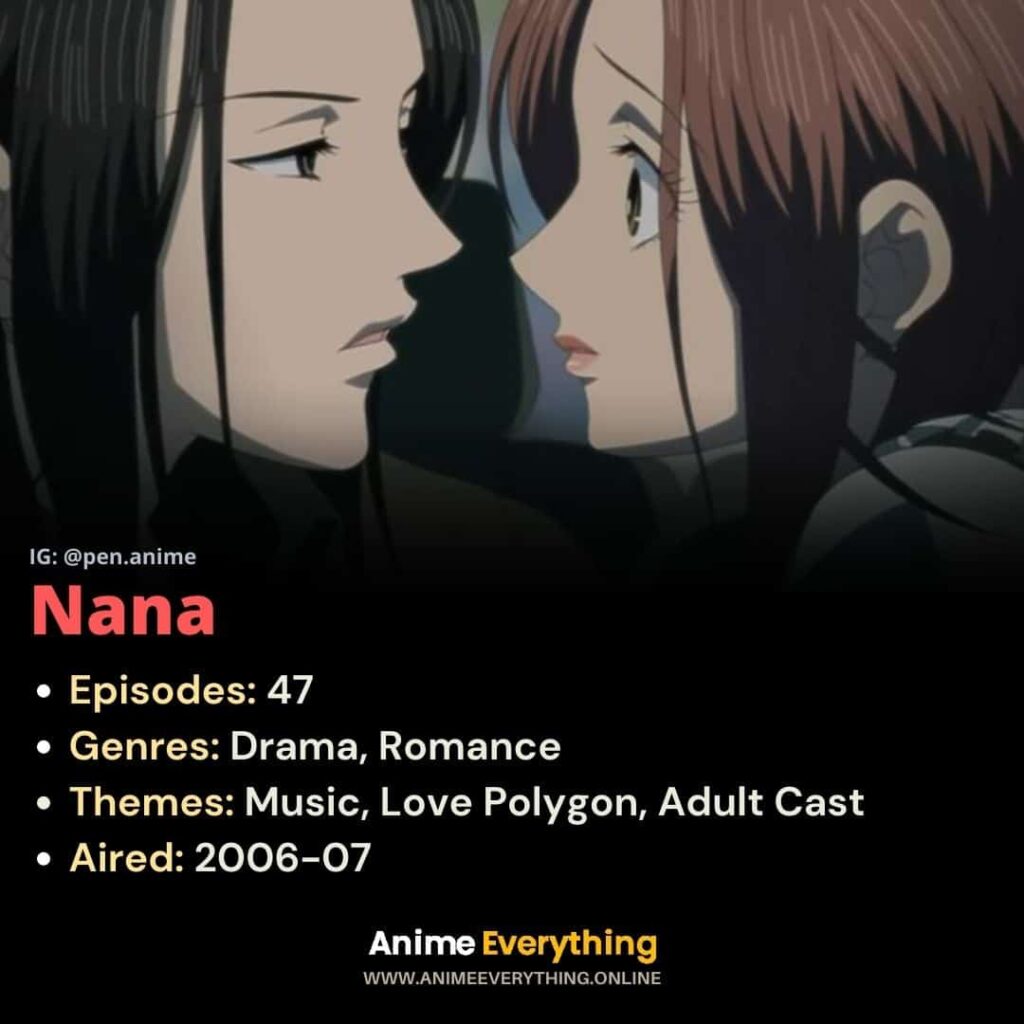 Nana is a complex and deeply emotional tale of love, friendship, and the many challenges of adulthood. This is also a perfect romantic stories for bisexual people, as it is a love story of two girls.
The story follows two young women, both named Nana. They both move to Tokyo to pursue their dreams and find love along the way.
They have different personalities, but the two form a close bond.
Their journey together is filled with laughter, tears, and the many ups and downs of life.
11/17. Given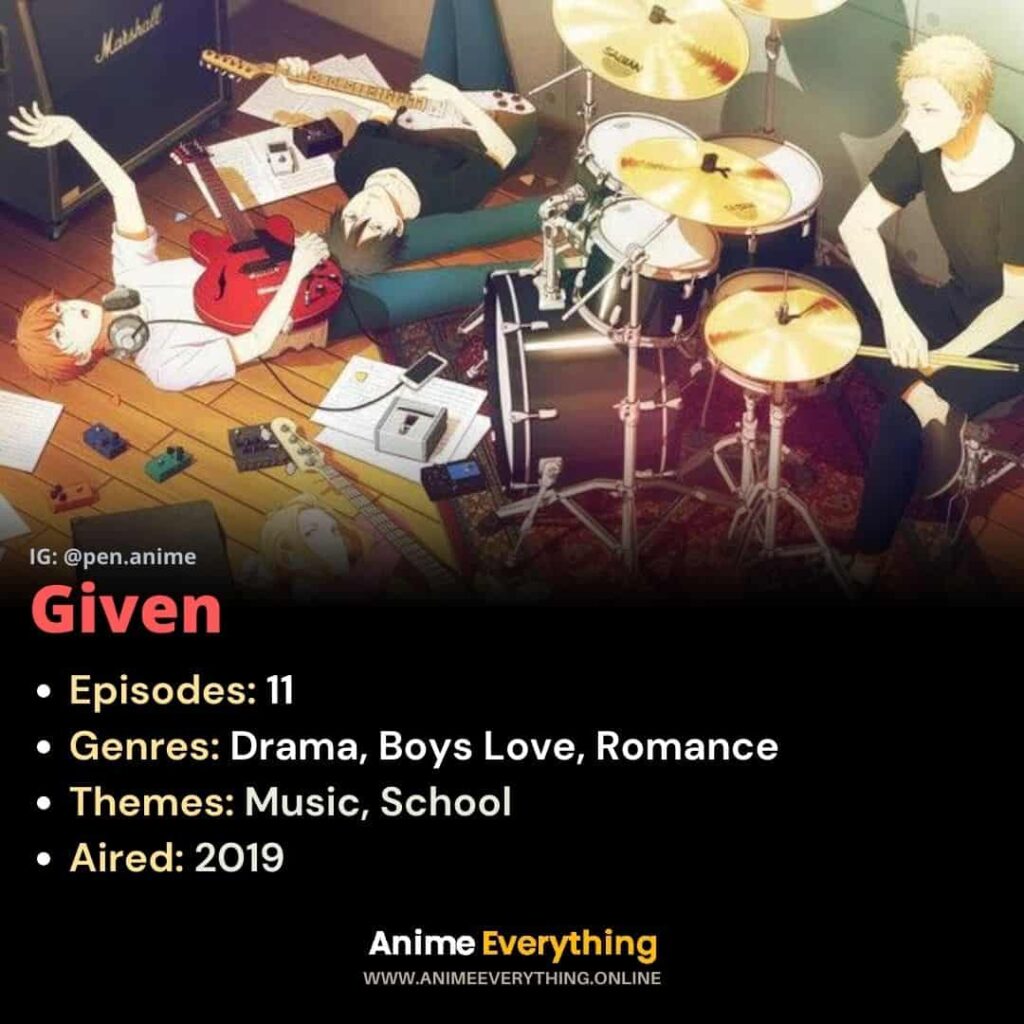 Given is the perfect anime for bisexual couples to watch. It is about a shy, introverted boy who has an angel-like voice.
He ends up joining a band and learning guitar to be the best musician he can be. However, the story truly centers around the romance between him and one of the other band members, who realizes that he has feelings for the main character, although they are of different genders.
It is a beautiful love story with superb animation, great music, and a touching romance.
Recommended >> 10+ Amazing Male Gay Characters In Anime
10/17. Horimiya
Horimiya is one of the more recent releases in the anime world, and it has already become a hit among fans. The reason for its popularity is its interesting cast of characters and engaging story line.
This is a romantic anime that takes a very normal route, where the main characters become a couple pretty fast without much buildup or anticipation.
The main male character has two personas: he appears lame at school but is a badass on the outside. This is because he has some insane tattoos all over his body, and he tries to cover them up at school so that he doesn't draw any attention.
The female character gets intrigued by this and slowly falls in love with him, and they explore their relationship together.
9/17. My Little Monster
My Little Monster is very similar to Horimiya in terms of the dynamics between the male and female characters. However, things don't go as easy for this couple, as they don't even understand the concept of love.
The main male character is a genius yet lazy guy who has set his eyes on our female lead. The female lead is also smart, but always scores second to the male lead, leading her to see him as a rival.
The male MC has no social awareness, as he fawns over the female lead until she eventually gives in and falls in love with him.
This is a fun love story that gets pretty dramatic near the end of the series. It is a great romantic anime series to watch this Valentine's Day.
Recommended >> 15+ Amazing Anime Like My Little Monster You Must Watch!
8/17. Your Lie in April
Your Lie in April is a beautiful and heartbreaking tale of love, loss, and the power of music. The story follows Kosei, a talented young pianist.
However, he has lost the ability to hear the sound of his own playing. He then meets and falls in love with Kaori, a free-spirited violinist. She teaches him to love music and life again.
Despite their many differences, the two form a deep and meaningful connection, and their love story will stay with you long after the credits roll.
7/17. Rascal Does Not Dream Of Bunny Girl Senpai
Rascal Does Not Dream Of Bunny Girl Senpai is a hit anime that features a romantic story with a fantasy twist.
The main female character, Mai, mysteriously becomes invisible to other. So she wears a revealing bunny girl outfit to try and attract the attention of others. But she is still invisible.
However, only our male MC, Sakuta, is able to see her and they eventually form a bond and friendship as Sakuta helps Mai figure out what is causing her invisibility.
Sakuta is hilariously open with how he loves Mai and expresses his love for her in a loud and obvious way. They end up dating each other and supporting each other through their respective struggles and doubts.
Recommended >> Top 10 Sad Anime That Will Leave You Crying
6/17. The Pet Girl Of Sakurasou
The Pet Girl of Sakurasou is one of my favorite romantic anime series of all time. It features a normal boy and an abnormal girl who end up living in the same dorm with a bunch of other unique students.
Everybody in the MCs' dorm is a genius, but they are also troublemakers. There, he gets to know a girl who has no social awareness and is incapable of looking after herself. He accepts responsibility for her care, and their relationship soon blossoms into something special.
This is a perfect rom-com anime to watch with your BF/GF as it will make you laugh, cry, and feel a wide range of emotions together.
5/17. Wotakoi: Love Is Hard For Otaku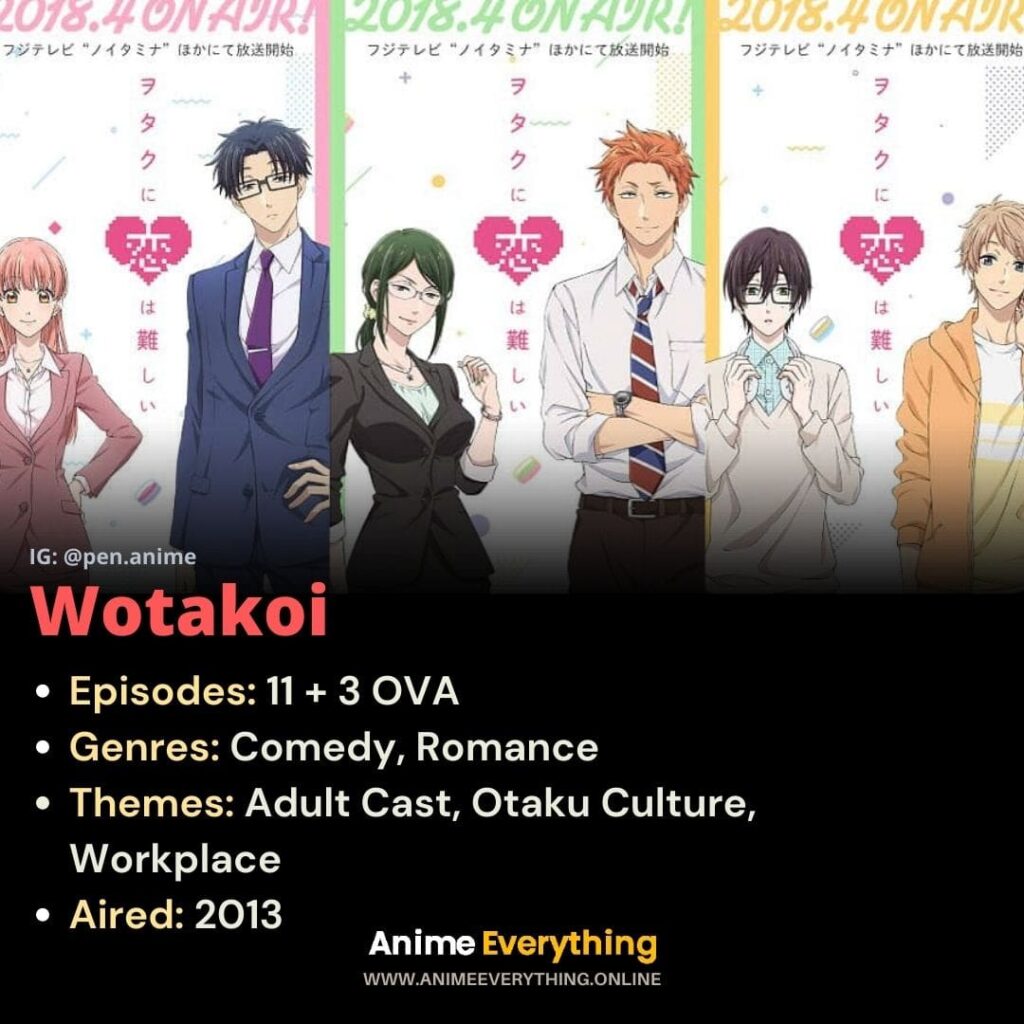 Wotakoi: Love Is Hard For Otaku is a romantic anime series that features the love lives of otaku.
Otakus are known to be awkward people who have no chance at a social life. But that is just a stereotype. The four main characters of the story are all otakus in one way or another.
They are all adults who still cling on to their hobbies and interests, whether it be video games, comic books, or collecting figurines.
The way romance unfolds between these two couples is so sweet and fun that it breaks stereotypes and expectations about what an adult romance should look like.
Recommended >> Top 10 Anime About Otaku You Must Watch!
4/17. Kimi ni Todoke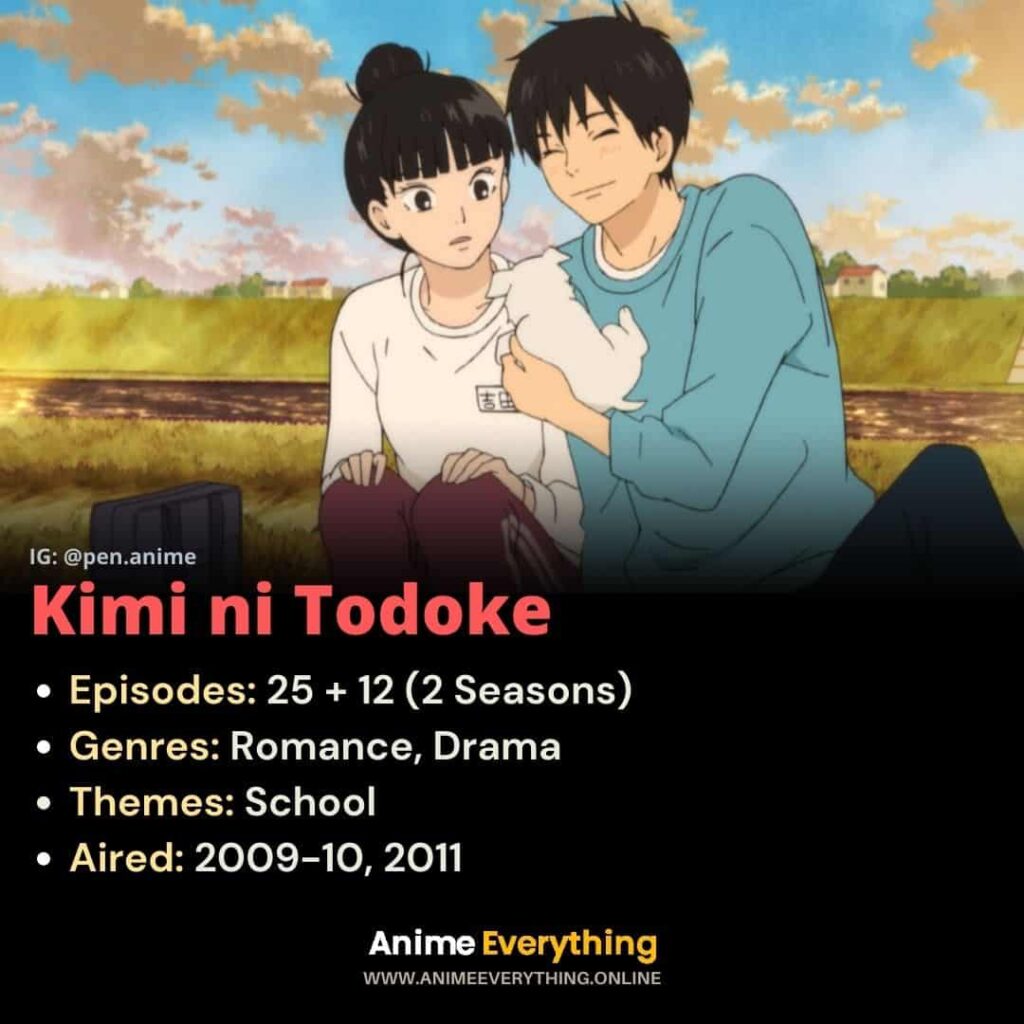 Kimi ni Todoke is a sweet and romantic tale of love, friendship, and the power of communication.
The story follows Sawako, a shy and misunderstood high school student.
She is often compared to the ghost from the movie "The Ring."
One day, she comes across Shota, a popular and outgoing boy who helps her come out of her shell. Thanks to this interaction, she ends up falling for him.
Their love story is one of the most touching and beautiful in all of anime.
3/17. Fruit Basket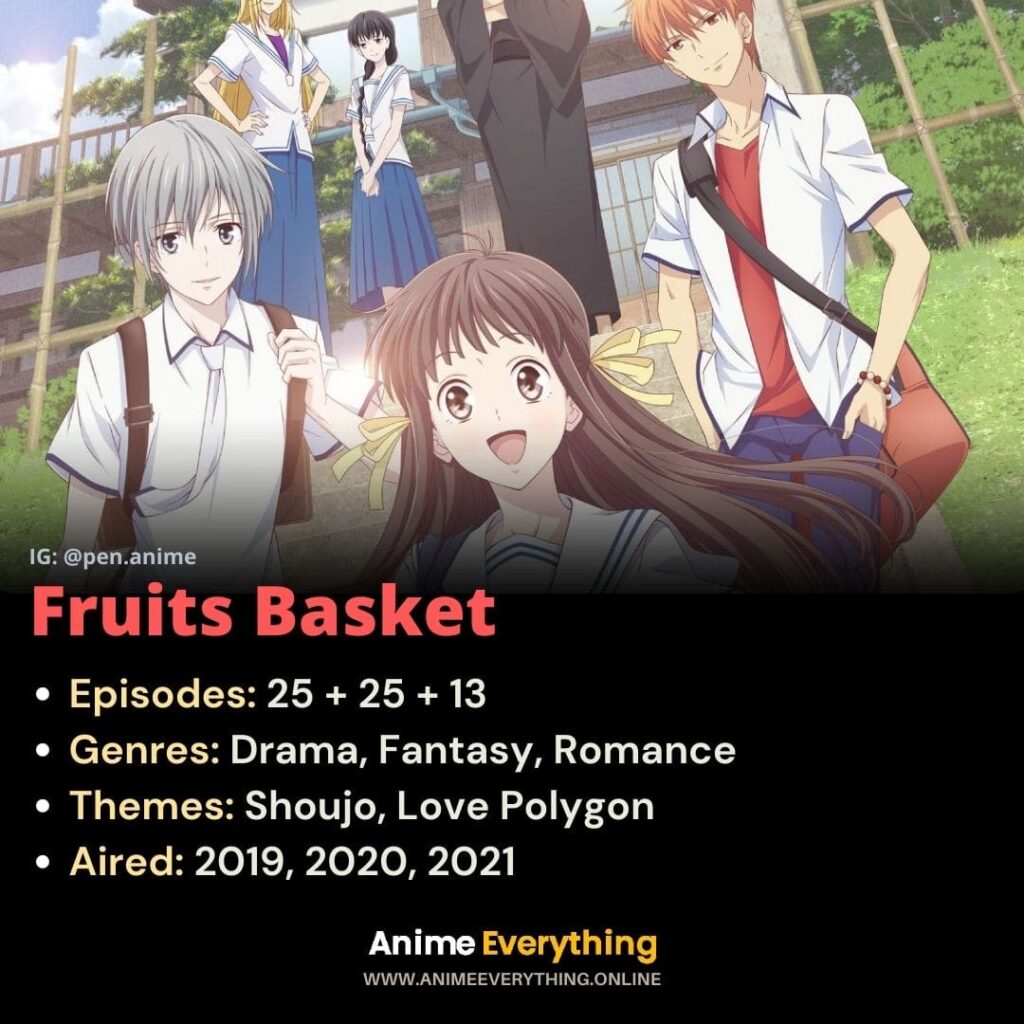 Fruit Basket is one of the most popular anime series in this list. The story follows Tohru, a kind and hardworking girl.
She finds herself living with the mysterious and reclusive Sohma family. This family is not like any other family. They have certain secrets that they safe guard with all their might.
As she becomes closer to the Sohma family, Tohru learns about their curse.
She finds the many challenges they face, and she herself ends up falling in love with one of them.
2/17. Toradora!
Toradora! is a classic romantic anime series with a love triangle. The story follows Ryuuji, a quiet and studious high school student who is secretly in love with his best friend.
He is mean looking, but is actually kind and caring.
And then, we have our female lead, Taiga, a tiny but fierce girl. She is also in love with Ryuuji's best friend.
Despite their initial animosity, the two team up to help each other win the hearts of the people they love. But in the process, they discover that they might just be perfect for each other.
1/17. Clannad
Clannad is a heartwarming story of love, friendship, and family. The story follows Tomoya, a high school student who is struggling to find meaning in his life.
He meets and falls in love with Nagisa, a shy and gentle girl. She is determined to restart her school's drama club and Tomoya decides to help her do that.
Together, they embark on a journey of self-discovery and growth, learning to appreciate the little things in life and finding love in the process.
That's it for this post. These are all the best romantic anime series that you can watch with your beloved partner.