Romantic Comedy anime a.k.a rom com anime are the kind of anime that'll make you go from "Oh wow, this anime is really funny" to "Damn, don't make me cry" and make you feel a range of emotions.
Rom com anime are perfect blend of comedy and some serious romantic drama. But ofcourse, there are some rom-com anime, that are through and through all fun and games. I've made sure to include both kinds in this listing! Enjoy!!
37. Shuffle!
Shuffle was a popular adult video game in Japan in 2004. Those who are familiar with light novel ero games probably have heard of this title.
The game was so popular that it was turned into a rom com harem anime, which otakus also loved.
Since the anime was released in the mid 2000's its animation and background music isn't that great, but if that doesn't bother you, this might be a perfect show for you.
The MC lives in a demon-god world. Besides that, he's a regular schoolboy. As you might've figured out, the demon girls and angel girls fall in love with him. If you like demon girls and angels, you'll love this.
36. Karin
Karin is another romantic comedy anime great for slice-of-life fans.
We usually think of vampires as night-predators. But that is not the case in this anime.
Karin, the story's protagonist, is pretty kind and soft natured. Instead of drinking innocents' blood, she releases hers.
This boosts their energy. Karin's siblings help her hide her ability until Kenta Usui arrives. As you might have guessed, this is where the romance starts.
Kenta's presence changes Karin's blood. This exposes her secret. Now the story is all about the dynamics between Karin and the male MC.
---
Related >>
---
35. Fortune Arterial
A school located miles from mainland Japan should have been a red flag for our protagonist. But Kohei Hasekura, our MC, ignores that fact and changed schools.
What's more? His new school has a six-year system where he'll finish high school.
You might think that is weird, but Kohei hasn't seen the best yet. After starting classes, he learns that one student is a vampire!
Of course there is a vampire in a school that is secluded from human population and is only reachable by a boat!
At this point you know what's going to happen. After this, the rom com part of the anime unfolds.
34. In Another World with my Smartphone
Mistakes happe. Even for Gods. The almighty God accidentally kills Touya Mochizuki with a lightning bolt before his time. To apologize for his mistake, God has some special offer.
He offers him a wish and a chance to live in another magical world. The MC decides to keep his smartphone (such a dumb thing to waste a wish on, I know!) and accepts a magical world. There Touya meets many magical girls (who eventually becomes his wives). He introduces them to smartphones and becomes popular.
33. Actually I am…
Actually I am is a fun rom com anime with a vampire as the female lead.
What if your crush is a vampire? You'd run away? But Asahi Kuromine is different. He handles it like a pro.
His crush Youko Shiragami's a vampire. If her secret identity was revealed, her father told her to quit school.
But Asahi somehow came to know her secret. However, he promises to help Youko protect this information so she can focus on school.
After sharing a secret with a man, you can't help but feel close to him. Watch Asahi win over Youko's heart in this fun filled anime series.
32. Rosario to Vampire
Rosario to Vampire is a popular rom com harem anime from the mid 2000's.
Youkai Academy has convinced everyone it's a normal school. But it's probably true. Why? Because all of the students there are monsters.
Monsters can learn how to coexist with humans at this academy. However, all those knowledge is just theoretical because there is no human in that school.
However, Tsukune Aono, a human boy, destabilizes this premise when he joins the school. After failing to qualify for other schools, he was forced to attend this school. Aono's life becomes more complicated when he meets and falls in love with a beautiful vampire girl.
31. Arifureta: From Commonplace to World's Strongest
Hajme was initially shy and average. However, after he is betrayed and left for dead in a dungeon soon after being summoned to a fantasy world, he changed. He became a badass person.
Now you might be wondering what part of this story feels like a rom com, but hear me out!
On his way out, he saves a betrayed vampire girl trapped in the dungeon's deepest floor. Since they share a similar pain, they understand each other and fall in love with each other.
This is the story of how a betrayed couple lives freely and authentically, not giving a damn about the world that abandoned them.
30. Highschool DXD
Issei Hyondou is the MC in this show. He is an extreme lady-lover… Howver, he's killed by one while on a date, ironically.
Rias Gremory resurrects Issei after this terrifying event and makes him her servant. But he doesn't know Rias is a demon girl. This show follows Issei's secret new life from his family. The male and female main characters are likable and have similarities.
This anime falls more under the ecchi and harem genre, but it also has a decent amount of romantic comedy in it.
29. Hi Score Girl
Hi Score Girl is a 3D rom-com anime about two 90s kids united by video games. Arcade games were very popular in the 1990s. And this anime beautifully portrays how two gamers meet each other, become rivals, fall in love, and continue on with their lives.
The main characters play arcade games like Street Fighter and compete. The aspect I love about this anime is that it gives a beautiful overview of the 90's period which is quite interesting to watch.
Hi Score Girl is slow-paced and may not be for everyone, but if you want a relaxing romance story, watch it.
28. Golden Time
Tada Banri has no memories. He's lost his memory and personality after an accident. But he has to carry on with his life. So Banri joined a college in Tokyo. His past will catch up to him, and his future holds many surprises.
Banri meets beautiful Kaga Kouko. She'll change his life. Banri's life is reaching a new emotional climax in this amazing rom com anime series.
27. Remake Our Life!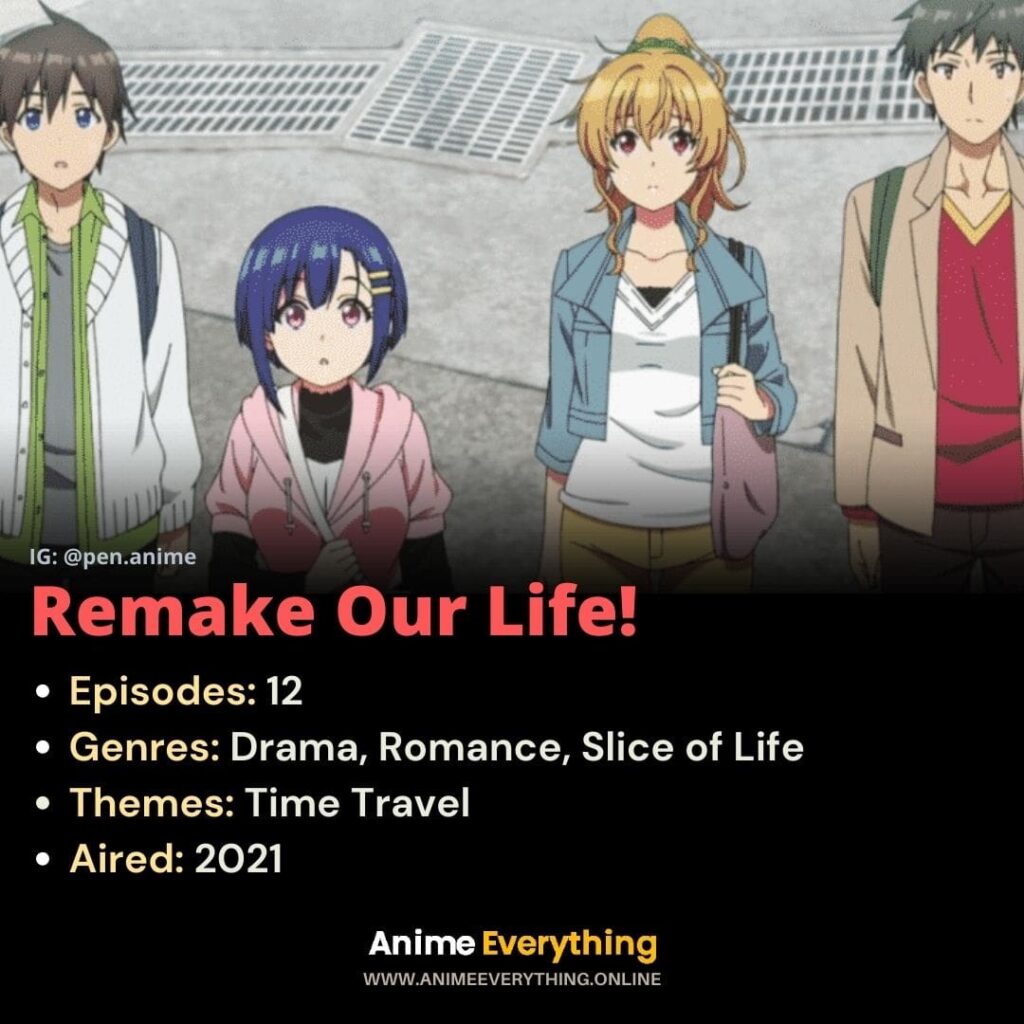 28-year-old game developer Hashiba Kyouya is in a pickle. His company goes bankrupt, so he is jobless now and returns home.
As he lies in bed, he regrets his life choices after seeing the success of his peers.
When he opens his eyes, he's 10 years in the past. Right before choosing his college. Will he fix it? This is a story about a failure who gets a second chance.
On the side, he has always been admiring an artist in his original timeline. He happens to live under the same roof as her and they slowly fall in love with each other. Thus a beautiful romantic comdey with a pinch of drama unfolds.
26. Saekano: How To Raise A Boring Girlfriend
Here is a rom com anime about an Otaku. Tomoya Aki loves anime and video games.
One day, he's impressed by a girl. This incident makes him want to create a video game after her. Now he must get help from weird students to get this task done. However, to his surprise, he discovers that the girl who impressed him was her boring classmate Megumi.
Watch how their relationship moves forward in this anime series.
25. The Quintessential Quintuplets
Uesugi Fuutarou, the MC of this anime series, is a poor but brilliant student. He tutors troublesome girls, Quintuplets to be precises, for money.
The Nakano sisters are initially uncomfortable with an outsider like him. They'd always relied on each other before. However, Fuutarou must help these girls graduate to make a living. But can he win their trust?
24. Fushigi Yuugi
Fushigi Yuugi is a high rated shoujo rom com anime from the 90's.
Miaka Yuuki is "isekaied" to a fantasy world in Fushigi Yuugi. This is the best reverse harem anime. It's a fantasy-action anime.
Miaka is a prophesized priestess who can summon a God for 3 wishes. Before that, the new priestess must find her bodyguards so she can be protected. Fantasy soldiers are handsome. Two try to win Miaka, while the rest have "heart eyes"
23. Mayo Chiki!
Mayo Chiki is about a student who fears the opposite gender, Kinjiro Sakamachi. Remember anime nosebleeds? You'll see a lot of that here. Kinjiro changes when he meets a woman.
This rom com harem anime has a lot of great characters. Despite his fear, the MC helps others. He helps Subaru Konoe, a butler hiding as a woman. The animation is top-notch given its release time, so give it a shot.
22. To Love Ru
The ecchi harem classic To Love Ru has a decent bit of romance and comedy in it which earns it a place in this list.
To Love Ru is popular because of its fanservice. Anime fans are sometimes pranked with it. The plot is also befitting an ecchi anime.
Yuuki loves Haruna. A naked girl falls on Yuuki while bathing, complicating his confession. The girl introduces herself as an alien princess, changing Rito's life.
21. Yamada-Kun and the Seven Witches
Yamada-kun & the Seven Witches has a good plot. This is a High School Harem anime which also falls under the rom com genre.
Ryu Yamada (the MC) joins a new school to improve his life, but in the second year, he reverts to his old ways.
Ryu and Urara Shiraishi, a beautiful honors student, accidentally kiss after colliding. But little did he know that she was a witch whose powers can be activated by a kiss.
If they kiss, they can switch bodies. They slowly investigate the supernatural ability. They find Suzaku High's 7 Witches.
Yamada-kun has indentified all 7 witches. Kisses activate their witch powers. The Supernatural Club investigates their magical abilities. Enjoy the anime's plot and Yamada's antics.
20. Kamisama Kiss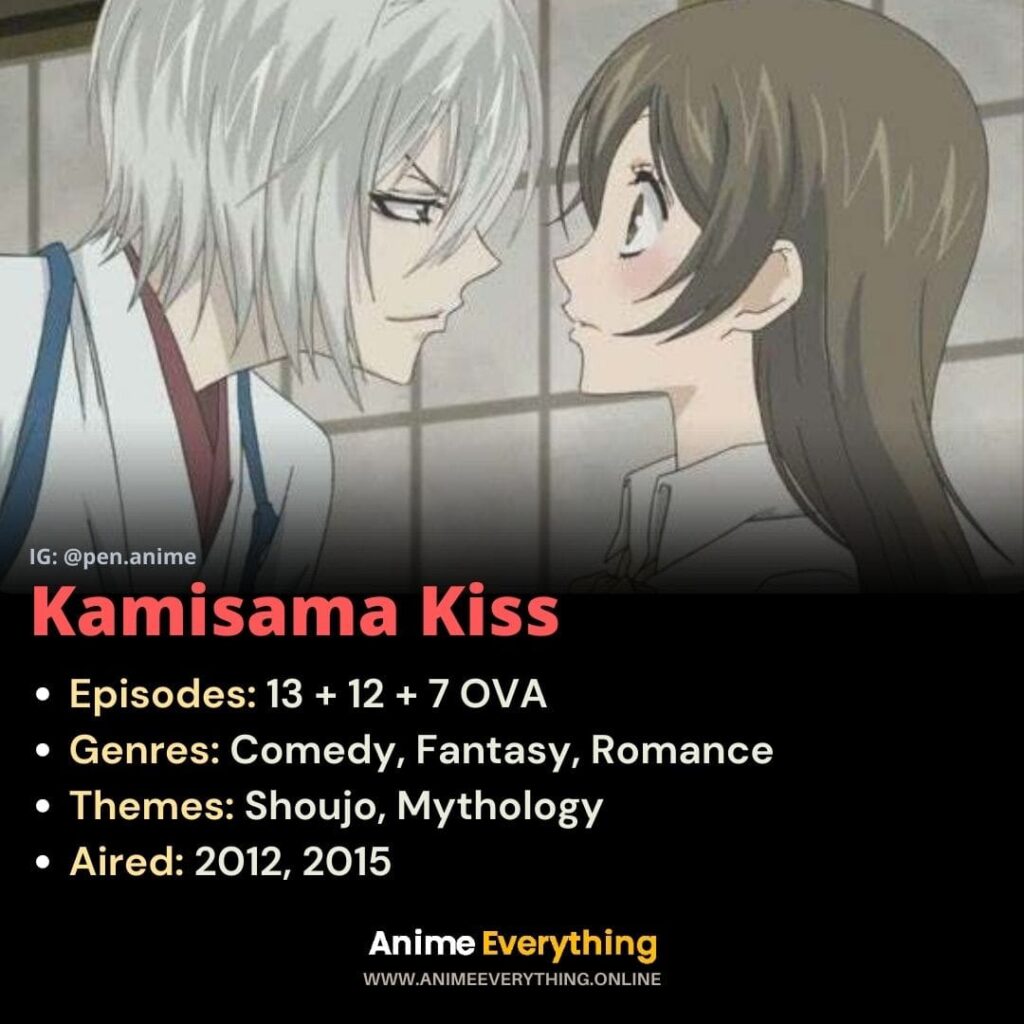 This is a beautiful rom com anime that is comparatively unique from all the other anime series in its genre.
Nanami and her father shared a small apartment. Her gambler father adandoned her and hid from creditors.
This is when things get a little unpredictable. A stranger in the park proclaims her the local shrine's new goddess.
Tomoe, a familiar fox who dislikes Nanami's presence, argues with her. If she can convince the troublesome man to help her, he will. But she has to kiss him first… Who wants to kiss that horrible man?
19. Kaichou wa Maid-sama!
Seika High School student council president Misaki Ayuzawa is strict and stern. She works hard to help the few coeds enrolled. She terrorizes males at school but also secretively works at Akihabara's maid cafe after hours.
But when campus hottie Usui Takumi walks in during her shift, he threatens her reputation. Thus unfolds a romance story which has a lot of comedy and a bit of drama.
18. Devil is a Part-timer
Devil is a Part-timer is an exception to the rule of bad sequels and reboots. This is because it's a relatively brand-new idea that fits the genre perfectly. Althoguh, to be honest, it is time they actually release a sequel to it.
This anime finds its humor early on, while many others don't even after ten episodes. You won't laugh out loud, but you'll smile a lot while watching.
This rom-com anime series is such a fun and well-written show. 11 episodes is a little too short but those 11 episodes are a blast to watch!
17. Wotakoi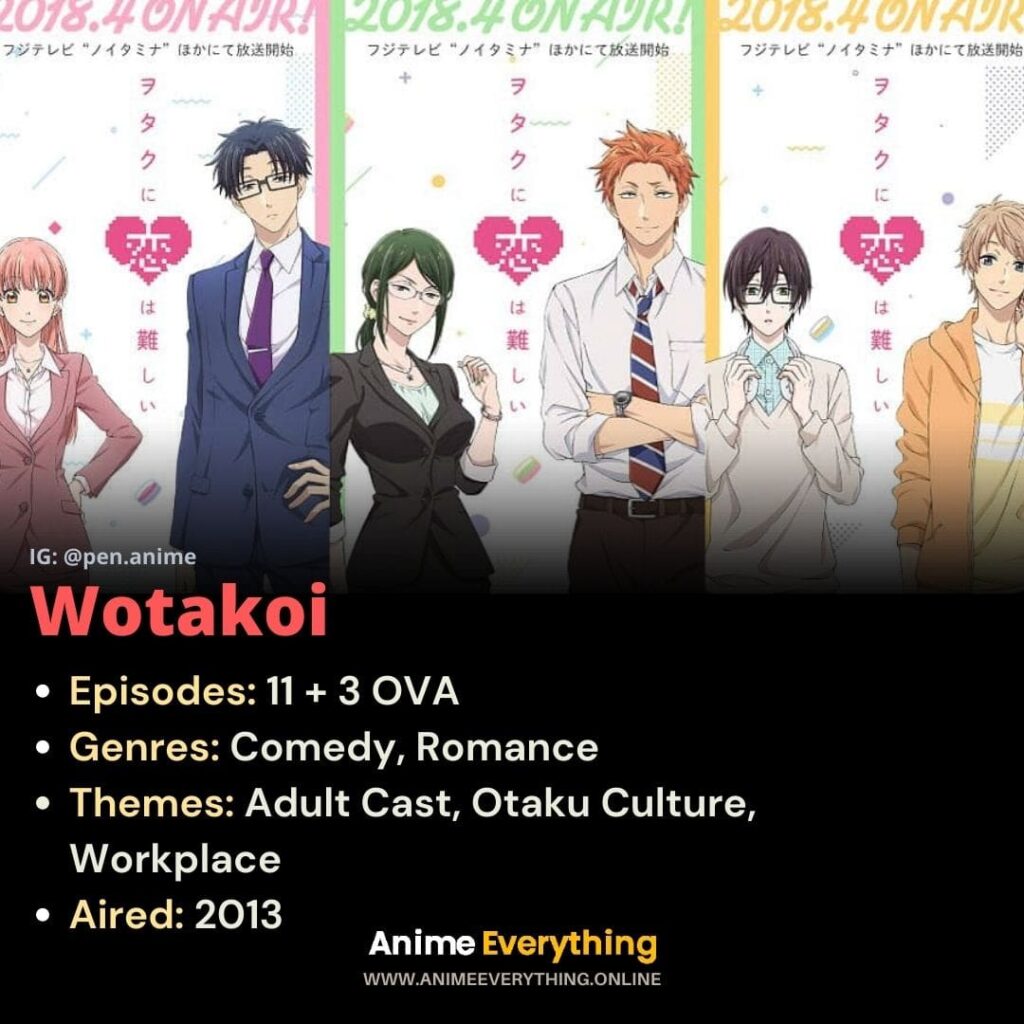 When rom-com fans think of otaku anime, we think of Wotakoi. This anime tells a wholesome love story of two hardcore Otakus.
Narumi Momose hides the fact that she's an Otaku because her previous boyfriends dumped her. After all, Otakus don't have a good reputation in the society.
She now works with her childhood otaku friend. He agrees not to disclose her identity at work.
He also proposes to be her boyfriend to help her out. This way, her heart won't be broken and they'll get along. They start dating after Narumi accepts his proposal. They can geek out when they by themselves, but must still hide that they're otakus from the rest of the colleagues.
16. Ouran High School Host Club
Ouran high school host club is a reverse harem rom com anime that is super popular in the shoujo community.
Bright scholarship candidate Haruhi Fujioka is rare at Ouran Academy. Haruhi is a "rare species" at her elite school because she is financially poor. She is literally the only commoner in a school full of nobles.
When Haruhi opens Music Room #3's door, she finds The Host Club.
There, Haruhi accidentally breaks a $8 million vase in an attempt to escape her hosts.
To pay off her debt, she becomes the group's "errand boy." Yes, she became a crossdresser.
Haruhi is promoted to full-time male host despite her charm and girl-friendly nature. Haruhi is soon surrounded by elaborate cosplays and rich food.
15. My Next Life as a Villainess: All Routes Lead to Doom!
My next life as a Villainess is an underrated rom com reverse harem anime. The series' main character teleports into her favorite dating sim. However, she's now the game's villain.
Her gaming experience tells her the villain will die or live a horrible life after a certain time. Knowing where the villain's life will fall apart, she's determined to avoid them.
While she carefully tries not to create any incident, her personality makes her a harem of noble boys from her school.
This anime's main character unknowingly wins everyone's hearts. It has a good amount of comedy and a decent plot to make it a great watch for those interested in the romantic comedy genre.
Fruit Basket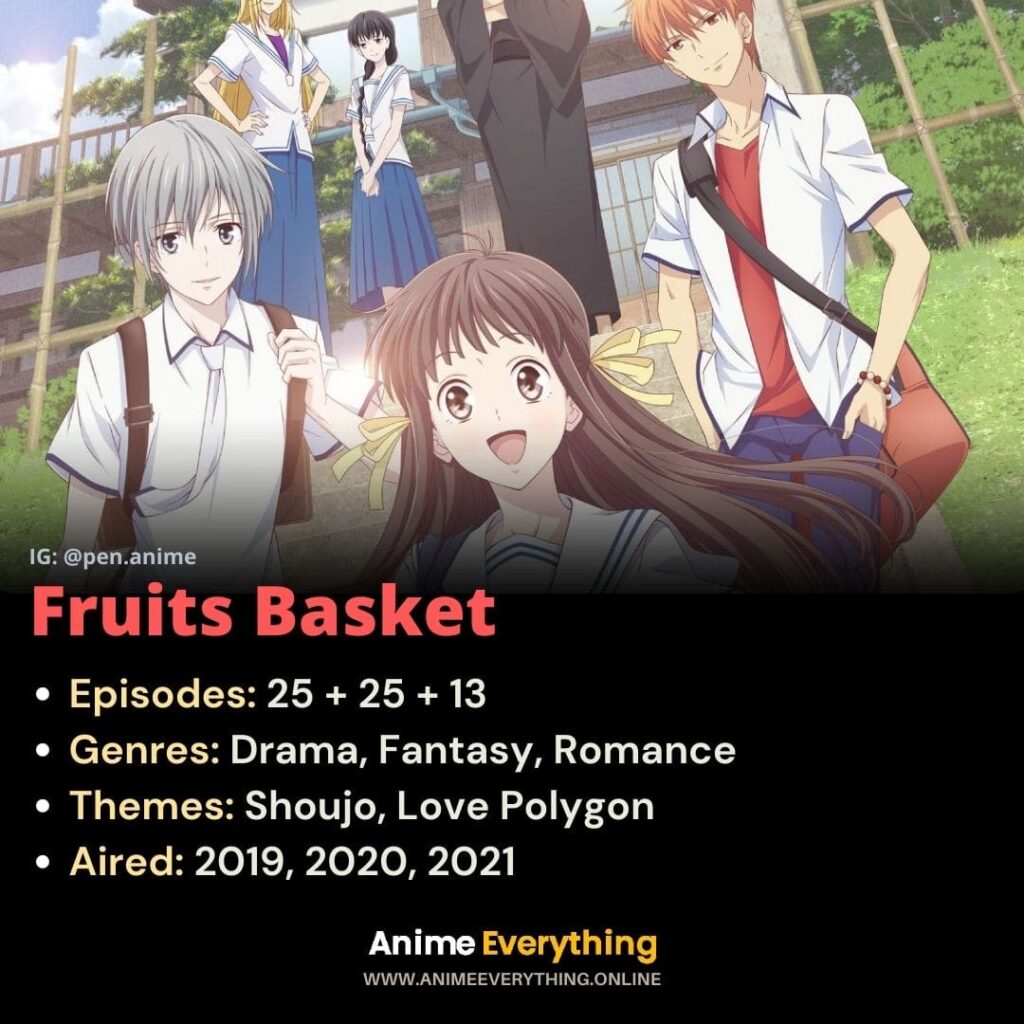 Tooru is the MC of this anime. Her story is sweet. She has a few brothers. The MC discovers that the brothers are cursed and transform into zodiac animals if a girl hugs them.
Fruit Basket explains the 'Curse' dilemma. This is a really well written rom com anime series.
14. We Never Learn
Nariyuki Yuiga wants a VIP scholarship to pay for college. Headmaster awards him a scholarship for his hard work.
However, there is a catch. He must coach the genius girls at his school in their weakest subjects, though.
His new students include math genius Rizu Ogata, literary genius Fumino Furuhashi, and Yuiga's hopeless childhood friend Uruka Takemoto who is a genius in P.E.
Yuiga teaches the in a variety odd and amusing ways. Will Yuiga be able to help the genius girls achieve their goals despite their talents?
13. Eromanga sensei
"It is alright, if they are not blood related." You must keep this in mind while watching this show. It might not be as "bad" as kiss x sis, but it still is an incest anime.
This anime is more on the fun side of the scale, although it may have a little serious moments here and there.
Eromanga sensei is about a hikkimori sister who is an erotica illustrator and her step-brother who is a novel author.
Despite the rating given to this anime, it is actually enjoyable. If you're looking to have some fun watching anime this is the one for you.
12. A sister's all you need
This anime is very similar to Eromanga sensei, but better. The main protagonist is a novel author who is very obsessed with sisters. His wish to have a little sister made him to fantasize about them and eventually led him to become an author.
And then there is this perverted, under-aged girl (yeah, the one in the image above) who is interested in him and hits on him every chance she gets.
A sister is all you need is about a group of authors writing their novels and making it into an anime, and having fun playing games and traveling places with each other.
11. Nisekoi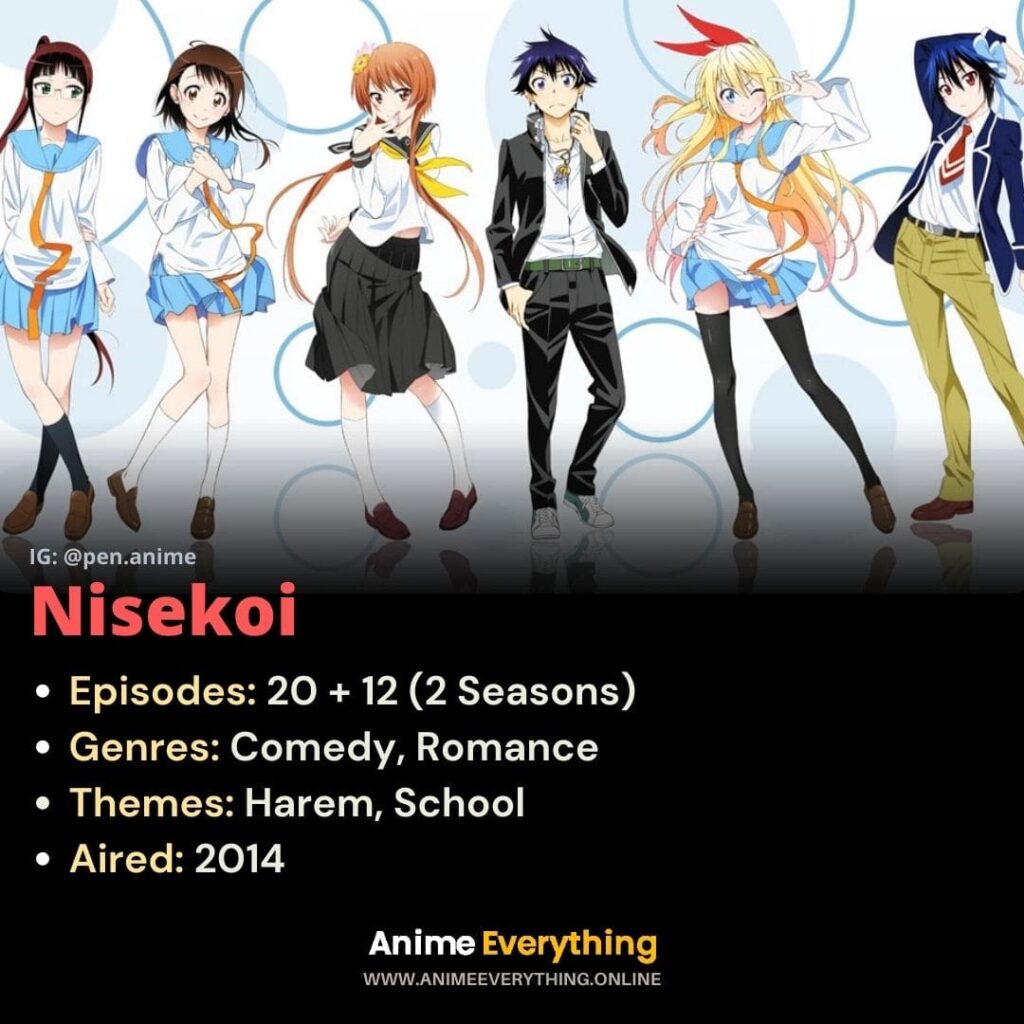 This anime is about a boy, who is a son of the Mafia and a girl who is the daughter of  the American Bee Hive Gang.
They  are forced to act as lovers in order to prevent an all out war between the two groups (And thus the name Nisekoi=Fake love.)
Although they started off on bad terms with each other, their situation to act as boyfriend and girlfriend got them closer and the fake love becomes the real deal.
Meanwhile there is a harem of girls who has a crush on the MC and you know, the usual harem and love triangle stuff.
10. Chuunibyou demo koi ga shitai!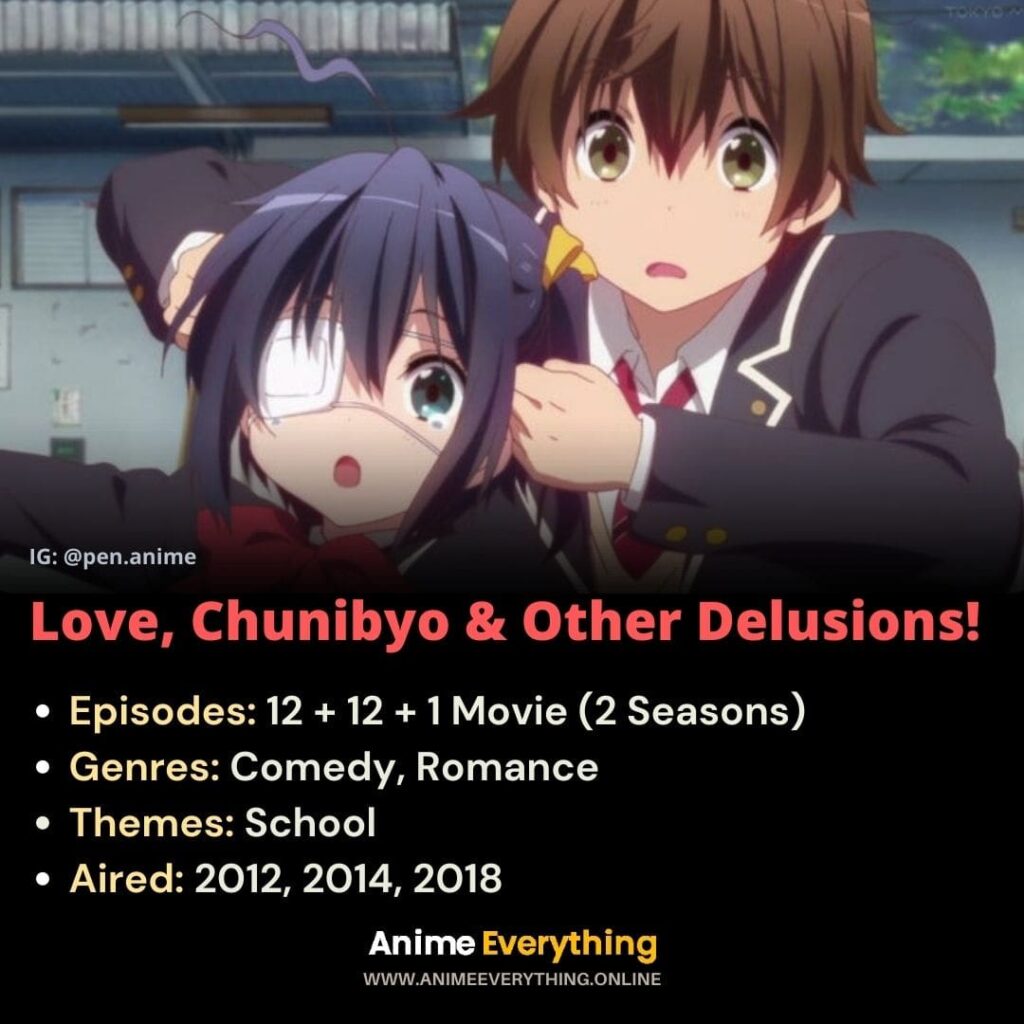 Chuunibyou, also known as 8th grader syndrome is a case where the patient is extremely delusional and thinks they have some kind of mystical power and are always living in a fantasy realm.
The main character who is an ex-chuunibyou goes to a high school far away from his middle school in order to escape his embarrassing middle school memories of being the "Dark flame master."
However, there he meets a chuunibyou girl – the self proclaimed vessel of the "Wicked eye."
This anime has a very hilarious and a heart warming story that'll make you want for more.
9. My little monster
My Little Monster is a hilarious addition the the rom com anime genre. In this anime a smart, stoic girl (the female MC) and even smarter, emotionally aloof guy (the male MC) fall in love. The first half of the anime is insanely hilarious. It is funny because the male main character has no common sense when it comes to social interaction. He keeps following the female mc and saying he loves her.
While she tries to ignore him at first, they slowly start to fall in love with each other and this is when things get confusing for them.
In the second half, they explore what kind of relationship and love they want to have.
8. Horimiya
Horimiya is one of the best rom com anime out there. During its initial release, it topped the charts like crazy.
We all know that opposites attract. Atleast, that's how it is in the world of physics. But is the same for people? Seems like it is according to Horimiya.
Hori is popular at school, but her home life is chaotic. She's unprepared to raise her brother alone.
On the other hand, Miyamura is boring and unpopular at school, but is actually pretty cool outside school. He also hides a gentle heart behind his piercings and tattoos. A chance meeting reveals both their hidden sides. Could this grow into a beautiful relationship?
7. Tsurezure children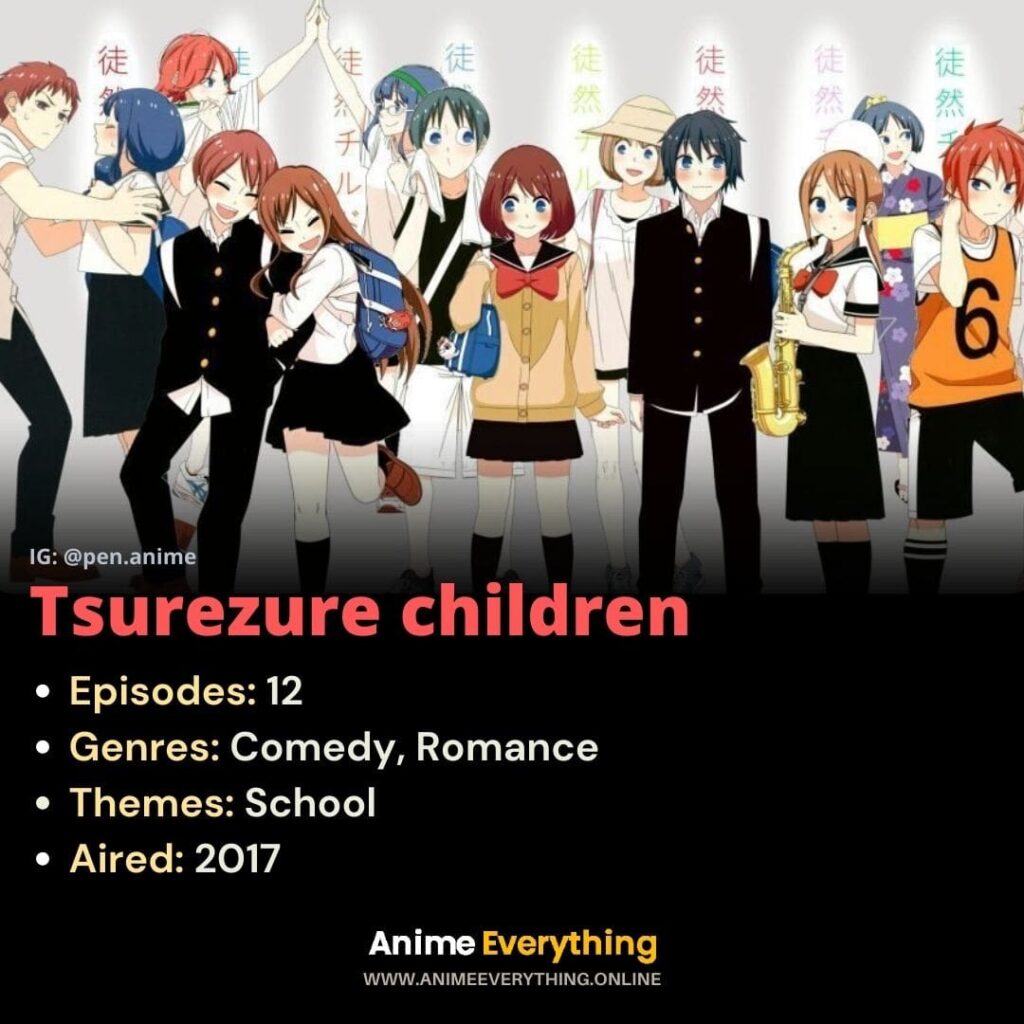 This is a special kinda rom-com anime. It is filled with unadultrated comedy and romance.
Unlike any other anime in this listing, Tsurezure children doesn't have one MC or one story.
It has multiple couples and multiple stories which are shown side by side. And the episodes span for only about 15 minutes.
Nevertheless, this is one of the most hilarious anime I have ever seen. It is a pure romantic comedy anime that'll make you burst into laughter literally each and every episode.
6. Kaguya-sama Love Is War
Love Is War is a romantic comedy anime that is super popular in current times. Especially the third season that is airing right now has an unbelievably high rating!
Two student council members fall in love.
BUT it is not that easy for them. They're too shy to admit their feelings. Instead of confessing themselves, they use tricks and other methods to make each other confess.
This entire anime is a mind game played by these two make the other fall in love with them. However, there are other council members that sometimes get in the way and their plan fails in a hilarious way.
5. Monthly Girls' Nozaki-kun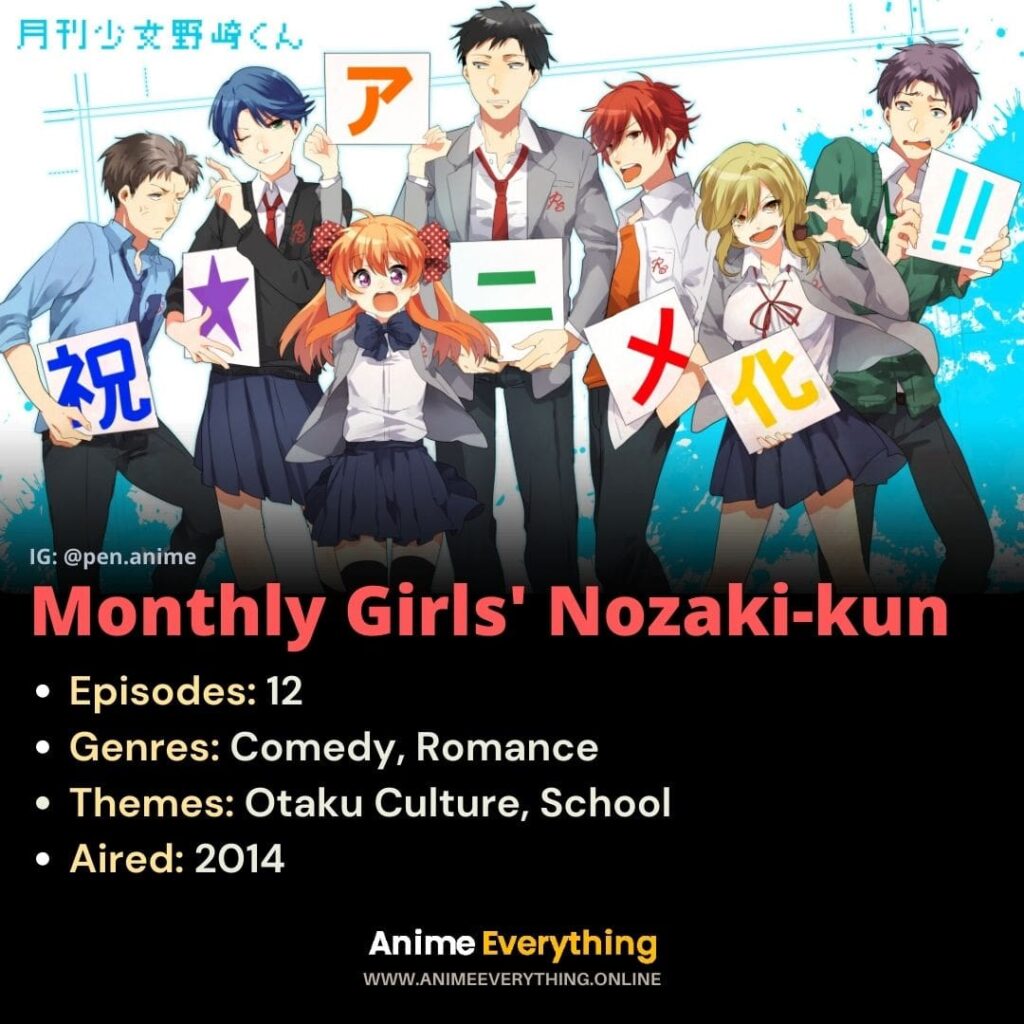 I was skeptical before watching this anime. I haven't watched much of shoujo anime and was under the impression that they'd be boring.
But Monthly Girls' Nozaki-kun turned out to be a gold! It was a super entertaining, super interesting and was a surprisingly good romantic comedy anime which exceeded my expectations and shattered my previous belief that shoujo anime are slow and boring.
This anime is about a manga author and a girl who has a crush on the manga author. They eventually become work-partners and work on the manga along with several other students from their school.
The main male character is an odd ball. He looks big and buff, but is a totally different person on the inside contradictory to what one would judge him to be by his appearance. He goes and does dumb and embarrassing stuff just to get some reference for his manga, and doesn't realize that someone has a crush on him (all the way till the end of the anime.)
4. Oregairu
Hachiman is mood. What else can I say. This anime is about social misfits who gather together in a club meant for helping people.
The main character, Hachiman Hikigaya has extreme narcissistic and semi-nihilistic tendencies. He firmly believes that the joyful live of the youth is nothing but a farce, and everyone is just lying to themselves.
Although Hachiman is literally "love resistant" in the beginning, spending time with the girls (yes, we have another love triangle here) gets him into emotions and confusions that he had never experienced before.
3. Sakurasou no pet na Kanojo
From this point onward, we're looking at anime that perfectly balances the romantic drama and the comedic elements – a.k.a the royals of rom-com anime. They are fun in the beginning and tense half way through.
This anime is about a bunch of "troublesome kids" who are put into a separate dormitory called "Sakurasou" where they get to be their freaky self without disturbing anyone else.
The main character moves to Sakurasou even though he is a normal person with no abnormal personality, because they didn't allow cats in the normal dormitory.
Thus he gets to know some rather interesting characters and his life gets shifted to something more eventful and fun.
2. Toradora!
Toradora! – The anime which has a kind and soft male MC with killer eyes who likes to do housework, a badass but cute tsundere female MC and a super energetic red-haired side character.
These characters alone are enough to make things interesting, I say.
Toradora! is a cute and heartwarming anime about how these polar opposite characters discover each other and fall in love with each others and overcome the difficulties of life together.
1. Clannad
If you're going to watch this anime, you better brace yourself. This is the legendary anime that has left several people depressed for days after the show ended.
The first season of this anime is pure fun and is really enjoyable, but the second season… It will emotionally devastate you.
Everything about this anime is just perfect. The story, the comedy, the music (dango dango~), the characters and the animation too (although it is a bit old styled.) In short, it is a masterpiece.
This anime is not only about your average high school romance, but also about the life after high school. It shows the ups and downs of leading ones life in its truest form.