Tokyo Revengers is a popular manga series that has been adapted into an anime and has gained a large following worldwide. The story of this anime is mainly focused on male characters, but it has a bunch of girls as well. In today's post, we will be taking a look at the 13 most popular female characters in Tokyo Revengers.
The series follows the story of Takemichi Hanagaki, a young man who travels back in time to save the life of his former girlfriend, Hinata Tachibana.
Along the way, he encounters a wide range of interesting and dynamic female characters who play important roles in the story.
In this article, we will take a look at the 10 most popular female characters from Tokyo Revengers, highlighting their unique personalities and contributions to the series.
Here are the top 13 Tokyo Revengers female characters, in no particular order:
Senju Kawaragi
Emma Sano
Hinata Tachibana
Yuzuha Shiba
Akane Inui
Ryoko Baji
Sakurako Sano
Karen Kurokawa
Luna Mitsuya
Yariel
Yumi Mori
Yasuda
Hasegawa
Recommended >> 20+ Most Popular Tokyo Revengers Characters
13/13: Hasegawa
Remember the store where adult Takemichi used to work? Hasegawa used to work there too. She was one of the first female characters to be introduced in the anime, as we see her in the very first episode.
She is a middle-aged woman with very little to no interest in her job or her life. Her disinterest was very obvious in her voice and her attitude. Yet she is a good person at heart who always used to lecture Takemichi about doing his work properly.
12/13: Yasuda
Yasuda is one of the female characters in Tokoyo revengers that appears after Takemichi time leaps.
She was the vice president of the Home Economics Club, and she hated gangsters. However, she was also nice to a couple of gang members, whom she respected.
Regardless, Yasuda is an ambitious and self-righteous girl who studied at the same school as our main character.
11/13: Yumi Mori
Haruki Hayashida, better known as Pah-chin, is a core member of the Tokyo Manji Gang. He had a childhood friend who is strong and fearless just like him. And that friend is none other than Yumi.
Later on in the show, it is revealed that they actually end up marrying each other.
While Yumi does not get much screentime in the anime or manga, she is one of the cutest Tokyo Revengers female characters of all time.
Recommended >> The Complete List of Tokyo Revengers Gangs
10/13: Yariel
Did you know that there is an official Tokyo Revengers gag manga called the Todai Revengers? Yariel is one of the characters in this series.
The manga is not relevant to the actual story of Tokyo revengers, but it is offcial, so I'm including characters fom Todai revengers in this list as well.
In the manga, she is the one responsible for triggering time travel.
9/13: Luna Mitsuya
Luna is none other than the big sister of Tokyo Manji Gang's founding member, Takashi Mitsuya.
She does not get any scenes in the anime, but she is a character in the Tokyo Revengers manga series.
We do not have much information on her, so this is about all we know about Luna Mitsuya right now.
8/13: Karen Kurokawa
Most of the female characters in Tokyo Revengers are family members of the gang members. And Karen is no different. She is Izana's stepmother and Emma's birthmother.
As we can guess from her name, she is a true Karen. She is a horrible mother who sent little Izana to the orphanage. She was also behaving badly toward her own blood-related daughter, as she gave her away for someone else to raise.
Karen has a pitch-black heart, and her words are as toxic as they get.
7/13: Sakurako Sano
Sakurako is the woman who gave birth to two legendary gangsters. She was Shinichiro and Mikey's mother. She does not have much screentime in the series.
Sakurako makes her first appearance in the 263rd chapter of the Tokyo Revengers manga series.
She was shown in a flashback episode and is no longer alive.
6/13: Ryoko Baji
Female characters in Tokyo Revengers do not play a major role in the anime other than being the mother or sister of the gangsters. And Ryoko Baji is one such mother.
Ryoko is an attractive-looking woman who is Baji Kisuke's mother.
As a mother, she was perfect. She loved her son but also knew to be strict when needed.
This is why Kisuke Baji respects and fears her the most.
5/13: Akane Inui
Now we're finally looking at one of the more prominent female characters from Tokyo Revengers.
Akane is the older sister of Seishu, who loved her little brother dearly.
She is a very nice girl who does not lie to maintain her image and relationships. She is a beautiful young girl who is brave yet kind.
4/13: Yuzuha Shiba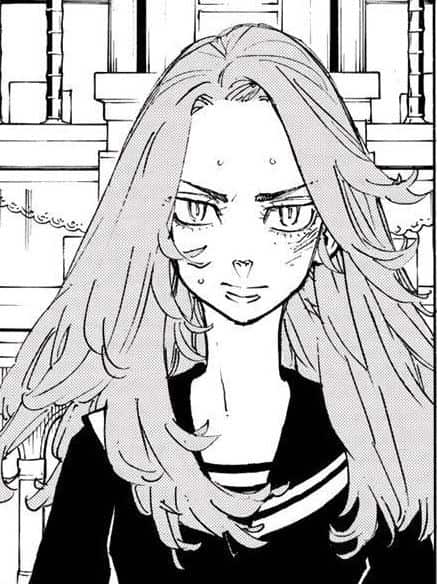 Yuzuha is one of the most loving sisters in the series. She is the younger sister of Taiju and the older sister of Hakkai.
Among the two brothers, she loves Hakkai more than Taiju, to the point where she is ready to exact revenge on their older brother for the sake of her little brother.
3/13: Hinata Tachibana
Hinata Tachibana is without a doubt the most popular female character in the Tokyo Revengers anime fandom right now.
She is introduced as the main heroine of the story and is greatly involved in the plot progression.
As a matter of fact, she is the very reason Takemichi goes hell and beyond to keep her alive, even if it means time traveling to his past over and over again.
As a person, she is an angel who is kind, lovable, and protective of her boyfriend, Takemichi.
2/13: Emma Sano
Emma is the daughter of Karen, making her the stepsister of Izana and Mickey. However, as Karen abandoned her responsibilities as a mother, Emma grew up in the Sano family.
She is also in love with Draken and flirts around him all the time. She tries to make him jealous because he is never possessive of her.
Regardless, she is a pure-hearted girl who always has her best intentions in mind.
1/13: Senju Kawaragi
While Senju has not done much in the anime yet, manga fans know and love her as one of the strongest gang leaders in Tokyo Revengers.
She was praised as one of the three dieties of Kanto, showing her strength as a gang leader.
Senju also became one of the captains of second generation Tokyo Manji Gang.
She is a good person at heart, but she faces troubles with her brother because of that.
After all is said and done, Senju is the strongest female character in Tokyo Revengers. She is also a fan favorite as she is the only female gang leader in the series.
Recommended >> Top 10 Strongest Character Ranks in Tokyo Revengers
FAQs About Tokyo Revengers Female Characters
Who is GF of Takemichi?
Hinata Tachibana is the GF of Takemichi. In the original timeline, her relationship with Takemichi had fallen out, but during every time leap, she is there for Takemichi.
Who is the female leader of the Tokyo Revengers?
Senju Kawaragi is the only female leader in Tokyo Revengers. She is a fearsome girl who is known as one of the three deities of the Kanto region.
Did Kisaki love Hinata?
Kisaki did not truly love Hinata. He merely wanted to keep her because of his ego. This is why he almost always resorts to killing her in every timeline whenever she rejects him. If he truly loved her, Kisaki would not want to kill her just because she said no.
Is Izana a girl?
No, Izana is not a girl. He is a boy and the stepbrother of Emma Sano.
Is Chifuyu a girl from Tokyo Revenger?
No, Chifuyu is not a girl in Tokyo Revengers. He is a loyal young boy who was the right-hand man of Kisuke Baji and then Takemichi in the other timeline.
That's it for this post. These were all the female characters from the popular shonen manga series, Tokyo Revengers.