Netflix is one of the most popular mediums for streaming anime and other TV shows. However, if there is anything we could complain about Netflix, it would be the lack of spicy anime like High School DxD. That said, Netflix actually has a handful of ecchi anime too.
They might not be as explicit as the other extreme ecchi anime series out there, but you definitely get some titillating fanservice scenes.
In this article, we will be taking a look at some of the best anime on Netflix with fanservice and somewhat adult content.
List of the best Ecchi anime on Netflix
In this section, I'll be counting down the best anime on Netflix with a good amount of fanservice scenes. The titles are ranked based on the extent of Ecchi content they contain. The anime at the bottom of this list has very mild ecchi, whereas the one at the top is extremely ecchi and full of nudity.
Mieruko-chan
Castlevania
Seven Deadly Sins
Kakegurui
High-rise Invasion
Rosario + Vampire
Fairy Tail
Kill la Kill
Jobless Reincarnation
Prison School
Bastard!!
Recommended >> 15+ EXTREME Ecchi Series That Are Borderline H Anime
11. Mieruko-chan
Mieruko-chan is one of the most popular ecchi, horror animes on Netflix that was released in 2021.
This anime does an interesting job of blending comedy and horror together, all the while dishing out fanservice scenes. We're talking about weird camera angles that focus on different parts of the main female character.
The story of this anime revolves around Miko, a girl who can see ghosts. However, she tries to ignore these terrifying creatures and tries her hardest to avoid trouble.
She is able to see how these ghastly beings mess with other people, especially her high school friends. But how long can she hide her fear and pretend not to see them?
10. Castlevania
Alright, here's the truth. Castlevania is actually not an anime series. It is an adult animation on Netflix that uses the word "anime" for its marketing purpose.
After all, anime fans would love the dark, fantasy environment that this show has to offer. So I guess it is a genius move on their part.
Regardless, since Netflix calls it anime, I'm going to add it to this list.
Since it is a western animation, there are a few sex scenes in this show, just like your average American adult TV series.
This show is about a renowned vampire hunter who slays vampires and fights off other supernatural monsters. It is up to him to defeat the dracula and save the city.
9. Kakegurui
Kakegurui is one of the best ecchi anime series on Netflix that has a female-dominated cast.
The majority of the characters in this anime are girls, including the main character, Yumeko Jabami. However, unlike your usual cute anime girls, these ones are crazy and obsessed with gambling.
The story is about a school for rich people where everything is decided by gambling. As such, every character in this show derives pleasure from gambling.
Especially our female lead, Yumeko, literally gets the most kick out of it. We get to see these crazy girls risk their lives on insane gambles, all the while making Ecchi poses.
8. High-rise Invasion
High-rise Invasion is actually a pretty great story that is unlike any other that you might have heard. However, in addition to the amazing plot, you also get to see a ton of panty-shots.
Sometimes you'll also get to see high school girls who fight to the point where their clothes get torn apart. Clearly, these fanservice moments make it the best ecchi anime pick on Netflix.
The story is about a bunch of people who mysteriously get transported to an unknown place, where they have to play death games. If they survive, they get a chance to go back to their normal lives.
If they fail, only death awaits. This is a female-led anime where the characters fight for their lives against a mysterious organization that hosts these survival games.
7. Seven Deadly Sins
Seven Deadly Sins is one of the most popular shonen anime series with a ton of ecchi scenes on Netflix.
The main character of this series is particularly attracted to Princess Elizabeth and gropes her every chance he gets.
Elizabeth, being an innocent and gullible character, lets him have his way almost all the time.
However, other than the fanservice moments, this anime is known for its amazing storyline and insane battles.
The only disappointment is that the animation quality goes downward as the series progresses.
6. Rosario + Vampire
This is a famous Ecchi Harem anime series from back in the day that is available on Netflix.
The story centers around a human boy who accidentally gets enrolled in a school for monsters.
What's more, several monster girls take an interest in him. On the other hand, he has his sight on a female vampire, and he allows her to suck his blood whenever she is hungry.
Their weird relationship grows throughout the series as they become closer to each other.
Recommended >> Top 10 Ecchi, Harem Anime You Must Watch!
5. Fairy Tail
Fairy Tail is an action-packed anime series filled with magical adventure. The main character of this show, Natsu, belongs to the Fairy Tail guild. It is a guild full of powerful but unruly wizards who have the bond of a family.
The show is about this guild facing off against other evil guilds, fighting off ancient evil, and even adventuring in an alternate dimension.
Filled with supernatural creatures such as dragons and demons, this anime is one of the best shonen anime out there.
What's more, it also has a ton of hilarious moments filled with fanservice that make the show lighthearted and fun.
4. Kill la Kill
Kill la Kill is yet another popular Ecchi anime on Netflix that has a female main character.
Ryuuko, our female lead, has one goal—to find her muderer, who killed her father. She gets this special uniform that gives her superhuman powers. With its help, she has to climb the hierarchy of power in the Honnouji Academy in order to find the truth.
However, what makes this anime ecchi is that the uniform is extremely revealing. They barely cover the important parts, and she has to fight around in that.
Oh? Did I mention the uniform was sentient? Yeah, it is a living uniform that latches on to the body of the wearer, and sucks their blood for power.
3. Jobless Reincarnation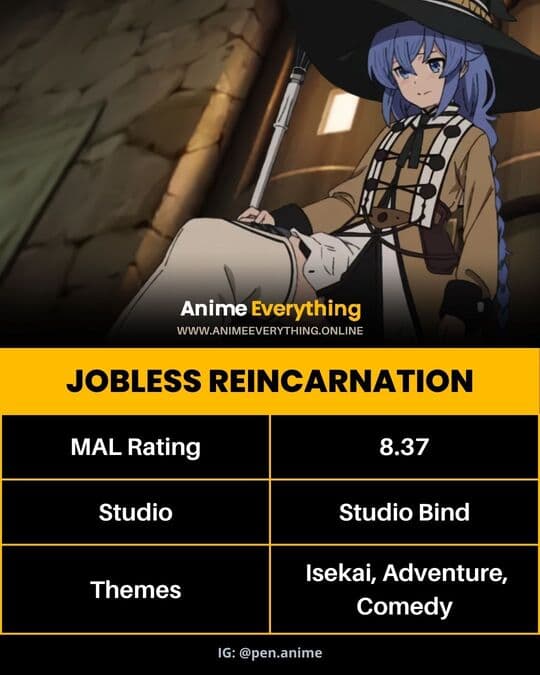 Next up is one of our favorite isekai anime series of recent times: Jobless Reincarnation.
Jobless reincarnation is a genius mix of fantasy, adventure, ecchi, and comedy, giving birth to the greatest anime story on Netflix.
The anime follows a mid-aged man who died living a secluded life away from social contact. He gets reborn into a fantasy world with the memories of his previous life.
He gets a second chance at life and gets to live in a world where magic and other fantasy creatures exist.
The main character, Rudeus, trains every day for years and becomes a great magician despite his young age.
He then goes on an adventure that goes terribly wrong and has to travel to face off against mysterious villains who seem to be plotting something sinister.
Recommended >> Top 10 Most Popular NSFW Subreddits For Hentai Lovers
2. Prison School
Prison School is an adult anime full of down bad male characters who enroll in a previously all-girls school.
However, their hope to have fun with the girls is torn apart when they literally get imprisoned at school for peeping.
They have to endure the harsh treatment of the school girls, who dominate the boys and treat them like trash.
Regardless, this anime takes Ecchi to another level with its very weird situations that get extremely titillating at several points.
This anime is not available in any Netflix regions other than Italy, so you might have to use a VPN and set the server to 'Italy' to enjoy this anime on Netflix.
1. Bastard!!
The amount of fanservice and ecchi scenes in this anime makes one wonder how Netflix even allowed such a show on their platform.
The main character of this show is an infamous, evil magician who has lived for 400 years. However, he is sealed inside the body of a little boy so that he does not go on a rampage.
One thing happens after another, and the only girl who knows how to unleash the dark wizard has no choice but to break the seal in order to save the kingdom.
It turns out the man is actually an immortal and is capable of unimaginable magical powers. But the good thing is, he cares and listens to the orders of the girl who has taken care of him for the past 14 years when he was sealed away. So this time around, he uses his evil powers to protect her and the people he cares about.
But that's not all; he is a womanizer who does naughty things to every female character he encounters. A good part of the show is about him defeating female villains and having his way with them. He does not care about good or bad, as he is beyond such concepts, and only does what serves him the best.
Filled with extreme gore and a ton of exciting fanservice, "Bastard!!" is easily the number one ecchi anime series available on Netflix right now.
That's it for this post. These are the top 10+ best anime on Netflix that has ecchi and fanservice scenes in it.
If you liked this article, consider subscribing to my website by hitting the bell icon in the bottom corner for future updates (^^)~