If you're interested in anime about swimming, you're in luck! There are several options with male and female protagonists, ranging from competitive swimming races to board diving and scuba diving.
Here's a list of the best swimming Anime to watch now in 2023. Enjoy sports and slice of life genres with entertaining characters in the following titles!
List of the Best Anime About Swimming of All Time
10. Oyoge ya Oyoge
In the swimming contest, confident monkey Saru-kun pretends to be a great swimmer but starts sinking. He encounters a kappa underwater and wins the race by riding on the kappa's back. However, what happens next?
This is a very old Japanese animation movie from 1939 that has a duration of only 10 minutes. Given its age, the quality of the show is pretty dull compared to what we are used to now. But if you are interested in seeing what animated films looked like in the 30's, give this one a watch.
This anime is available on YouTube to watch.
9. Ahiru no Pekkle: The Great Swimming Race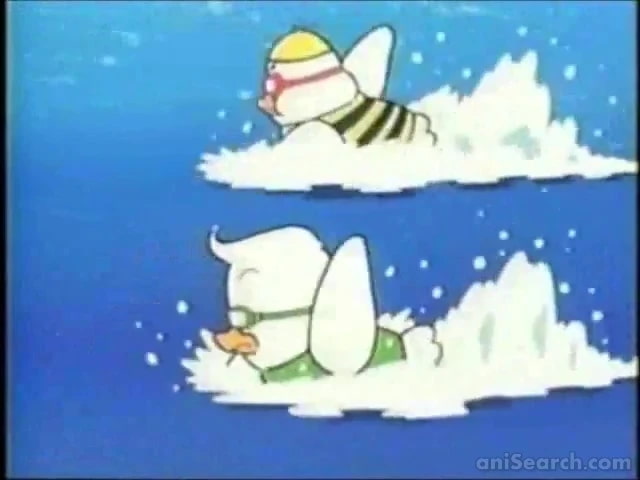 In Pekkle's town, a new boy arrives and tries to impress Lucy, but she's not interested. Lucy boasts that Pekkle is a great swimmer, leading to a swimming contest challenge between Pekkle and the new boy.
"Pekkle The Great Swimming Race" is a 20 minute long kids anime about swimming that got aired back in 1993.
You should be able watch this anime for free on YouTube. It is also available in English dub, so dub watchers can enjoy the show without any problem.
8. Swimming
Swimming is a short anime movie that was released on 2008. This Shiho Hirayama's short film has a duration of only 4 minutes.
In this anime, we witness a school swimming class filled with awkwardness. A chubby young boy hesitates but eventually takes his turn, impressed by his classmates' sporty skills.
There isn't much in terms of story or character development, but for what it is worth, this is one of the very few anime about swimming out there.
You can watch this short film here, on YouTube.
7. "Eikou Naki Tensai-tachi" Kara no Monogatari
"Eikou Naki Tensai-tachi" Kara no Monogatari centers on Hironoshin Furuhashi, the legendary "flying fish of Fujiyama." Based on the biographical manga "Eikou Naki Tensai-tachi" by Tomoyoshi Itou and Shingo Morita.
The episode includes interviews with Olympic swimmer Kousuke Kitajima and other Japanese swimmers, offering insights into Furuhashi's impact on competitive swimming in Japan and the rigorous training of an Olympic swimmer.
Overall, the first episode showcases the achievements and struggles of a true sporting genius, giving viewers a glimpse into the world of competitive swimming.
6. Dive!!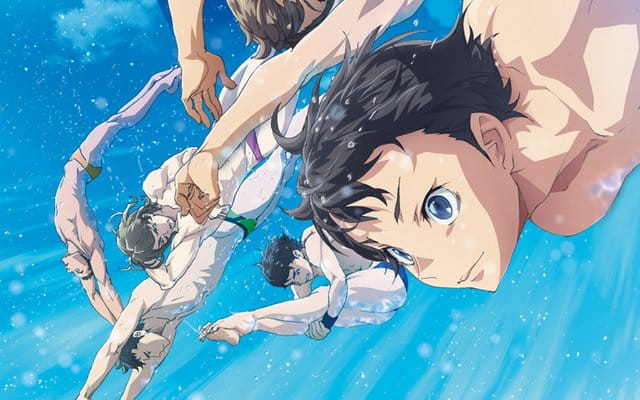 Dive!! is a swimming anime with a focus on competitive diving. Mizuki Diving Club gets a second chance when a new coach offers to save the club if they qualify a member for the Japan's Olympics team.
Tomoki Sakai, the main lead, aspires to be a pro diver. He's talented, practicing since childhood, inspired by his successful older brother.
The story revolves around the main character's efforts to save the club from closure.
Also Read >> 35 Most Popular Sports Anime You Must Watch!
5. Kenkou Zenrakei Suiei-bu Umishou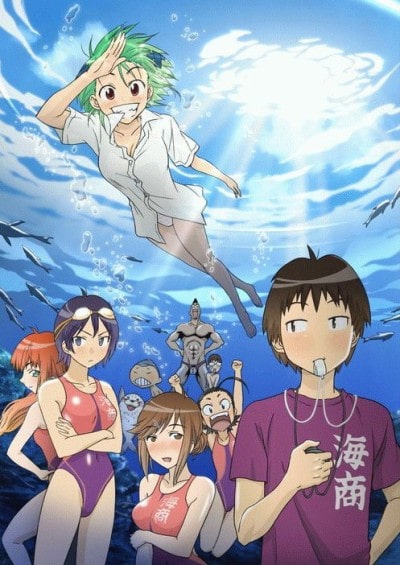 "Umisho High School Naked Swimming Club" is an anime focusing on a supporting character who enjoys skinny dipping. However, her life takes a turn when she joins the swimming club.
The story follows Kaname Okiura, a non-swimmer, who encounters a girl with a love for ocean skinny dipping. They both join the swimming club with others.
This anime presents swimming in a casual and hobbyist way rather than pure competition. Though an older anime, it remains enjoyable for slice of life anime fans.
4. Grand Blue
Grand Blue is a humorous slice of life anime centered on Iori Kitahara's pursuit of an ideal college life. He shares this adventure with his group of university friends, exploring the college experience while enjoying scuba diving at his uncle's diving shop.
It's an episodic series that follows the main character's college life and his passion for scuba diving with friends.
This show is more centered around comedy than swimming or scuba diving. So, if you're fine with swimming being a side theme, then give this anime a shot! Also, a fair warning, you'll be seeing a lot of nudist men that make the show hilarious.
Also Read >> 10+ Best Anime With Male Fanservice
3. Amanachu
"Amanchu!" is an anime about Futaba Ooki, a shy high school student who moves to a seaside town. There, she meets Hikari Kohinata, an adventurous girl who introduces her to scuba diving. With Hikari's guidance, Futaba develops a passion for the ocean and becomes more open to others.
The series follows their adventures as they join the school's scuba diving club, make new friends, and explore the underwater world. It's a heartwarming anime that celebrates friendship, self-discovery, and personal growth, while showcasing the beauty of the ocean.
This anime also got a second season in 2018, so there is enough content to keep you entertained for days.
2. Breakers
The "Breakers" anime series follows para-athletes who meet sports scientist Ren Narita. It consists of 4 stories, each highlighting a different para-sport: wheelchair basketball, track and high jump, goalball, and paralympic swimming.
Viewers witness the athletes' challenges and victories as they overcome physical limitations to excel in their sports. With Ren Narita's guidance, they push past perceived limits and achieve greatness. The series aims to inspire and raise awareness about para-sports and the incredible athletes involved.
1. Free!
Free! – Iwatobi Swim Club is an exciting swimming anime featuring Haruka Nanase, a talented swimmer with a passion for competitive races.
In this story, we get to see 4 childhood friends – Haruka, Makoto, Nagisa, and Rin – who love swimming. After reuniting in high school, they face challenges in and out of the pool while improving their skills and making new friends.
The series emphasizes friendship, teamwork, and pursuing dreams. With beautiful animation and emotional storytelling, "Free!" is a must-watch for sports anime fans and those who appreciate heartfelt stories.
With multiple seasons and movies, Free! stands out as one of the best swimming-themed Anime of all time.
Conclusion
In conclusion, swimming anime is an inspiring subgenre of sports anime, highlighting competitive swimming and themes of friendship and perseverance. With stunning animation and engaging characters, it captivates both anime fans and sports enthusiasts.
These anime showcase the beauty and excitement of swimming while telling heartfelt stories. Whether you love swimming or underdog tales, these anime will entertain and inspire you.
Thank you for reading our Top 10 Best Anime About Swimming Of All Time. Feel free to share your opinions in the comments below.
---
Loved the recommendations? Share it with a friend!
---