Anime food is drool-worthy and cooking-themed anime series satisfy both food and anime cravings. In this article, I will be listing 25+ best anime about cooking of all time that you will adore!
From pretend ovens to TV shows, cooking has been popular in media. It is only natural that the genre is popular in anime and manga as well. Enjoy the love for food and cooking in these delightful shows. Watch these characters cook their best food from gourmet to local Japanese dishes in the following titles.
List of the Best Cooking Anime of All Time, Ranked
26. Bonjour♪Sweet Love Patisserie
This anime combines romance and cooking, focusing on Sayuri Haruno's dream of becoming a pastry chef at the elite 'Fleurir Confectionary Academy' in Tokyo.
She faces tough competition from charming young men like Mitsuki Aoi, Gilbert Hanafusa, and Yoshinosuke Suzumi, each with their unique cooking styles and personalities. As Sayuri strives to stand out, she experiences a journey filled with love and delicious treats.
25. Wakako-zake
Murasaki Wakako enjoys solo outings, relishing delicious food and drinks in this anime. Amid busy workdays, she finds solace in dining out.
Her anime showcases her life, emphasizing her culinary experiences. The "Wakako-Zake" series portrays her as a lone foodie, delighting fans with her exploration of new food-and-drink combinations.
Her kawaii reactions like "Pshuuu" when savoring a delightful meal add to the charm of the show.
24. Cooking Papa
Cooking Papa, a lesser-known gem from the 90s, remains highly praised for its food and cooking-themed anime content. With over 157 volumes, the manga is one of the longest series of all time.
The manga's first volume was released in 1984 and is still ongoing in 2023. However, the anime only has 151 episodes that aired between 1992 and 1995.
Watching Mr. Araiwa whip up incredible dishes for his family is both heartwarming and amusing. Not to mention, the show's comedy is sure to keep you entertained. It's a must-watch for comedy and food genre enthusiasts.
Also Read >> 10+ Best Fishing Anime Of All Time!
23. Gourmet Girl Graffiti
Ryou Machiko's journey from average cook to greatness begins with her grandmother's advice. When her cousin Kirin stays with her, Ryou's cooking improves as they share culinary experiences.
This anime carries a meaningful message about the power of inspiration and cooking with loved ones.
The main character, Ryou Machiko, stars in the sweet and heartwarming animated series Koufuku Graffiti, which is about making friends through food. If you like cute anime, you should definitely check this one out. It's full of moe and yummy food.
22. Delicious Party Pretty Cure
Cure girls take the cutest approach in this anime about food, to save the CooKingdom and rescue Recipepes. These adorable food-themed critters keep the world turning.
They team up with fairies to defeat the rogue Bundoru Gang using their scrumptious Magic Girl style and "Deliciousmiles!"
While the PreCure franchise has twenty seasons, only three are dubbed. Cure Precious, Cure Spicy, Cure Yum-Yum, and friends target a younger audience, but foodies who love kawaii things should watch this cute cooking anime.
21. Nu Wushen De Canzhuo
In the anime "Cooking with Valkyries" or "Nu Wushen de Canzhuo," the cherished tradition of dining at a dinner table is celebrated. The Valkyries, led by Himeko, Kiana, Theresa, Bronya, Mei, and Fu, share memories and cook together, creating an ambience of camaraderie and good food.
This is a short anime series with each episode only having 5 minutes of content. That said, each episode is wholesome and hilarious enough for it to get a 7.02 score on MAL.
20. Muteki Kanban Musume
The comedy anime "Unbeatable Delivery Girl" follows Miki Onimaru, a delivery girl at her mother's Chinese ramen restaurant. Megumi, her rival, delivers bread in the shop across the street. The two are very competitive and take their jobs very seriously, which often leads to fights over food.
Miki's energetic and boisterous behavior adds comic relief to the show, although some may find it frustrating.
The anime also includes plenty of foodie moments and parodies of popular anime styles, making it enjoyable for anime aficionados.
19. Ben-to
In "Ben-To," the protagonist, Satou You, a video game-loving teenager, discovers a unique game where students battle over half-priced bentos. Satou joins the competition to become the top fighter in this funny and exciting anime.
You Satou catches Wolf Sen Yarizui's attention. Yarizui educates Satou and Hana Oshiroi about the differences between Wolves and Dogs, enrolling them in the 'Half-Priced Food Lovers Club.' Please note that this behavior is not endorsed, but it makes for exciting Japanese anime content.
Watch it for a good laugh and tasty, discounted bento lunch boxes.
18. Mister Ajikko
Also known as Born to Cook, this pioneering cooking anime, reportedly inspired the creation of Iron Chef. Ajiyoshi Yoichi's journey from helping his mother at a cooking house to becoming a culinary competitor against top chefs is the focus of this 80s gem.
His inventive approach to each recipe is sure to motivate viewers to experiment in their own kitchens. If you love competitive cooking shows, then you are sure to love this classic anime.
17. Ristorante Paradiso
Italy is renowned for its cuisine, and "Ristorante Paradiso" highlights its delectable dishes. Nicoletta searches for her mother, Olga, in Rome, leading her to the Casetta dell'Orso where unexpected encounters with food and people captivate her.
This creates one of the best cooking anime with numerous memorable moments to cherish. This anime has a good bit of romance and slice of life moment making it a heartwarming watch for viewers.
This fancy josei anime series is a must-watch for people who want to enjoy a more grown-up story with fancy cuisine.
16. Bartender
The story is centered in Eden Hall, Ginza District, where Ryuu Sasakura, a talented cocktail mixer, serves delicious drinks.
Customers with various backgrounds are led to Eden Hall, and Ryuu knows just the right cocktail to lift their spirits and console them.
Even though this anime doesn't directly have to do with food, drinks are an important part of having a meal. Ryuu does a great job of making unique drinks for his clients.
He's also a nice bartender who cares about his guests and listens to their problems. Bartender is a must-see anime if you like more mature anime that also enjoys the art of making drinks that make people's taste buds happy.
15. Sugar Apple Fairy Tale
Sugar Apple Fairy Tale explores the art of sugar sculpting in the supernatural realm of Highland. Ann Halford faces challenges from the critical Duke of Philax. With Challe/Shalle as her fairy bodyguard, Ann strives to become the next Silver Sugar Master.
However, Ann's perspective on fairies as sources of inspiration clashes with their status as slaves. To secure her place as a Candy Craftswoman, Ann must prove herself at the prestigious sugar sculpture festival.
14. Restaurant To Another World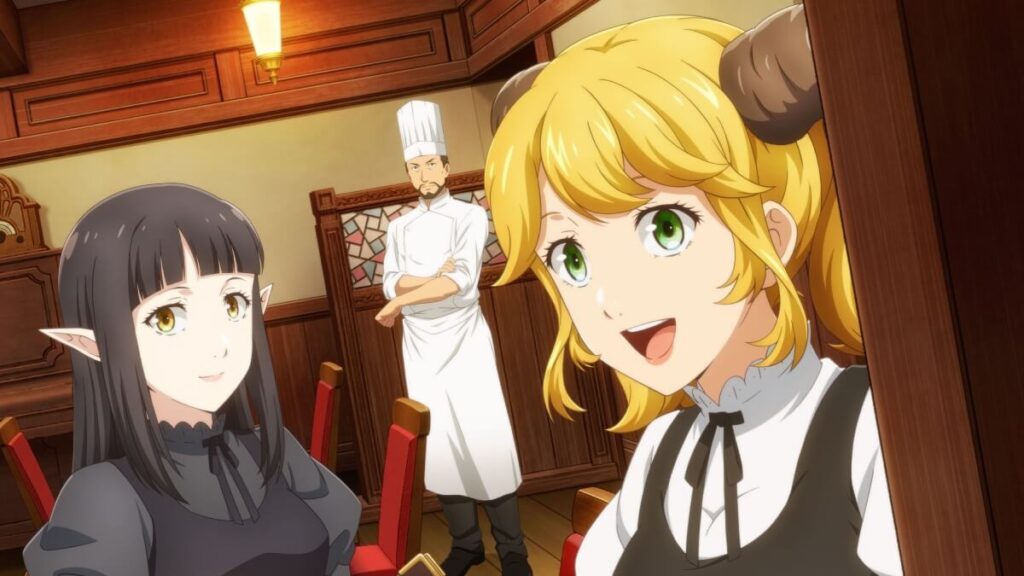 Nobody thought an isekai anime combined with food theme would be so successful. Restaurant to Another World distinguishes itself from typical isekai anime by transporting diverse isekai people to Western Restaurant Nekoya. The owner of Nekoya, Tenshu is an amazing chef who cooks delectable meals.
The series explores each character's love for their favorite menu item. Originally airing in 2017, its popularity left fans eager for a second season. Finally, the long-awaited season two was releaesed on Fall 2021.
Also Read >> 30+ Underrated Isekai Anime Recommendations For Isekai Lovers
13. Isekai Izakaya
"Isekai Izakaya" began as an ONA (original net anime) and shares similarities with "Restaurant to Another World." The show centers around Nobu, a bar in Kyoto, Japan, where patrons from another world come to savor Toriaezu Nama ale and delightful dishes.
For viewers seeking a deeper understanding of the restaurant's connection to another world, "Isekai Izakaya" offers a more comprehensive storyline than "Restaurant to Another World," making it a superior choice among cooking anime. However, both shows are worth watching for their unique qualities.
12. Toriko
This anime is about the main character Toriko's comedic adventures to gather food and cook gourmet items. He seeks the ultimate ingredients in this action-packed cooking anime. Teaming up with chef Komatsu, they fulfill their magnificent munchy dreams in the Gourmet Age, where unimaginable food sources abound, like bacon-growing trees and Mushroom Pudding.
Prepare to drool over the delicious meat-eating options and enjoy exciting crossover episodes with fan-favorite characters like Luffy (One Piece) and Goku (Dragon Ball Z). Toriko is a must-watch anime that will leave you hungry for more!
11. Sweetness & Lightning
"Sweetness & Lightning" is a heartwarming anime about Kouhei, a single father learning to cook for his daughter. After his wife's passing, Kouhei struggles with preparing meals, resorting to pre-made convenience store dishes. However, a student in his class motivates him to improve his culinary skills for his daughter's sake.
The anime beautifully portrays Kouhei's bond with his daughter and the joy of cooking together. It successfully balances family moments and the love of food, making it a touching family story and an enjoyable food anime to watch.
10. Kakuriyo: Bed & Breakfast for Spirits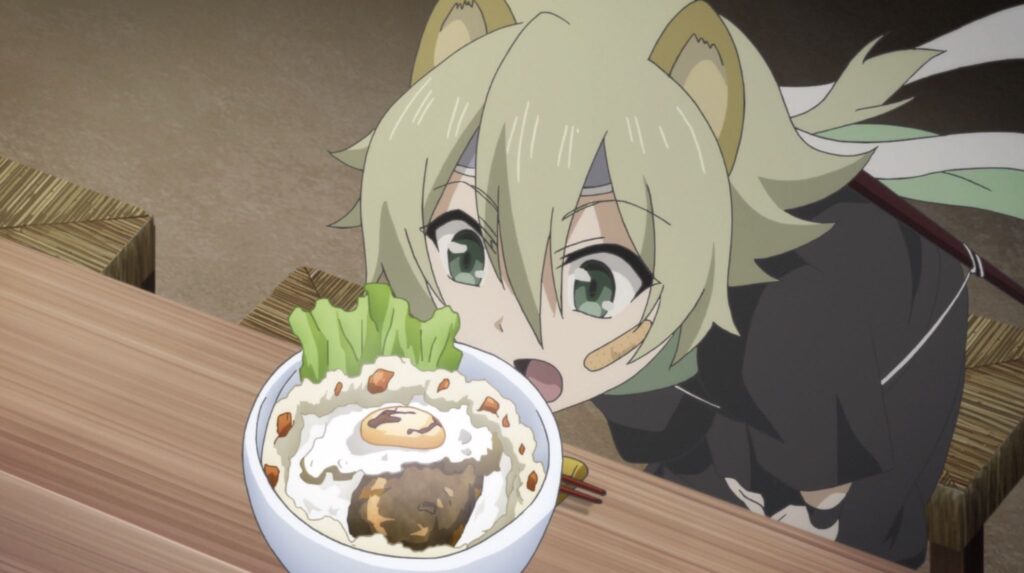 Aoi Tsubaki faces challenges after her mother abandons her, and she can see spirits called "Ayakashi." Her grandfather taught her to coexist with these spirits, and she uses her cooking skills to feed them in a "bed and breakfast for spirits" story.
One day, a lunch service to a spirit takes her to their world, where she meets Oodanna, an ogre god. Aoi learns she owes a 100-million-yen debt to the ogre god and refuses his marriage proposal, but offers to open an eatery at his inn instead. The anime "Kakuriyo no Yadomeshi" combines delicious cooking and paranormal elements.
9. Moyashimon
In the anime "Moyashimon," Tadayasu Sawaki, a college freshman, possesses a unique ability to see microscopic organisms with his natural eyes. He can spot micro-organisms like yeast and fungi.
Studying at an agriculture university, Tadayasu's talent catches the attention of Fermentation Professor Itsuki and the eccentric university community. He delves into the world of elements that make up ingredients and food.
While "Moyashimon" doesn't directly center on food, it intriguingly explores the bacteria in the food we consume.
8. Farming Life In Another World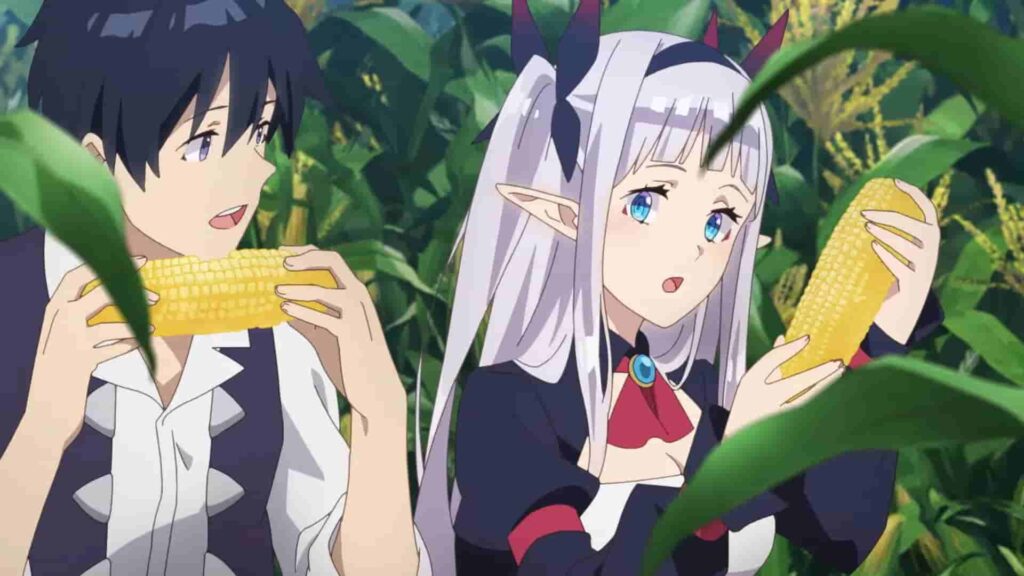 This anime combines isekai, farming and food themes brilliantly. In Farming Life In Another World, Hiraku Machio shares helpful cooking tips from his makeshift kitchen in the Forest of Death. Using his versatile All-Purpose Farming Tool, he demonstrates cooking, harvesting, and more.
Viewers learn step-by-step cooking and harvesting techniques with real-world equivalents. The local ladies are drawn to him as he becomes a popular bachelor in town.
7. Chuuka Ichiban!
Also known as Cooking Master Boy, this anime is set in the 19th century Qing Dynasty. It showcases incredible dishes as Mao Xing aims to become a famous chef like his mother.
The anime aired in 1997 with over 50 episodes, and a surprise continuation, "New Cooking Master Boy," was released in 2019 spanning two seasons.
This revival proves that Cooking Master Boy is truly amazing to make a successful comeback after so many years.
6. Campfire Cooking in Another World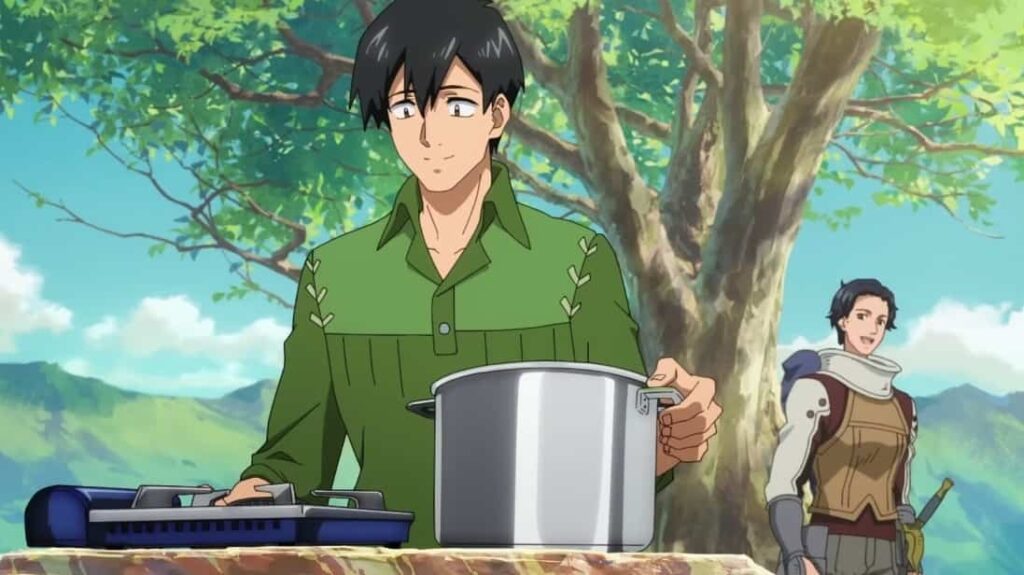 Campfire Cooking in Another World is an anime that seamlessly combines food cooking and Isekai genres. In a medieval fantasy world, online shopping ensures no one goes hungry. Mukohda excels at preparing high-quality meals using natural ingredients from this new world. The fusion of traditional Japanese cuisine and fantasy elements attracts everyone's attention.
Mukohda unintentionally gains powerful allies like Fel, a legendary Fenrir, Sui, an overpowered slime, and Ninrir, the Goddess of Wind, all drawn to his sensational food. With his culinary talents, he becomes a top adventurer capable of defeating monsters effortlessly. This anime is a delightful blend of adventure, cooking, and fantasy.
Also Read >> 13+ Best Isekai Anime On Netflix That You'll Love
5. Yumeiro Pâtissière
Everyone loves sweets, and Ichigo Amano's exceptional palate impresses a famous patissier, leading her to join St. Marie's Academy. In this prestigious culinary school, she encounters the "Sweet Princes" in her class, a common anime trope.
However, what makes it unique is the addition of magical fairies, adding a delightful twist to this shojo anime centered around making sweet treats.
This is easily one of the highest rated anime about food, so any foodie will love this show!
4. Yakitate! Japan
For fans seeking a delightful show with impressive bread baking and constant smiles, Yakitate!! Japan is a perfect choice. Kazuma Azuma aims to create a renowned national bread for Japan.
Kazuma is a teenage boy who is crazy about bread. He has a special power called "Solar Hands," which lets him make natural heat from his hands. This helps bread dough ferment faster.
His dream is for his Ja-Pan bread to become Japan's national bread, and he wants to work at the most renowned bread shop, Pantasia.
The campy, light, and hilarious series doesn't offer a deep plot but brings the joy of baking to life. Turn it on and imagine the aroma of freshly baked bread!
3. Silver Spoon
Silver Spoon is a popular school anime with a refreshing agricultural high school setting. It follows a student's journey into learning about animals, food production, and making friends.
In this anime, you will get to see our MC defy his parent's expectations and join an agriculture school. He aims to start a successful business, but has to learn a lot of things. You will see him cultivation crops, caring for animals, preparing food with the freshly cultivated products and involve in a bit of romance.
The themes are great, and the characters are fantastic, making it enjoyable to explore ingredients and food production in the show.
2. Food Wars
Food Wars is currently the most successful anime about food that has over 5 seasons. Imagine an elite high school academy focused on teaching cooking through extreme methods and ultimate competitions. That's Food Wars!
Honestly, I think the most recent season don't match the same excitement and fun as the initial ones. However, it might just be that watching the same thing over and over for 5 seasons would make any show dull.
In this anime, Souma Yukihira joins Tootsuki Culinary Academy, aiming for the top. The thrilling "shokugeki" competitions between talented chefs will leave fans drooling over their incredible creations.
But what makes this show popular is its genius mix of ecchi elements in a cooking themed story.
Also Read >> Top 10 Ecchi, Harem Anime You Must Watch!
1. Yuru Camp
Yuru Camp, an anime, showcases the tranquil side of camping and cooking in the wild. Rin enjoys camping alone near Mount Fuji. A chance meeting with Nadeshiko disrupts her solitude. Yet, they bond over food and chat by the campfire.
They join the camping club and go on beautiful and heartwarming camping adventures. While the anime might not be entirely about food, we get to see the characters cook and eat delecious meals now and then.
This anime will surely calm you down and give you a taste of true peace in life.
---
Loved the recommendations? Share it with a friend!
---