Get ready to reel in the excitement with our list of the 10+ best fishing anime of all time. Dive into a world of angling adventures as these anime showcase the thrill and serenity of fishing.
From competitive fishing tournaments to heartwarming tales of bonding with nature, these anime series are sure to hook you in. Join the characters as they cast their lines, battle against mighty fish, and forge lasting friendships.
Whether you're an avid angler or just curious about the world of fishing, these anime will keep you entertained with their engaging stories and captivating visuals. Grab your fishing rod and let the anime journey begin!
List of the Best Anime About Fishing
Most of these anime have fishing as the main theme of the story. However, some have fishes in it, but not the activity of fishing. Either way, this list features anime titles about fishes.
13. Sky Girls Specials
"Sky Girls Specials" is an anime sequel to "Sky Girls" set in an apocalyptic world. These short 4 to 6-minute episodes show the heroes' humorous and light-hearted activities, including their favorite pastime – fishing!
This anime is perfect for short breaks to lift your fishing spirits. It's a great choice for those seeking a female-led cast, especially focusing on trout fishing, as one of the protagonists is a trout fishing enthusiast.
With entertaining and imaginative fishing scenes, this fantasy anime will captivate anglers who dream of unique fishing experiences.
12. Tsuri Baka Nisshi
Tsuri Baka Nisshi is an unusual anime about Hamazaki Densuke (Hama-chan), a pencil-pusher with a passion for fishing. Despite being called the "Fishing Baka" by his supervisor, Hama-chan befriends Su-san, the CEO of his company.
The anime revolves around their conversations and fishing adventures, providing a unique perspective on life inside and outside the office.
11. Puka Puka Juju
Puka Puka Juju is part of the "2011 Young Animator Training Project." It's about Mika, a girl who wants to go to the beach with her father. But her dad is always busy with work and fears the sea.
When her beach plans get canceled again, Mika's spirits lift when her inflatable manatee Juju comes to life and takes her on an exciting adventure.
10. Kingyo Chuuihou!
Kingyo Chuuihou! is a riches-to-rags-to-riches tale with a snobby girl, farm animals, and a pink goldfish. After her wealthy father's death, Chitose Fujinomiya faces debts and a change to a public school.
She's left with only her valuable pink goldfish, Gyopi. When the family attorney plots to kidnap Gyopi for profit, Chitose's classmates, led by athletic Wapiko, step up to help her.
9. Orenchi no Furo Jijou
Orenchi no Furo Jijou is a delightful anime for shojo fans, featuring Tatsumi and the charming merman, Wakasa. Wakasa's lake home becomes polluted, so Tatsumi offers his clean bathtub for him to stay.
They become quirky roommates with a dynamic like The Odd Couple. The anime, based on a four-panel comedy manga, is filled with hilarious gags and surreal moments from their lives. It's a fun and enjoyable watch for anyone who loves mermaids and comedy.
8. Namiuchigiwa no Muromi-san
Namiuchigiwa no Muromi-san is a wacky comedy about a young angler catching a beautiful but deranged mermaid named Muromi-san. Mukoujima Takurou's life takes a thrilling turn as they form a unique bond.
While the series is not necessarily fishing centric, the presence of mermaids got it a position on this list. If you are in mood for a fantasy slice of life anime with ocean settings, then you shoud give Muromi-san a try.
7. Super Fishing Grander Musashi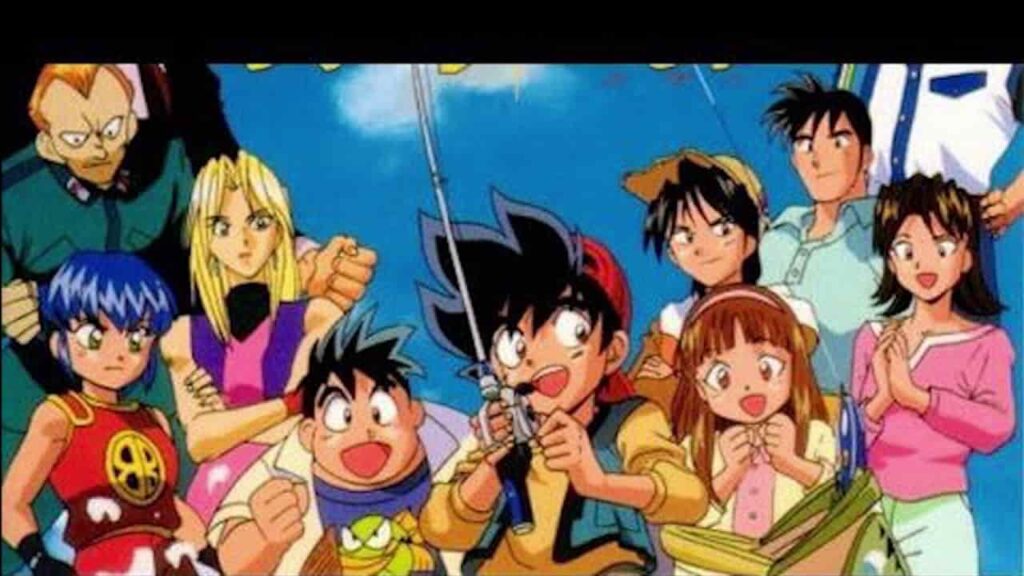 Thirsting for a more traditional fishing anime? Super Fishing Grander Musashi delivers with its tale of a young boy named Musashi who – against his own will – moves with his father from big city Tokyo to a small village in the countryside.
Despite being unhappy with his new home, Musashi becomes fascinated by lure fishing after witnessing a man catch a bass with only a decoy fish. After hearing his grandfather was a grand champion of bass fishing, Musashi takes up the sport and becomes quite skilled at it.
While he enjoys bass fishing, Musashin main goal is to use it to lead him closer to his mother, who vanished from his life three years ago. On top of being entertaining, Super Fishing Grander Musashi is also educational in lecturing the audience on fishing techniques.
6. Tsurikichi Sanpei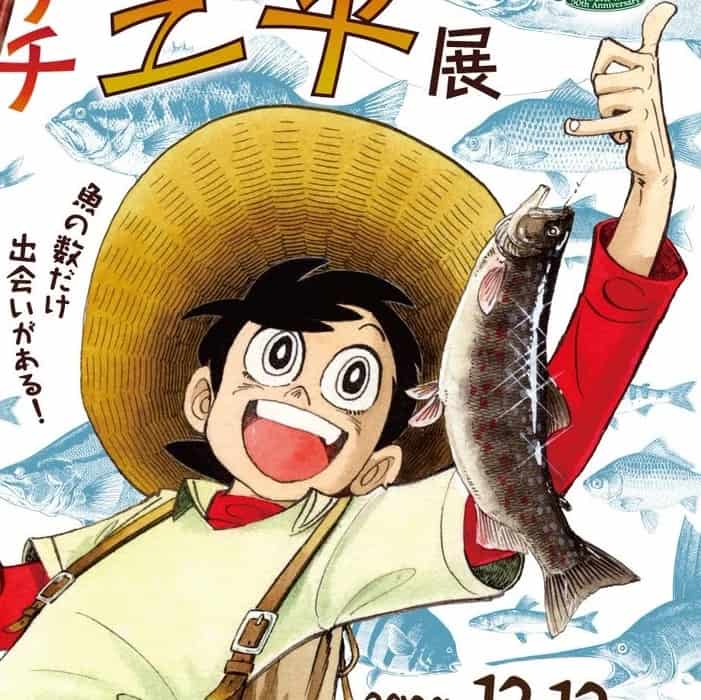 Tsurikichi Sanpei is a charming fishing anime with 100 episodes. It follows Sanpei, a cheerful boy serious about fishing.
Though not the most experienced, his keen sense gives him an advantage. He competes in fishing challenges in his village's beautiful natural habitat. It's a down-to-earth anime like Super Fishing Grander Musashi, but with a different storyline.
5. Gake no Ue no Ponyo
"Gake no Ue no Ponyo" is a heartwarming Studio Ghibli movie. It follows Sousuke, who befriends a magical goldfish named Ponyo. Ponyo desires to become human, and their bond leads to incredible adventures.
The film captures the surreal and warm essence of childhood, typical of Ghibli films, and boasts stunning animation.
4. Slow Loop
"Slow Loop" is a heartwarming anime centered on family joy in fly fishing. Hiyori inherits her father's fishing passion. This slice-of-life series explores Hiyori's school, family, and fly fishing adventures. A delightful anime for all ages, blending humor, family dynamics, and fly fishing enthusiasts' delight!
This is a relatively new anime from 2022, so the animation is fresh and the voice acting is just perfect. If you're looking for a new-gen anime to watch, then go with Slow Loop!
3. Diary of Our Days at the Breakwater
"Diary of Our Days at the Breakwater" is a delightful anime with humor, challenges, and fishing. Hina Tsurugi, a crafty outdoor kid, starts school near the sea and joins the Fishing Club.
Watch her fishing journey unfold, inspiring children to try fishing. This anime, based on a manga, offers a fantastic experience for young readers while enjoying the sport of fishing.
2. Kuragehime
"Kuragehime" is a highly praised josei series tackling social anxiety, stigmatization, and popularity. Tsukimi, an 18-year-old otaku with a love for jellyfish, witnesses mistreatment at a pet show. Overwhelmed by social anxiety, she fails to speak up. However, Kuranosuke, a beautiful woman, steps in and they become unlikely friends.
Kuranosuke is everything Tsukimi aspires to be but soon uncovers a deeper side to her. With Kuranosuke's support, Tsukimi learns to overcome self-doubt and pursue her dream of becoming a designer. This heartwarming story empowers viewers to embrace their true selves.
1. Tsuritama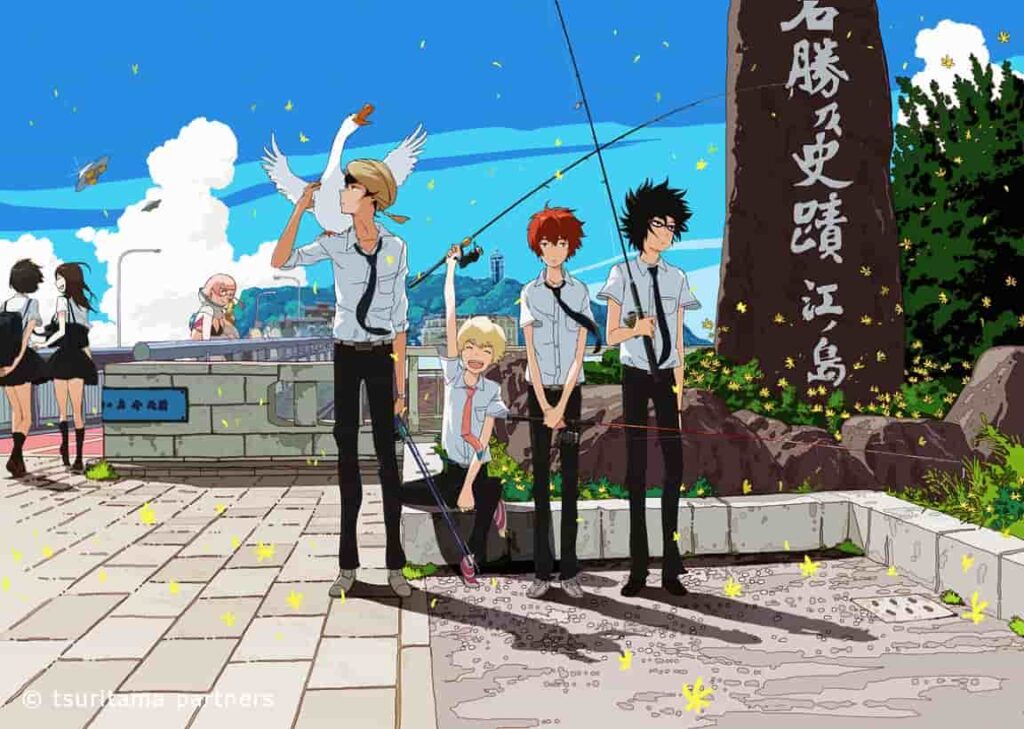 Tsuritama is a charming and unique anime. It follows socially awkward Yuki Sanada, always on the move due to his grandmother's job. Yuki struggles with forming lasting relationships due to his fear of social interactions.
Everything changes when he meets transfer student Haru, who believes he's an alien. Though hesitant at first, Yuki and Haru become friends and involve fisherman Natsuki Usami in their incredible journey.
---
Loved the recommendations? Share it with a friend!
---