This summer, with all the popular anime returning with their sequels, there are also some brand new anime releasing with their first season, such as Remake of Rurouni Kenshin, Rent-a-Girlfriend, and Jujutsu Kaisen. For anime fans, this season will be a blast. We will get to see everything from intense action to charming romance, as well as some ecchi and comedic anime.
I created this list of the Top 10 Most Anticipated New Anime of Summer 2023 for that reason. Pay close attention and select some entertaining anime to watch based on your preferences and favorite genres with the help of the precise descriptions mentioned here about each of the upcoming anime.
List of the Top 10 New Anime of Summer 2023
Rurouni Kenshin: Remake
Zom 100: Bucket List of the Dead
Jujutsu Kaisen: Season 2
Rent-a-Girlfriend: Season 3
Bleach TYBW: Part 2
Liar Liar
Horimiya: Piece
Reign of Seven Spell Blades
Mushoku Tensei Jobless Reincarnation: Season 2
The Girl I Like Forgot Her Glasses
10. Rurouni Kenshin: Meiji Kenkaku Romantan
Genre: Action, Romance, Historical, Sword Fight
What Makes it Interesting:
This is one of the greatest katana and sword themed anime series originally released in the 90s. This classic, retro anime is getting a remastered version this summer.
The plot of Ruroni Kenshin centers on former assassin Kenshin Himura. He earned the name "Battosai the Manslayer" due to his amazing swordplay style and the numerous warriors he killed in the Bakumatsu war.
He has now vowed to never kill again and to seek atonement. The anime follows Kenshin and his friends as they progress further in their journey, battling incredible swordsmen, political issues, and former adversaries.
The Liden Films animation studio is in charge of making it, and the first episode will be released in July.
Plan your schedule and get ready to enjoy a classic from the 1990s in fresh animation. This remake will be a good place to start for those of you who haven't watched the original 1990s version.
The anime shows a story of romance, atonement, redemption, and political issues set in a historic period.
9. Zom 100: Bucket List of the Dead
Genre: Zombie, Horror, Humor, Action 
What Makes it Interesting:
We haven't had much anime in the zombie genre for years, but this summer 2023, Zom 100 is going to change that fact.
The Zom 100 story starts with Akira, who is dissatisfied with his existence. He awakens one day to discover himself in the midst of a zombie apocalypse. Akira gets excited and decides to go on a journey to explore the zombie-infected city.
He crosses off all the things on his bucket list as he proceeds. Akira encounters more survivors and various kinds of zombies along the way. The anime will also provide some entertaining fan service.
The production studio behind Zom 100: Bucket List of the Dead is called Bug Films. Unlike other anime in the same genre, this one explores the zombie genre in a different manner.
In this journey, Akira's survival skills grow, and he becomes more confident. The anime keeps the audience engaged by balancing drama, suspense, mystery, and horror elements.
8. Jujutsu Kaisen, 2nd Season
Genre: Shonen, Action, Fantasy, Powers
What Makes it Interesting:
Almost every anime fan is aware of Jujutsu Kaisen. This summer, we will find out what happens in the anime's second season.
To protect all of you from spoilers, I will mention some valuable key points instead of the storyline.
First, we'll find out how Suguru Geto's early years in jujutsu school affected his view of life. Master Tengen, the most skilled jujutsu sorcerer, will make his entrance.
Jujutsu Kaisen season 2 will start on July 6, according to MYAnimeList. Production of Season 2 is handled by the famous Mappa studio.
Without a doubt, this season will, in some ways, steal attention from other interesting animes. The highlight of this season will be a fight between Gojo and Toji Fushiguro.
7. Rent-a-Girlfriend Season 3
Genre: Romance, Comedy, Ecchi
What Makes it Interesting:
Rent-a-Girlfriend Season 3 will continue where Season 2 left off and will focus on the chapter starting with chapter 104, titled Rental Girlfriend's Dream Arc.
The third season's plot revolves around Chizuru's grandmother's final request, which is to make a movie and have Chizuru play a role in that movie.
The story will tell how Kazuya and Chizuru will work together to make this wish come true, So that Mizuhara can finally play the major lead actress role she wished for in the movie.
The third season of Kanojo Okarishimasu will be produced by the studio known as 'TMS Entertainment'.
In this season, we will be able to see good romance scenes and some development in Mizuhara and Kazuya's relationship. In case you haven't watched the previous seasons yet, this will be a good time to catch up.
6. BLEACH: Thousand Year Blood War Part 2
Genre: Sword Fights, Action, Shonen, Fantasy
What Makes it Interesting:
TYBW Part 2 is bound to be the top-rated anime of summer 2023, given its humongous comeback last year.
Arrival of Ichigo's long-lost mother, and the return of some unexpected characters. Bleach: TYBW arc part 2 is packed with interesting reveals and thrilling battles.
To keep you all spoiler free, here are some key points of what the part 2 will be about.
After the part 1 battle, we will see Ichigo, soul society and other allies moving forward uncovering the truth about Quincy race and Y'hwatch plans about the remake of the world. Identity reveal of one of the major soul society's captain.
There will be several intense battles between major characters like ichigo's father, Mayuri Kurotsuji, and others as well. The fate of the Soul Society and the world hangs in the balance.
The same studio that created TYBW arc part 1 will also produce this next installment, which is Studio Pierrot. We will see more information gets revealed about the Soul King. New character and abilities introduction. More details about the beef between soul reapers and Quincy. Get ready to experience a flawless story.
5. Liar Liar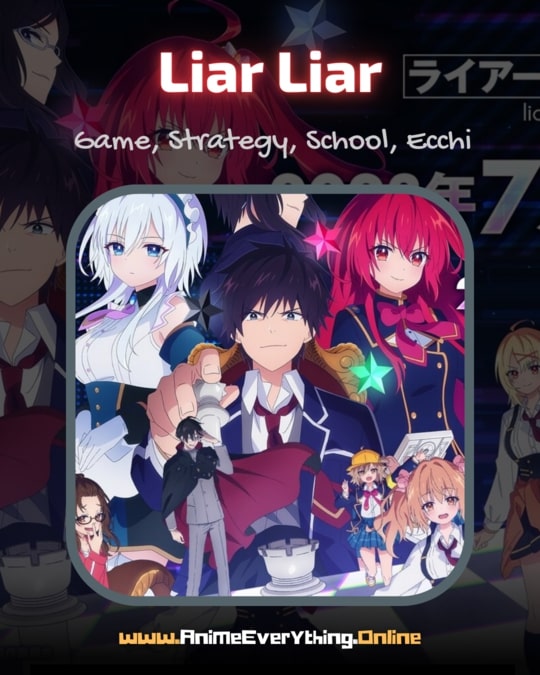 Genre: Game, Strategy, School, Ecchi
What Makes it Interesting:
More advanced "No Game No Life" that's what Liar Liar anime is about without the isekai element. The storyline is set on an artificial island called 'Academy' built by financial institutions to raise new elites.
To fulfill this goal, a school is built to train students in high-class societal ways. On this island, everything is settled through games waged for a certain number of stars. A transfer student Hiroto unexpectedly beats the strongest empress and gains the highest stars.
1 star means at the bottom and 7 means at the top. Hiroto puts on a brave face and continues to act like a total newbie for a peaceful school life.
The studio producing Liar Liar anime is none other than Geek Toys. The anime has game-based wage conflicts and characters that are similar to those in No Game No Life.
Will the school learn about Hiroto, and if so, will he be able to rule the school? These tactical games will prove to be useful in keeping the audience's interest.
4. Horimiya: Piece
Genre: Romance, School, Comedy
What Makes it Interesting:
A classic romance anime that started in January 2021 and immediately took the anime world by storm. Even now, people continue to rewatch this anime. Horimiya: The Piece will grant fans' wishes this summer with a new sequel to the anime.
Because fans' have been asking for a long time, the studio finally decided to produce something from the manga. The remaining manga chapters that were not animated in the official anime will be shown in this new Horimiya. 
Clover Works, the same studio that worked on Season 1 will be taking care of Horimiya: Piece's production.
Horimiya: Piece will also be produced by Clover Works, the same studio as the prequel. The first episode will air sometime this summer. Manga readers know that exciting good stuff is coming up. 
3. Reign of Seven Spell Blades
Genre: Fantasy, Action, School, Team
What Makes it Interesting:
The "Kimberly Magic Academy" is the magical school where the Reign of Seven Spell Blades' story takes place.
The story starts with Oliver, entering the school while wearing Black Robes and carrying a sword. The seven spell blades are a group of students who have each mastered all seven forms of magic.
If Oliver wants to overcome the challenges, he must grow as a magic user and learn some powerful magic spells.
The JC Staff animation studio is in charge of making it. There will be some good scenes with high quality magic battles and interesting characters.
Throughout this journey, Oliver realizes that there are various things to accomplish not just learning spells in order to become a powerful wizard. There are also other political and magical conflicts that pose a threat to the entire world.
If you're a fan of the fantasy genre, then you are going to a good time this summer with this magic school anime.
2. Mushoku Tensei: Jobless Reincarnation Season 2
Genre: Isekai, Ecchi, Reincarnation, Adventure
What Makes it Interesting:
In the second season of Jobless Reincarnation, we will be seeing Rudeus grow from a boy to a teenager. This youth phase of his life, from early to late adolescence, will be an adventerous one as well.
By the end of the season, he'll start to look less like a youngster and more like a young adult. If the studio decides to animate the 12th volume of the light novel, then the audience will see an intense scene that will change the course of Rudy's life.
Studio Bind will be taking care of the production of the second season of Mushoku Tensei.
In this season, we will get a much clearer understanding of Rudeus' reincarnation.
The storyline's pacing will likely shift. Expect a lot of surprises because of further developments and new character's introductions.
1. The Girl I Like Forgot Her Glasses
Genre: School, Comedy, Romance
What Makes it Interesting:
The plot of The Girl I Like Forgot Her Glasses differs slightly from that of typical romcom anime. It tells the story of two students named Kaede Komura and Ai Mie. Kaede has a secret crush on her.
He wishes that Ai will look at him with her beautiful eyes. One day when Ai misplaced her glasses, Kaede decided to look for them, and they ended up sharing a conversion. Their relationship becomes stronger as they hang out and spend time together.
Studio Go Hands will handle the production of this summer 2023 anime. The characters will engage in wholesome romance comedy while the plot will feature some exciting moments.
The audience will feel curious and engaged in the storyline about what will happen next, what further tricks Kaede will use, and how the storyline will proceed further.
That's it for this post! These are all the best, upcoming anime of summer 2023. All of these anime will start airing this July and continue all the way until the end of September 2023.
Don't forget to hit the bell icon in the bottom corner to subscribe for more recommendations. Thank you for reading, and we'll see you in the next post~