American Football anime, also known as rugby anime is so niche that we only have a handful of shows in the genre. In this article, I'll be counting down the all the Japanese animated series and movies where this american sport has a somewhat central theme.
The Anime Universe is VAST!! With genres like Shounen, Isekai, and your good old Romance, we have it all!! However, there is one particular genre that excites every anime fan and brings out their inner beasts. Can you guess which genre I'm talking about?
Yess! You guessed it right, I'm talking about SPORTS here! Sports are something that unite the entire world. It doesn't matter what age group you belong to, there's always something in it for you.
I have a question for y'all. Have you guys ever heard about American Football? I'm pretty sure you have. It is a bit controversial though since people outside America call it Rugby. Talking about anime, there are very few shows related to this particular sport, but don't worry, we've got you covered. 
In this list, I've gathered some of the BEST American Football anime out there. Without any further ado, let's hop right into it!
08. Cipher:
The story of Cipher sets back to mid-1980s America, mainly New York City. It revolves around two twin brothers. One of them, Shiva, is a movie star making a football movie, while Cipher, the other one, is a musician who occasionally goes to school (to cover for his sibling).
Anise Murphy is one of Shiva's classmates, and shortly after getting to know him, ends up entangled in a curiosity to see if she can really differentiate between them two.
This anime is not mainly based on football but depicts it slightly. Anyone who wants to enjoy an anime with a slight touch of sports can watch it. 
07. Madonna (1988):
The main character of this anime is Mako, who's a newly appointed teacher at Gyunabe High School, and she thinks that her new job won't be much difficult.
However, that class is full of mischievous boys led by the delinquent Obayashi who always keep trying to see her panties and embarrass her. On top of all these things, the Principal decides that she must now become their new Rugby coach.
Can she lead their team to victory? To find out, watch it yourself as I won't give any spoilers lol..!!!!!
This anime consists of 2 episodes which were released back in late 1980's. The genre includes delinquents, comedy and sports (american football).
Also Read >> 35 Most Popular Sports Anime To Watch Now!
06. Animation x Paralympic: Who is Your Hero?:
Now this is something else. If i had to describe this anime in one word, I'd call it a "Multi-sport" anime. It is a series of animated sport films and each episode features a different Paralympic sport such as American football, para volleyball, para-cycling, wheelchair basketball etc. 
It consists of 15 episodes and episode 5 of this anime consists of wheelchair Rugby. It is worth watching anime for someone who loves a vast variety of sports, especially American football or Rugby. 
05. UFO Warrior Dai Apolon: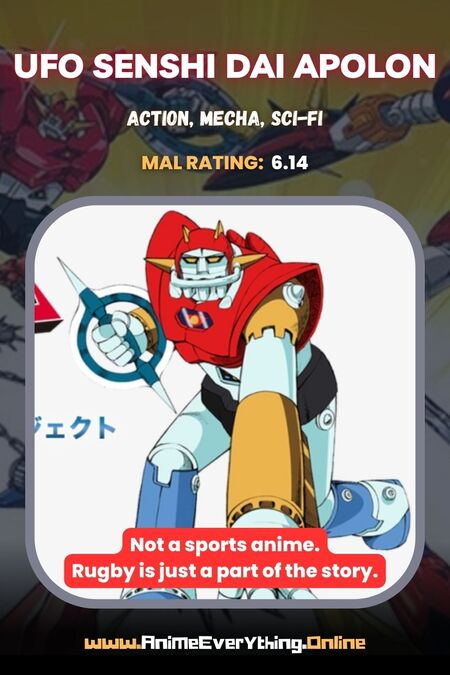 The plot of this anime revolves around a 16-year-old boy Takeshi who recently formed an American football team at the Blue Sky orphanage. The anime is not completely based on American football, however, it has been shown in the first few episodes.
This is a classic anime in which Takeshi and his friends have defeated a large number of mysterious beings while wearing their super mechanical suit called "Dai-apolon". This series consists of 47 episodes.
04. Try Knights:
Have you guys ever wondered what it feels like to abandon playing a sport due to a weak physique? This is yet another classic American football based anime in which the main character is physically weak.
Riku Haruma, who had left Rugby due to poor body physique enters high school without any hope of playing it again. He notices the players playing like monsters on the ground, jumping higher than anyone else, running fast and trying to give their best.
There, he sees Akira Kariya and several other students playing rugby passionately, a sport he was once passionate about.
When Akira passes by him while playing, Riku gives him a piece of advice without thinking.
From that, Riku feels the dying passion for this sport still igniting inside him, and decides to play for his school team.
This anime consists of 12 episodes and is one of the best anime out there for American football fans.
03. All Out: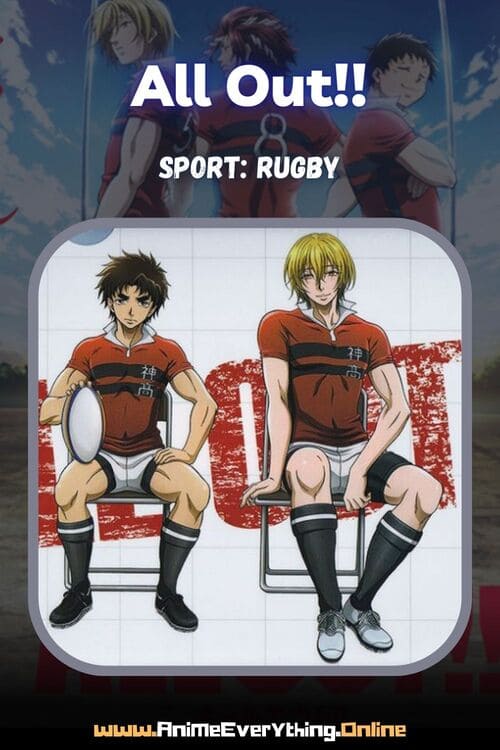 Next up, we have "All out"!!! This anime is solely focused on Rugby. The main character of this anime, Kenji Gion, who recently enrolled at Kanagawa High School.
He joins its rugby club along with his classmate, Iwashimizu. The team's sub-captain Hachiouji always takes good care of his teammates. Then, there is Captain Sekizan, who owns!
This anime consists of 25 episodes. If you are looking for an anime which is entirely based on American football, I'll definitely recommend you to watch it.
02. Number 24: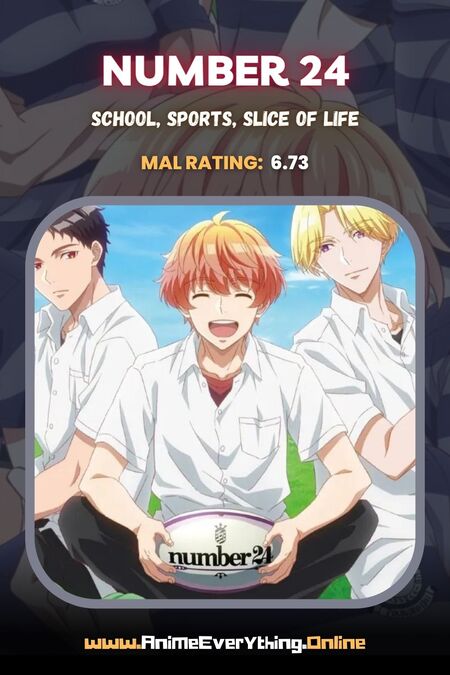 This is an inspirational anime based on the never ending love of a boy named Yuzuki for Rugby. He was an exceptional player of Rugby who gained massive fame in the university due to his immense talent in Rugby sports.
Unfortunately, a tragic accident from a motorcycle forces him to give up playing rugby, but his undying love of the sport leads him to become his team's new manager and help them win the tournament.
This anime consists of 12 episodes. If you are seeking motivation in sports, then I suggest you must watch this anime.
01. Eyeshield 21:
"Eyeshield 21" is one of the greatest sports anime of all time. It is based on the story of a little guy named Kobayakawa Sena, who always gets bullied in school. As he keeps running away from bullies to avoid them since his childhood, he becomes swift in running and agile.
By chance, Hiruma Youichi and Kurita Ryokan are looking for a fast running back for their American Football team (Amefuto).
Seeing his agility and pace, they want to put Sena in the team as he has mastered the art of sneaking away from the crowds of people.
In order to hide their new little master from the eyes of others, Hiruma encases Sena in an Amefuto helmet with a dark visor and names him "Eyeshield #21″.
This anime consists of 145 episodes and I highly recommend you to watch it.
Final Words
So, this was the list of top 8 anime based on American Football. I've ranked them according to their imdb ratings and popularity.