Age regression anime series center around a main character who becomes younger either physically or mentally. Most Isekai and reincarnation anime falls under this category. There are also other fantasy and time travel stories that follows this theme.
In this article, I'll be listing down my top 15+ most favorite anime with the age regression theme.
16. Tearmoon Empire
"Tearmoon Empire" is a time travel anime that debuted in October 2023 and is currently airing. If you enjoy age regression anime, you'll love it. The main character of the story is Mia, a narcissistic and conceited young princess who is executed by guillotine. But she unexplainably went back in time and discovered that she was still alive in her 12-year-old body.
She makes the decision to change her story after being given another opportunity at life. She rights the innumerable wrongs that plague her realm.
This anime presents a more humorous interpretation of the historical fantasy subgenre. You will therefore undoubtedly love this show.
15. The Greatest Demon Lord Is Reborn as a Typical Nobody
Varvatos was a human who reached humanity's peak potential. He became feared as the Demon Lord because of his powers.
Lonely, he sought friendship and a true friend. So he decides to end his life and reincarnate to start over. Thus making it a perfect addition to this age regression anime list.
In his new life as Ard Meteor, he struggles to fit in due to his immense strength. He faces social challenges because of his OP abilities. Worse, abandoning his former role has unforeseen effects.
14. The Reincarnation of the Strongest Exorcist in Another World
Haruyoshi Kuga was a mighty exorcist who saved people countless times. But people began fearing his insane powers. So they betray him and kill him. With his dying breath, he vowed to return wiser.
Reborn as Seika Lamprogue in a magic-rich world, his lineage and powers are disregarded. Yet Seika utilizes his past knowledge to forge strong alliances. He uncovers his true potential, all while avoiding past errors.
13. The Misfit of the Demon King Academy
"The Misfit of the Demon King Academy" is an age regression reincarnation anime. It follows Anos Voldigoad, the former Demon King. After a millennium of absence, he reincarnates. He returns to a world where his legacy is shrouded in legend and distortion.
But with his unmatched abilities, he demonstrates his legality, although no one believes him. He attends a demon school, encounters challenges, and confronts those who doubt his heritage. Aiming to reclaim his rightful throne, Anos uncovers the truth behind his legacy.
12. Saga of Tanya the Evil
"Saga of Tanya the Evil" is a popular Isekai anime that is getting a second season. It centers around a ruthless and intelligent salary man who does not approve of God.
After his death, he is reborn in a parallel world as a young girl on the brink of war. Her ambition to climb the military ranks knows no bounds. She navigates the treacherous frontlines, employing cunning tactics and magical powers.
Her ultimate goal is to escape from the front lines and defeat the self-proclaimed God.
11. By the Grace of the Gods
"By the Grace of the Gods" is an isekai anime with age regression. It follows Ryoma Takebayashi, a salaryman who finds himself transported to a fantasy world. After his untimely death, the gods reincarnate him as a little boy in the middle of a forest.
The three deities bless him with magical powers to give him an easy life. Ryoma chooses a simple life in the forest, taming slimes and other creatures. This anime offers a heartwarming story of healing and friendship. We will also see some adventure and business building action.
10. Ascendance of a Bookworm
"Ascendance of a Bookworm" is a business building Isekai anime with tons of drama and fantasy.
It tells the story of Myne, a book-loving girl who dies and is reborn as a little girl in a medieval world. Here, books are rare and very hard to obtain. Determined to read again, Myne uses her modern knowledge to overcome obstacles.
She creates paper so that she can create books. In order to fund her passion, she also created several other businesses using her modern knowledge. This anime explores her journey of willpower and love for knowledge in a world where literacy is a precious gift.
9. Jobless Reincarnation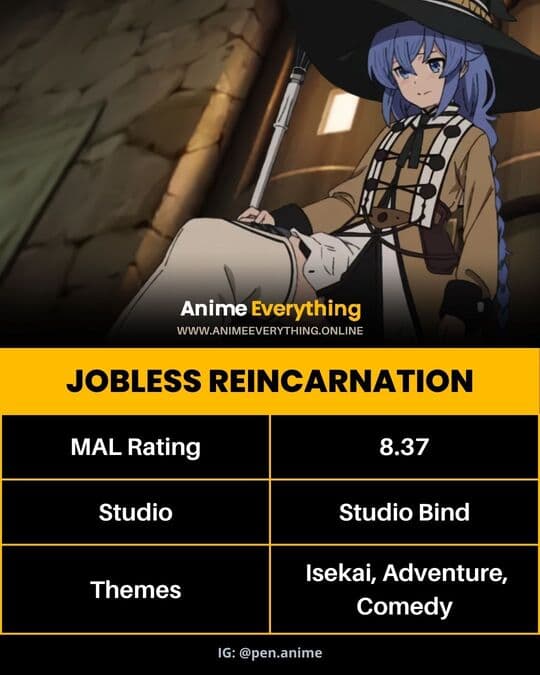 "Jobless Reincarnation" is an age regression anime with an Isekai theme. It follows the life of a 34-year-old recluse who dies in a tragic accident. He is reborn in a magical world as a boy named Rudeus Greyrat.
With his newfound youth and knowledge, Rudeus embarks on a journey of self-improvement. He hones his magical abilities and navigates the challenges of the new world. The series combines adventure, magic, and character growth themes. It offers a captivating story of redemption and transformation.
8. Orange
"Orange" is a heartfelt anime that explores themes of regret, friendship, and the power to change the past. Naho Takamiya receives a letter from her future self, warning her of the regrets that will haunt her. The letter wants her to save a new transfer student, Kakeru Naruse.
As Kakeru's life gets dark and depressing, it is up to Naho to anchor him to life.
The series delves into the complexities of time and human emotions. If you've ever felt suicidal or lost a friend to loneliness, this anime will make you cry.
7. ReLife
"ReLIFE" is a unique age regression anime. It follows the story of Arata Kaizaki, a 27-year-old unemployed man. He gets a second chance at life through a mysterious scientific experiment.
He's transformed back into a 17-year-old and enrolls in high school to reevaluate his life choices. The series explores themes of identity, second chances, and the challenges of youth.
6. Nanaka 6/17
"Nanaka 6/17" is a charming anime that centers around Nanaka Kirisato. She's a high school student who regresses to her six-year-old self after an accident. She struggles to cope with her newfound childlike personality.
With the support of her friends and family, she navigates her new life. This is a Shoujo anime that is full of emotion and drama.
5. Asatte no Houkou
"Asatte no Houkou" is one of the classic age regression anime out there. It is a unique story of two girls who undergo age change.
Karada, a young girl, wishes to grow up quickly, while Shoko, an adult, yearns to turn back time. A mysterious wish-granting stone grants their desires, leading to an unusual age swap. The series explores themes of identity, duty, and the complexities of growing up and growing older. "Asatte no Houkou" offers a compelling and thought-provoking narrative.
Also Read >> 10+ Best Yuri Anime On Crunchyroll
4. Bokutachi no Remake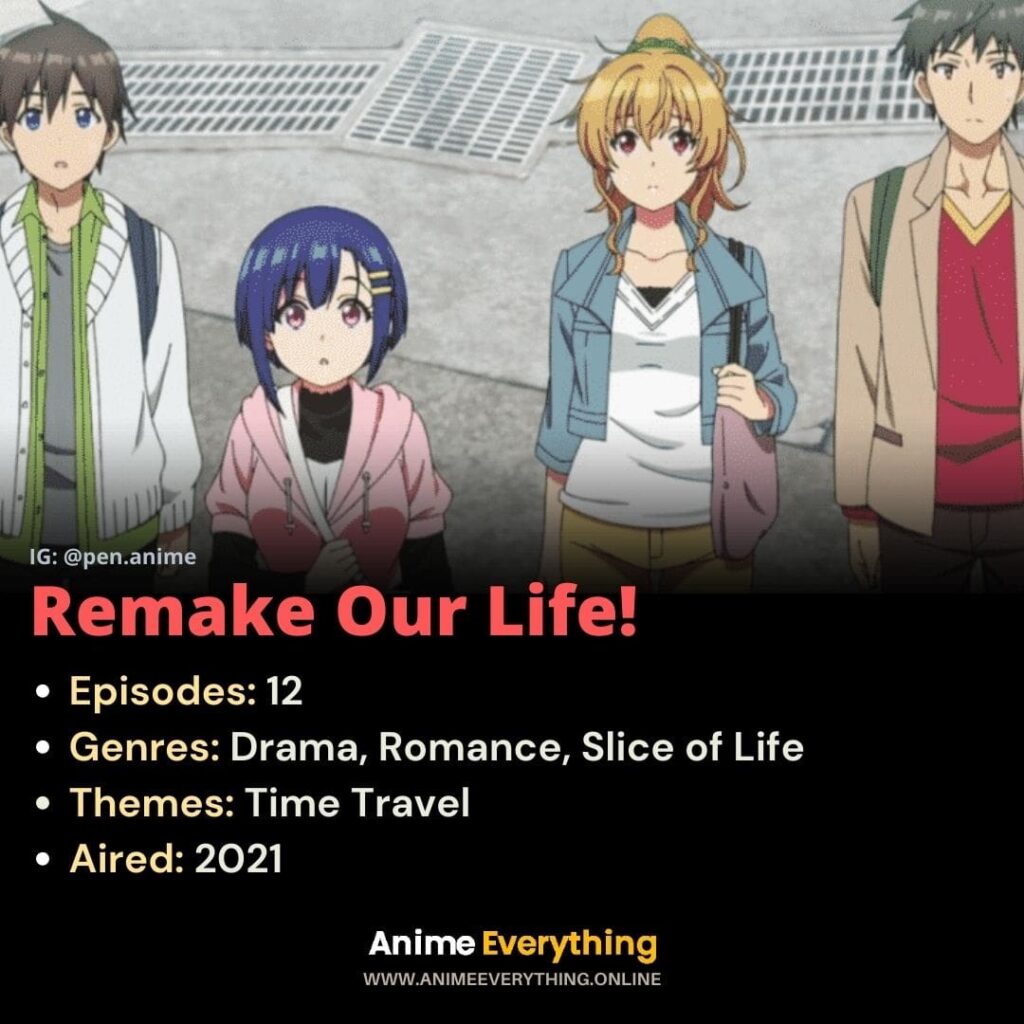 "Bokutachi no Remake" is an anime that delves into the concept of second chances. The story follows Kyouya Hashiba, a middle-aged game developer. He is depressed, jobless, and full of regrets. One day, he is suddenly transported back in time to his college days. Determined to make different life choices, he reenters college.
He makes new friends, embarking on a journey to recreate their futures together. The story is a lot more relatable and realistic despite its age regression theme.
3. Detective Conan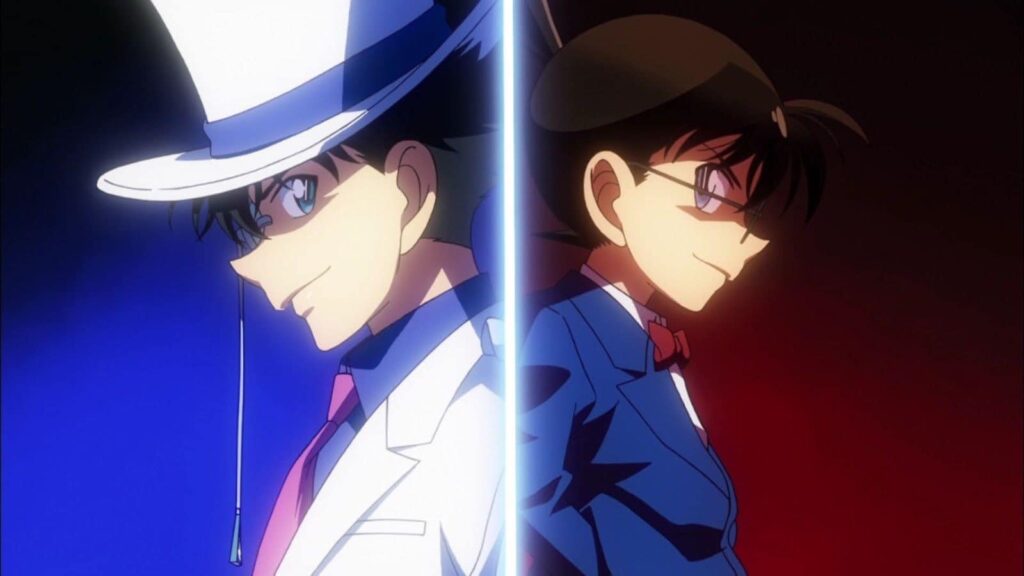 "Detective Conan," also known as "Case Closed," is a long-running age regression anime series. It is about the adventures of Shinichi Kudo, a brilliant young detective. After being poisoned and transformed into a child, he adopts the pseudonym Conan Edogawa. Conan uses his special deductive skills to solve complex criminal cases. But his main goal is to find a cure for his condition.
The series offers a blend of suspense, mystery, and crime-solving. This series has been going on for years, making it one of the longest anime of all time.
2. Erased
"Erased" is a gripping age regression anime that combines elements of mystery and time travel. The story revolves around Satoru Fujinuma, a man with the ability to go back in time. He uses it to prevent tragedies that happened in his past.
When he's wrongly accused of murder, his power activates and returns him to his childhood. Now, he has to prevent a series of events that will affect his life and others.
This anime has time travel fantasy, murder mystery, drama, and romance themes.
1. Tokyo Revengers
"Tokyo Revengers" needs no introduction in this age regression anime list. This is an action-packed anime about Takemichi Hanagaki. He is a disheartened adult who discovers he can time travel. He uses this power to prevent tragic events from his past, including the death of his first love, Hinata.
This series combines thrilling gang conflicts, suspense, and time travel to create a masterpiece. You can't help but feel excited to see Takemichi strive to rewrite his life's fate and protect his loved ones. "Tokyo Revengers" offers a gripping story filled with twists and turns, captivating both new and seasoned anime fans.
That's it for this post! These are the 15 best age regression anime of all time.