The winter holidays are quickly approaching, which can only mean one thing. It's time to pull out all of the top anime advent calendars!
These excellent anime advent calendars are sure to get you into the Christmas spirit. Their fun and festive activities that will keep you delighted all the way through the season.
There is something here for everyone, regardless of whether they are seasoned anime fans or are just starting out with the medium.
So, what are you waiting for? Take a look at all of the available anime advent calendars.
What Are Advent Calendars?
Advent calendars countdown to December 25, which is Christmas, or Jesus' birthday. These calendars date to the 1850s where it started to become a part of the tradition.
Some of these Advent calendars include a nativity scene behind each door. Some calendars include a chocolate for each day.
There are other types of pricey calendar that feature toys or gifts. One door or box represents each day in December leading up to Christmas. You can open each box daily till Christmas to find interesting surprise inside!
Why Are These The Best Gifts For Anime Fans?
Now, if you are looking to gift something to an anime fan this christmas, these calendars are probably one of the best things you can give them.
Any and all anime fan out there loves the characters featured in their favorite series. Therefore, these advent calendars that has mini figurines inside them are going to make them really happy.
After all, there is no better way to make the day of an anime fan than to present them the merchandise of their favorite anime.
Best Advent Calendars For Anime Fans
One Piece Advent Calendar
The One Piece Advent Calendar is the ideal approach for any fan of the series to get into the holiday spirit and enjoy the season.
This one-of-a-kind calendar features twenty-four compartments. Each compartment will have unique presents that you can open each day.
The new 5th-gear version of Luffy, known as Nika Mode, serves as the inspiration for this calendar box's design.
Because it contains so many awesome items, this Advent Calendar is likely to be a hit with One Piece fans.
And because there is such a wide variety of fantastic mini figurines as presents, it is certain to be well received by One Piece fans of all ages.
Recommended >> 8 Best Gift Ideas for Anime Lovers & Fans
Naruto Advent Calendar
The Naruto advent calendar is a unique calendar that fans of the popular anime and manga series use to count down the days until Christmas.
The advent calendar based on this anime series has 24 numbered windows. Each of those windows depicts a different character from the show.
This year, the calendar provides a spooky and entertaining way to celebrate Halloween, in which you are surprised with unique rewards.
Every one of the advent calendar's 24 doors conceals a unique present that was crafted especially for the calendar. This is the best way to get into the Halloween spirit, with unisex presents that are guaranteed to be enjoyed by any Naruto fan.
Dragon Ball Advent Calendar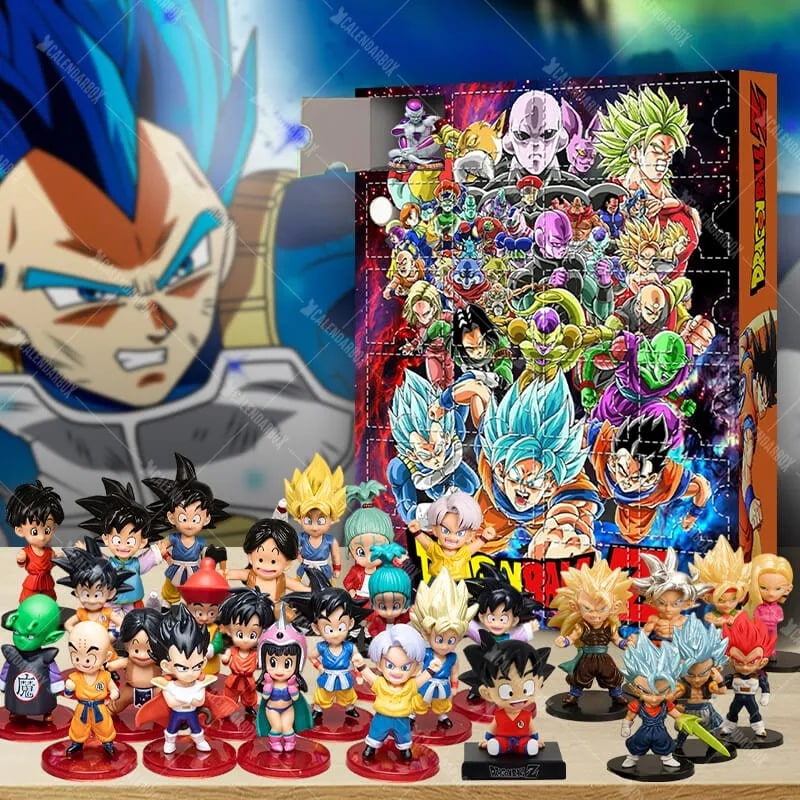 This Dragon Ball Advent Calendar is sure to be a hit with any anyone who enjoys the Dragon Ball anime. You will open a new door on a daily basis leading up to Halloween.
And behind each door will be a different Dragon Ball character.
Each of the doors conceals a unique Dragon Ball memorabilia item, such as a tiny souvenir or another collectible item.
There are also a lot of additional characters from the series, so it is very likely that you will find your favorites among them.
In addition to being a fun way to keep track of the days till Halloween, the calendar is also an excellent opportunity to demonstrate your enthusiasm for the series.
Recommended >> Anime Themed Christmas Gifts & Ornaments For Anime Fans
Pokemon Halloween Advent Calendar
Halloween is a great time to celebrate with all of your favorite Pokémon characters this holiday season.
This Pokémon Advent Calendar has 24 little boxes, each of which includes a unique present that honors a different Pokémon character's affinity for the holiday season.
Each present comes with a cute keychain and a colorful envelope to add a touch of personalization and ensure that everyone is aware of who got which present.
This offer comes with 24 Gift Boxes, each of which contains 24 Blessings as well as 24 Surprises.
It is a gift package that includes everything, and it is a wonderful option for getting the holiday season off to a good start.
Demon Slayer Advent Calendar
Those of you who could not get enough of Tanjiro and Nezuko (or any other character) will love this one. Not to mention, with the season 3 in the making, this might just be the perfect calendar for KnY fans!
Demon Slayer Advent Calendar is a calendar based on the anime, that helps to count down the date till Christmas.
When it's all said and done, the Advent Calendar will have 24 presents for you to take advantage of.
Every present comes with a unique collectible token that can only be obtained throughout the course of this unique occasion.
Each day, you will receive a unique present that is inspired by the characters and concepts in Demon Slayer.
Recommended >> 10 Best Demon Slayer Swords Ranked
Are These Suitable Gifts For All Age Groups?
Absolutely! No matter how old they are, every anime fan adores figurines. While kids always have a thing for toys, teenagers and adults also love these figurines as a decor or collectible.
All I'm trying to say is that they have emotional value.
After all, there is no better feeling than seeing our favorite characters standing on our desks!
So, yes, these anime themed advent calendars will be perfect for all fans, regardless of their age.
Conclusion
These calendars with an anime motif are now available in a variety of different packages. There are single packs, double packs, and family packs available (3PCS).
Whether you are buying it for yourself, or gifting it to someone else, these are going to be a great buy.
So, catch up on your favorite anime calendars as soon as possible rather of waiting till Halloween and Christmas arrive!