Christmas is just a month away, and I'm pretty sure we're all hyped to decorate our house and give/receive gifts! But, we're anime fans. We don't do it the regular way. We do it the Otaku way. From decorating the Christmas tree to buying gifts, it has to be somehow anime related. Or, maybe you have a friend or a relative who is into anime and you want to make this Christmas special for them with some amazing Anime based Christmas gifts.
Whatever the case, here are some of the cool anime themed Christmas tree ornaments and other anime related Christmas gift ideas!
Disclaimer: All of these products are from Amazon and as their affiliate, I'll be paid for any valid purchases from this post. 
With that said, enjoy the listing!
Christmas Gifts For Anime Fans
Anime Gift Boxes
Are you looking for a christmas gift? What could be better than an anime gift box! Gift boxes normally include multiple anime merchandise. Ranging from T-shirts, wallposters to stickers and badges.
MHA Mystery Box
What could be more fun than an anime themed christmas gift box? This My Hero Acaemia gift box has these following items: HERO LICENSE, U.A. ACADEMY HERO CANVAS ART, HERO BADGE, MHA NOTEBOOK. They have 4 volumes of these gift boxes for you to choose from. Each Volume contains different set of merchandise.
---
MHA Gift Set
This MHA gift set includes a bag, laptop cover, badges, stickers, keychain, face masks, wristbands, etc.
---
Demon Slayer Gift Set
Demon slayer gift set consisting of a wall scroll poster, keychain, bag, phone number holder, badge, and other ornaments.
---
Anime Figures
If you know what anime they love, the best thing you can do is buy them merchandise of that particular anime. As an anime fan myself, I know figures are one of the things that'll light up a smile in any anime lovers face. There's nothing as exciting as getting hold of official anime figures.
---
Posters
Another great christmas gift for anime fans would be posters! There are different types of posters: framed posters, sticky posters, wall scrolls, etc. You can choose any type depending on your preference. But what matters is the content of the poster. There are several popular anime like Naruto, One piece, My hero academia, demon slayer, etc. You have to know which anime the person likes. One of the big mistakes non-anime fans make is buying random anime themed gifts that might not even be what the recipient likes.
---
Anime Christmas Tree Ornaments
What could be more delightful than decorating the Christmas tree with anime ornaments? Here are some decent anime ornaments that you could hang on your Xmas tree!
Poke Ball Ornament
This one is for the Pokémon lovers. A nice and shiny Poke ball would definitely be an incredible addition to your tree ornament set.
---
Naruto Christmas Ornaments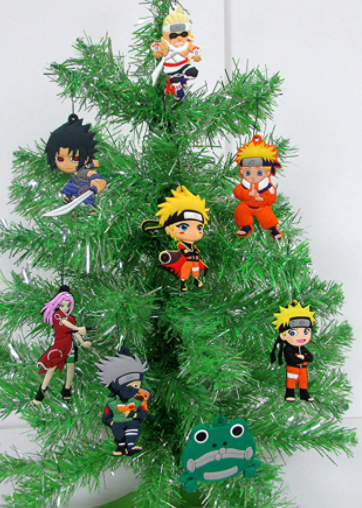 Cute Chibi Naruto Ornament set to hang on your tree. It is an 8 piece ornament set which is about 2″-3″ tall.
---
Totoro Ornaments
Set of 10 cute Totoro and friends ornaments made just for the Ghibili lovers.
---
Christmas Themed Anime Figurine
Figurines. The love of every anime fan. We've all wanted them at one point, and we probably still do. Why not gift some of these beautiful anime figurines to your beloved Otaku friend?
Nezuko Figurine
Kawaii baby nezuko figurine wearing a Christmas hat. It is just too adorable to ignore. Just look at her! Aww cute~ They also have Tanjiro, Inosuke and Zenitsu variant of the figurine.
---
Rem Figurine (Christmas edition)
Our favorite girl Rem is now in Winter costume. I don't have to tell you guys how precious this figurine is right? It is a must have, if you ask me! This is an official merch with approx. Size of 2.5″L x 2.5″W x 9″H. 
---
Asuka Figurine
This one is for the veteran fans out there. (I know many of the new gen anime fans haven't watched Neon Genesis Evangelion because it is "old".)
---
Christmas Clothing For Otakus
Classic anime T-shirts and sweatshirts, but with Christmas theme.
Padoru T-shirt
The padoru season cannot be fulfilled without Paoru outfit. For those who don't know, it is kind of a tradition in the anime community to populate "padoru" memes, songs and any other content during the month of December. So a padoru shirt is just perfect for the festival.
---
SFW Hentai Girl Sweatshirt
A very softcore version of the Hentai sweatshirt that is designed with the winter season in mind.
---
Thank you for reading! If you want more product recommendation or anime reviews, etc. hit the bell icon on the bottom right corner to subscribe for post notifications (^^)