Cosplays have always been popular in the anime fandom, except only fans do a cosplay of their favorite character. However, My Dress Up Darling's Marin Kitagawa is a girl who cosplays other characters herself.
I bet you've already heard about My Dress-up Darling, one of the most hyped anime series of 2022. And I guess we can all agree that Marin was the waifu of the year.
In past years, several action-adventure anime, such as Attack on Titan, Demon Slayer, and Jujutsu Kaisen, have aired and left an indelible impression on fans' hearts.
However, My Dress Up Darling is the only series that gained enormous popularity in 2022 despite having a genre of rom-com instead of action or adventure. I mean, it was basically a no-name title that nobody even talked about before it aired.
The reason for the series' huge success is its unique storyline and main character, Marin Kitagawa. After all, she's cute, gorgeous, and has a beautiful personality—everything a weeb would want.
The series is basically about the story of a teen girl who loved to cosplay and a boy who loved to make wonderful outfits.
Throughout the series, Marin did several beautiful cosplays in which she looked completely different. Regardless, she rocked each and every cosplay she pulled, and it was eye candy for fans.
As a result, weebs adore all of her cosplays and are eager to know how many cosplays she did in the series.
So don't worry; you have come to the right place. Here, we will talk about all the cosplays of Marin Kitagawa.
Furthermore, here you also get to know about her cosplays that she did for manga series that have yet to be shown in anime. So let's get started!
About Marin Kitagawa
Before we get into all of her cosplays, you should first learn about Marin Kitagawa, the main character of My Dress Up Darling. Of course, I will not be spoiling anything important in this section, so you don't have to worry about that.
Marin is a stunning teenage girl with average height and long blonde hair. Yep, she's 15, and there were a lot of people who couldn't stand weebs drooling for her despite the fact that she's just 15.
Of course, that didn't stop hentai artists from doing their jobs, and neither did it stop me from recommending them. So check them out if you want *wink*
Anyway, I digress. Marin's personality is quite outgoing, yet she is a very kind and mature girl.
Due to her enormous love for anime and video games, Marin loves to cosplay their characters. And finally, we also have a weeb waifu. Ain't that great!
List of All Marin Kitagawa's Cosplays From My Dress Up Darling
Marin never liked cosplaying characters whose appearance and clothing style did not suit her. Throughout the series, she only did a total of seven cosplays (4 in anime and 3 in manga) that perfectly suited her and made her so popular among fans.
So, let's take a look at all of her cosplays in My Dress Up Darling. 
Marin's Cosplay #1: Shizuku Kuroe
Alright, let's kick off this list with one of the most gorgeous cosplays Marin has ever done.
Her very first dress-up was her most favorite gaming character, Shizuku Kuroe.
This was Marin's debut cosplay, and it was a huge hit among fans.
In this cosplay, she had beautiful short black hair that was smooth and silky. Furthermore, she wears a wonderful black maid gown alongside a mob cap that includes three red roses.
We get to see both beauty and cuteness in this dress, which, along with a little gothic impression, makes her a masterpiece. As a result, we can confidently state that this cosplay is Marin's most adorable and beautiful cosplay.
Marin's Cosplay #2: Black Lobelia
Now we come to her second cosplay, as well as the hottest and sexiest cosplay in the series, i.e., Black Lobelia. The sex appeal in this costume is clearly higher than in her previous cosplay, thanks to that amazing cleavage.
In this cosplay, she wears an officer's uniform that includes a cap and an amazing jacket. The motive behind this dress up is to recreate a stern and strong military woman.
Furthermore, she also wears different-colored contact lenses, one of which is blue and the other is red—a typical anime thing, not gonna lie.
Aside from her wonderful outfit, she also wears a beautiful necklace and a black choker on her neck. This gives her a baddie look.
Moreover, her attractive curvy figure is perfectly highlighted and gives her a mature look in this dress up. As a result, it is not wrong to say that Marin looks very sexy and hot in her Black Lobelia's cosplay.
Marin's Cosplay #3: Prisoner Veronica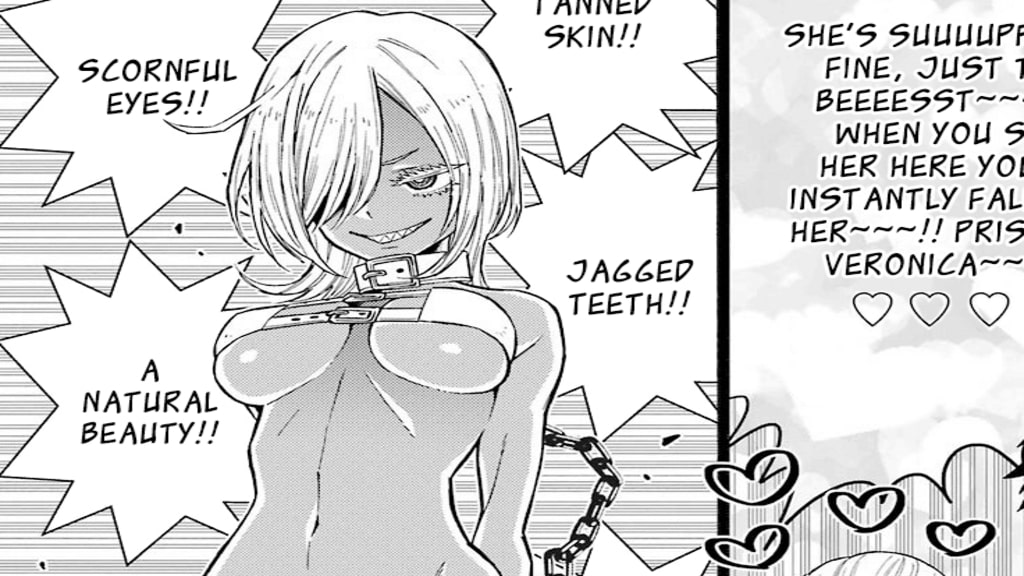 Oh boy, fans were not ready for this hotness when this dress up was debuted. Prisoner Veronica, the sexiest cosplay of Marin, can easily seduce anyone. It's like this character is designed to do exactly that.
In this cosplay, she had wonderful short blond hair, jagged teeth, and tanned skin. Almost all the qualities you need to make men drop to their knees.
Her eyes are yellow and orange, giving her a distinct appearance.
Furthermore, she wears a very simple design, including short pants and a white choker on her neck that reveals most of her breasts. There are also handcuffs, which really make her look like a prisoner.
Even though she looks drop-dead sexy in this cosplay, Marin did not use it due to the large amount of skin exposure.
Marin's Cosplay #4: Rizu-Kyun
Moving on, we have that one dress-up scene that is stuck forever in fans' minds.
This time, Marin is cosplaying a character from another species named Rizu-kyun, a lovely monster girl with elven ears and devil's wings. This is also Marin's first time trying to do a non-human character, but she pulls it off perfectly.
In this cosplay, she wears a half-black top piece, including a white buttoned collar.
However, this dress is quite shaggy, unlike her previous cosplay outfit, which was fit and tight.
Furthermore, she also wears a pair of pointy ears to make her look more like an elf girl. Most fans adored this cosplay, especially elf lovers, for her innocent yet attractive looks.
On the other hand, it is Marin's last cosplay in the My Dress Up Darling anime series, while she cosplayed three more characters in the manga series.
Cosplay 5: Shizuku Kuroe's New Avatar
Next is Kuroe's even cuter alternative version. After getting so much love and appreciation for cosplaying Shizuku Kuroe, Marin again cosplays Shizuku, but in a new avatar.
In this cosplay, she wears a traditional Japanese maid outfit, which was beautifully designed in kimono style. Furthermore, she uses more makeup to make herself look like a doll.
Aside from her traditional-looking outfits, she wears fashionable boots and white gloves. I bet fans will be excited to see this cosplay in the upcoming sequel to My Dress Up Darling.
Cosplay 6: Arisha Izayoi
Bunny girl lovers are going to dig this one up because this cosplay is that of a bunny girl.
Arisha Izayoi is the sixth cosplay of Marin Kitagawa that debuted in Volume 6 of the My Dress Up Darling manga series.
In this cosplay, Marin wears a beautiful black outfit consisting of a jacket, strapless leotard, garter stockings, and heels.
Furthermore, she also wears a rabbit ear headband and a fluffy tail that give her the beautiful look of a rabbit girl, similar to Bunny Girl Senpai. Aside from her amazing outfit, she also applies blue lenses that look so good on her and enhance her attractiveness to a further level.
Cosplay 7: Rei-sama
Now comes to the last costume of Marin, in which she did the cosplay of a masculine type character for the first time.
In this cosplay, she looks quite similar to a well-mannered guy who belongs to some type of royal family.
She has short hair that was combed elegantly and wears a very expensive suit. Her outfit includes a jacket, vest, pants, shirt, shoes, and tie in a beautiful color combination of black and white.
It is truly a fact to say that this cosplay looks completely different from her previous ones and perfectly suits her. This cosplay has it all, from the amazing outfits to the simple makeup; everything was top notch and done by professionals.
Conclusion:  
We hope you get all the necessary information about all the cosplays of Marin Kitagawa in My Dress Up Darling. Each of her cosplays is too attractive and perfectly shows Marin's deep love for cosplay and Gojo's determination towards outfit designs. Stay tuned for more interesting lists and wonderful anime write-ups.