Tattoos are a form of body art that has been around for centuries. Nowadays, tattoos are more commonly seen on people who want to express themselves or commemorate an event in their life. If you are looking for a tattoo artist who can make all your wishes come true, check out Ink-Match. They are the best masters of their craft who can surprise you.
With tattooing being such a popular trend, it's no wonder that many anime characters have them. This article is going to present you with tattooed female anime characters.
Before we jump into the listing, we've also created a list of the best male anime characters with badass tattoo! Check it out in case you're interested!!
Best tattooed female characters in anime
Anime is one of the most interesting and entertaining forms of modern Japanese culture. This form of art is so influential in Japan that it has become a common interest, which means that anime enthusiasts are very active around the country.
One of the reasons for this success lies in anime's diverse characters. For example, if you are a fan of Japanese animation films and series, then you would probably agree with how cool tattoos look on the body of characters.
Here is the list of the top seven female tattooed anime figures that deserve special attention.
Nami — One Piece
One Piece's Nami is a master thief, navigator, and sometimes assassin. She has incredible physical strength as well as a strong will to match it.
Nami is a slim young woman of average height. She has orange hair and brown eyes.
She had a tattoo for being a member of Arlong's crew on her left shoulder, which she inherited from Nojiko after being forcibly branded. Nami with Nako decided to try to remove it with a knife but got a scar in the process. She later covered up the remains of the old tattoo with her mandarin/turntable design.
Nojiko — One Piece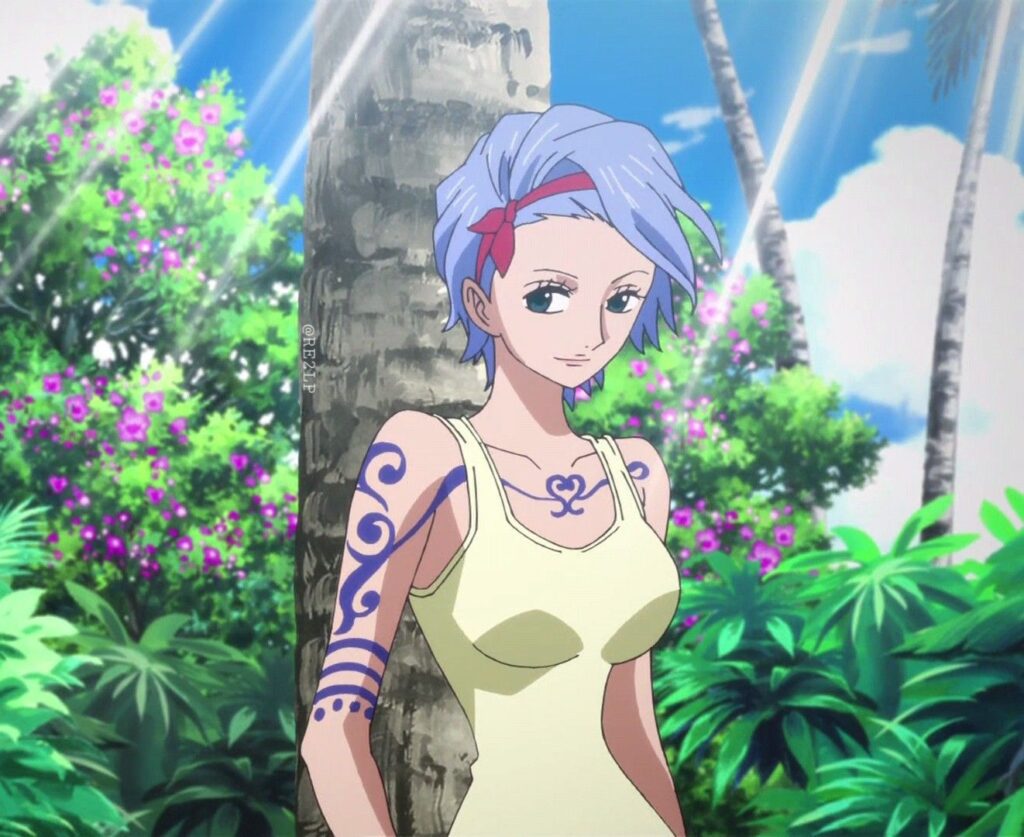 Nojiko is a tattooed female anime character of medium height with light violet hair, and blue eyes. She is Nami's sister, but not by blood. As a child, she often supported Nami's bad habits, even going so far as to steal from her.
Her right arm is covered in tattoos, which she got to help Nami not be ashamed of her tattoo of the Arlong pirate logo. She explained to her sister that she got a tattoo because she wanted to show her support, so Nami would not be alone against Arlong.
Revy — Black Lagoon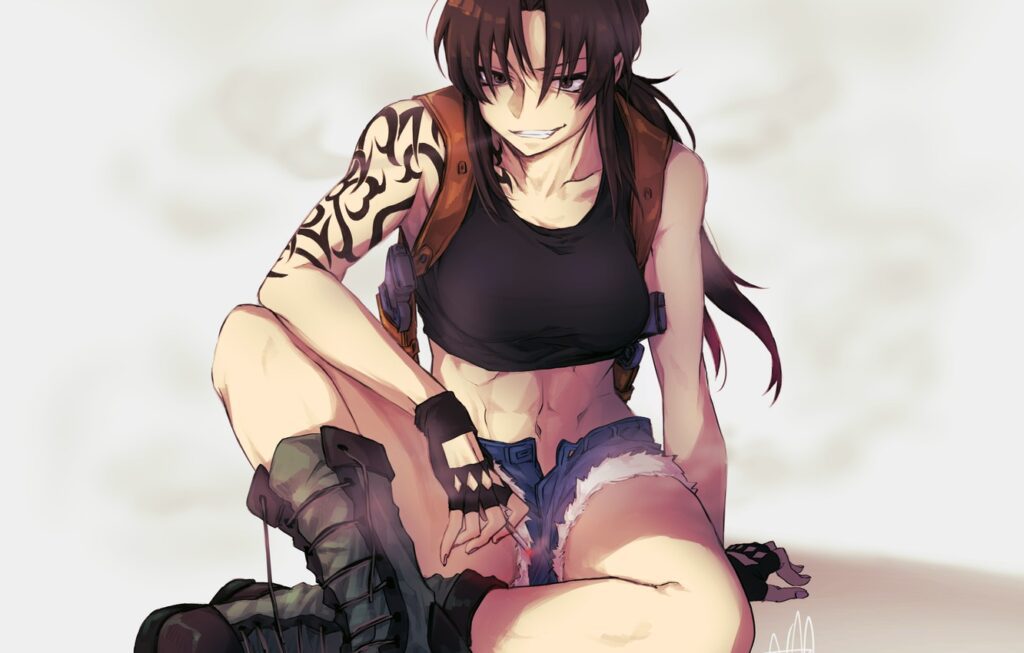 "Black Lagoon" is about an Asian American woman named Revy who works for the underworld. She has a very slender figure and long hair, which she usually keeps in a low ponytail with rather large bangs falling over her forehead.
Revy is an aggressive and independent rebel, and her confidence gives her the edge in combat. She is known for her sharp tongue, her skill with weapons, and her complete lack of empathy for her enemies. She has a big tattoo, reaching up to the neck.
Sofia Valmer (Valmet) — Jormungand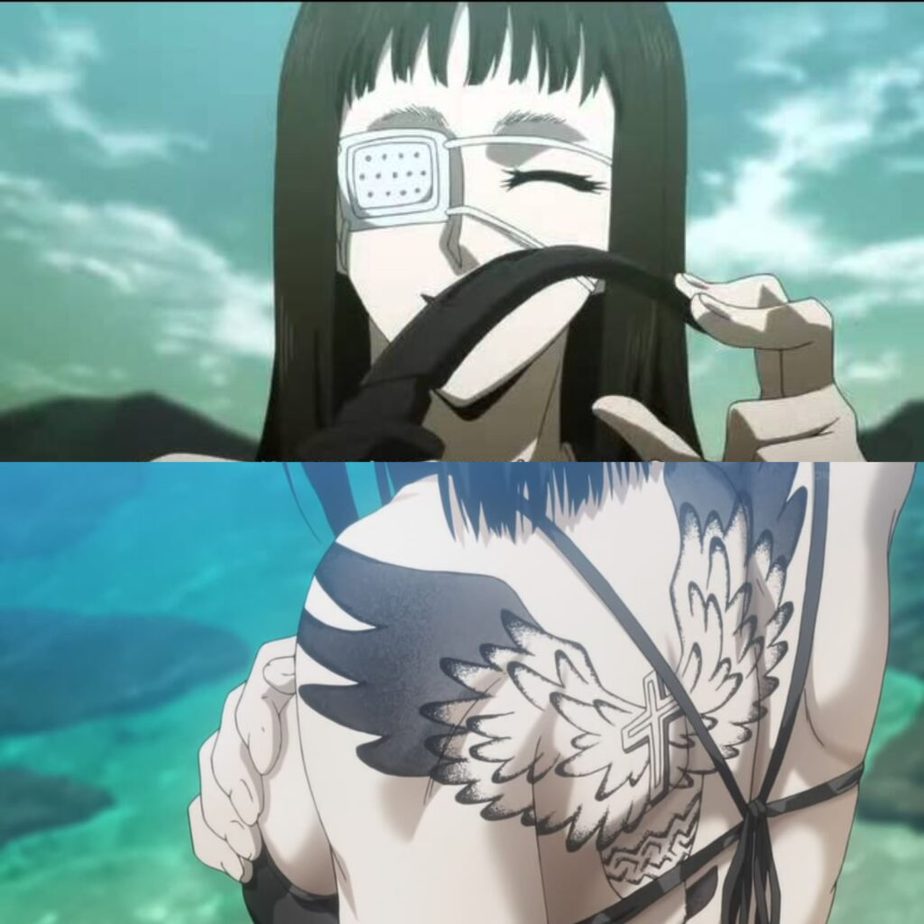 Valmet is a tattooed female anime character who is fairly tall, youthful-looking woman with pale skin, big light yellow eyes, and black hair. She seems to be in her mid to late twenties and looks like she is in good shape.
She lost her right eye, so there is a large patch over it. On her left shoulder blade is a black tattoo of a fist holding knife, intersected at the Christian cross. When she served as part of Finland's military, it showed that faith was important to this woman who has lived through some tough times in combating down enemies for their countrymen.
Yoruichi Shihouin — Bleach
Yoruichi Shihouin is a main character in the anime and manga series Bleach, as well as one of the series' protagonists.
She is a slender and athletic woman of average height with long black hair and golden eyes. Her standard attire consists of a black dress that falls just below her knees accompanied by a white obi tied around her waist.
Unlike any other known Shinigami, she can transform into a small black cat for long periods. In this form, she has a characteristic male voice and golden eyes.
Yoruichi has an ethnic tattoo on the outside of her left thigh which, when revealed, resembles the pattern of a cat's eye.
Shura Kirigakure — Blue Exorcist
Shura, a member of the Order of Exorcists, is one of the most interesting characters in Blue Exorcist. She has bright hair color, deep red eye color, and an imposing appearance.
The pattern on her body is like no other. A red line runs from abdomen to chest, splitting into two diverging lines and coming close again before they finally meet at the point where it forms around the belly button. It serves as a seal.
The character Shura is one of many tattooed anime characters who are not only interesting but also powerful based on their tattoos.
Medusa Gorgon — Soul Eater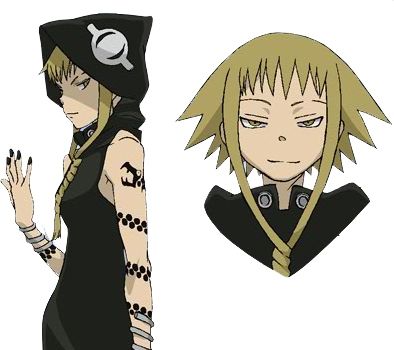 Medusa is an extremely powerful witch who first appears in Chapter 15 of the Soul Eater manga. She is also one of the few goth anime characters there is. Little is known about the witch, but she is very powerful and only slightly inferior in strength to Stein. Medusa prefers to hide in the shadows, not advertising her activities, and even showing herself to the public, she takes on an almost unrecognizable image (a banal change of clothes sometimes has a serious effect). Using this skill, Medusa worked as a nurse at the Academy for the sake of espionage.
Medusa is a complex character who claims to feel compassion for others but has perverse ideals.
In this case, tattoos are not just a design on the body. When the tattoos are filled with energy, the snakes "come to life" and take on physical form.
Conclusion
Tattooed female anime characters are very popular among anime fans, especially in Japan. Tattoos often have a deeper meaning within the story and are not just there for decoration purposes.
If you're a big anime fan, you probably want to have some tattoos on your body. However, it can be a bit difficult to find the perfect design. Check out the best anime tattoo designs to help you make your choice.