Gleipnir is a psychological thriller anime that deviates from typical shonen or isekai themes. It ventures into unconventional narratives that one simply cannot talk about with anyone. The first season has a 6.99/10 rating on MyAnimeList, and is ranked 450th in popularity. Fans are eager for Gleipnir Season 2 news, but there haven't been any official updates.
Gleipnir Season 2 Overview
| | |
| --- | --- |
| Name of the Season | Gleipnir |
| Season Number | Season 2 |
| Genre | Mystery, Supernatural, Ecchi |
| Initial Release Date | April 5, 2020 |
| Gleipnir Season 2 Release Date | To Be Announced |
| Gleipnir Season 2 Manga Chapters | Chapter 38 and beyond |
Gleipnir, based on Sun Takeda's manga, aired in Fall 2020. It follows Shuichi, a high schooler who gains extraordinary senses and powers.
After saving Claire Aoki from a fire, she discovers his monstrous form. Claire, searching for her sister-turned-monster, seeks Shuichi's help.
Gleipnir Season 2 Release Date & Status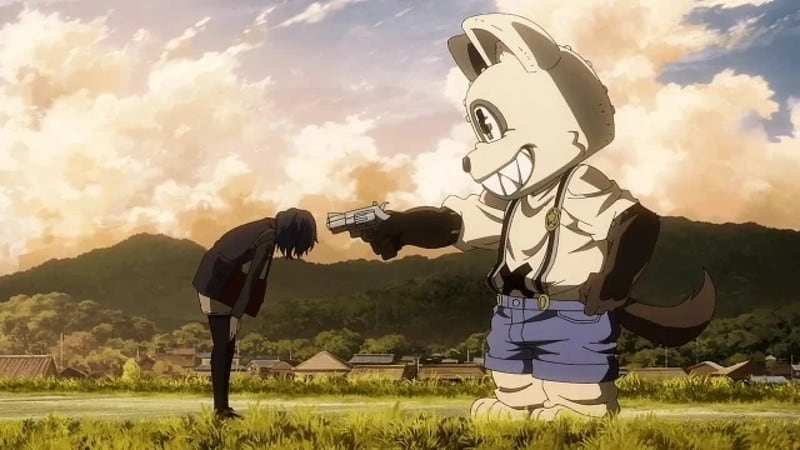 There is no official news on Gleipnir Season 2 yet. It's been three years since Season 1 ended, and fans await updates.
The studio, Pine Jam, has remained silent on Season 2.
The anime industry faced delays due to the COVID-19 pandemic, causing concerns. However, with the situation back to normal in 2023, the fact that there is still no news is concerning.
Pine Jam has multiple ongoing projects, possibly delaying a Gleipnir sequel. A studio switch isn't uncommon in the anime industry, but it hasn't occurred yet for Gleipnir.
The manga, now finished with Volume 14, provides enough source material for Season 2. If we don't get a sequel any time in the next couple of years, then we can assume that it has been canceled.
Is There Enough Source Material For A Sequel?
Sun Takeda's Gleipnir manga began to appear on October 6, 2015, and it ended on April 23, 2023. It has a total of 14 volumes and 88 chapters.
In Season 1 of the anime, 36 chapters were adapted. There are still 52 chapters left for adaptation. This leaves season 2 with more than enough source material.
However, the fact that the manga ended means that the popularity of the series might decline in years to come. Hopefully, the show will get renewed before it is too late.
What Will Happen In Gleipnir Season 2?
In the final episode of Gleipnir Season 1, titled "We Two Are One," Shuichi demands all the gathering's coins. Claire visits his house, noticing its unkempt state and the loss of his parents due to Elena's control.
Elena erases Shuichi and Claire's memories, and the girl escapes. Kaito, however, possesses all the coins, making the boat untraceable. By erasing Shuichi's memory, Elena ensures he can't reveal the boat's location unless he remembers.
Despite his amnesia, Shuichi vows to end the game and ventures into the woods with Claire and Sanbe.
Gleipnir Season 1 adapted the first six manga volumes, and Season 2 will start with Volume 7.
In Volume 7, Shuichi, Claire, and university student Tadanori Sanbe prepare to journey to the alien ship's crash site. They encounter a girl who provides information about a man named Kaito, the collector of 100 coins.
Kaito possesses the power of "REBIRTH," allowing him to revive the dead. He stays near the crash site to prevent others from gaining his power. Shuichi and Claire learn that a bug Kaito implanted is in control of his victims.
To stop this, they confront the girl and shoot her, causing Kaito to discover their deaths. Naoto, who wishes to see Honoka, confronts Kaito, leading to a tense encounter.
Which Studio Will Animate The Next Season?
Pine Jam studio, a lesser known Japanese animation company, animated Gleipnir season 1. They're known for "Gamers", "Just Because", and other slice-of-life animes. Fans expect them for season 2 due to their success and experience with the source material.
That said, Studios might change for sequels too. It happens a lot in the anime industry. Unique styles could be introduced this way. The sequel's studio is yet unknown due to a lack of official announcement.
Also Read >> Angels of Death Season 2: Release Date & Renewal Status
Where Can I Watch Gleipnir Season 2?
Despite being an ecchi anime, the series is available to watch on Netflix, Crunchyroll, and Funimation. These streaming platforms have the rights to distribute the series.
So, if we get a new sequel to Gleipnir, we can expect to watch it on the above mentioned platforms.
In addition, BiliBili, a Chinese YouTube alternative, also has season 1 uploaded. There is a chance that users might upload the new season once it airs.
Finally, you can also watch the show on Blu-Ray after buying the discs on Blu-Ray.com, Amazon, or eBay.