Best Kakegurui quotes from the following characters:
Yumeko Jabami 
Kaede Manyuda
Yumemi Yumimite
Itsuki Sumeragi
Sumika Warakubami
Mary Saotome
What's Kakegurui about:
Kakegurui is an anime that is centered around gambling. In a school meant for the wealthiest families, everything is decided by gambling.
Gambling also defines the position of the students on the hierarchy of the school.
However the order of the school is threatened when Yumeko Jabami a crazy gambling addict, transfers to that school. Unlike most students in the school, Jabami yumeko goes all out in each and every gamble just for the fun of it.
She enjoys the despair and uncertainty of risking it all in a gamble. Kakegurui is about her gambling the student council members — the best gamblers of the school who are in the top of the school's hierarchy.
---
Related >> Kakegurui Stickers
---
Collection of the best Quotes from Kakegurui Season 2:
Yumeko Jabami Quotes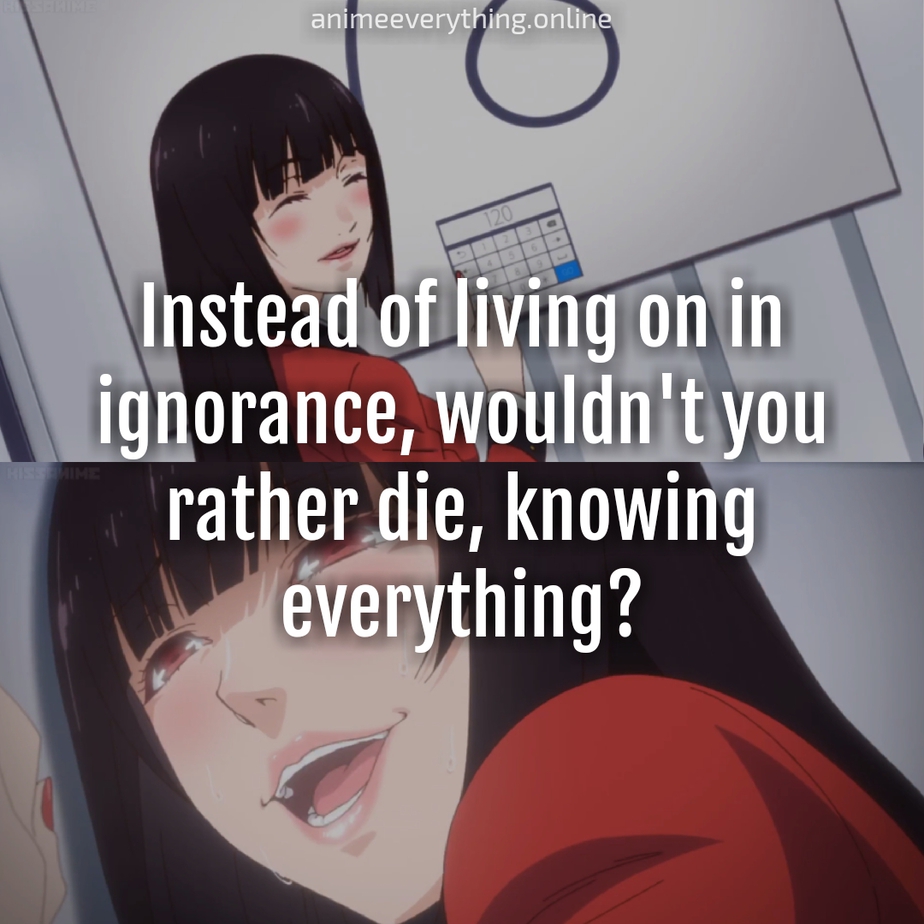 Instead of living on in ignorance, wouldn't you rather die, knowing everything?

~ Yumeko Jabami
Choosing the way in which you die is also choosing the way in which you live.

~ Yumeko Jabami
I despise people who move the goalposts because they think they can't win.

~ Yumeko Jabami
Gambling is my life's purpose. I don't need anything else.

~ Yumeko Jabami
---
Related >> Crazy Kakegurui Faces
---
Kaede Manyuda Quotes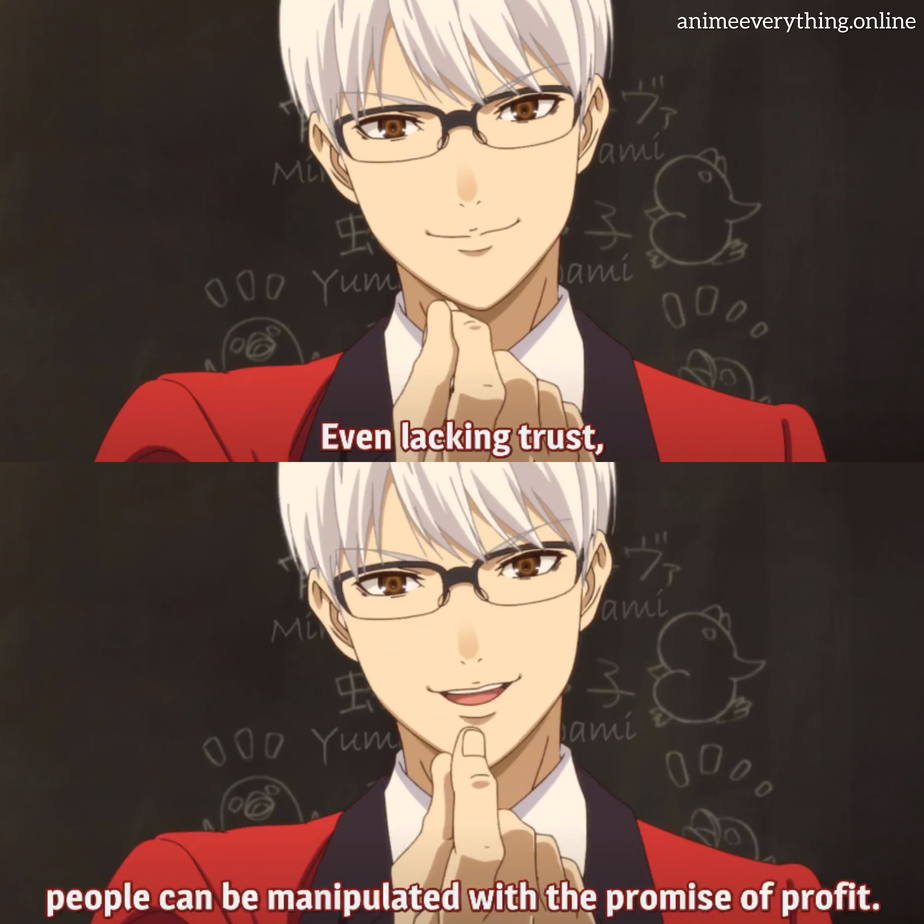 Even lacking trust, people can be manipulated with the promise of profit.

~ Kaede Manyuda
---
Yumemi Yumimite Quotes
If I want to go places I could never imagine, I need to win!

~ Yumemi Yumimite
---
Itsuki Sumeragi Quotes
Someone controls your life, so what? Put some wins under your belt and turn the tables. It's no reason to give up your ambitions!

~ Itsuki Sumeragi
---
Sumika Warakubami Quotes
Why win? Because to stop moving forward means death.

~ Sumika Warakubami
---
Mary Saotome Quotes
The resolve to pick out one hopeful path from uncertain and unlimited possibilities with your own violation. That resolve is the core of gambling.

~ Mary Saotome
These were some of the best quotes from Kakegurui season 2. Hope you liked it!
Hit the bell icon in the bottom right corner to get post notifications and be the first to read our quotes, recommendations, etc. 
See you in the next post~