You don't see many people talking about Car related anime. The popularity around such anime is so scarce that most newbie anime fans don't even know they exist. Yet they very much exist. And in this post, we'll be talking about the "Top 15+ Anime about Cars".
This list includes OVAs, movies, car racing anime from the 80's/90's and a few mordern anime series related to cars. But rest assured, the top 5 titles in this list are the best of the best in this genre. So, if you have interest in cars or formula racing, you will love this list!
List of the Best Anime About Cars Of All Time
17. Two Car
Two car is a motorcycle racing anime with sidecars. So, technically, it is not completely an about cars, but it is about racing.
It centers on Miyake Island's kneeler racing, featuring girls in high-octane races.
The story follows Yuri Miyata and Megumi Meguro, reluctant partners who argue a lot. The anime showcases fun racing sequences with well-animated, exciting, and well-paced moments. However, some aspects, especially the characters, may be hit-or-miss.
16. Speed Racer
Speed Racer, also known as MachGoGoGo, is a car racing based on a manga. The 60s original is remembered for its iconic opening theme, even with some animation recycling and cheesiness.
Speed, the teenage protagonist, aims to be the best racer in the world with the best machine he could ask for. The whole family supports his journey filled with thrills, dangers, and secrets.
Together with his car called Mach 5, the protagonist goes on thrilling drives.
Hollywood made a live-action movie with the same title, offering a fun watch. Despite being an old school series, it is still one of the best car anime series of all time.
15. Ex-Driver: The Movie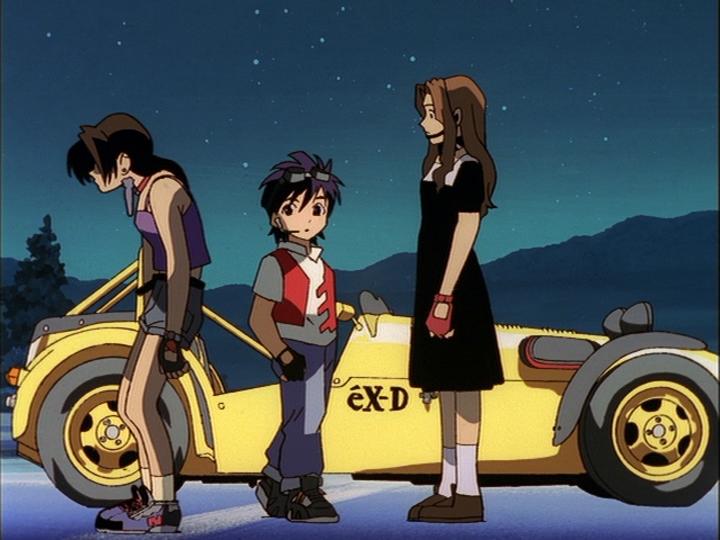 Within two years, eX-Driver released six OVAs, a prequel OVA, and a 2002 movie. Set in a future where A.I. controls vehicles, only "eX-Drivers" can stop rogue AI car malfunctions.
eX-Driver has thrilling driving sequences, especially in the movie, but takes itself too seriously. The characters lack depth, but the action is engaging, despite not being actual races.
14. F-Zero: GP Legend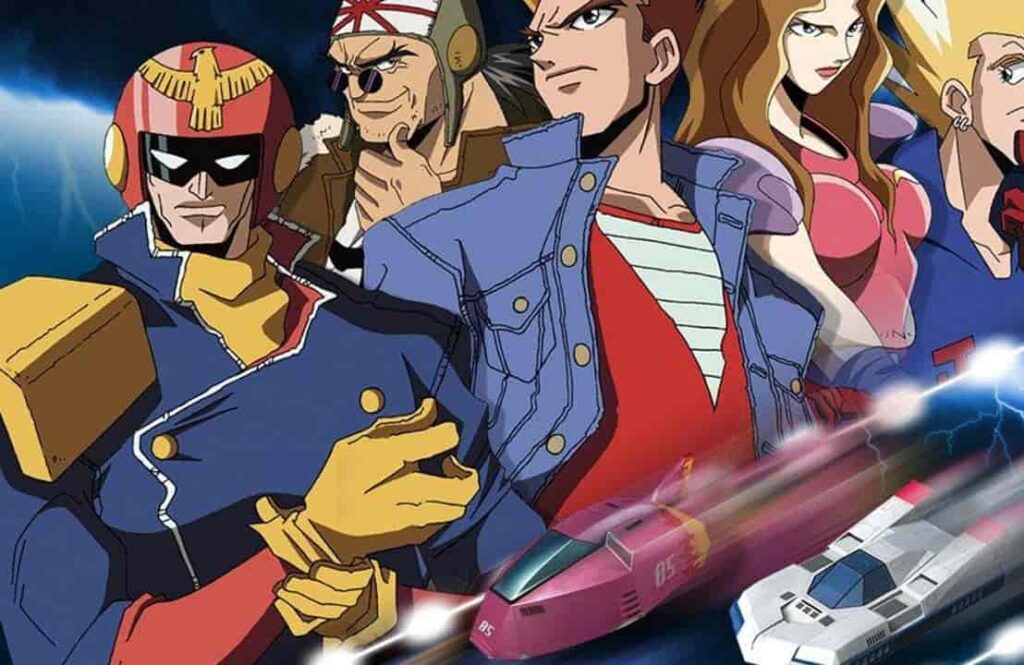 F-Zero is a popular video game from the 90s. The main lead of this game, Captain Falcon can also be found on other hit games like Super Smash Bros. Fans have been waiting for a new F-Zero game for years, but they can enjoy the anime instead.
F-Zero: GP Legend, released in 2003, has over fifty episodes exploring Captain Falcon's origins and thrilling races. The futuristic races offer a unique experience compared to regular car-themed shows.
13. Immortal Grand Prix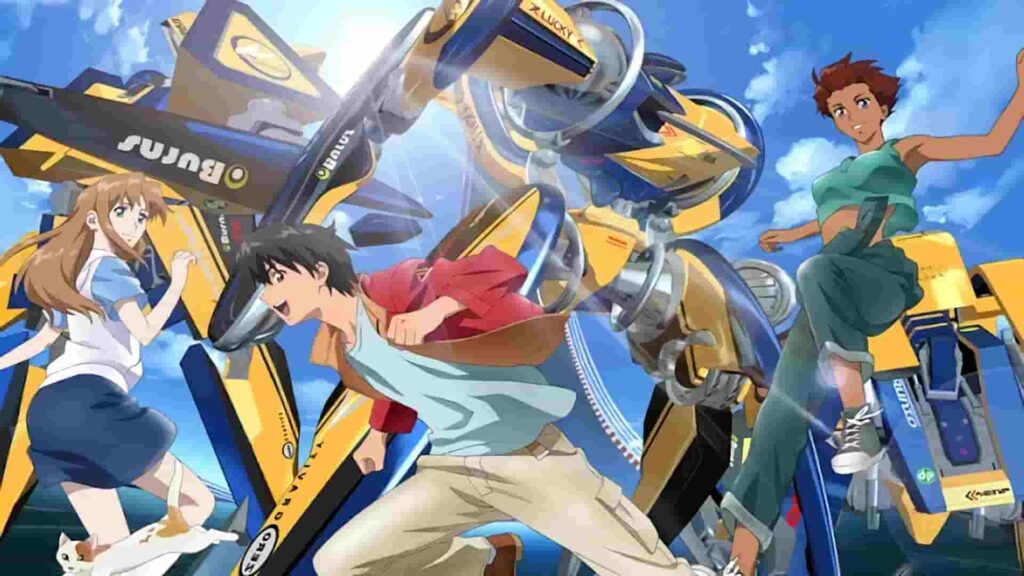 IGPX: Immortal Grand Prix is an action-packed anime with mecha instead of cars. It's like mario kart, letting drivers blast opponents off the track. With 26 episodes, it's a fun and thrilling ride.
Though less known now, IGPX had a good following in the mid-2000s and even had a PS2 game.
12. Next A-Class
Here we have a short and exciting Anime film, one that centers around three young 'uns chasing a rather flashy-looking truck. From start to finish, the entire film lasts only 6 mins. Yeah, you heard that right. It's only 6 minutes. So if you are looking for a fun ride to instantly watch right now, this might be it.
The story takes place in the middle of a jarring traffic jam. A young woman is walking in the city, wondering what to do next, when suddenly a truck passes right before her eyes. She is drawn in by the loud music and flashy decorations and just like that, as she seeks to go after it, she runs into two young boys. Together they chase after the truck in their latest A-Class Mercedes-Benz.
11. Tailenders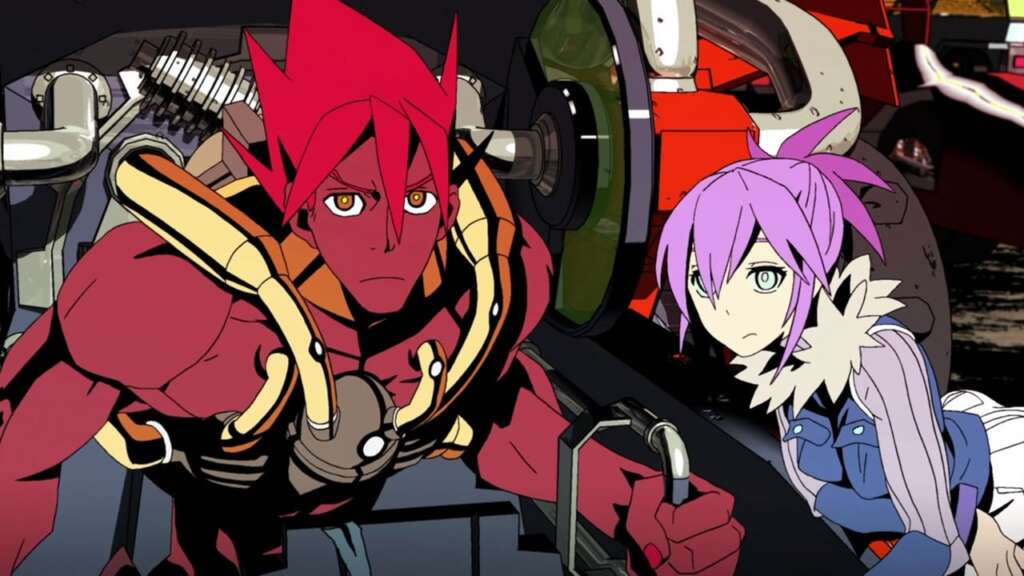 This one is an episode-long Anime film, and it offers the viewer some extremely colorful visuals.
The story begins with a formidable racer ending up in a serious accident where he almost lost his life. Fortunately, he was saved by a genius scientist. But you know there is a catch when scientists are involved. His life was saved, but his heart was replaced with the engine of his car.
However, because of this, he also loses his ability to participate in Racing competitions. Why? Because, now he is seen merely as a mechanical part. Be that as it may, on a faraway planet, he finally finds the opportunity to race yet again.
10. Bakusou Kyoudai Let's & Go
As Kids, most of us grew up with shows like Beyblade, Pokemon, Inazuma Eleven. But if you are someone who grew up while playing with remote-controlled cars, this anime might be for you. It may very well create that strange yet priceless feeling of nostalgia that one experiences when they relive a moment from their childhood.
The plot and the execution are quite straightforward, the story follows two kids who receive the Mini 4wd racing cars from a certain Doctor, and from there on out, the two of them: train, customize their cars, improvise, and even go on to participate in the "Japan Cup" where only the best of all races gather together to compete for the top.
9. F (Formula-1 – Engines On The Track)
The name of this anime comprises of a single letter "F". It's a really old, classic car anime from the 80s that introduces us to the world of racing. It is nowhere near as popular as your average classic, but the story does more than enough to warrant your attention.
It follows Gunma Akagi, he is a teenager from the countryside who never stops causing a ruckus with his enhanced tractor, even though his father, who is an aspiring politician, always pushes him to set a good example.
And then one night, Gunma's life takes a different turn when he tries to compete with a car on a highway with his tractor. He fails… but uses this failure as fuel to burn his passion and seek a life as a racer.
8. Future GPX Cyber Formula
Here we have yet another classic, this time from the early 90s. This series tells us the story of a 14-year-old young boy named Kazami Hayato, he is the youngest racer to ever participate in a competition called Cyber Formula. However, something is interesting about this competition, each vehicle is equipped with customized computers that help the racers up their racing game, exponentially.
So, with the help of his advanced race car Asurada, and his partner Sugo, he plans on claiming the 10th Cyber formula grand Prix. There'll be obstacles, lessons, realizations, but Kazami will make his dream happen.
7. Appare Ranman
Compared to all of the other anime on this list, Appare Ranman is fairly new considering how it only just came out last year.
The story revolves around a young engineer named Appare who lives in a small rural town in Japan back in the early 19th century. 
He can make pretty much all kinds of machines, though nobody in his town really gets his strange fascination for inventing. As a matter of fact, he is hated for it.
The protagonist of this anime kinda gives you Senku vibes, if you've watched Dr.Stone. He's logical and tries solve things in his head.
Things happen, and he sort of ends up in the middle of Los Angeles together with his samurai friend. There Appare decides to participate in the "Trans-America Wild Race." Now, how will a young Japanese fare against all these Top car racers that the World has to offer?
Things are about to get Exciting!
Also, check out this post about Appare Ranman, where I've given it a brief introduction and listed some of its quotes.
6. Wangan Midnight
Now the Anime so far have all been shounen, so let's spice things up with a seinen.
This story stems from the actual street racing that happens on Tokyo's shuto expressway, which is by far the longest and the straightest road in the country. However, it's not made exclusively for racing. There are a lot of heavy trucks and other kinds of traffic that make street racing on this road quite arduous and risky.
The main character is a third-year high school student who, one day, races against a doctor and fails miserably. He vows to be faster and overcome this man. So he goes to a junkyard in order to buy parts for his car when he comes across a glistening and prestigious car in the Junkyard. He wonders why such a beauty is here of all places, and then passionately buys it.
Now, what mysteries lie behind the car? And how will this young man defeat that young doctor in their regular battles for supremacy? 
Find out in this legendary car racing anime!
5. Overtake!
Overtake! is a brand new racing sports anime that is set be released in October 2023. The story centers on Madoka Kouya, a photographer facing a slump.
At Fuji Speedway racing circuit, he meets F4 racer Asahina Haruka, who inspires him with her passionate driving. Madoka decides to support her and the underdog racing team, Komaki Motors, in achieving their dreams.
Madoka and Asahina team up to achieve their goal, forming a unique bond despite their differences. The anime offers thrilling racing events, touching emotions, and inspiring messages about pursuing dreams and passions.
As the newset anime title in the genre, the animation quality and sound effects are leagues apart from the rest. So, this anime will be a satisfying watch for any car race lovers.
4. Capeta
Capeta is one of the best racing anime of all time. It is appreciated by both Shounen and Car racing fans alike.
The protagonist named Capeta lost his mother at quite a young age. He ended up trying to be independent as an elementary school student to reduce the burden on his father. However, despite the tough act he puts in front of his father, Capeta is still just a kid. and the bullying at school eventually started getting to him.
Until one day, when his delightful father gets inspired by go-kart racing and decides to create one for his son.
Capeta sneaks into his father's workplace to see what he is up to, only to come across a homemade go-kart built from discarded parts and with Capeta's name written on it. It does lack an engine and is kinda worn out, but it is still functional.
Just like that, he ignores the weather, takes the car out with him, and lets this become his new obsession. He becomes captivated by the racing world and aims to become the best formula one racer in Japan.
This was a new beginning!
3. Redline – Best Anime Movie With Cars
"Redline" is about as close the anime medium has ever gotten to a pure, thrilling racing experience, one that just fills you with adrenaline, gets your blood pumping, and makes you want to get out, press the accelerator and let all that speed accumulate.
Produced by Madhouse, this anime film is a surreal experience. It has insanely glorious visuals, epic soundtracks, and does almost everything right!
The story revolves around this exhilarating race that takes place every five years. It's by far the most anticipated competition and the appeal of this race is that there are No rules.
I'd say, if you want to experience the absolute best of anime racing, this anime film has got you covered.
2. MF Ghost
Prepare for the thrilling upcoming anime series, MF Ghost, by Shuichi Shigeno, creator of Initial D. The anime is set to be aired in October 2023.
Follow Kanata Rivington, a talented young driver with a passion for speed, on his quest to conquer the world of professional racing.
Experience high-stakes motorsports with fierce competition and witness Kanata's exceptional skills in action.
With stunning animation and a captivating storyline, MF Ghost promises pulse-pounding racing sequences and an adrenaline rush like never before. Get ready for an epic ride!
1. Initial D
"Initial D" is handsdown the best car racing anime ever made. It is by far the biggest racing series of all time. It has a total of 5 seasons and a few movies.
It's an epic story that is conveyed over the course of multiple installments, with each season bringing some thrilling street race battles!
The story follows Takumi Fujiwara, whose friends are always going crazy over car racing. Meanwhile he couldn't care less. Most of it is because since he is a son of a Tofu shop owner, he had to drive a lot in order to deliver all that Tofu, which lead him to make not so amusing memories with cars.
However, what's amazing about him is the fact that he drives faster than anybody on downhills in an old 86-Trueno car.
But then one night, when a team of infamous street racers called "Red Suns" visits their town, Fujiwara was put in the spot to race them. This marked the beginning of his life as a street racer.
He joins a street racing team and begins to find it fun.
Now how will the story progress from here on out? Watch it and find out!
So, there you go guys, these were the top 15+ best car and racing anime of all time.
You are going to have one hell of a good time watching these gems.
That's all folks!