Anime girls with weird-looking hair are not new to us. There are anime girls having hair of every possible color out there and it does seem a bit wacky to us. However, some hair colors are just plain attractive. For example, the color red. Why red? Because you can almost always find an anime girl with red hair in every anime. It's that popular. So today, we'll be talking about some of the most popular girls with red colored hair. If you're into redhead anime girls, then you came to the right place. Read on to spot your waifu from our list of best anime girls with red hair!
11. Karin from Naruto
Karin belongs to the Uzumaki clan and is a subordinate of Orochimaru. She later joined Sasuke's Group Taka. Her personality is highly unstable and she constantly switches between being tough and violent and sometimes being very flirty. At first, she seems very annoying. However, after some time, her personality becomes more stable and we actually start liking her. Just like other girls from Naruto, Karin is also very fond of Sasuke as he saved her life. She has a simple wish, for Sasuke to smile kindly at her. Years later, Karin is still fond of Sasuke and his daughter. In fact, Karin was the one who gave Sasuke's daughter her first glasses.
10. Shirayuki from Snow White With the Red Hair
Shirayuki is the main protagonist of the series from Snow White With the Red Hair and is undoubtedly one of the most attractive redheads from the anime world. Her bright and cheery personality lifts everyone's mood. Apart from being all cute and bubbly, Shirayuki is a strong-willed woman with a lot of determination. She has a positive outlook towards life and never loses heart. She often ends up overworking herself to the point that she falls sick. Shirayuki is a true waifu material as she has a very loving personality.
9. Yona from Yona of the Dawn
Yona is the main female character of the anime Yona of the Dawn. She's the crown princess of the Kouka Kingdom and had a very pampered upbringing. Despite her very sheltered upbringing, she's not spoiled at all. She has a very sweet and caring personality. She's always positive about everything and never loses hope. Initially, she was very insecure about herself. However, she gradually learned to be more comfortable with herself and also became quite confident. Yona is definitely one of the cutest redhead anime girls!
8. Kallen Kozuki from Code Geass – Badass anime girl with red hair
Kallen Kozuki is one of the side characters from the very popular anime series, Code Geass. She's one of the bravest and most resilient redhead anime girls out there. She looks very tough and has a nasty temper. However, despite looking all tough and strong, she's actually a very sensitive individual. Though she doesn't look like she cares about anyone, she's one of the most compassionate and empathetic characters present in Code Geass. When fighting, Kallen is seen to be very aggressive and brutal. She also takes advantage of certain opportunities that are in front of her in a battle, making her an opportunist. 
7. Emi Yusa from The Devil is a Part Timer
Emi Yusa is the main female character from The Devil is a Part Timer. She was actually the hero of her universe where she defeated the Devil King Satan and even followed him to Earth. She's the most courageous hero who's also very strong-willed. Emi is a true justice warrior and wants to protect the innocent from the Devil King. For that, she's even ready to sacrifice her own life. Other than being brave and strong, Emi is also highly intelligent. Her strategies are always a success. She quickly adapts to the ways of Earth and blends in with everyone. Despite her differences with the Devil King, she still gets involved with him and soon forgets about his atrocities in their actual world because, on Earth, he's a changed person. 
6. Lilith Asami from Trinity Seven
Lilith Asami is one of the supporting characters in the anime Trinity Seven. She's a teacher at the Royal Biblia Academy and also the Trinity Seven of the Luxuria Archive Balls. Despite her young age, Lilith seems to be very responsible and mature. She has to be a little strict as she's a teacher. But when she's off duty, she seems to be a very kind and compassionate individual. She hates it when people talk about her body and gets flustered immediately. This shows her prudish nature. She loves spending time with her friends and enjoys their company. She trusts her friends deeply and is ready to sacrifice her life for them. 
5. Yoko Littner from Tengen Toppa Gurren Lagann
Yoko Littner is one of the main characters from the anime series Tengen Toppa Gurren Lagann. Yoko has a very pleasant personality and is shown to be very kind and caring. She's also very mature and has knowledge about approximate things. Yoko's also a very level-headed and calm person who can easily work under any kind of pressure. She strongly dislikes politics and believes in true justice.
4. Remi Ayasaki from Horimiya – cutest red-haired anime girl
Remi is the supporting character from the anime series Horimiya and is one of the members of the student council of her school. She's extremely adorable and has a childish personality. She often makes dumb mistakes and exposes herself unintentionally. She's very emotional and often reacts immediately. She's also not a very smart student. However, she's one of the most adorable anime girls with red hair.
3. Makise Kurisu from Steins; Gate
Makise Kurisu is one of the main characters from the anime Steins; Gate. She's a true ice queen as she remains serious all the time. She is highly intelligent as she graduated from university at the age of seventeen only. She's sarcastic and often looks down upon others. However, she's prone to show her timid side quite often as well. 
2. Erza Scarlet from Fairy Tail – Most popular anime girl with red hair
We're finally at the top of the list and the first spot goes to none other than Erza Scarlet from Fairy Tail. Erza definitely the most popular redhead anime girl out there and has a massive fan following. She's shown to be a very strict and upright individual. She's strong, brave, and extremely cool. Despite her tough nature, she cares deeply for her loved ones and is always there to protect them.
1. Rias Gremory (High School DxD) – Hottest Anime Girl Having Red Hair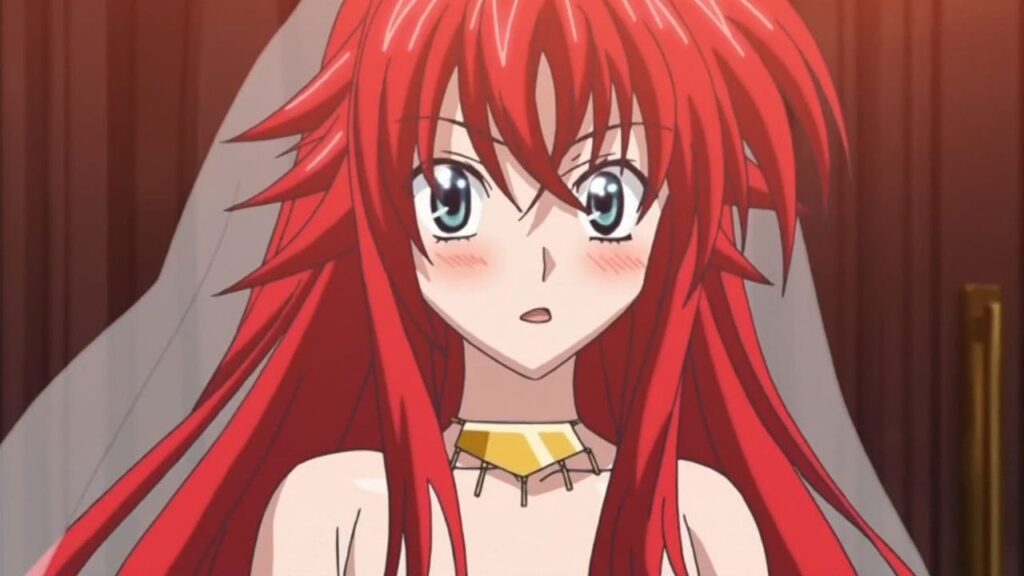 Rias is one of the main characters from High school DxD, a well-known ecchi anime. Given the nature of this anime, there are a ton of fanservice involving our redheaded beauty, Rias. Therefore she is one sidedly adored by all male anime fans.
Conclusion
So, here we are done with our list of 10 of the most popular anime girls with red hair. We hope you liked our list. We'll come back with more!