Did you know that there are several legal anime streaming sites where you can watch anime for free? Yes, you do not have to feel guilty watching series on pirate sites, nor do you have to be bombarded by shitty ads every time you click somewhere.
In this article, I'll be showing the eight best places where you can stream anime for free, legally.
These are sites where you do not have to purchase any subscription to stream shows. You can watch as much as you want and there is no limit to the amount of time you can spend watching content.
So, without further ado, let's jump into the listing.
List of the best places to watch anime for free legally
It should be noted that some of the above sites are not available in all regions. However, some of them are globally available. I will be ranking these anime streaming platforms based on their global availability.
1/8. Bilibili.tv
Bilibili.tv is a legal Chinese streaming platform that offers several anime series for free viewing. It has become one of the most popular streaming services for anime fans, boasting a diverse selection of shows and genres to choose from.
There are a lot of anime series on Bilibili that are not mainstream, so you can find some hidden gems and lesser-known series that can be fun to watch.
Not to mention, there are certain "Bilibili only" anime shows that you cannot find elsewhere. Their site is globally accessible, making it the number one place to watch anime for free and legally.
Recommended >> Where To Watch Bocchi The Rock [Free and Paid]
2/8. Crunchyroll
Crunchyroll is a huge anime streaming site that is available in over 200 countries. However, the animes available in each region might differ. So just because you have access to the platform doesn't mean you get to watch the anime you're looking for.
That said, it holds the legal rights to some of the most popular anime titles and continues to add new titles to its library regularly. They have also recently merged with another anime streaming giant, Funimation, so the combination of their libraries means there is now an even wider selection of anime available to stream.
3/8. Muse Asia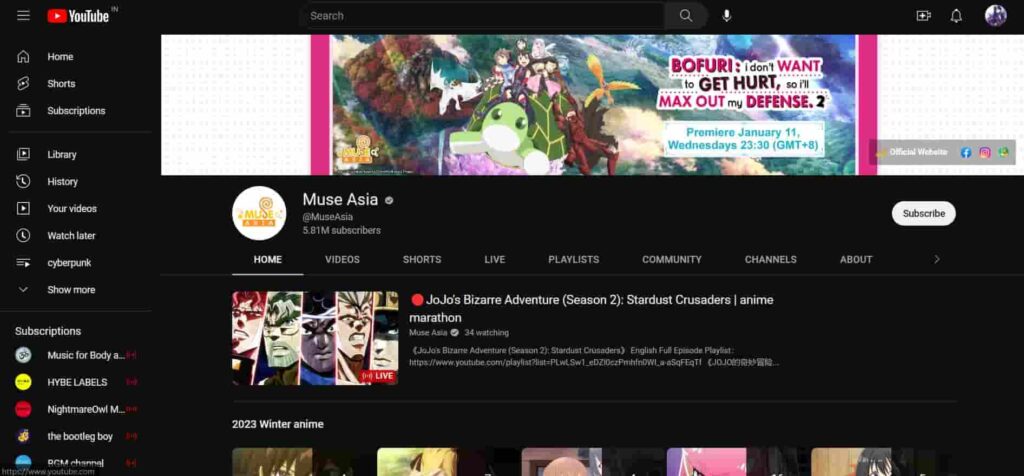 Did you know you can watch anime for free and legally on YouTube? There are multiple legal channels that offer hundreds of anime series for you to watch. One of the most popular channels among them is Muse Asia.
Their library is pretty small compared to other platforms like Crunchyroll, but it still offers a great selection of popular and classic anime series.
From fan favorites like "Fullmetal Alchemist" to hidden gems like "Girl's Last Tour," Muse Asia is a great way to watch anime without having to worry about breaking any copyright laws.
And the best part is, the animes on this channel are golbally accessible, making it a great place to stream your anime legally for free.
Recommended >> Where To Watch Cowboy Bebop [Free and Paid]
4/8. Ani-One Asia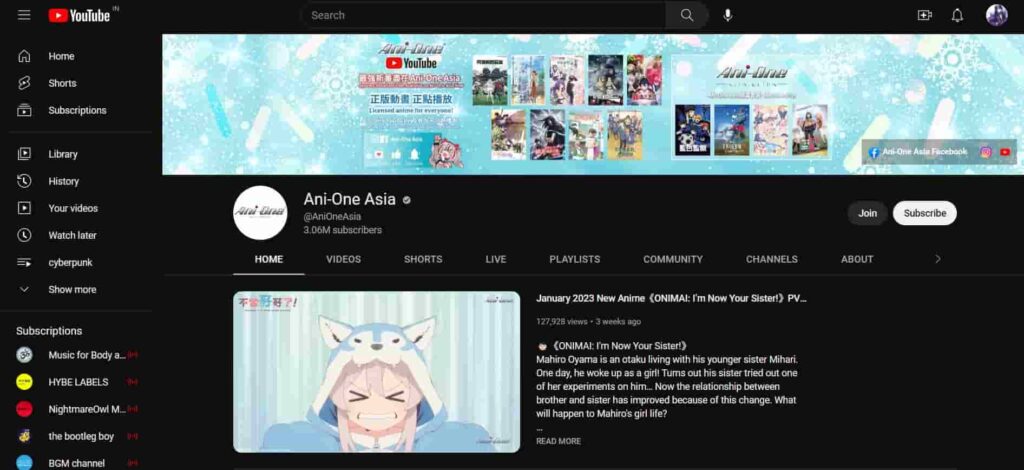 Ani-One Asia is another legal YouTube channel where you can watch anime for free. From the cult classic "Bleach" to the modern masterpiece "Chainsaw Man," Ani-One Asia has hundreds of titles to choose from.
It has a decent collection of both classic and modern anime, so it's a great source for fans who want to catch up on old shows or watch the latest episodes of new ones. They also update their selection regularly, so there's always something new to watch.
Like most other YouTube channels, Ani-One Asia is also available in all regions without any restrictions.
5/8. Anime Made By Bilibili
Anime Made By Bilibili is a YouTube channel owned by the Bilibili group. This is the best place if you are looking to watch some amazing Chinese anime like "The Daily Life of the Immortal King."
It should be noted that only Chinese anime is available on the channel. However, you don't have to worry about the language as it has excellent subtitles available. The subs are in both English and Chinese so that fans can enjoy the anime in the language they understand.
This channel is globally available and it offers a variety of genres to choose from, like romantic comedies, science fiction, fantasy and adventure.
Recommended >> Where To Watch Black Clover In 2023?
6/8. TubiTV
TubiTV is a great place to watch anime if you are in Canada, the U.S., Mexico, New Zealand, or Australia.
If you're a resident of one of the above mentioned countries, then this Fox Corporation owned streaming service may be just what you're looking for.
It offers a decent selection of anime titles ranging from the old classics to the new, with both dubbed and subbed versions available. However, the platform also has a lot of non-anime content too. You can also watch classic and new Hollywood movies, popular TV shows, documentaries, and more.
7/8. Aniplus Asia
Aniplus Asia is a legal site where you can watch anime for free if you are from a selection of asian countries. It has a lot of manistream and lesser known titles, giving viewers a range of options for entertainment.
From Jujutsu Kaisen to Pop team epic, no matter what type of anime you are looking for, Aniplus Asia is sure to have it.
The site boasts an impressive collection of anime series and films that span a variety of genres, making it a great destination for fans of all types.
8/8. Adult Swim
Adult Swim is an American cable network owned by the WarnerMedia unit of AT&T's WarnerMedia. You can watch anime and other shows for free on the Adult Swim website and mobile app.
This platform has all anime licensed for Toonami broadcasts, such as fan favorites anime like My Hero Academia, One Piece and Naruto.
This has been a boon for many anime fans, allowing them to watch shows they may not have had access to in the past.
Why Should You Watch Anime Legally For Free?
Here's the thing. By watching anime on pirate sites you are just promoting crime. Sure it may not be serious, but it is still illegal. There are millions of people who rely on those sites and make them millions of dollars and reward them for their illegal activity.
Most people are not even aware that they can watch anime for free and legal. My main motive with this post is to help spread the news that there are legal places where you can watch anime for free.
That's it for this post. These are all the free and legal platforms where you can watch anime.
However, you must notice that you cannot find every anime you want on the platforms listed below. Some ecchi, harem and other genre anime and less-popular shows are not available in the below platform. That said, if you're just looking to watch popular anime series, then these streaming platforms should be more than enough.