Whether you are a competitive player or a card collector, it is important to always keep your YuGiOh cards sleeved. This will help to keep them in perfect condition even as they undergo flipping, placing, and shuffling during duels and collecting.

YuGiOh card sleeves are available in different sizes and styles, so it can be a bit difficult to pick the best one for your needs. So, let's start by taking a look at the features you should consider when choosing a card sleeve.
A Buying Guide for the Best Card Sleeves for YuGiOh
In order to choose the best YuGiOh card sleeves, it is essential that you consider these features:
Quality
If you are a competitive gamer and you plan on dueling in tournaments, then you must choose a high-quality card sleeve. High quality sleeves make handling and playing your cards easier. On the other hand, low-quality sleeves will usually stick together, making it hard for you to shuffle your cards.
Durability
This is another important feature to take note of when choosing your card sleeve. Every sleeve has a unique feel when touched. It is also different from others in terms of scratches and splits. Although all sleeves will get damaged over time, a durable sleeve will last longer than a flimsy one.
Size
YuGiOh cards are smaller in size than Pokémon and Magic cards, which have standard card sizes. You can damage your YuGiOh cards if you use standard-sized card sleeves. Instead, use sleeves labelled "Japanese Size" or "mini" as they will fit your cards perfectly.
Color
Before you make your choice, you should consider the color of the sleeve. Some colors tend to show scratches more than others. This is why white is the most popular sleeve color among duelists, as it does not show scratches as easily as other colors.
Recommended >> Top 10 Rare Yugioh Cards That Are Worth Money
REVIEW OF THE TOP 7 BEST CARD SLEEVES FOR YUGIOH
These are high-quality sleeves, which ensure maximum protection for your YuGiOh cards. On the back of each sleeve is the same pattern that you will find on the back of every Yu-Gi-Oh card, which makes the sleeves an excellent choice. They also fit the cards perfectly and leave enough space for players to double sleeve.
The Konami YuGiOh back sleeves are clear, which offers you a full view of the card face. They are also durable and sturdy. These sleeves are not slippery and offer a good grip, which is great for shuffling during duels.
Although the sleeves are not prone to scratches, they split easily. They are also slightly thick, which would make your deck look a bit huge.
Pros
Has the original card pattern at the back.
Easy to shuffle.
High-quality sleeves that look and feel good.
Cons
Thick sleeves which make your deck look big.
The Insideck YuGiOh sleeves are designed to fit snugly on only YuGiOh cards. They have cool, intricate designs, which make your cards aesthetically pleasing. Apart from looking great, the sleeves also feel great and shuffle easily.
Because these sleeves are a perfect fit for YuGiOh cards, you should be careful during card sleeving. Constantly taking your cards in and out of them will damage the sleeves as well.
However, the sleeves are not really durable. So, they are not recommended for valuable cards. Some of them come warped straight out of the box, and after a while, the sleeves start bending in the same way.
Pros
Has an amazing design.
Exclusively for Yu-Gi-Oh cards.
Decent quality.
Cons
Extremely prone to bending.
Here is yet another official yugioh card sleeve that is released by none other than Konami. This sleeve is designed for Pendulum summon decks, so it might not be that suitable for traditional Duel Monster decks.
This is probably the best looking card sleeve that is also affordable, with a decent capacity.
Pros
Has an amazing look and feel.
The design is great and shiny.
Has a smooth shuffle.
Cons
Prone to splitting and bending.
This one features Seto Kaiba and his God card, Obelisk the tormentor. If you're a fan of Kaiba or Obelisk this sleeve is a must buy!
While the concept of god cards might be pretty out dated seeing how there are several other new concepts introduced in the anime in recent times, this is still one of the perfect classic yugioh card sleeve there is.
Pros
Stylish – With Official Yugioh design.
Official product of Yugioh franchise
Good material
Cons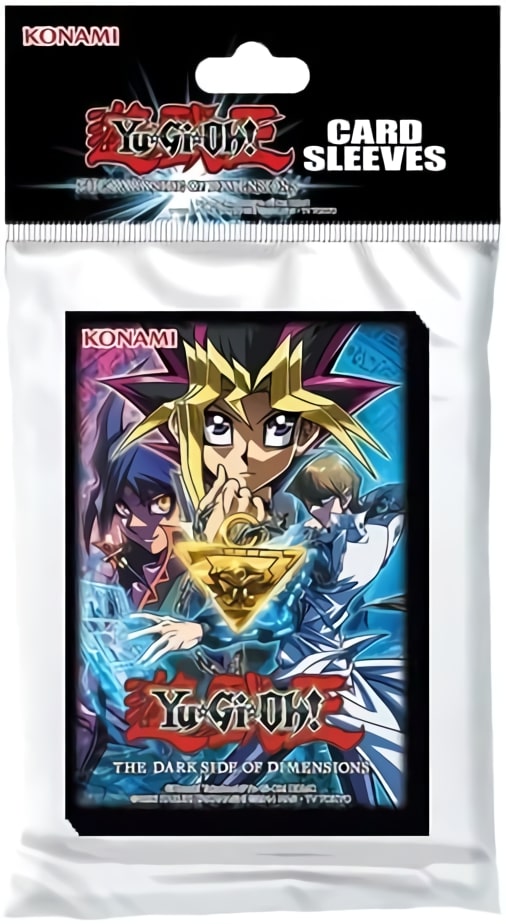 If you are looking for quality artwork sleeves for your YuGiOh cards, then these are a great option. Unlike other sleeves made of cheap plastic, the Dark Side of Dimension sleeves are very high-quality. They fit the cards well and are easy to put in and take out without damaging the edges.
They have an excellent glossy finish and are durable. The material of the sleeves makes shuffling easy and smooth. However, when handled carelessly, they split easily and are prone to scratching. During long gaming sessions, the sleeves can stick together if exposed to sweat.
Pros
Great quality.
Beautiful artwork pattern.
Nice glossy finish.
Cons
This is a great sleeve choice for your YuGiOh cards. Right out of the box, these sleeves look amazing and have a great feel.
The backs of the cards have a great design and look shiny, especially when exposed to light. They shuffle smoothly, which makes the sleeves good for competitive dueling.
The sleeves are a perfect fit for YuGiOh cards and thick enough to protect them during duels. However, the corners bend and split easily.
Pros
Has an amazing look and feel.
The design is great and shiny.
Has a smooth shuffle.
Cons
Prone to splitting and bending.
These YuGiOh card sleeves are glossy sleeves with I:P Masquerena artworks. Every single sleeve has this great holographic artwork at the back. They look amazing and fit YuGiOh cards excellently.
Although they have a great feel, they clump badly when exposed to sweat. They also tend to bend and split easily, which means you will find yourself replacing them very frequently.
Pros
Amazing holographic I:P Masquerena artwork.
Has a great feel and look.
Great choice for Yu-Gi-Oh cards.
Cons
Prone to splitting and bending.
Conclusion
The best card sleeves help to protect your YuGiOh cards and keep them in their original condition. They are also good for maintaining your deck and preventing it from getting worn out. This will allow you to be able to maintain them for long-term use.
Make sure that you consider the quality, durability, and size before choosing the right one for you. If you are not sure of which sleeve to get, why not pick from the recommended ones above?