Valentine's Day is less than a month away, and what better time to plan the perfect Valentine's Day gift for your anime-loving partner than now? In this article, I'll be listing my top 10 picks for anime-themed Valentine's Day gifts this year.
Before we jump into the listing, the links in this article will lead you to Amazon, and I will get a little commission whenever an order is placed. Of course, this will be at no additional cost to you.
With that out of the way, let's explore some of the amazing anime gifts you can get for your special someone this Valentine's Day.
List of the best anime-themed gift ideas for February 14
Anime Valentine's Day Card: Pikachu
The Love Box: A Personalized Message
Pokemon Valentine's Day Card
Waifu-Senpai Hoodies
Demon Slayer Bracelet
Tumbler for Anime-Loving Girls
Demon Slayer Music Box
My Hero Academia Gift Box
Attack On Titan Ring
Cute Luffy Figurine
1/10. Anime Valentine's Day Card: Pikachu
This Pickachu-themed anime Valentine's Day card is sure to put a smile on the face of any anime fan. It is a perfect way to show someone special how much you care about them on this special day.
Especially if your partner is a Pokemon lover, they are going to adore this gift! What's more, this gift is universal and can be sent anywhere in the world as a token of your love and affection, creating a lasting memory that your special someone can cherish for many years to come.
2/10. The Love Box: A Personalized Message
The Love Box is the perfect gift for this Valentine's day. It is a unique and special way to show your love and appreciation for someone special. It is a messaging device that allows you to send photos and messages.
What better way to declare your love for an anime fan than sending them a cute picture of an anime couple? The Love Box offers more than just cute images, though.
Whenever a message is sent, the heart on the box starts rotating. The recipient can turn the heart in order to shower the sender with hearts, which will show up on the mobile app.
This allows the sender to witness and experience their love in an intimate and tangible way, making it a truly unique gift for anime fans, especially the ones who are in a long-distance relationship.
3/10. Pokemon Valentine's Day Card
We have yet another bunch of cute and lovely Pokemon-themed Valentine's Day cards that you can gift to your special someone.
In addition to the Pickachu card, you get Charmander, Bulbasaur, and Squirtle cards that are sure to make the recipient feel loved.
4/10. Waifu-Senpai Hoodies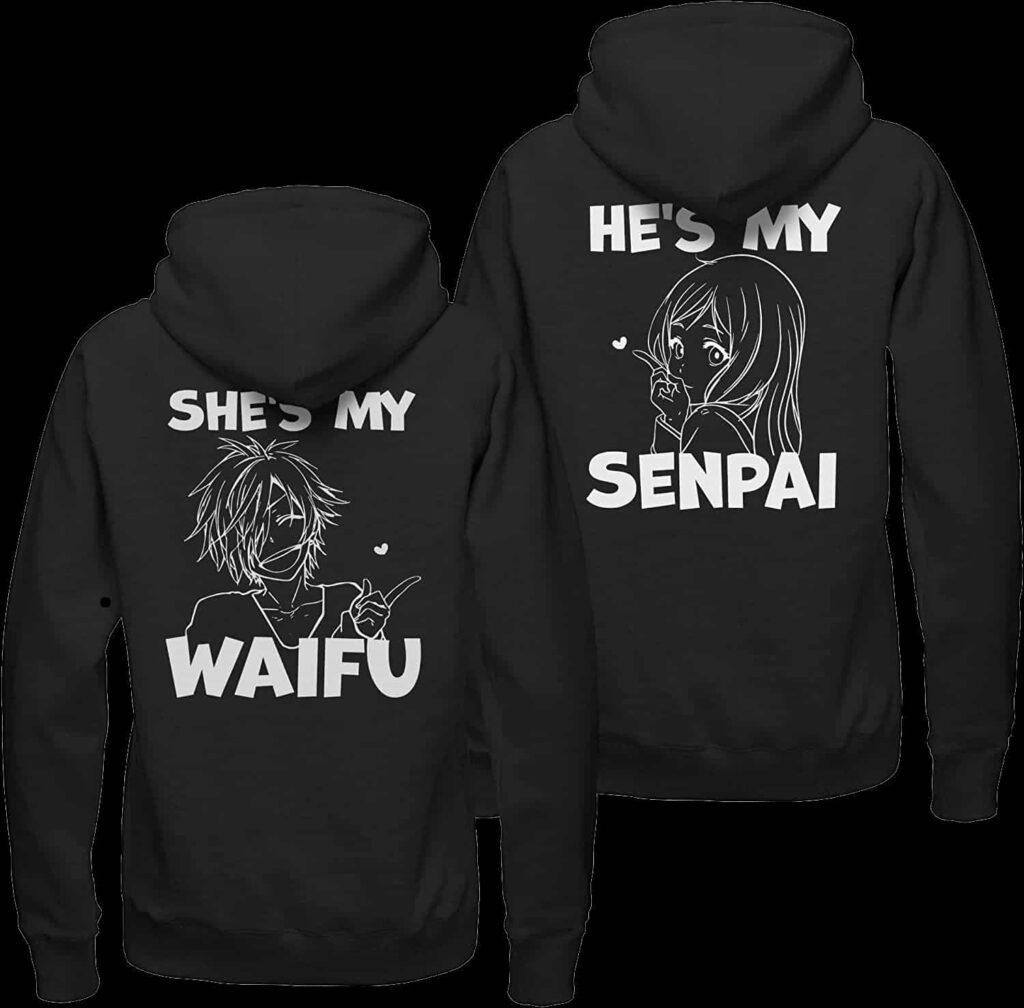 If I had to pick one perfect gift for an anime-loving couple, it'd be these hoodies. Waifu-Senpai hoodies feature romantic quotes that are exclusive to anime lovers, making them a great way to show your love for both the series and your partner.
It also has a lovely artistic design that is both fashionable and stylish. This is a great way to declare your love to the world.
5/10. Demon Slayer Bracelet
If your partner is a demon slayer lover, then they are sure to love this gift, as it is an elegant representation of the popular anime series, Demon Slayer.
The bracelet contains all the major characters from the show and is a great reminder to the wearer of their favorite characters, stories, and adventures.
Recommended >> 8 Best Gift Ideas for Anime Lovers & Fans
6/10. Tumbler for Anime Loving Girls
Is your girlfriend an anime lover? Then this is the perfect gift for her this Valentine's Day. This stainless steel tumbler has a cute design that quotes, "Just a girl who loves anime."
This special tumbler is sure to make your girlfriend smile on Valentine's Day.
7/10. Demon Slayer Music Box
Next on this list are anime music boxes. I'm specifically going to talk about the Demon Slayer music box in this section, but there are several other anime-themed music boxes on Amazon for you to choose from.
If you've got a Demon Slayer fan, then rest assured. They are madly in love with the anime's music. And this music box is something they will cherish forever.
8/10. My Hero Academia Gift Box
My Hero Academia is one of the biggest hits in the western anime fandom. If your boyfriend or girlfriend is into this anime, then the My Hero Academia gift box is going to be the perfect gift for them this Valentine's day.
This box contains a selection of My Hero Academia-themed items, from wall art and enamel pins to a hero license and Deku's hero notebook.
9/10. Attack On Titan Ring
If you've found that special someone in your life who is an anime fan, this ring will be the best proposal ever.
Of course, you can also gift it as a token of appreciation to your boyfriend or girlfriend. Either way, this premium Attack on Titan ring is sure to put a smile on their face.
Recommended >> Best Beyblade to Buy in 2022 – PERFECT Gift Guide
10/10. Cute Luffy Figurine
Last but not least, we've got something for One Piece fans as well. There are dozens of cool figurines, but for this special occasion, let's go with a cute one. And this Luffy figurine is the perfect pick.
Alternatively, you can go for other One Piece-related gift items like necklaces, bracelets, and pocketwatches as well.
Other anime-themed Valentine's Day gift ideas
Other than the above-listed items, you can always buy them a figurine or poster of the anime character that they love!
Anime night lamps and plushies are also becoming increasingly popular, which might be another great option.
On the other hand, if your partner is a manga lover, you can get them manga books or the latest volume of the manga that they are reading.
Recommended >> Top 5 Anime Blankets – Most Popular Anime Gift Guide
FAQ's related to anime gifts for Valentine's Day
What should I get my weeb boyfriend who likes anime?
Get your boyfriend a merch of the anime that they love. Identify what series they love. Is it One Piece? Demon Slayer? Naruto? Figure that out and then choose the whether you want to buy a figurine, poster, plushie, stickers, or other merch.
What is best gift for girlfriend on Valentine Day?
The best gift for your anime loving girlfriend on Valentine's Day is to gift them cards and buy them some anime merch. Make sure the merch you choose is about the anime that she loves.
Alternatively, if your girlfriend is into adorable looking things, any cute things that are anime related (like plushies) would work fine too.
These gifts will make perfect Valentine's Day presents, and your special someone is sure to be overjoyed by your thoughtful gift! If they don't already own any anime merchandise, it's an ideal way to get them started on their collection.