Every now and then, an anime comes along that shatters expectations. 'Nagi no Asukara' is one such gem. At first glance, it seems like a typical high school anime, but it quickly evolves into something extraordinary. It has been over 10 years since it aired first, and fans are still waiting for A Lull in the Sea season 2. But will it happen?
In this article, we will go over the latest news surrounding this slice of life anime's renewal possibilities.
A Lull in the Sea Season 2 Overview
| | |
| --- | --- |
| Name of the Season | A Lull in the Sea |
| Season Number | Season 2 |
| Genre | Drama, Fantasy, Romance |
| Nagi no Asu kara initial Release Date | October 3, 2013 |
| Nagi no Asu kara Season 2 Release Date | To be announced |
| Nagi no Asu kara Season 2 Source Material | Original |
A Lull in the Sea delves into the significance of friendship while also addressing social acceptance, discrimination, and intricate romantic relationships. Speaking of romance, 'Nagi no Asukara' stands out with its unpredictability and well-developed characters, each contributing significantly to the overarching narrative.
Produced by P.A. Works Studio, known for 'Angel Beats' and 'Charlotte,' 'Nagi no Asukara' boasts breathtaking animation and art. The underwater world, where humans coexist with marine life, is visually stunning. This anime sets a high standard for futuristic themes.
With 26 engaging episodes, 'Nagi no Asukara' is a unique gem worth binge-watching. It's a must-see for all anime enthusiasts.
A Lull in the Sea Season 2 Release Date & Status
The first season of the anime ran from October 3, 2013, to April 3, 2014. Sadly, there's been no official renewal for a second season from P.A. Works or any anime-related company. Yet history has shown that animes can return with new seasons years after the original release.
To make this happen, several factors come into play. These include manga source material, disc sales, and overall popularity. In this case, the first season was an original production.
However, a manga was published for the series that had the same story as the anime. It goes over some extra content, so a new season could be possible with the right script and a little more original content.
The popularity was good initially, but it is declining rapidly now. So, the chances of getting season 2 of A Lull in the Sea is very slim. Many people have forgotten about this series because the manga and anime have long since ended.
Is There Enough Source Material For Nagi no Asu kara 2?
Unfortunately, there is not enough source material (manga) for A Lull in the Sea. The series was an original story that later had a manga adaptation. So, obviously, the manga didn't cover much after the point where the anime ended.
However, they could technically write new content since it was an original story to begin with. But the fact that they chose not to means that they are not planning to renew the series.
What Will Happen In A Lull in the Sea Season 2?
Currently, there is no way we can find out what will happen in a possible sequel. The story has to be newly written for the sequel. However, here's a recap of what the first season was about:
In ancient times, some ocean dwellers desired life on land, gradually adapting to terrestrial conditions and becoming Earth's inhabitants. Today, a deep divide exists between these two groups.
Four childhood friends—Manaka, Hikari, Chisaki, and Kaname—from the underwater village of Shioshishio transfer to an Earth school due to the ocean school's closure. Unwelcome as sea people, they befriend Tsumugu, from a fishing family.
Sea people have a unique scale-like structure called "Ena" that needs regular seawater moistening to prevent breathing difficulties. Land people lack Ena and cannot live in the sea. Offspring from mixed marriages don't have Ena, leading sea people who marry land inhabitants to be exiled from Shioshishio to prevent extinction.
As the Sea God's power wanes and natural disasters strike, both groups sense trouble. The story parallels global warming, foreshadowing a colder world and humanity's peril. Sea people can escape the ice age by sleeping under the Sea God's protection, but Earth's people face a different fate. Our protagonists, faced with leaving everything and entering an endless slumber, seek a way to save Earth's inhabitants.
Also Read >> My Roommate Is A Cat Season 2: Release Date, Plot & More!
Which Studio Will Animate The Nagi no Asu kara 2?
The first season of A Lull in the Sea was the work of P.A. Works Studios. They've only animated a total of 59 shows since they were established on November 10, 2000.
However, the studio is pretty popular among fans. It has produced hit shows like Angel Beats, Charlotte, and Another.
If we ever get a second season of Nagi no Asu Kara, we can expect P.A. Works to be the studio to work on it. This is because they already did a great job with the first season, so I don't see why they would not take up the task.
Where Can I Watch A Lull in the Sea Season 2?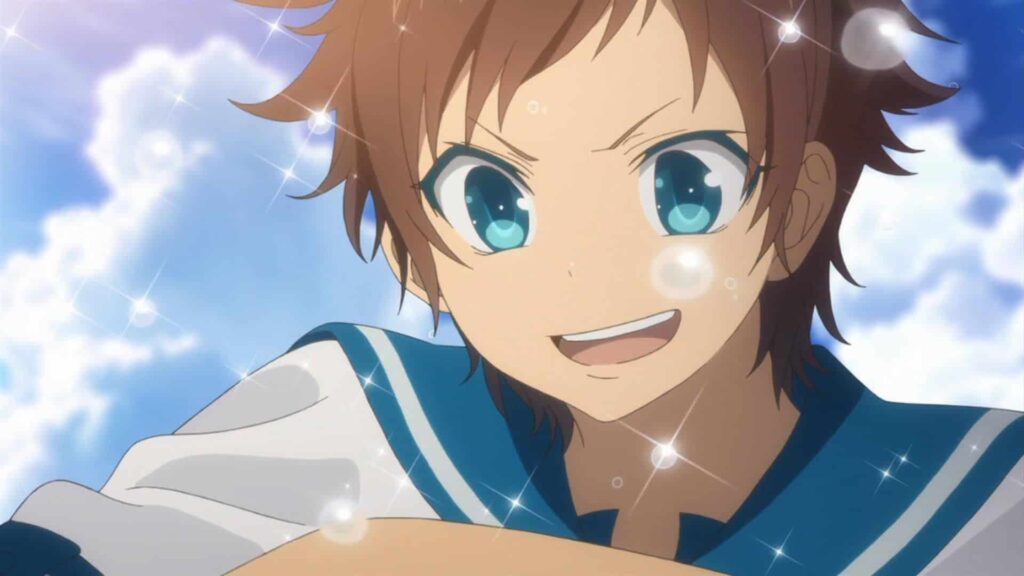 Fans from the United States can watch Nagi no Asu Kara's first season on Crunchyroll and Funimation. There's also an option to buy the season from Apple TV and Amazon.
But fans from around the world can watch it using a VPN. You can also watch it on BiliBili, a Chinese YouTube alternative which has a ton of anime series uploaded.
In case we get a new season of A Lull in the Sea, we can expect it to be available on the same platforms mentioned above.
Of course, you can also buy the Blu-Ray disc of the latest season and binge the series offline.