Jojo's bizarre adventure part 6, is one of the best in the series, with a ton of interesting characters. Also known as "Stone Ocean", Part 6 of the JoJo franchise is the only part that has a strong female lead.
We get to see the adventures of our female MC, who gets caught up in an evil agenda that originated with Dio. Growing up without understanding stands and the heroic deeds of her father, all the hidden truth comes crashing down at her. It is up to her to save her father, Jotaro, and the world from the man who took over Dio's ambition.
Dans cet article, nous compterons tous les personnages principaux, les personnages secondaires et les méchants de JoJo Part 6: Stone Ocean.
JoJo's Bizarre Adventure Part 6: Main Characters
Jolyne Cujoh
Ermès Costello
Foo Fighters
Emporio Alnino
Bulletin météo
Narciso Anasui
Jotaro Kujo
1. Jolyne Cujoh
Jolyne Cujoh is the main protagonist of JoJo's Bizarre Adventure Part 6: Stone Ocean. She is the daughter of Kujo Jotaro, the protagonist of JoJo Part 3.
Jolyne's fate is a twisted one, as she is the last JoJo in the main timeline. When she was young, she fell in love with a guy named Romeo, but it ended as quickly as it started.
She is framed for murdering an innocent passerby and sent to jail. What's more, the people in jail legitimately want to kill her because of her Joestar bloodline. This is where she gets a pendant from her father and unlocks her stand ability.
Jolyne's stand ability, "Stone Free," gives her the ability to manipulate threads that originate from her body. The more thread she uses, the more her body gets deconstructed.
Jolyne doit utiliser son intelligence pour déjouer les ennemis qui ont des capacités de support plus puissantes.
Recommandé >> 15 personnages féminins les plus populaires de JoJo's Bizarre Adventure
2. Ermes Costello
Ermes est le tout premier ami que Jolyne s'est fait pendant son séjour en prison. Elle est accusée de cinq ans de prison pour vol.
Cependant, Jolyne et Ermes ont dû se séparer lorsqu'ils ont été transférés dans une nouvelle prison de haute sécurité.
Later on, Ermes gets her own stand ability thanks to Jolyne's pendant and regroups with Jolyne to understand the situation better.
Through the series, we can see that Ermes is actually a caring and reliable friend. She always has Jolyne's back.
Ermes' stand ability, "Kiss", gives her the ability to create kiss-marked stickers. These stickers allow her to duplicate anything that gets combined with a force of destruction when the sticker is removed.
3. Foo Fighters
Foo Fighters is originally a non-human character that was created because of Whitesnake's stand discs. It obtained the ability to manipulate water and use it as a weapon.
Initialement, il a attaqué Ermes et Jolyne avec l'intention de tuer. Cependant, le duo bat les Foo Fighters. Non seulement cela, Jolyne le laisse vivre et lui demande de devenir son allié.
Pour cette raison, les Foo Fighters sont extrêmement fidèles à Jolyne. Peu de temps après cet incident, les Foo Fighters prennent le corps d'une fille morte et infiltrent la prison pour protéger Jolyne.
C'est l'un des premiers personnages JoJo où le stand et l'utilisateur sont fusionnés.
4. Bulletin météo
Weather Report is by far one of the most fan favorite JoJo's Bizarre Adventure Part 6 male characters.
Emporio lui présente Jolyne dans la "salle fantôme" et lui dit qu'il l'aidera dans ses missions.
Weather Report has no memory of himself when he was a child, and he has no idea why he is in prison either. This is most likely the handy work of Whitesnake's stand ability.
Because of this, he has a huge interest in knowing Whitesnake's true goal. This is why he agreed to help Jolyne, who is practically Whitesnake's enemy.
His stand ability is also called "Weather Report," and it allows him to control the weather. He played a vital role in saving Jolyne's life when Lang Rangler attacked them.
5. Narciso Anasui
Narciso is one of Jolyne's strongest allies and is madly in love with her. Originally, he was a murderer who got imprisoned for "dismantling" the bodies of his girlfriend and the guy with whom she cheated on him.
Ever since his childhood, he has always been fascinated by dismantling it. This desire has taken the form of a stand called "Diver Drive." It allows him to conjure parts of his stand from any object that he hits. The force of the hit is stored inside the object and then released along with the stand's body part, which deals damage to anyone near that area.
Il est également capable de traverser progressivement des objets solides, ce qui le rend imparable et surpuissant en matière de combat rapproché.
6. Emporio Alnino
Emporio is one of the mysterious characters in Jojo's bizarre adventure part 6. He is a young boy who roams the maximum-security prison without anybody noticing.
He was born in the prison and has lived there all his life. His mother was an inmate who had been killed by Whitesnake's stand. Because of that, he supports Jolyne and tries to save her life.
Plusieurs fois tout au long de la série, ses idées et ses actions ont aidé Jolyne et les autres à survivre.
What's surprising about him is that he is a natural stand user who had the ability from birth. He is capable of interacting with and using "ghosts of objects."
Cette capacité s'explique lorsqu'il emmène Jolyne dans une salle fantôme qui aurait été détruite dans un incendie il y a longtemps.
7. Jotaro Kujo
Jotaro Kujo is the fan favorite JoJo's Bizarre Adventure character from previous seasons. However, his role in Stone Ocean is vital but very limited. This is because he goes out of commission early on after Whitesnake steals Jotaro's soul.
This made Jolyne stay in the prison in order to fight and get back her father's soul in hopes that she could bring Jotaro back to life if she could fuse his soul within his dead body.
En toute honnêteté, Jotaro est nerfé au-delà de toute comparaison. Dans la partie 3, il combattait ce vampire immortel avec la capacité d'arrêter le temps, et il l'a même vaincu. Il s'est fait couronner comme l'utilisateur de stand le plus fort de la série.
Mais dans la partie 6, il a à peine utilisé sa capacité de stand et il a été volé assez facilement.
Recommandé >> Anime with similar Art style to Jojo's Bizarre Adventure
JoJo's Bizarre Adventure Part 6: Side Characters
Gwess
Tonnerre McQueen
Miraschon
Roméo Jisso
1. Gwess
Gwess is Jolyne's roommate in the new Green Dolphin Street Prison. She had bought Jolyne's pendant from Ermes for $200 and accidentally obtained her stand ability.
Gwess est le premier ennemi auquel Jolyne a dû faire face peu après son arrivée en prison. Avec son stand, "Goo Goo Dolls", Gwess avait la capacité de rétrécir n'importe qui.
Elle avait utilisé cette capacité pour transformer ses victimes en jouets. Plus tard, Gwess a rétréci Jolyne et l'a forcée à porter une peau de rat et à faire ce qu'elle voulait.
Gwess a essayé d'utiliser Jolyne pour s'échapper de la prison, mais quand les choses ont mal tourné, elle complotait pour piéger Jolyne et s'échapper. Cependant, Jolyne a capturé sa position et a exigé sa coopération.
Après cet incident, Gwess a été complètement subordonnée à Jolyne, car elle a la position la plus forte.
2. Miraschon
Miraschon is one of the minor antagonistic characters from JoJo's Bizarre Adventure Part 6. She is a professional thief who tries to steal from Father Pucci. But she has no idea that he is the Whitesnake and becomes his victim.
Pucci lui donne une capacité de stand qui fonctionne sur la base des paris et des dettes. Il efface alors tout souvenir de lui et la laisse partir libre.
Ensuite, Miraschon fait un pari avec Jolyne et les Foo Fighters sur une partie de attrape-balle. The duo won the bet. However, Miraschon makes another bet, and Ermes accepts it this time. But she is not able to win, which makes Miraschon's stand activate. The stand pulls Ermes' liver as a payment for the bet.
Now, Jolyne makes a seemingly impossible bet in order to get back Ermes' liver and eventually wins after a series of thrilling events. This bet ended with Miraschon being beaten to a pulp with the ball.
3. Tonnerre McQueen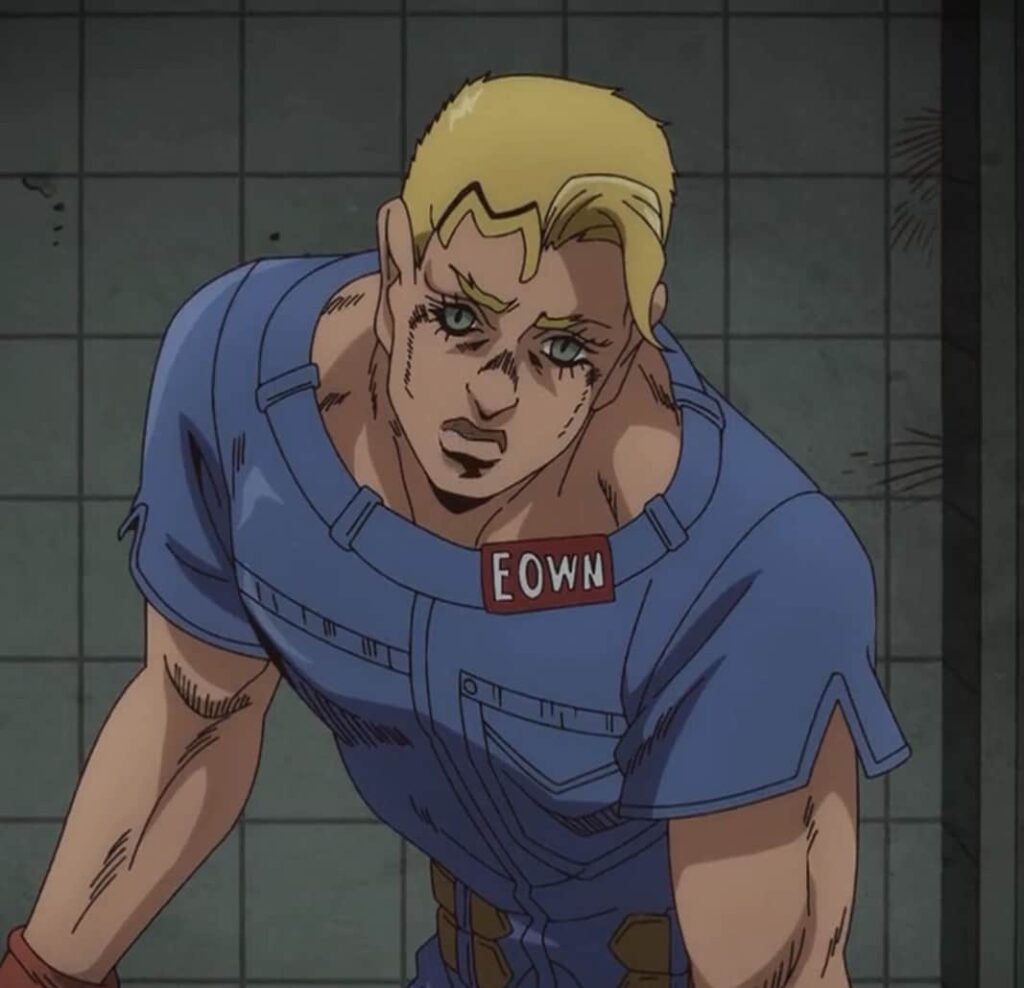 Thunder McQueen is one of the Green Dolphin Street Prison's janitors. He has been stealing money from people in the infirmary and stashing it in a secret place.
However, one day, Whitesnake's stand encountered him, took his memory away, and gave him a stand ability.
Par nature, Thunder McQueen est un gars aux tendances suicidaires. Pour cette raison, Whitesnake lui a donné un stand appelé "Gateway to Hell", qui infligera tout dommage physique que McQueen subit à sa cible.
Unfortunately for Ermes, she became McQueen's victim. As he tried to kill himself, every damage that he did was inflicted upon Ermes as well.
Après un appel rapproché, Ermes parvient à l'assommer et à retirer son disque de capacité de stand.
4. Roméo Jisso
Romeo is Jolyne's first love. They were a happy couple until one day, a road accident happened where their car hit a man, who ended up being flung onto a tree. He was dead, and Romeo panicked.
Jolyne essaie d'appeler l'ambulance, mais Roméo l'arrête car le gars est déjà mort. Ensemble, ils ont essayé de cacher le cadavre du gars, mais ils ont été rattrapés plus tard.
In the trial, Jolyne's lawyer convinces Jolyne to admit that she stole the car, got drunk, and hit the man. This way, she will be given a lighter sentence.
However, she was betrayed, and the lawyer made sure that Romeo was free at the cost of Jolyne's life. She was sentenced to 15 years in prison and charged with murder.
Roméo est un homme velléitaire qui n'a rien fait et a laissé son père et l'avocat tout faire pour lui. À la fin, il a été manipulé pour sacrifier son amant afin de sauver sa propre peau.
Plus tard, Jolyne le revoit après s'être évadé de la prison afin de demander de l'argent et un moyen de transport. Elle lui demande également de ne pas parler d'elle à la police.
Roméo lui donne 1000 dollars et un hélicoptère, puis appelle les flics, pour leur donner de fausses informations sur Jolyne. C'était sa façon de se repentir de l'avoir trahie.
Recommandé >> JoJo Genderbend – Famous Jojo Characters With Their Gender Swapped!
JoJo's Bizarre Adventure Part 6: Villain Characters
Enrico Pucci
Miuccia Miuller
Ungalo
Rikiel
Donatello Versus
Lang Rangler
Sport Maxx
Viviano Westwood
Kenzou
D et G
Guccio
Johngalli A.
1. Enrico Pucci
Enrico Pucci est le principal méchant de JoJo : Stone Ocean. Lui et son stand, "Whitesnake", ont orchestré tout ce qui s'est passé à la prison. Il a attiré Jotaro en utilisant Jolyne et a volé sa mémoire et ses disques de support.
This was to learn the secret that Dio had left behind. Jotaro, after learning Dio's plans from his diary, burned it. So it remains only in his memory.
Pucci, who was an old friend of Dio, used Jotaro's memory disc to learn the secret. He found the method to attain the heavenly powers that Dio was going after.
Toute l'histoire de Stone Ocean parle de lui essayant de monter au paradis et d'obtenir le pouvoir ultime. Jolyne apprend finalement cela et s'en prend à Pucci afin de l'empêcher d'obtenir de tels pouvoirs divins.
2. Donatello contre
Donatello is one of the antagonistic characters in Jojo's bizarre adventure part 6. He is one of Dio's sons who joins forces with Father Pucci in order to help him reach "heaven."
However, unlike his other two half-brothers, Donatello is not completely loyal to Pucci. As a matter of fact, he is irritated by Pucci's attitude. While he pretends to help him, Donatello's goal is to take over Pucci's plans and attain heaven himself.
Donatello's stand "Netherworld" is one of the most nightmarish stand in the series. It can read the memories of the Earth and recreate tragic incidents that occurred at any time in the past. With this ability, he trapped Ermes and Jolyne in a 2005 plane crash.
Cependant, étant des combattants chevronnés, Jolyne et Ermes utilisent leur esprit vif pour survivre à l'accident et surmonter sa position.
Soon after that, Donatello betrays Pucci, steals the memory disc of Weather Report, and restores his memory. Turns out Weather Report was Pucci's brother who had a deadly stand. Pucci erased his memory so that he forgot how to use his ability.
3. Ungalo
Ungalo is one of Dio's sons who encountered Father Pucci and unlocked his stand ability. His stand, "Bohemian Rhapsody," is one of the most overpowered in the entire series. It had the ability to affect the entire world, showing that it had an insane range.
His stand makes all the fictional characters come to life. What's more, the people who liked those fictional characters will become fictional.
The ones who faced off against Ungalo were Weather Report and Anasui, who were almost killed after becoming fiction. However, Weather Report used Ungalo's own abilities against him by creating a new fictional character that brought all fictional characters back into their world.
This caused Ungalo's confidence and mind to break, leaving him beyond recovery. At the end, Weather Report defeated Ungalo without even knowing who he really was.
4. Rikiel
Rikiel is another one of Dio's sons and an antagonistic character in Jojo's bizarre adventure part 6. He used to have a mysterious disease that made his eyes droopy, making him unable to see anything. Because of this, he had developed an inferiority complex and was easily prone to panic attacks.
Cependant, après avoir rencontré le père Pucci et déverrouillé sa capacité de stand, il a repris confiance.
Sa position, «Ciel haut," lui a donné la capacité de contrôler les êtres mystérieux connus sous le nom de "bâtons" qui peuvent créer des maladies. Par exemple, il a utilisé le pouvoir pour donner des yeux tombants à Jolyne et son équipe, qui conduisaient un hélicoptère. Cela a provoqué l'écrasement de l'hélicoptère, comme personne ne pouvait le voir.
Cependant, le trio s'est échappé et Jolyne a affronté Rikiel dans un combat en tête-à-tête. Après avoir compris la nature de sa position, Jolyne utilise sa pure volonté dans un combat d'endurance et gagne.
5. Miuccia Müller
Miuccia Miuller, also known as "Miu Miu," is one of the most formidable antagonistic characters in JoJo's Bizarre Adventure Part 6.
She is the lead guard and also one of Pucci's pawns. She has been given the stand "Serrure de maison de prison,» qui lui permet de faire en sorte que sa cible ne retienne que trois3 informations.
Chaque fois que sa cible apprend une quatrième information, elle oublie la première et sa mémoire est réinitialisée. De cette façon, elle peut empêcher les utilisateurs du stand d'échapper à la prison.
Jolyne et Emporio ont eu beaucoup de difficulté à gérer sa position et ont failli se retrouver coincés au point où il n'y avait plus d'échappatoire. Cependant, Jolyne l'a déjouée et l'a vaincue, même si sa mémoire était réinitialisée de temps en temps.
6. Viviano Westwood
Westwood is one of the prison guards at Green Dolphin Street Prison. He and one of the other guards show up at Jolyne's cell at the Ultra Sécurité Solitaire.
Due to the attack of the stand called "Survivor," the two started punching each other to death. Westwood came out as a victor, and then he released all the prisinors. Under the influence of Survivor's abilities, he initiated an all-out fight to the death.
The others are also affected by Survivor's ability and start killing each other. This is when Westwood sets his sights on Jolyne and gives her a hard time.
What's more, it turned out Westwood had his own stand, "Starlight Waves," that allowed him to use metiorites to attack Jolyne.
Presque battue à mort, Jolyne utilise le dernier de ses esprits pour retourner le sien contre lui et le vaincre.
7. Lang Rangler
Lang Rangler is one of the inmates who got his stand ability from Whitesnake's disc. His stand, "Jumpin' Jack Flash,» lui a permis de manipuler la gravité.
Avec cette capacité, il a bloqué Jolyne en apesanteur. Elle n'a même pas pu utiliser correctement sa capacité à se tenir debout car il n'y a pas de force gravitationnelle. Non seulement cela, mais tout ce qu'elle a touché a également fini par avoir une gravité nulle.
After a one-sided onslaught, Lang Rangler had Jolyne and Weather Report on their knees. He was almost close to finishing off Jolyne and stealing Star Platinum's disc too. However, Weather Report used the last of his powers to sacrifice himself and give oxygen to Jolyne, which allowed her to defeat him.
Heureusement pour Weather Report, Lang Ranger a désactivé sa capacité alors que Jolyne l'a entraîné dans le vide créé par sa capacité. Grâce à cela, Weather Report a survécu.
8. Kenzo
Kenzou est un détenu asiatique de 78 ans obsédé par l'art du Feng Sui. Au cours de ses années 30, il était un célèbre chef de secte avec des milliers d'adeptes. Cependant, comme son culte était considéré comme une menace pour la société, il était sur le point d'être interdit.
C'est alors qu'il décide de s'enfermer avec plus de 40 de ses partisans les plus fidèles et de mettre le feu au bâtiment. Cependant, seul Kenzou a survécu car un morceau du bâtiment est tombé sur lui et a éteint le feu.
Plus tard, il a été emprisonné et envoyé au Ultra Sécurité Solitaire, where he tried to kill Jolyne. However, the Foo Fighters come to Jolyne's rescue and fight Kenzou in an intense battle.
Kenzou is a skilled Taichi master who is also well versed in the art of Feng Sui assassination. His stand, "Dragon's Dream," is also a Feng Sui-based one that shows him the safest place where he will be 100% safe. On the other hand, it also has the capability to show the direction in which the enemy has the worst luck.
Combined with his martial arts skills and the stand's ability, he almost finishes off Foo Fighters and Jolyne. However, Narciso Anasui turns his body into a boney mess and leaves him unable to even stand.
9. D et G
D an G était l'un des prisonniers de l'Ultra Security Solitary chargé de tuer Jolyne. Sa position, "Yo-Yo Ma," est l'un des personnages les plus étranges de toute la partie 6 de l'aventure bizarre de Jojo.
Yo Yo Ma, à première vue, ressemble à une goutte inutile et laide d'un être qui n'est subordonné à personne. Il a agi en tant que serviteur de Jolyne et Anasui et les a aidés à s'échapper.
Cependant, ce qu'ils ne savaient pas, c'est que Yo Yo Ma était un stand automatique chargé de tuer Jolyne. Cela signifie que chaque fois qu'ils ne se concentraient pas sur lui, Yo Yo Ma les attaquait lentement de manière subtile.
Cela est devenu évident pour Jolyne lorsqu'elle a perdu la capacité de parler. Plus tard, elle transmet en quelque sorte le message à Anasui que Yo Yo Ma est un ennemi.
Realizing this, Anasui quick-wittedly replaced Yo Yo Ma's brain with a frog's brain, which caused the stand to break mentally. Soon after, the Foo Fighters finish off D an G, who was still in the prison that destroyed Yo Yo Ma.
10. Guccio
Guccio is one of the weakest characters in JoJo's Bizarre Adventure Part 6. In a flashback scene, Dio calls a stand called "Survivor" the weakest stand. Pucci gets that stand from Dio on his disc and later gives it to Guccio.
The stand's ability is to send very feeble electric signals to the brains of everyone in its range. This, in turn, makes its target feel like they're invincible and raises their fighting spirit.
Pour cette raison, tout le monde dans l'Ultra Security Solitary a commencé à se battre à mort dans une bagarre brutale.
Guccio était l'un des survivants de cet incident et a demandé à Anasui de l'aider à s'échapper. Cependant, Anasui utilise sa capacité de stand pour faire de Guccio un piège ambulant.
When D an G touched Guccio, the trap activated, and Guccio's ribs pierced D an G's hand. This made D an G cry in pain and retire from plotting anything to defeat Jolyne.
Later, Pucci uses Guccio's memory disc to understand what happened in the solitary and pursues Jolyne.
11. Sport Maxx
Sports Maxx is one of the minor characters in JoJo Part 6: Stone Ocean, who plays an antagonistic role. He used to be a gangster before being imprisoned. During that time, he killed Ermes' sister.
Parce que Sports Maxx était dans la prison de Green Dolphin Street, Ermes s'est fait prendre volontairement pour se venger de sa sœur.
Elle réussit à le traquer et à le trouver isolé des autres. C'est alors qu'elle le fourre dans un tuyau d'égout en utilisant sa capacité de support et le fait se noyer à mort.
Cependant, Sports Maxx avait reçu la capacité de stand de Whitesnake qui lui permettait de devenir un fantôme et de l'attaquer. À la fin, Ermes a réussi à le tuer pour de bon, mais elle a également subi de gros dégâts dans le processus.
12. Johngalli A.
Johngalli A. is the very first antagonist to be introduced in Jojo's bizarre adventure part 6. Jotaro visits the prison to warn Jolyne about Johngalli A, who is one of Dio's goons.
Même si son maître est mort, Johngalli A cherche à se venger du sang de Joestar. C'est lui qui a accusé Jolyne d'assassin afin de l'amener en prison.
However, his original goal was to bring Jotaro to the prison and help Whitesnake steal Jotaro's stand ability and his soul.
Johngalli A's stand ability, "Transfert Manhattan,» lui permet de sentir les gens qui sont loin et de les sniper. Étant un tireur d'élite de génie, il utilise cette capacité intelligemment, mais à la fin, il est vaincu par Jolyne qui le surpasse.
At the end, Whitesnake killed him in cold blood after obtaining Jotaro's discs. Johngalli A was merely a pawn for our main antagonist, Whitesnake.
That's it for this post. These are all the characters from Jojo's bizarre adventure part 6: Stone Ocean.
If you liked this article, consider hitting the bell icon in the bottom corner to subscribe to this website! Thank you for reading, and I'll see you in the next one (^^)~