Yuri anime, known for its focus on romantic relationships between female characters, has garnered a dedicated following among anime enthusiasts. If you're searching for the best yuri anime on Crunchyroll, you're in for a treat.
From heartwarming love stories to thrilling adventures, the platform offers a diverse range of yuri series to satisfy your cravings. Let's explore the top yuri anime titles available on Crunchyroll.
1. Citrus
Citrus is a popular Yuri anime on Crunchyroll that explores the complex relationship between two stepsisters.
Our main girl, Yuzu Aihara, transfers to a new school, where she finds her new love for Mei Aihara, her stern stepsister.
Currently, this is the top most watched Girls Love Drama anime out there, so you are sure to have a good time watching this show. Not to mention, the girl on girl romance of Citrus is also on point.
2. Adachi and Shimamura
"Adachi and Shimamura" is easily one of the most popular Yuri anime on Crunchyroll. However, if you're expecting actual confessions and girl-on-girl action, this is not for you.
This anime follows the blossoming friendship and romance between Adachi and Shimamura. These two high school girls find solace in each other's company while navigating the ups and downs of adolescence.
The story is about the girls exploring teenage life and dealing with their romantic feelings and all the drama that comes with it.
3. Riddle of the Devil
Popularly known as "Akuma no Riddle", this Yuri anime is actually available only on Funimation. However, since Crunchyroll acquired the Funimation company, we can expect them to migrate several shows to Crunchyroll. And Riddle of the Devil might be one of them.
This thrilling anime series is set in a prestigious all-girls school. It follows the enigmatic transfer student Tokaku Azuma, who becomes embroiled in a deadly game.
Twelve highly skilled assassins are tasked with eliminating a single target, Haru Ichinose, who must survive their relentless attempts on her life.
The series explores themes of intrigue, friendship, and trust as Tokaku must decide whether to follow her orders or protect Haru from a sinister conspiracy.
With a mix of action and psychological elements, "Akuma no Riddle" keeps viewers on the edge of their seats.
4. Yuru Yuri
This is one of the most watched Yuri anime on Crunchyroll. This Girls Love anime is pure fun, set in an all-girls high school environment. Yuru Yuri is a delightful comedy anime centered on the everyday lives of a group of schoolgirls.
With humor and heartwarming moments, it follows their amusing adventures and blossoming friendships. The series offers a lighthearted and enjoyable experience for fans of slice-of-life and comedy genres.
While there is some girls romance the anime is not about exploring the depths of a yuri relationship.
5. Rin: Daughters of Mnemosyne
"Rin: Daughters of Mnemosyne" is a unique Yuri anime on Funimation, that might soon be migrated to Crunchyroll. This is a blend of supernatural thriller and crime dramas. It follows Rin Asougi, an immortal private investigator who can't die and seeks to solve various cases throughout her long life.
Along the way, she encounters other immortals, uncovers the mysteries of her existence, and grapples with themes of life, death, and the consequences of immortality.
This anime offers a dark and mysterious narrative filled with action, intrigue, and philosophical questions about the nature of immortality and the human experience.
6. Mai Hime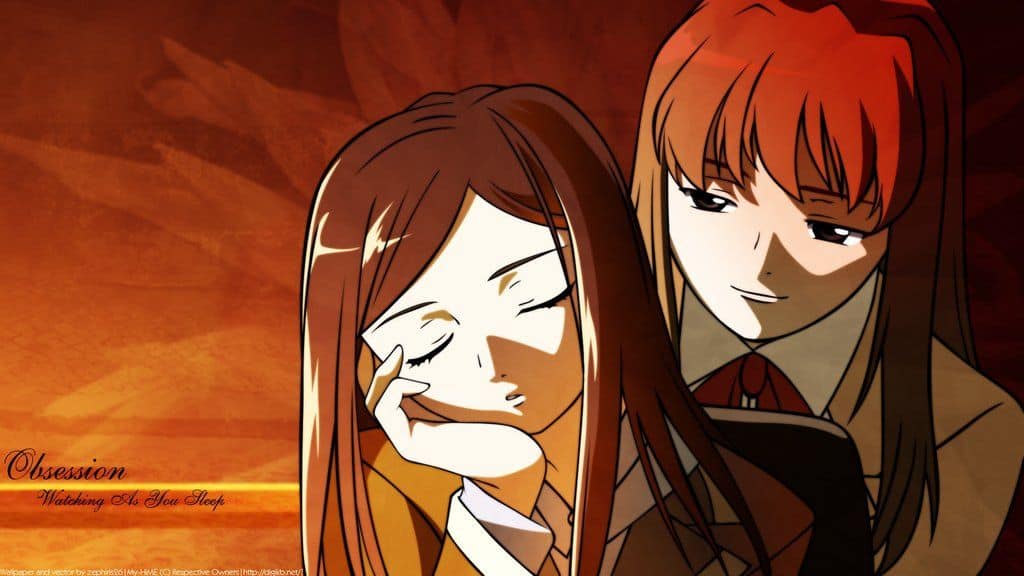 Mai-HiME is a Yuri anime on Crunchyroll where girls at Fuka Academy wield magical powers to defend against "Orphans". No, it is not the orphans you think. These are monsters that destroy humanity.
This anime blends magical battles with complex emotions, romance, and rivalry, unveiling dark pasts and an enigmatic Obsidian Prince. This series delivers action and profound relationships, making it a must-watch for fans of both.
7. Netsuzou Trap -NTR-
Netsuzou Trap -NTR- is one of the lowest rated Yuri anime on Crunchyroll. But there's a good reason for it. The show focuses on RNT, which basically means cheating.
High school friends Yuma and Hotaru appear inseparable, but their friendship conceals a dark secret. They each become entangled in secretive affairs, questioning their feelings for one another.
This anime delves into the emotional turmoil, confusion, and hidden desires of its characters as they navigate love and temptation. "Netsuzou Trap -NTR-" is a compelling exploration of forbidden relationships, portraying the complexities of human emotions with honesty and depth.
8. The Magical Revolution of the Reincarnated Princess and the Genius Young Lady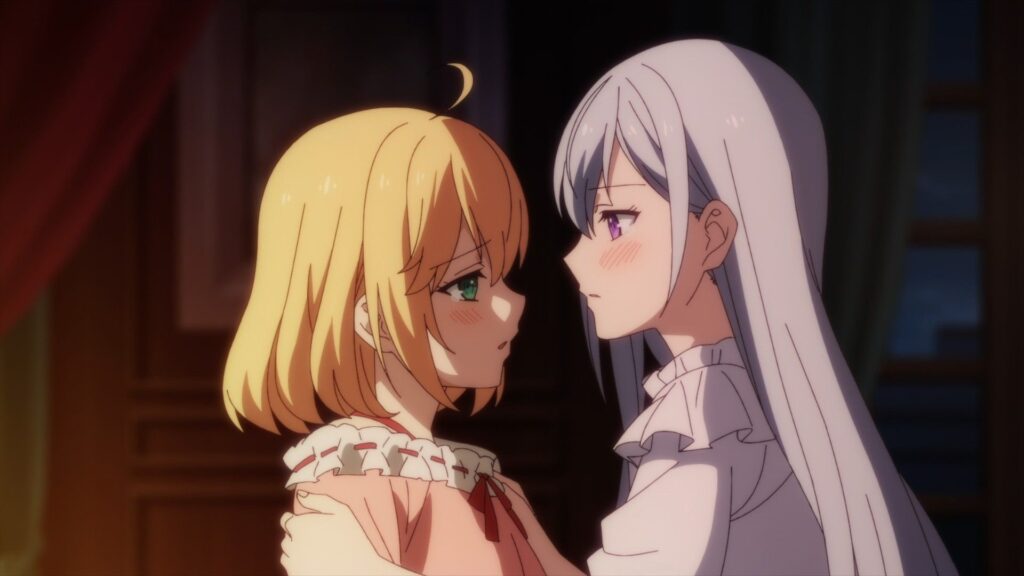 This is a brand new 2023 Yuri, Isekai anime that is available on Crunchyroll.
Princess Anisphia, known as Anis, dreams of flying despite her kingdom's doubts and her own inability to use magic. To pursue her ambition, she renounces the throne.
Responsibility falls on her younger brother, Algard, who rebels against his arranged marriage with Euphyllia Magenta. Anis rescues Euphyllia, and they form an unexpected partnership with hidden motives.
With this show, you will get to experience the Isekai goodness as well as the Yuri awesomeness, all in one package.
Lire aussi >> 15+ meilleurs anime de construction de royaume de tous les temps
9. Miss Kobayashi's Dragon Maid
Let me tell you this first: this show is on Crunchyroll but is not an actual Yuri anime. Yes, there is a girl (a dragon) who has one-sided love for another girl (human), but there's no romance. It is just a comedic element.
Well, later on in the show, they actually get close. But, even then, there is nothing romantic about it. However, that is exactly what makes this show special.
Kobayashi's Dragon Maid is a slice of life anime with hilarious characters and casual one sided Yuri events. The majority of the show is about Tohru trying to make Kobayashi fall in love with her.
10. Lycoris Recoil
This one deserves the number 1 spot on this list when it comes to its plot and characters. However, since the show is not explicitly a yuri anime, it is at the bottom.
You see, the story's main girls, Chisato and Takina, clearly have something more than friendship. I mean, they are way too close, and there's a whole lot of romantic subtext. However, neither of them confesses, nor do they even consider themselves romantic partners.
This is all because of the nature of the show. Lycoris Recoil is an action-packed series with a ton of mysteries and a somewhat serious plot. The girls belong to a secret organization that fights criminals from the shadows.
The series is all about the girls dealing with terrorist activities and fighting dangerous bad guys.
11. Birdie Wing
Crunchyroll's hit, Birdie Wing, is not your average Yuri anime. To be honest, it isn't even about Girls Love. It is about golfing. However, fans of the series sense some special bond between the two rivals of the show.
The main character, Eve, is an underground golfer. She is undefeated—that is, until she meets the golfing prodigy, Aoi. Aoi is a pure and innocent girl, raised in a perfect golfing environment.
She absolutely crushes Eve in golf, all the while wearing a warm smile. This is where they get interested in each other, promising to face off once again in the future.
That's it for this post! These are the 10+ best Yuri anime on Crunchyroll that you must definitely watch!