Grand Blue anime is all about crazy comical characters who just love to strip off their clothes. Ok, don't worry, it's not any adult anime, but they just do that for fun. Well, I can't make you understand unless you watch anime.
But I'm damn sure you will feel the same after watching the series, like it's the best comedy anime out there! I'm not going to lie!
And if you have already watched it, you must know how hilarious this anime is!
So instead of making you read more of its description, let's start with its character description, which will be fun to read!
And characters are not being ranked, so don't worry if your favorite characters are at the bottom of the list.
List of the most popular characters from Grand Blue anime and manga series:
Aina Takahashi
Shiori Kitahara
Ryuujirou Kotobuki
Shinji Tokita
Hajime Nojima
Shinichirou Yamamoto
Yuu Mitarai
Sayaka Kotegawa
Kudou
Aina Yoshiwara
Kouhei Imamura
Nanaka Kotegawa
Azusa Hamaoka
Chisa Kotegawa
Iori Kitahara
Recommended >> Best Non-ecchi Comedy Anime
15/15. Aina Takahashi
Aina has no appearance in the anime series, but she appears in the Grand Blue manga series as one of the supporting characters. She is a model and colleague of Yuichi Ikegoshi.
Aina is innocent and friendly by nature. She asked Iori Kitahara to show her around the side, as she was new to the place. But she was shocked to see Kouhei Imamura forcing Yuichi Ikegoshi to strip in front of everyone. She didn't know it wasn't new for this place.
14/15. Shiori Kitahara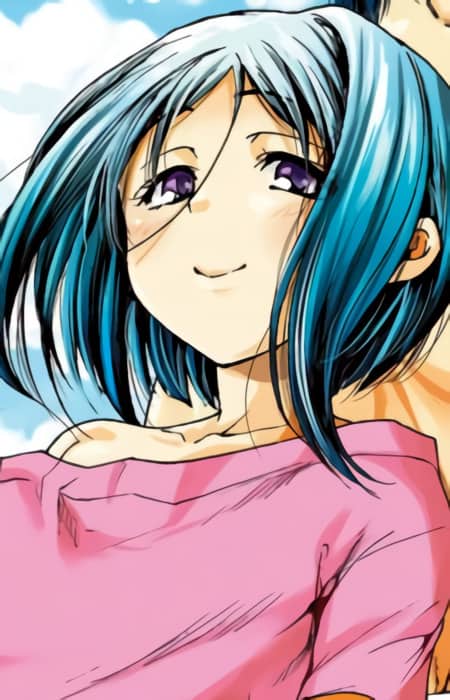 Shiori is the sister of Iori Kitahara and shares the same blue-colored hair traits with her elder brother. But don't be deceived by her innocent looks. She is quiet, cunning, and smart, and she is known for her manipulation skills.
Shiori has no appearance in the anime series, but she does in the manga. She appears in series for forcing Iori Kitahara to support family Inn because she doesn't wanted to do so.
But keeping aside her cunning yet absurd nature, she does show some traits like love and care towards her only brother. Although it only happens a few times in the series.
Recommended >> Don't Toy With Me Miss Nagatoro: A Review
13/15. Ryuujirou Kotobuki
Ryuujirou is a character who has a quiet, good appearance in the Grand Blue anime. He is often seen teasing Iori Kitahara and Kouhei Imamura for forcing them to strip off their clothes.
His appearance is quite bulky, by which I mean more muscular than that of Iori Kitahara and Kouhei. He also has spiky blonde hair.
In the whole series, you will see him as a troublesome side character. But when he is doing his job as a bartender, he becomes the quietest, most reliable, and coolest character amongst all.
As a bartender, he is loved by his customers because he is a very good listener and loves to help them by hearing their problems while serving their favorite drinks.
12/15. Shinji Tokita
Shinji is one of the supporting characters in the anime series. He is the one who gives a hard time to Iori Kitahara and Kouhei Imamura. He is the aggressive type when it comes to topics like partying and drinking absurd amounts of liquor.
Shinji is often shown to be forcing Iori Kitahara and Kouhei Imamura to drink and party.
But he is very serious about diving and wants to give his juniors unforgettable diving memories and see them having fun.
Recommended >> 10+ Funniest Gag Anime Of All Time
11/15. Hajime Nojima
One of the supporting characters in the Grand Blue series He is a first-year mechanical engineering student at Izu University and a classmate of Iori Kitahara and Kouhei Imamura.
Even though he is charming and handsome, he is still unable to attract any women. This is because of his lame and laughable personality.
10/15. Shinichirou Yamamoto
Shinichirou Yamamoto is one of the supporting characters from the anime series and a classmate of Iori Kitahara and Kouhei Imamura.
His only goal is to get a girlfriend, as he is a virgin and has always asked his friends for help finding him a girlfriend.
His appearance is quite bulky and not very muscular, but you can say he is fat. And yes, he also has lame and funny behavior, because of which he is obviously unable to find a girlfriend.
9/15. Yuu Mitarai
He is one of the handsomest characters in the Grand Blue anime (according to me). He is also a supporting character and classmate of Iori Kitahara and Kouhei Imamura.
But don't judge him by its innocent looks has he later on turn out be a Playboy and flirts with a lot women's in the series. He was also dumbed by his only girl childhood friend which is a lot fun to watch in one of epsiode in series.
8/15. Sayaka Kotegawa
She is the wife of Toshio Kotegawa and the mother of Nanaka Kotegawa and Chisa Kotegawa. As for her appearance, she looks rude, but she is actually straightforward and doesn't hold back on her words. She doesn't show any emotion on her face, but she is prone to acting physically in certain situations.
She is never seen without a lollipop in her mouth, and she is also the manager of Dolphin's Palau branch.
And surprisingly, she is more close to Iori Kitahara than her own daughters.
7/15. Kudou
Kudou is one of the most interesting characters from the Grand Blue anime. He is a boy with charming looks and is often known to be a womanizer. He was pranked by Iori Kitahara and Kouhei Imamura for treating Aina Yoshiwara lowly as she was also the ex-member of his club before he lived her by saying "she is of no use to her" and "She looks ungly".
But he never recognizes Aina Yoshiwara without the excess makeup on her face. Because of which he never know she was really cute without her excesses make up which hides her true facial appearances.
6/15. Aina Yoshiwara
One of main character from anime series. She is kind of annoying at first, but when her real face comes out (without makeup), she looks very cute. You can never imagine from start has her looks is hidden with over make up because of which she was bullied and critized from her own club members. But later on, she joined Iori Kitahara and Kouhei Imamura's diving club.
5/15. Kouhei Imamura
Kouhei Imamura is the most attractive male character in the Grand Blue anime. His only dream is to have a harem of his own. But reality hits hard, as it is not realistically possible to have a high school harem. Iori Kitahara uses this fact to get him into the diving club.
And they become good friends as the show progresses. However, they seem like rivals in anime, as they always seem to be fighting and arguing with each other.
He is the only otaku in the series who is very fond of 3D girls. And his voice acting skills are out of this world, so don't miss it in the anime; you will love it!
4/15. Nanaka Kotegawa
One of supporting character in the anime series but worth mentioning. She is characterized as a sexy woman in the whole series. She one of intrustor for diving club. But don't judge her by her gorgeous looks, she is in love with her little sister (Love means not sisterly love) yes you get it right.
Even though no one thought she was one of the most amazing characters in the series, she is lovable and charming at the same time.
3/15. Azusa Hamaoka
So here is my personal favorite character from Grand Blue. And why not? Women like her always rock! She is gorgeous, sexy, hot and boldest characters shown in the anime. She never shows any traits of a woman as she is so bold (she slept with naked guys sleeping around her in the same room), which literally shocked Iori and Kouhei.
Nevertheless, she is also in love with two people in her life: one is Nanaka, and the other is Shinji. And she also thinks that Iori is in love with Kouhei, which makes her feel closer to Iori.
2/15. Chisa Kotegawa
She is the main character of the anime and is assumed to be the love interest of Iori Kitahara, which is not officially shown in the anime. But of course, they are childhood friends.
Chisa is kind of like a tomboy; she doesn't care much about people around her, but sometimes she shows her emotions and love for diving.
Even though she looks arrogant most of the time, when she is diving, she becomes the cutest character in the series.
1/15. Iori Kitahara
Iori is the main character of Grand Blue. He is the funniest one in the anime, no doubt! He wanted to have a normal life, but things never go the way he thinks. From the start itself, he was annoyed by Shinji Tokita and Ryuujirou Kotobuki, who forced him to join their club and strip while drinking liquor, which at first he resisted but later went with the flow. Because of this incident, he was mistaken by Chisa for a creep.
Even though he was always shown to be selfish but he never fails to help his friends in need. And of course he has a very attractive body, which makes him one of the sexiest boys in the anime.
Conclusion
So that's all from my side! Who is your favorite character from anime? Do you like this anime? Do you think it's one of the best comedy shows out there?
Let me know in the comment section!