If you're a fan of action-packed anime series with a unique twist, "The Qwaser of Stigmata" is sure to capture your attention. This captivating anime follows the adventures of powerful individuals known as Qwasers, who possess the ability to control and manipulate specific elements. In this article, we'll guide you through the various platforms and sources where you can watch "The Qwaser of Stigmata" and delve into its intriguing storyline.
Seikon no Qwaser Plot
Before we go over the best ways to watch The Qwaser of Stigmata, let's brief the plot of the anime.
The show follows Tomo Yamanobe and her sister Mafuyu Oribe as they get caught up in a series of strange events after their father goes missing. Rumors of a serial killer targeting female students and a mysterious artwork called the "icon" add to the excitement.
During their journey, Tomo and Mafuyu meet a silver-haired boy named Alexander Nikolaevich "Sasha" Hell. They soon discover that Sasha is a qwaser, someone who can control elements by consuming soma obtained through breastfeeding. As danger approaches, Sasha uses his power over iron to protect them.
With other qwasers and academy mysteries unfolding, Tomo and Mafuyu's normal school life takes an unexpected turn. They must navigate this dangerous world, forming new friendships and confronting unknown challenges.
Join them on this thrilling and action-packed ride filled with suspense, surprising twists, and the power of friendship. Stay tuned for an unforgettable journey at Saint Mikhailov Academy!
Where To Watch The Qwaser of Stigmata?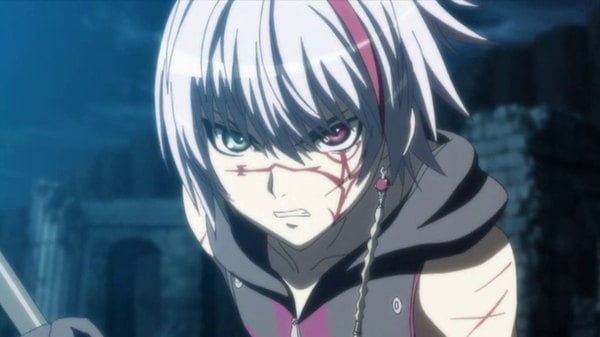 There are multiple options to watch Seikon no Qwaser anime series on the internet. You can choose to stream the show on certain OTT platforms like HiDive. Alternatively, you can also buy the Blu-Ray and watch it on TV. There is also an other option on watching it on pirate sites, but that does not support the creators, so I highly recommend using legal platforms.
Stream Seikon no Qwaser on OTT Platforms:
One of the most convenient ways to watch "The Qwaser of Stigmata" is through popular streaming platforms. Here are a few options to consider:
HiDive: With its vast library of anime content, HiDive is a great choice for fans of "Seikon no Qwaser." You can stream the series on this platform and dive into its action-packed episodes. At this moment, HiDive is the only streaming service where you can watch this extreme ecchi anime. If you are not a US resident, you might need a VPN to access the series on HiDive.
Buy The Qwaser of Stigmata Blu-Ray Online Retailers:
If you prefer to own physical copies or digital downloads of the anime series, you can explore various online retailers. Here are a couple of options to consider:
Амазонка: As one of the largest online retailers, Amazon offers a wide selection of anime DVDs and Blu-ray discs, including "Seikon no Qwaser." You can also find digital copies for purchase and download through Amazon Video.
Right Stuf Anime: A specialty retailer focused on anime and manga, Right Stuf Anime provides a platform to purchase "Seikon no Qwaser" in DVD or Blu-ray format. They also offer exclusive merchandise related to the series.
Other Sources To Watch Seikon no Qwaser:
In addition to streaming platforms and online retailers, there are a few alternative sources where you can watch "The Qwaser of Stigmata":
YouTube: Some users may upload episodes or clips of the series on YouTube. However, availability and video quality may vary, so it's important to check the legitimacy and reliability of the channels or uploads.
Fan Subbing Websites: Certain fan subbing websites may offer subbed versions of "Seikon no Qwaser" episodes. These sites are created by fans and may not have official licensing, so caution is advised when accessing content from these sources.
AppleTV: You can buy the ecchi anime's seasons on AppleTV and watch it at the comfort of your home. This option is only available to the US residents.
FAQs About Where To Watch "The Qwaser of Stigmata"
Вам также может понравиться: Где смотреть Redo Of Healer? (Кайфуку Дзюцуси но Яринаоши)
Заключение:
These are the best ways to watch "The Qwaser of Stigmata" series. It is an anime that combines action, supernatural elements, and an intriguing storyline. Whether you prefer streaming platforms like Crunchyroll and Funimation, online retailers like Amazon and Right Stuf Anime, or alternative sources like YouTube and fan subbing websites, there are several options available to watch this captivating series. So grab your popcorn, settle in, and immerse yourself in the thrilling world of "The Qwaser of Stigmata." Enjoy the adventure!
---
Статья понравилась? Поделитесь этим с вашими друзьями!
---