Kingdom is a top rated manga with tons of epic battles and political intrigue intertwine. It has been successfully adapted into anime and we have a total of four seasons so far in 2023. In this article, we'll take a look at the highly anticipated Kingdom Season 5. We'll look into its release date, intriguing plot details, and much more. Get ready for another thrilling journey in this captivating anime series.
The thrilling historical series, Kingdom, is making a triumphant return with Season 5. In 2024, this highly anticipated Chinese war saga will grace our screens once again.
But wait, there's more! We've got the inside scoop on the latest news surrounding the anime adaptation of this legendary, best-selling manga.
Curious to know what's in store for the upcoming premiere? Well, you're in luck! Keep reading to uncover all the exciting details we have on the series' highly awaited return. Get ready to embark on another epic adventure!
Kingdom Season 5 Overview
| | |
| --- | --- |
| Название сезона | Kingdom Season 5 |
| Жанр | Historical, Action, Military |
| Дата первоначального выпуска Redo Of Healer | July 4, 2012 |
| Kingdom Season 5 Release Date | January 2024 |
| Kingdom Season 5 Manga Chapters | Chapter 441 – 530 (Approx.) |
Kingdom Season 5 Release Date & Status
The highly anticipated fifth season of Kingdom is set to premiere in January 2024! We've got the scoop straight from the series' website, which announced the exciting sequel after Season 4.
As of May 2023, we're still waiting on an exact premiere date. But fear not! We'll keep you posted and update this article as soon as more information drops. So make sure to check back for all the latest updates!
Рекомендуем >> Обзор аниме: стоит ли смотреть аниме Kingdom?
Kingdom 5th Season Trailer Teaser
Hold onto your seats because the official Kingdom website also treated us to a super short trailer teaser and a fresh new visual for the upcoming season. While it does not have any scenes from the next season, we get to see an illustration of Kan Ki.
What Will Kingdom Season 5 Be About?
Get ready for an epic showdown in the 5th season of Kingdom! It's all about the Qin army battling the Zhao army for control of Koku You Hill.
In this intense clash, General Kan Ki takes charge as the commander-in-chief. And guess what? Shin and the Hi Shin Unit join as reinforcements, ready to fight alongside the Kan Ki Army.
What exciting battles await our heroes? Can they overcome the Zhao army and emerge victorious? Join Shin and the Hi Shin Unit as they give it their all in this thrilling war!
Which Studio Will Animate The New Season?
The next season of the historical anime series will be animated by Studio Signpost. This studio has been involved in the 3rd and 4th seasons of Kingdom and they will be taking care of the fifth season.
This is a relatively new studio that has only made 4 animes in total including the two seasons of Kingdom. However, we don't have to worry about the quality because it used to be a part of Studio Pierrot and was called Pierrot Plus.
Which Manga Chapters Will Be Covered In Kingdom Season 5?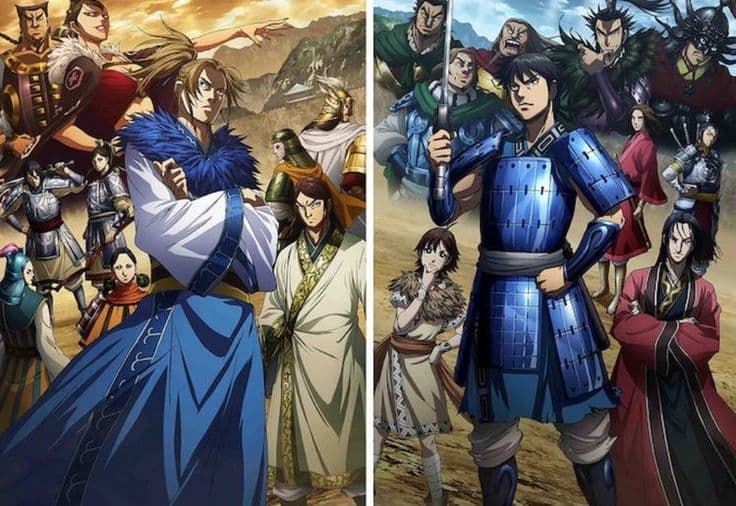 The season 4 of the anime ended with chapter 441 of the manga. Therefore, the new season will start from Chapter 441. Currently, in May 2023, there are a total of 757 chapters in the manga which is more than enough for another three seasons. Going by the amount of chapters adapted into anime for the previous seasons, we can assume that season 5 will be upto chapter 530. But, this is just an approximate number. We have not received any official news regarding the topic.
Kingdom Plot Recap
Yasuhisa Hara's Kingdom is an epic tale about brave warriors from the Chinese Warring States period.
At the center of the story is the ambitious king of Qin, Ying Zheng, who aims to conquer all the warring states and unite the vast country. Our protagonists, Xin and Piao, are orphans who work as servants in Qin but harbor dreams of becoming renowned war generals.
Their lives take a dramatic turn when Piao is mysteriously taken to the palace and returns in a near-death state months later. So, fueled by grief, Xin embarks on a journey to a neighboring village, where he encounters someone who bears an uncanny resemblance to Piao.
Through his encounters, Xin uncovers the truth: Piao became a body double for King Ying Zheng, sacrificing his own life in the process. Determined to seek justice, Xin resolves to aid Ying Zheng in his quest to claim the throne from his younger brother, Cheng Jiao.
With Ying Zheng eventually crowned king, Xin sets forth on his own path as a military man, embarking on a remarkable journey to become the renowned "Greatest General in the World."
Kingdom has garnered critical acclaim, with the manga ranking among Japan's most popular series, boasting over 90 million copies sold as of 2022. The manga has been serialized in Weekly Young Jump since 2006, with an impressive 66 volumes published to date.
Studio Pierrot brought life to the anime adaptation with their renowned work on beloved series like Bleach and Naruto.
So, dear readers, buckle up for an epic adventure filled with ambition, courage, and the pursuit of greatness in the captivating world of Kingdom!
Рекомендуем >> +10 удивительных цитат из аниме королевства
Where Can You Watch Kingdom Season 5?
All the previous seasons of Kingdom are available on Crunchyroll, Aniplus Asia, Bilibili Golobal, Aniplus TV, Laftel and Wakanim. So we can expect the fifth season to be available on the same streaming platforms.
Alternatively, you can always buy the Blu-ray edition and support the anime's creators directly.
We've still got a decent time for S5 to start airing, so why not rewatch the series and be ready to binge the next sequel?
---
Статья понравилась? Поделитесь этим с вашими друзьями!
---