"Hell's Paradise: Jigokuraku" manga series that is popular in the dark fantasy genre. This manga is Yuji Kaku's (mangaka) masterpiece. It tells the story of Gabimaru, a talented ninja who has been given the death penalty for his crimes. The shougun sends all the criminals, including Gabimaru, to a scary island filled with poisonous plants and terrifying creatures to find an immortality elixir. Betrayal, violence, gore, and an epic story are some of the key elements of this anime. In this article, I will be counting down the best anime like Hell's Paradise.
This all-around action anime has nuanced characters with their own horrific pasts. Hell's Paradise: Jigokuraku" story is filled with intense battles and an engaging storyline. The main enemy isn't the island environment but the seven supreme beings known as 'Tensen," with godly powers and regenerative abilities. That's why I made this list of the best anime similar to Jigokuraku.
List of anime like Hell's Paradise Jigokuraku
10. Claymore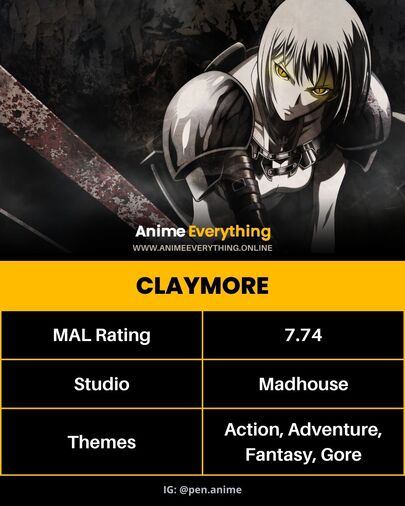 Жанр:  Action, Adventure, Super Power, Demons
Эпизоды: 26 Episodes | 1 Season
Что делает его интересным:
Claymore is a revenge themed anime that is set in a fantasy world where beasts live among society, disguising themselves as humans. However, they are not peaceful creatures. They crave blood of the humans.
A special group of female members who are half-Yoma and half-human has been created to get rid of these monsters known as 'Yoma'. They are called the "Claymore." The group's mission is to track down and hunt these monsters. The anime shows themes like darkness, beasts, bloody battles, violence, and gore. Viewers who like thrilling action will like this anime.
Why it's like Hell's Paradise:
Like in Hell Paradise: Jigkokuraku, we will see multiple characters on a journey to slay monsters. Both anime's stories are set in a fantasy world with teamwork and monster elements. Claymore has the same epic gore fight scenes like in hell's Paradise and provides us with an appropriate ending. Not to mention, each anime contains the concept of supernatural beings.
9. Dororo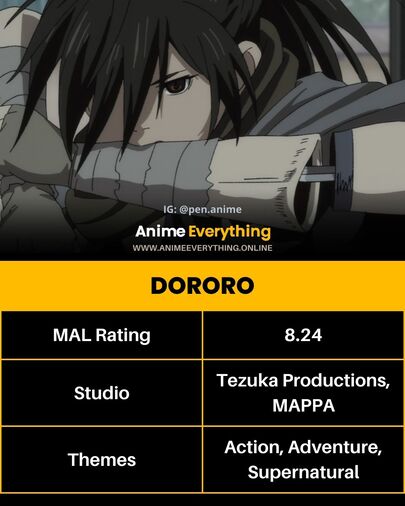 Жанр: Historical, Sword Fight, Action, Adventure
Эпизоды: 24 Episodes | 1 Season
Что делает его интересным:
Dororo's story starts with Hyakkimaru, who is on a journey to kill demons and recover his body parts. At the time of his birth, the demons took all his body parts in return for the growth and prosperity of the land. As he moves further in his quest, he meets a companion named 'Dororo'. He assists Hyakkimaru on his adventure in several ways. Throughout the journey, we will see numerous battles and characters.
Why it is an anime like Hell's Paradise:
In the same sense that Hell's Paradise follows the storyline of Gabimaru, this anime also follows the journey of Hyakkimaru. Both the characters are experts at fighting and vanquishing monsters. We will see his character growth and how he adapts to the new environment after recovering his body parts.
8. Jujutsu Kaisen
Жанр: Shonen, Action, Fantasy, Powers
Эпизоды: 24 Episodes | 1 Season
Что делает его интересным:
Jujutsu Kaisen story is set in a world where powerful sorcerers kill evil curses. There are nuanced characters beside the main character, named Itadori. The story shows jujutsu users clearing the world from curses, epic showcases of abilities, and some fine looking characters. The plot is quite deep and captivating. There is also a movie named 'Jujutsu Kaisen Zero'.
Why it's like Hell's Paradise:
Both anime include topics such as violence, murder, and betrayal. Unexpected plot twists keep the audience on the edge of their seats. The characters of both 'Jujutsu Kaisen' and 'Hell Paradise' are different and well-developed, each with their own talents and personalities.
Рекомендуем >> Anime Like Jujutsu Kaisen – 13+ Anime Similar To Jujutsu Kaisen
7. Пожиратель душ
Жанр: Comedy, Action, Supernatural, Shonen
Эпизоды: 51 Episodes | 1 Season
Что делает его интересным:
Soul Eater tells the story of three groups of Meisters and their Death Schythes, who protect the world. They battle deadly creatures and cursed witches that plot destruction. The story is set in a fantasy world where the Grim Reaper himself established a Death Weapon Academy. The students learn to become Meisters to wield the living weapons called 'Death Scythes'. This anime isn't for everyone, but if you want to see something different, check it out.
Why it is an anime like Hell's Paradise:
"Soul Eater" and "Hell's Paradise: Jigokuraku" both have the same supernatural theme. We will see a wide range of characters in both animes each with their own abilities. The anime also hooks the audience with its distinctive animation and by providing fun battle sequences. Each anime is set in a fictional or fantasy world.
6. Chainsaw Man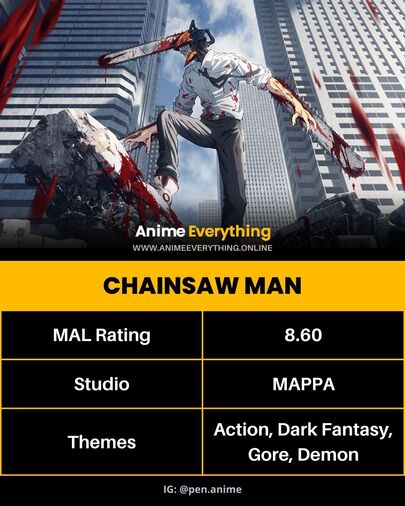 Жанр: Shonen, Action, Adventure, Demon
Эпизоды: 12 Episodes | 1 Season
Что делает его интересным:
The Chainsaw Man story starts with Denji, who gets caught up in the world of devils and humans with special abilities after making a contract with a chainsaw devil. The story is extremely deep, with surprising plot twists and some over the top action sequences. There is also a good amount of fan service. Besides Denji, there are several other characters with badass powers who are in the same devil slaying business. Manga readers know how exciting the story will be in the second season.
Why it's like Hell's Paradise:
Chainsaw Man and Hell's Paradise are similar in a variety of ways. Each anime has the same concept of killing otherworldly beings. There are different characters with different abilities. The story is also a bit complex, as the main villain is different from what we see in the first few episodes. The story will keep you thrilled and wanting more action sequences.
Рекомендуем >> 13 Best Anime Like Chainsaw Man You MUST Watch!
5. Kabaneri of the Iron Fortress
Жанр: Action, Fantasy, Horror, Supernatural
Эпизоды: 12 Episodes | 1 Season
Что делает его интересным:
Explosive action sequences and a unique aesthetic are features of this anime with steampunk influences. The Kabane are a terrifying and potent enemy, and the survivors' battle for survival is fascinating and compelling. In this post-apocalyptic steampunk animation, a group of survivors search for safety and a place to call home. We will see the fights happening on a moving train with machinery weapons.
Why it is an anime like Hell's Paradise:
Both anime contain a survival element. The characters are in a state of survival, surviving the harsh environment and monsters. Team battles are also there in Kabaneri, just like in Hell's Paradise. Some may say that it also has the shinobi element. The battles are fast and violent.
4. Akame Ga Kill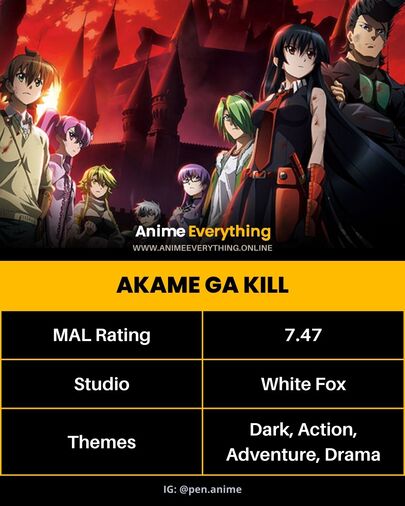 Жанр: Dark, Action, Adventure, Drama
Эпизоды: 24 Episodes | 1 Season
Что делает его интересным:
Akame Ga Kill's narrative is dark and sorrowful. There is a group called 'Night Raid," which fights against the crimes and partiality of the kingdom. The main character ends up joining the group and making his way through the ranks, assisting the other members. The characters are unique, with their own storylines. It's like in a single anime, we will see multiple tragic storylines.
Why it's like Hell's Paradise:
Akame ga Kill also has vicious criminals, just like in Hell Paradise. Every fight will showcase a different weapon and different tactics. Slight fan service is present in both anime. Some great battles and sorrowful deaths also exist in Akame ga Kill. This may not be your first choice to watch, but it will likely satisfy fans of this genre.
3. Tokyo Ghoul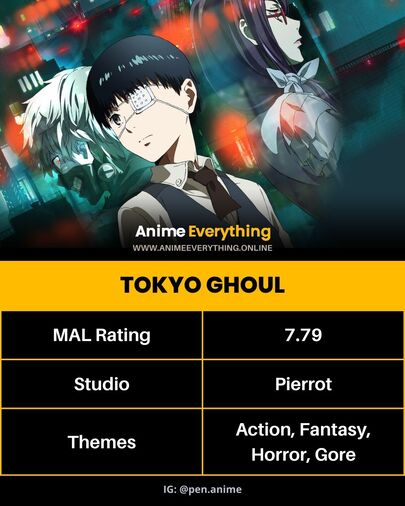 Жанр: Shonen, Horror, Supernatural, Action
Эпизоды: 48 Episodes | 4 Seasons
Что делает его интересным:
The Tokyo Ghoul story opens with Kaneki, who hates ghouls (normal looking creatures who survive by eating human flesh) and ends up becoming one. After that, Kaneki, who is now a half-ghoul, finds out that the ghoul world is filled with danger and political intrigue. Later, he gets caught up in between ghoul factions; some are good, and some just see humans as food. Throughout the series, Ken must use his new abilities to save his loved ones and solve the conflicts between ghouls and humans.
Why it is an anime like Hell's Paradise:
Both 'Tokyo Ghoul' and 'Hell Paradise' contain the same theme of violence and blood. They both explore themes like the human nature of survival, violence, and struggling for survival. The presence of elements like blood, redemption, love, and protection makes it a must see. Flesh eating, monster-slaying, and intense battle are also similarities between these two anime.
2. Basilisk: The Ouka Ninja Scrolls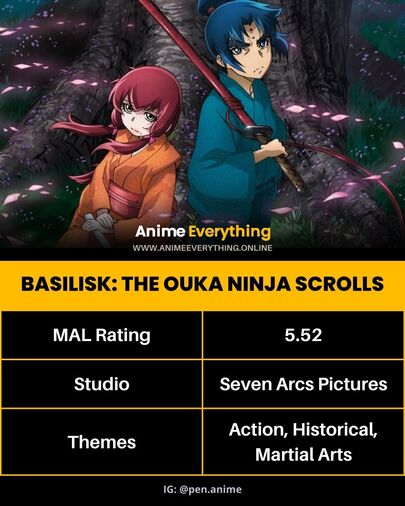 Жанр: Ninja, Historical, Action, Martial Arts
Эпизоды: 24 Episodes | 1 Season
Что делает его интересным:
The Basilisk anime is based on the novel written by Futaro Yamada. The anime shows the violence, fighting style, and sorrowful romance between shinobi characters. Two well-known clans are made to engage in fight to-the-death battles to decide who will succeed the shogun. The Ouka Ninja Scrolls is famous for its intense fights and thrilling duels. However, it is also known for its sad romance.
Why it's like Hell's Paradise:
'Hell Paradise' and 'Basilisk' storylines take place in a historical fantasy world. Each anime has skilled ninja characters. They also contain a wide range of characters, each with their own abilities and skillset. A considerable common element is that they both explore the themes of betrayal, revenge, and loyalty. Each anime includes some blood-related gore scenes that are only recommended for an adult audience. Viewers can expect to feel hyped while watching Basilisk: The Kouga Ninja Scrolls.
1. Атака Титана
Жанр: Action, Shonen, Adventure, Mystery, Super Power
Эпизоды: 88 Episodes | 4 Seasons (Ongoing)
Что делает его интересным:
Almost everyone knows about Attack on Titan. The anime is highly popular because of its stunning battle scenes, wide range of cast, and deep and complex storyline. Briefly, there is an island called 'Paradise' where there is the concept that all humanity is gone and they are the last survivors, and титаны are present outside the island.
Meanwhile, the main objective of the characters is to save the population by killing titans and unfolding mysteries about the world. Where do titans come from? The final episode of this anime will air sometime in 2023.
Why it is an anime like Hell's Paradise:
Both anime's protagonists share a sorrowful past. Another common element is that both anime dive into the concept of difficult decisions and moral questions. Finally, both anime show delightful beast battles and considerable world-building. The anime also includes a full-on, detailed history of the location. The concept of beasts and fantasy powers is present as well.