Every anime fan looks forward to playing the respective anime games of their favorite series. While most of these games are available on Nintendo, you can find some quality ones on Android too. 
We have recently seen an upsurge in quality Android anime games that have not only created a decent buzz but also lived up to their potential. So, without any further delays, let us take a look at the top 10 android anime games that you should definitely try.
10. Shin Megami Tensei
The first android anime game that we have on our list is Shin Megami Tensei. It has got above average ratings from users and gives you a great gaming experience. In this game, you play as the Devil Download, or Dx2, who can summon and control demons. 
It is a role playing game where you will be a part of the Liberators and vanquish the evil Dx2s. The 3D graphics are one of the best features of this game, along with the use of around 160 demons that can also be fused.
9. Naruto x Boruto Ninja Voltage
It would have been a shame if one of the most popular anime franchises ever did not have an android anime game. The Naruto World brings to you an awesome gaming experience in the form of Naruto x Boruto Ninja Voltage. If you are familiar with "Clash of Clans," you will have an easier time understanding the Naruto game's mechanics.
È un fortress strategy based game where you have to build your village, collect resources, and hold off enemy attacks. In turn, you can attack enemy ninja villages too and earn healthy rewards. The best part of this game is the similarities that you find with the original anime, like ninjutsu attacks.
8. Saint Seiya Cosmo Fantasy
This android anime game was created by the same company that created the Naruto game. Thus, you can expect that your gaming experience will be smooth and interactive. OG fans will remember a series called Caballeros del Zodiac that aired in the 90s. 
This game is based on that anime and brings you an gioco di ruolo where you can collect around 300 saints and fight with them. Furthermore, you can transform your characters during a battle, which gives them an additional boost and helps you win your match-ups easily.
7. Sword Art Online
The android anime game Sword Art Online is pretty simple in terms of its concept. Whatever you see in the anime, you get to experience it this time in the form of a game. In this RPG, you are trapped in Aincrad and you need to clear all the floors in order to get yourself out. 
There is also a special co-op feature whereby you can take on powerful bosses with other players and earn handsome rewards. This will, in turn, help you to level up your character and clear the floors faster.
---
Correlati >> Best Local Multiplayer Anime Games For PC
---
6. Bleach Brave Souls
Bleach Brave Souls brings you a classic gacha game where you can role play as various characters from Bleach. We are well aware of the diversity in the Bleach universe, meaning that there will be tons of characters you can collect and level up. 
This is by far the best thing about this android anime game, aside from the co-op feature whereby you can play with your friends and go on missions together. The story line is decent, and you definitely need to give more power-ups to your characters as you progress further in the game.
5. Azur Lane
Azur Lane was one of the standout anime in Fall 2019, with the game having been announced one year prior to its release. Similar to Bleach Brave Souls, this is also a mobile-based gacha gioco di ruolo where you can collect different characters from the storyline of the anime. The game has been widely received with compliments from the fans, allowing it to earn a high rating. 
This 2D shooting game focuses on tactics e strategy, as you will have to think long and hard in order to destroy the enemy fleets. Each warship has unique features, and you need to combine them perfectly while keeping the synergies in mind if you want to achieve total domination of your opponents.
4. Dragon Ball Legends
The Dragon Ball franchise has been in the mix for a long time, and it comes as no surprise that it also has an android anime game. The graphics of this game are mind blowing, which makes your experience of playing this game very enjoyable. 
Until now, you have only seen your favorite characters fight in the story of sfera del drago. But this game allows you to control those very same characters and get yourself involved in thrilling fights. Make sure to rack up those combos in battles with stunning visuals that you have never seen before.
---
Correlati >> I migliori giochi di combattimento anime multiplayer
---
3. Yu Gi Oh Duel Links
When it comes to card games, Yu Gi Oh is by far the most unique and innovative one. Since the plot of this anime is also based around this concept, fans knew that they would get a top-notch Yu Gi Oh android anime game sooner or later. 
This is your cue to become the best duelist in the world by creating a powerful and balanced deck. Take on avversari in head-on battles and prove your worth by destroying them with your superior cards and strategy. The game does a great job of explaining each of the types of cards and how to play the game, which makes your job a lot easier.
2. Honkai Impact 3rd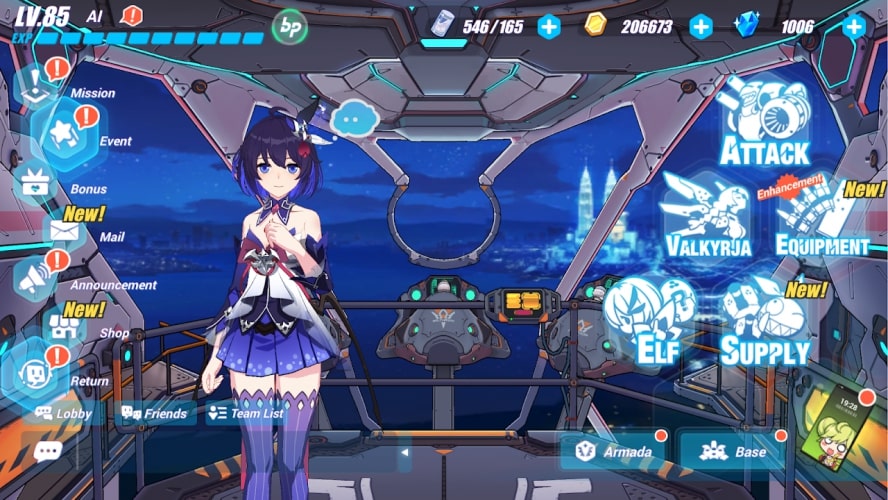 When it comes to the creation of gioco di ruolo android anime games, there are very few companies that can match the quality of miHoYo. Hontai Impact brings you an action packed game with amazing visuals as you take charge of a flying battleship. 
You will be in charge of various valkyries that you can collect and level up as you want. Your main job will be to protect humanity by fighting against Honkai using those same valkyries. Honkai Impact would have been the best anime android game ever created if not for the latest new android game with which miHoYo completely outdid themselves.
1. Genshin Impact
Everyone knows that Genshin Impact is the latest craze in the anime world. People who have never played android anime games before are also getting crazy over Genshin Impact. This game is heavily anime influenced and even has anime voice actors that have voiced the game's characters. Such is the quality of this game that it is also seeing some downsides, like children spending a lot of money on it. It is essentially a gacha based game where you pull different characters from banners and make a team of four. 
You need these characters in order to explore the storyline of Genshin Impact. That is without a doubt the best thing about it. You can also collect materials from this open world game and use them to subsequently level up your characters.