Good news, folks! The World's Finest Assassin Season 2 has been confirmed. The action-packed Isekai anime became an instant hit among fans for its unique themes.
At the Sneaker Bunko 35th Anniversary Festa! event in September 2023, the producers announced that the second season has been greenlit.
The exact release date has not yet been announced, but that's why I'm here. I'll be predicting the release date, talking about the plot and light novel source, etc.
So without further ado, let's jump into the topic!
The World's Finest Assassin Season 2 Overview
| | |
| --- | --- |
| Nombre de la Temporada | El mejor asesino del mundo se reencarna en otro mundo como un aristócrata |
| Número de temporada | Temporada 2 |
| Género | Action, Isekai, Romance |
| Fecha de lanzamiento inicial | October 6, 2021 |
| Sekai Saikou no Ansatsusha Season 2 Renewal Status | Confirmado |
| Sekai Saikou no Ansatsusha Temporada 2 Fecha de lanzamiento | Que se anunciará |
| Sekai Saikou no Ansatsusha Volúmenes de novela ligera de la temporada 2 | Volumen 2 y más allá |
The World's Finest Assassin Season 2 Release Date & Renewal Status
Sekai Saikou no Ansatsusha's second season is in production as we speak! The producers and involved companies have officially announced this news on September 2023.
Normally, studios take 1-2 years to produce the sequel after the announcement. So, I estimate that we will see World's Finest Assassin season 2 sometime around late 2024 or early 2025. This is an educated guess based on my experience with the anime release speculations.
The exact release date has not been officially announced. I'll keep this page updated whenever new announcements are made.
In the meantime, keep an eye out on the sitio web oficial for more information.
Is There Enough Source Material For Sekai Saikou no Ansatsusha 2?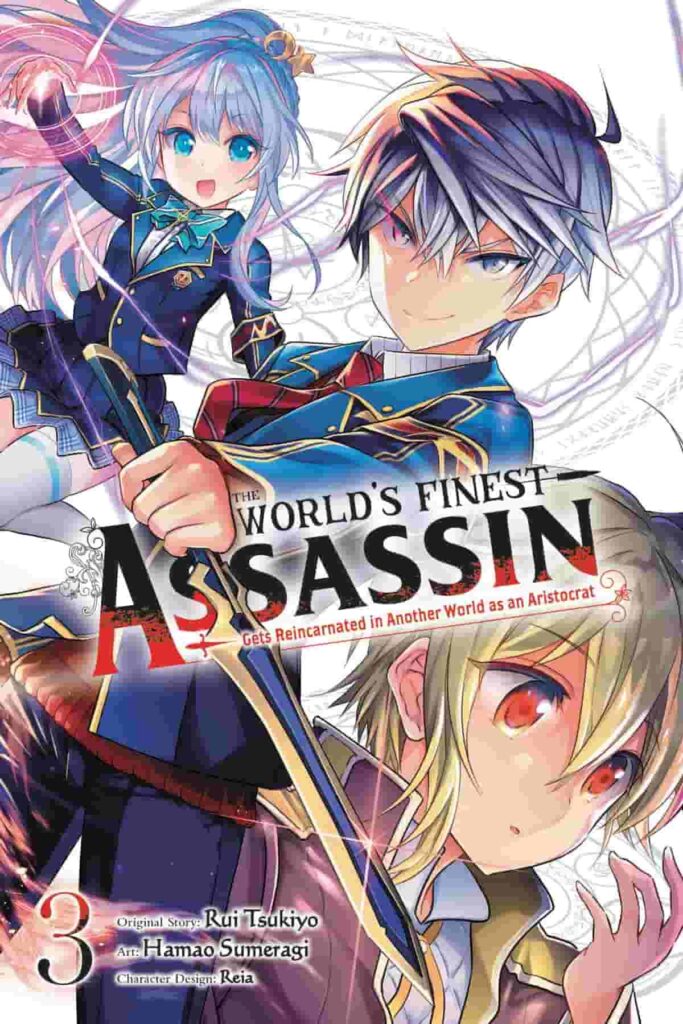 The World's Finest Assassin anime is based on a light novel with seven volumes as of November 2023.
The light novel is ongoing, authored by Rui Tsukiyo (Redo of Healer) with the seventh volume published in Japan on July 29, 2022.
Volume 8 release date is unconfirmed but is expected in December 2023.
After the anime's first season, you can start reading from light novel volume 2. Season 1 only covered one volume because the anime had several original story events.
A hypothetical Season 2 could likely cover Volumes 2 to 3, providing content for two more seasons in the future.
Entonces, there is more than enough source material for season 2 of The World's Finest Assassin.
What Will Happen In The World's Finest Assassin Season 2?
The upcoming season of Saikou no Ansatsusha will be centered around the "Hero." It will start with Lugh and the Hero Epona's relationship.
Lugh and friends join an academy in Epona's homeland, Alvan. Despite Lugh's initial goal, there's a chance he can prevent Epona from turning evil.
Lugh seeks to live life on his terms. He does not want to assassinate the Hero just because the goddess asked him to.
Lea también >> In Another World With My Smartphone Season 3: Release Date, Plot & More!
Which Studio Will Animate Sekai Saikou no Ansatsusha 2?
The first season was the combined effort of SILVER LINK. y Studio Palette. Both the animation companies did a good job, but I believe only one of them will work on the sequel.
This has happened time and time again in the anime industry. Among the above studios, Silver Link is the most popular. Meanwhile, Studio Palette is a brand new studio with only 5 years of experience.
I'll be happy if Silver Link handles season 2 of The World's Finest Assassin. However, we don't have any official announcements regarding the studio yet.
Sekai Saikou no Ansatsusha 2 Cast & Characters
| | |
| --- | --- |
| Caracteres | Actores de doblaje japoneses |
| Lugh Tuatha Dé | Kenji Akabane |
| Dia Viekone | Reina Ueda |
| Maha | Shino Shimoji |
| Tarte | Yuuki Takada |
| Diosa | Yukari Tamura |
| Esri | Chiaki Takahashi |
Where Can I Watch World's Finest Assassin Season 2?
Despite being a hit Isekai anime, the show is only available on Crunchyroll. This is most likely because they have exclusive rights to the series' distribution.
Regardless, season 2 of Sekai Saikou no Ansatsusha will definitely be updated on Crunchyroll. There is also a chance that new OTT platforms like Ani-One Asia might get the rights to distribute the new season.
Once again, there is no official news about the streaming platforms as of now.
But if I could be sure about one thing, it is Blu-ray. Once the second season finishes airing, the episodes will be released as a Blu-ray set. You can purchase them from Blu-ray.com, Amazon, eBay, etc.
Resumen
Season 2 of The World's Finest Assassin is confirmed. The official news was announced in September 2023. Considering production time and the studio's schedule, I estimate a 2025 release. In the best case, we might get it around October 2024.
The first season only covered one volume of the light novel. There are a total of seven volumes so far, providing enough source material for a sequel.
Therefore, the second season of Sekai Saikou no Ansatsusha will continue the story with volume 2 and possibly adapt until the end of volume 3.