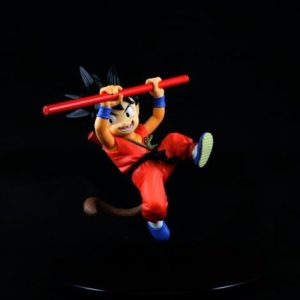 Even to the most dedicated Otaku, collecting Anime Figures & Statues can seem daunting to the uninitiated. That is why the team at The Grand Line USA want to share as much info with you as possible. So if you are thinking about starting a new collection, you know exactly how it works!
What is an Anime Figure?
This might seem like an obvious answer (and it probably is). However, this information is extremely important to understand when you go to look for the perfect figure for yourself. A figure is a 3D model representation of a character from an Anime or any other form of media. These figures can be made with several kinds of materials such as various plastics and resins. Whatever the figure is made of, manufacturers spend countless hours making sure the figure is up to standards. Each figure can go through several prototypes to make sure the figure represents a character accurately and is without flaw. As you can guess, an Anime figure is a visually accurate representation of your favorite Anime character!
Types of Anime Figures
Now that you know exactly what an anime figure is, it is equally key to understand the types of Figures on the market. The Most common types of Figures you will find while searching for your first piece will be; prize figures, scale figures, and figmas. Each of these types of figures are different and unique in their own way. Understanding their differences will help you better choose the perfect figure for you!
Prize Figures
Prize figures are generally on the lower end of costs when it comes to buying Figures. They are generally made of PVC plastic and stand roughly between 5-10 inches tall. These figures are called Prize Figures because they are often given away as prizes in Japan. These figures will generally run you around $30 USD and will not hurt your wallet too much. Although these are not made to an exact scale, most of them look fantastic and are perfect for displaying on a shelf or desk! Perhaps the most notable brand that makes these is Bandai, which is a brand you can trust to make quality Prize Figures.
Scale Figures
Scale figures are exactly what they sound like, an exact scale figure model of an Anime character. These are generally more expensive than Prize figures as these are given much more attention to detail. The bigger the scale, the more expensive they will be as well. For example, this Giyu Tomioka Scale figure is a 1:8 scale figure of the renowned Hashira from Demon Slayer. The figure is approximately 1/8 the size of what he would be in real life! At The Grand Line USA, this figure would run you $149.99 USD, which is considerably more than our Prize Figures. However, it is significantly larger and nicer. Just like the Prize figures, Scale figures are generally made with PVC. They can have movable parts but are usually a solid piece of plastic.
Figma Figures
Figmas are usually shorter than Prize figures and come with several interchangeable parts and accessories. If your most beloved Anime character wields a deadly weapon, a figma will surely come with it! These figures are also highly articulated so you can pose it into any action stance you can think of. These are usually a little more expensive than Prize figures but generally do not get as expensive as scale figures. These are perfect for recreating your favorite battle sequences from your beloved Anime. Some even include a base to set it on in case the pose you make has the figure "in the air." These might seem like action figures you played with when you were a kid, but The Grand Line USA does not recommend giving these to young kids. They are pricey and they usually contain small parts that can be choked on.
There are many other kinds of figures you can add to your collection. But the ones above are probably the most common ones you will see on the market. Other types of figures include Nendoroid figures which have been gaining a huge following recently. These are smaller figures with cute, kawaii faces that have several points of articulation to pose to your liking. Action Vinyls are gaining popularity as well. These are small, posable figures made of vinyl. They can also come with accessories depending on which franchise you are looking at.
Set Sail on The Grand Line!
Now that you know the essentials to collecting Anime figures, don't you think it is time to start your own set? The Grand Line USA is at your service! We aim to bring you the HOTTEST & NEWEST in the Anime figure world! We have a brick-and-mortar store located in Los Angeles county, so if you are local, feel free to come in! Also, we have been working day in and day out to bring you a fast, friendly, and easy-to-use website. We want you to find the perfect figure with ease! We also want to make you a loyal customer because that is the cornerstone of any successful business, making lasting relationships!
If you find something on our site you just NEED, then make an account with us. This will give you access to a first-time coupon code for 15% off your first order with us. The code is "NEWGRAND", and you can enter it on checkout. However, you need to make an account with us first to use the code so be sure to do that! We want you to have the best experience while looking for additions to your Anime collection! So be sure to put your faith in us and we will guarantee this. You can find our store website at:
If you have any other questions, concerns, or recommendations for us, shoot us an email at:
We hope that after reading this vital bit of information, you decide to choose us AND ONLY US when you go to make that gorgeous Anime collection of yours. So Unleash the Weeb and Set Sail at The Grand Line USA!