Beyblades are still as popular as they have ever been. It is always exciting to battle with your friends to find out whose Beyblade is better. However, a Beyblade is only as good as its launcher, so it is important to have the right launcher.
There are different models of Beyblade launchers on the market, which means a wide variety of styles to choose from. This makes it quite challenging for you to choose which one is the right choice. In this buying guide, we will start by taking a look at some of the features to consider before you purchase a Beyblade launcher.
A BUYING GUIDE FOR THE BEST BEYBLADE LAUNCHERS
Type of Launcher
The important thing to consider is the type of launcher. There are typically two types of Beyblade launchers: the Ripcord launcher and the String launcher. Ripcord launchers work by pulling on a ripcord, while String launchers work by pulling a pull string.
String launchers are usually recommended because they are very effective. They generate more power and launch the Beyblades smoothly. However, many people also prefer to use Ripcord launchers.
You must ensure that the type of launcher you choose is compatible with your top. Also, make sure that your top spins in the same direction as the launcher. Some launchers spin from the left or right, while others spin in both directions.
Grip
The grip is an essential feature because it determines if you will be able to launch your Beyblade properly into the stadium. When you hold the Beyblade launcher in your hand, it must fit properly and be easy to grip. If it does not feel comfortable, it can cause the launch to be inaccurate and the Beyblade to fall outside the stadium.
Launchers with good grips give you more control over your launch. They also allow you to be able to perform several tricks and shots.
Material
Most Beyblade launchers are made of plastic. Although there are a few metal launchers, they are very hard to find and quite expensive. They are also heavy and can be hard to operate. Plastic launchers are readily available, well-built, and durable.
Using a plastic Beyblade launcher is also very easy as they are usually lightweight. Plastic ripcord and string launchers have smooth and powerful launches that make battles fun.
Recomendado >> Los 8 mejores estadios de Beyblade: Guía de compra de sets de estadios
REVIEWS OF THE TOP 5 BEST BEYBLADE LAUNCHERS
BEYBLADE Burst QuadDrive Cyclone Fury String Launcher
This Beyblade launcher is the first 4-in-1 Beyblade top. You can configure each of the Beyblade tops in four different ways. These give you four ways to strategize, customize, battle, and defeat your opponent. The launcher design allows you to launch your Beyblade quickly without having to insert a ripcord every time. You can simply move the launcher's switch to change the spin mode from left to right.
It also provides an energy-efficient, high-performance drive to your Beyblade when launched, making it quite fast and having a competitive power streak. The grip of the launcher is strong enough to ensure that your hands remain calm and steady during battle.
ventajas
Powerful launcher.
Great grip.
Durable and well-built.
Contras
TAKARA TOMY Beyblade B-94 Beyblade Burst Digital Sword Launcher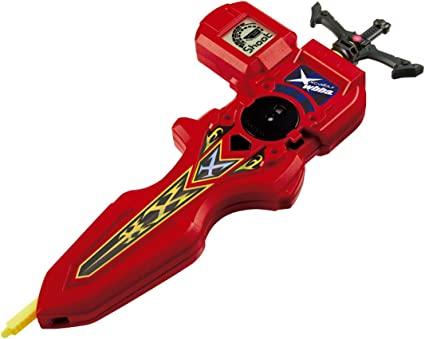 This is a good pick for those who are looking for a high-quality launcher. It is a universal launcher that is compatible with both left-rotating and right-rotating Beyblades. The launcher has a smooth rip that provides a hard launch for your Beyblade.
Its best feature is the digital meter that calculates the power of the launch. The launcher looks cool, is well-built, and is very powerful.
ventajas
Fast and powerful launch.
Cool design.
Has a digital meter.
Contras
Only works for certain Beyblades.
BEYBLADE Burst Supergrip Launcher Assortment
The Beyblade Burst Supergrip Launcher is an excellent launcher for use with the Beyblade Burst Beystadium and Beyblade Burst tops. However, they are all sold separately. It is designed for both left-handed and right-handed players. Players can also connect another top to provide a double launch.
This launcher has a large grip area and a long ripcord to provide more grip and launching power. It makes battles more exciting and thrilling as it can burst your opponent's top into pieces.
ventajas
High-quality and durable.
Has different configurations including left and right handed.
Can launch two tops at the same time.
Contras
Beyblade burst Beystadium and tops are sold separately.
TAKARA TOMY Beyblade B-124 Long Bey Launcher L Set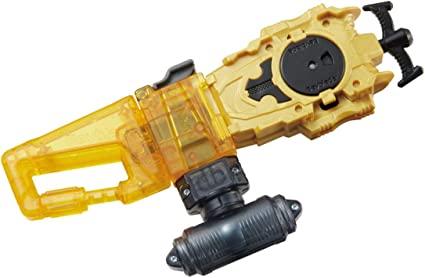 This is a great choice for kids who need a deadly Beyblade launcher for their battles. Despite its simple design, it launches the Beyblade fast and effectively. It is easy to handle, very accurate, and quite powerful.
However, the launcher is specifically for left spinning Beyblades. Although the launcher can be difficult for beginners to understand, it is definitely worth learning how to use. This is because the launcher will help to improve your battles.
ventajas
Simple and effective design.
Good quality, strong and durable.
Provides powerful and more accurate launch.
Contras
Designed for only left spinning Beyblades.
BEYBLADE E3630 Burst Turbo Slingshock Precision Strike Launcher
The simple rip sequence of this launcher will provide you with an exciting and thrilling battle in the beystadium. It is trigger-activated, which means there is no need for any complex technique. You simply have to pull the trigger to launch your Beyblade more precisely.
Another great feature of this launcher is the fact that it is compatible with left and right tops. So you can use any of your Beyblades with this launcher and still enjoy a great battle.
ventajas
Easy to operate.
Very accurate.
Compatible with left and right spin tops.
Contras
Spins slower than other launchers.
Conclusión
Buying the best Beyblade launcher is not as difficult as you might think. All you have to do is know the features to consider. They are available in different shapes and sizes. However, you must ensure that the launcher is compatible with your top.
You must also decide whether to get a ripcord or string launcher, and it depends on which one you prefer. By the end of this buying guide, you should be able to choose the best launcher for your needs.