Are you a fan of harem, rom-com anime like We Never Learn: Bokuben? If you're looking for more anime like that, here is a listing of anime that are very similar to Bokuben. Without any further ado, let's dive into the listing!
We never learn: Bokuben is a classic romantic comedy anime that features a dozen of amazing waifus, who end getting tutored by our main protagonist, even though they are geniuses in their own field.
The story of this show is about how he gets close to each one of the girls while tutoring them. As usual, the girls know that they love him, but the MC is completely oblivious to their feelings.
If you dig watching anime with this kind of story, then you are going to love this list.
Top 10 Anime Similar To Bokuben: We Never Learn
In this section I will be listing down 10 of the best anime that have similar plot points like Bokuben.
Some of them have the same tutoring theme, or similar harem setting. Either way, these anime have a plot closest to We never learn in terms of similarities.
Maestro otaku definitivo
Monthly Girls' Nozaki-kun
Kaguya-sama: El amor es guerra
Love Flops
Shomin Sample
Mi comedia romántica juvenil está mal, como esperaba
ORESUKI
Nisekoi – False Love
Sakurasou no Pet na Kanojo (La mascota de Sakurasou)
Los quintillizos por excelencia
10/10. Ultimate Otaku Teacher

Si te gustó la parte de enseñanza de Nunca aprendemos, entonces aquí hay un anime que se enfoca únicamente en enseñar.
The Ultimate Otaku Teacher, as the name suggests is an anime sobre otakus who is a teacher. He also happens to be a genius physicist. With his unique style of teaching he helps his students to learn various things outside of academics. Long story short, this is an anime about an Otaku giving life advice to students.
¿Qué es parecido?
Ambos protagonistas son profesores/tutores.
9/10. Monthly Girls' Nozaki-kun
Nozaki-kun de Monthly Girls es increíble anime de comedia romantica sobre una chica alegre, Sakura Chiyo, que está enamorada de Umetarou Nozaki. Cuando finalmente reúne el coraje para confesarle su amor, Nozaki le entrega su autógrafo. Resulta que pensó que ella era fanática de su manga Shoujo. Luego, Chiyo de alguna manera termina convirtiéndose en su asistente de manga y descubre los lados lindos y divertidos de Nozaki.
How is this anime similar to Bokuben: We Never Learn?
Tanto el anime tiene genios que sobresalen en un campo, pero son novatos en todos los demás campos. Nozaki es un genio cuando se trata de escribir manga, pero no tiene habilidades sociales y le cuesta mucho leer las emociones de otras personas.
8/10. Kaguya-sama: Love Is War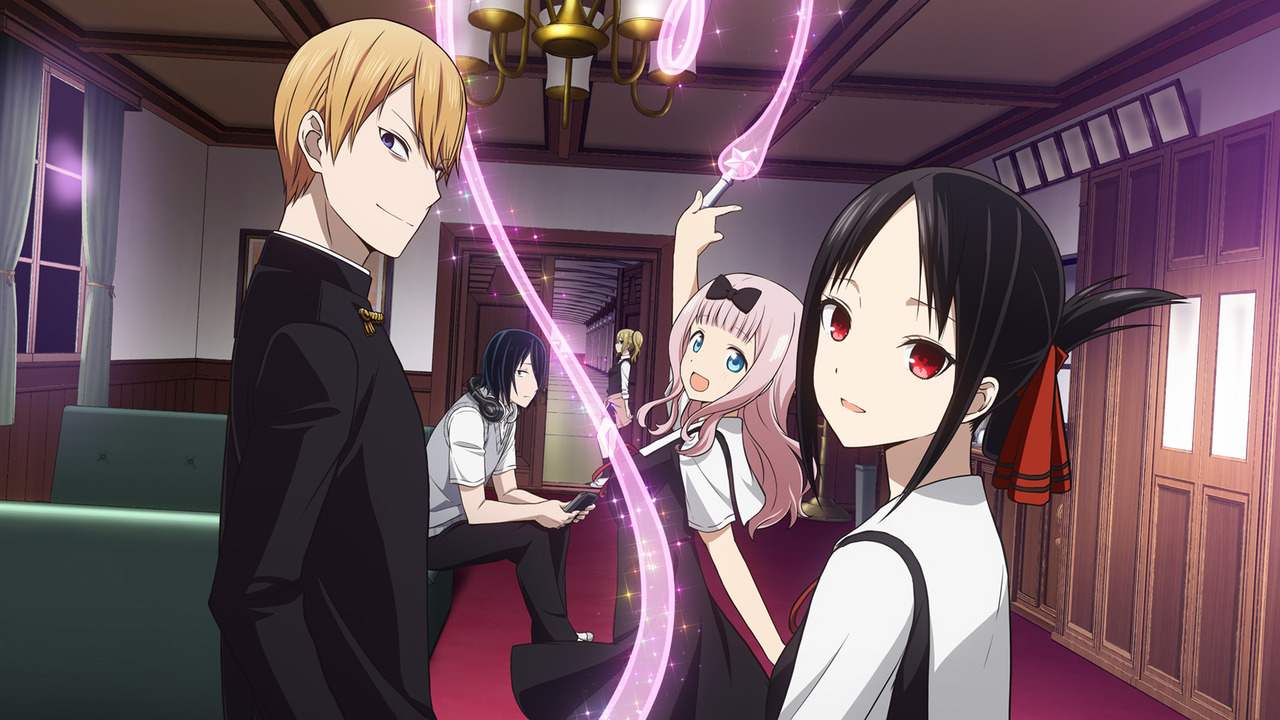 Kaguya-sama love is war es otro dulce anime de comedia romántica, donde tanto los protagonistas masculinos como femeninos se aman, pero no quieren confesarse su amor primero. Ambos traman diferentes esquemas para hacer que la otra parte les confiese.
¿Qué es parecido?
Al igual que Nariyuki, el protagonista masculino, Miyuki Shirogane en Kagaya-sama proviene de un entorno pobre.
Ambos animes ponen a personajes inteligentes en situaciones románticas incómodas.
7/10. Love Flops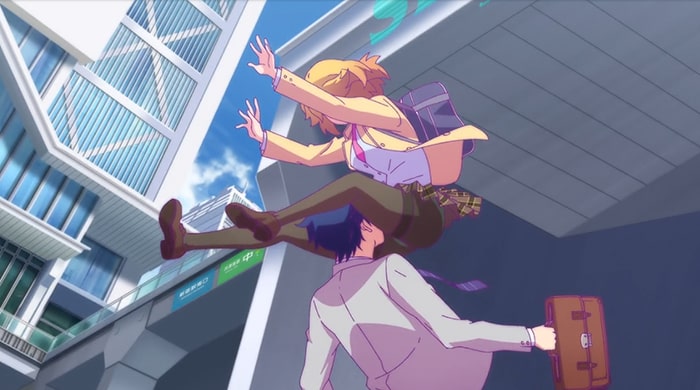 This anime is set in a futuristic world where we have AI that can pretty much do anything.
A famous AI TV fortune teller predicts high school student Asahi Kashiwagi's day in the future.
True to the AI's predictions, he gets love confessions from 5 different girls whom he has never even seen before.
As if that wasn't enough, Asahi discovers that his father has invited these five women to live at his home as bridal candidates. With no other choice, he lets them stay, which brightens his typical high school life.
However, as Asahi spends more time with them, his forgotten memories arise. Asahi believes his fate with these potential mates may be more than simply coincidence as he uncovers the truth.
Similarities between Love Flops and Bokuben: We Never Learn
Both events take place in a school environment where the main character is surrounded by other female students.
Both series take place in regular schools, but while "We Never Learn" is set in the present day, "Love Flops" is set in the future because of the technology.
6/10. Shomin Sample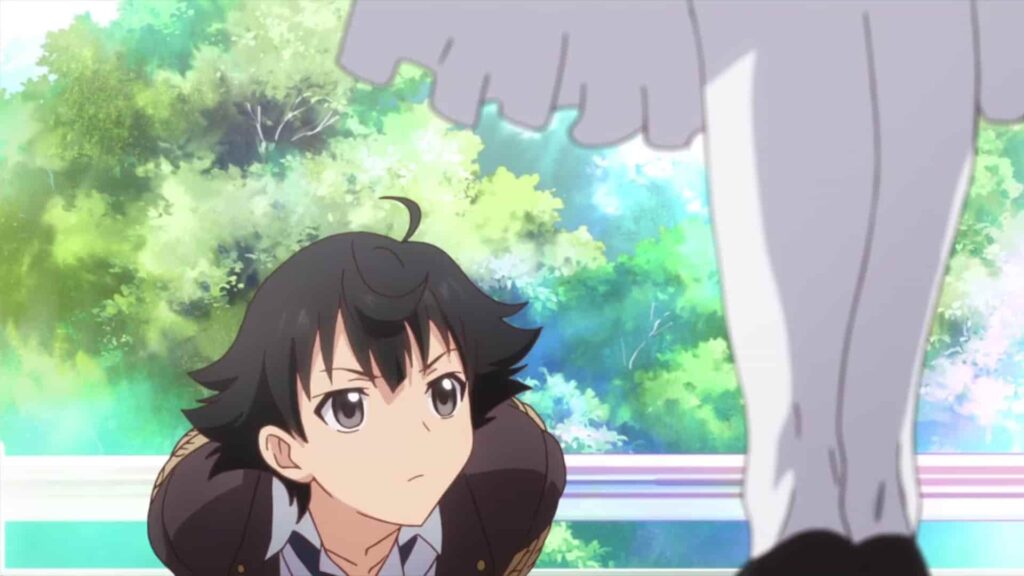 Shomin Sample is an interesting anime with a very unique plot.
The story is about Kimito who has to pretend that he has muscle fetish and prefers men. This is because he is chosen as a "commoner" sample in an all girls school.
His role is to educate the girls about men and the outside world. Because of this he can never let anyone know his true sexual preference.
But quirky girls make his life harder. He has got four girls who are interested in him in different ways, and he has to deal with them every single day. 
These four girls and Kimito form the Commoner Club, which teaches the girls about life beyond school while Kimito learns about the unusual girls around him.
How is Shomin Sample an anime like Bokuben: We Never Learn?
Both are Harem anime with girls who have their own strengths and weaknesses.
They also follow a simple premise in which a typical guy gets dragged into a scenario he cannot possibly overcome.
Both the MC has to teach the girls the basics they fail to realize in their journey to results.
It's humorous and simplistic rom com anime series with harem in it.
5/10. My Youth Romantic Comedy Is Wrong, As I Expected
That hilariously long title or just Oregaiu for short, is a brilliant rom-com anime where the anti-social kids are made to join a club where they help other people.
The main protagonist Hikigaya Hachiman, who is a part of that club, finds nontraditional, self-sabotaging ways of helping people with a pinch of hilariousness and cockiness.
Al darse cuenta de su naturaleza autodestructiva, las chicas del club (que más tarde se enteran de que están enamoradas de él y ya sabes, las cosas habituales del triángulo amoroso) intentan que cambie su forma de ser.
¿Qué es parecido?
Ambos animes suceden en un ambiente de escuela secundaria.
Similar a Nunca aprendemos, Oregairu tiene una chica genio a la que le gusta el protagonista principal. También tiene una maestra increíble (como Kirisu-sensei) que se preocupa mucho por sus alumnos.
4/10. Oresuki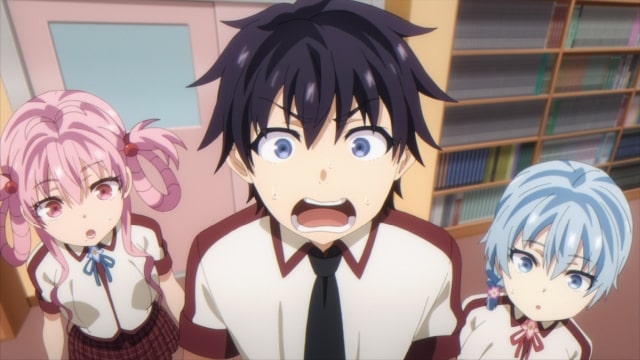 Jouro, an average second-year high school student, has two dates in one weekend—with student council president Sakura and his childhood buddy Himawari.
However, it is not an usual date. They are both meeting up with him because they're both in love with Jouro's friend, who is famous in the school.
He must now help the two girls win the same guy's love after accepting their requests for advise.
But Jouro has other plans, a hidden agenda that is just devious and kinda smart. He plots to make his friend fall in love with one of them, and take the girl who gets rejected for himself.
However, his plan is at danger because a gloomy girl wearing glasses knows Jouro's true personality and plans.
Each of the five pupils must overcome various lies, traps, and misunderstandings in this comically complicated predicament.
How is Oresuki an anime like Bokuben: We Never Learn?
Brilliant but overlooked guy surrounded by attractive women with various characteristics.
Both the protagonists are good guys who help the girls in ways they can.
Both series have intelligent girls who challenge and aid the protagonist.
3/10. Nisekoi – False Love
Nisekoi es el anime promedio de comedia, harén y romance. Debido a ciertas circunstancias familiares, el protagonista masculino y la protagonista femenina actúan como amantes y engañan a las personas para que piensen que están saliendo. A pesar de que al principio se odian, comienzan a entenderse a medida que continúan actuando.
Pero, por supuesto, Nisekoi es un anime de harén, son rivales amorosos que compiten para ganarse el corazón del protagonista principal.
¿Qué es parecido?
Tanto el anime tiene un amplio harén de chicas que están enamoradas del mc.
Tiene muchos momentos similares, como la escena del baño, la escena de perderse en el bosque, etc.
2/10. Sakurasou no Pet na Kanojo (The Pet Girl of Sakurasou)
Sakurasou no Pet na Kanojo is a beautiful romantic comedy anime where the genius, misfits are put together in a dorm named Sakurasou. The main protagonist, although he is a normal student, joins this dorm as he wants to take care of the stray cats he found (because pets were not allowed in the normal dorm.)
Allí encuentra a una hermosa niña parecida a una muñeca llamada Mashiro que no sabe nada más que arte. Ni siquiera puede cambiarse de vestido sola. El protagonista principal tiene la tarea de cuidarla por completo. 
How is this an anime like Bokuben: We Never Learn?
Al igual que Bokuben, aquí el principal protagonista masculino tiene la tarea de cuidar a una chica genio.
En ambos animes, estos llamados personajes genios encuentran el amor por primera vez en su vida.
Similar a Nunca aprendemos, este anime tiene una amiga de la infancia que ama al mc y una maestra que cuida a sus alumnos discretamente.
1/10. The Quintessential Quintuplets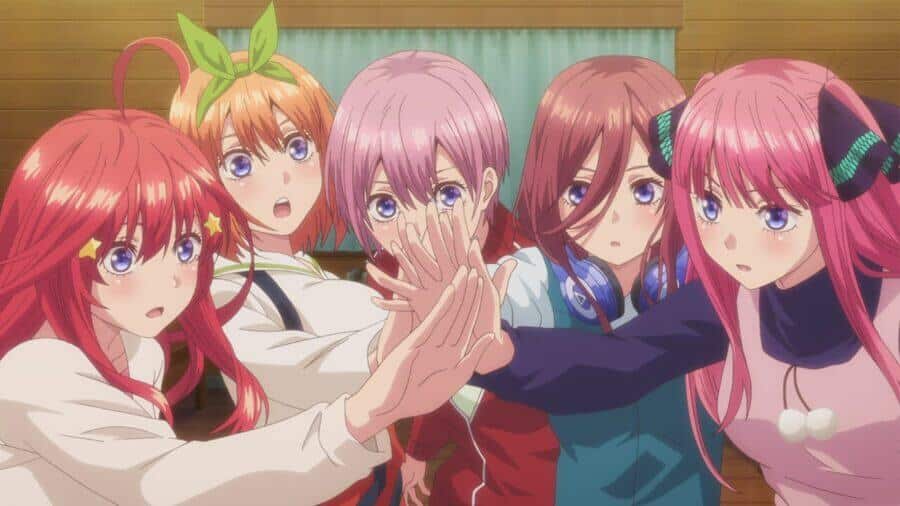 The Quintessential Quintuplets trata sobre Uesugi Fuutarou, un estudiante pobre pero brillante que ha asumido la responsabilidad de ser el tutor de algunas chicas problemáticas. Al principio, las hermanas Nakano no se sienten muy cómodas teniendo a un extraño entre ellas. Hasta entonces, solo habían confiado el uno en el otro para superar cualquier situación. Ahora, Fuutarou se ve obligado a encontrar una manera de ayudar a estas chicas a graduarse si quiere ganarse la vida. Pero, ¿será capaz de ganarse su confianza para hacerlo posible?
How is this an anime like Bokuben: We Never Learn?
Ambos protagonistas tienen la tarea de dar clases particulares a chicas problemáticas. Ambos son serios cuando se trata de enseñarles.
Ambos mc trabajan diligentemente para pagar los gastos que su familia empobrecida no puede cubrir. 
So that's it! This is my list of top 10 anime like We Never Learn. Hope you found something to watch.
¡Nos vemos en la próxima publicación!
Más tarde~