The anime industry has a lot of different genres, and one of them is "harem." Here, we get to see several girls flocking around the MC and wants to be his romance partner. If you're an otaku, you have surely tried to explore this anime genre. Now don't tell me you didn't senpai. There are also animes where we have a reverse harem. Here, we get to see a bunch of hot and handsome guys madly in love with the female MC.
Most of the time, these anime leads to situations that are both funny and sexualized, so watching them around the family is not a good idea. This means this genre is a big "NO" to watching in front of the family or without headphones. 
This genre has a lot of different categories within it, like, for example, Reverse Harem, High School Harem, Fantasy, Magic, Harem with a Disability, OP MC harem, etc. We have prepared a list of some of the best harem animes for you, so get ready and make sure to check if someone is peeping on you while reading this list.
Lieber zusehen als lesen? Schauen Sie sich unser YouTube-Video unten an:
New Harem Anime of 2023
Looking for some brand new shows in the harem genre? Here are some of the latest shows in this category that is airing in 2023. This list only contains the newest titles released before Summer 2023. I'll keep this list updated once the next season is finished. Until then, these are the top 5 shows you must watch today!
1. Summoned to Another World for a Second Time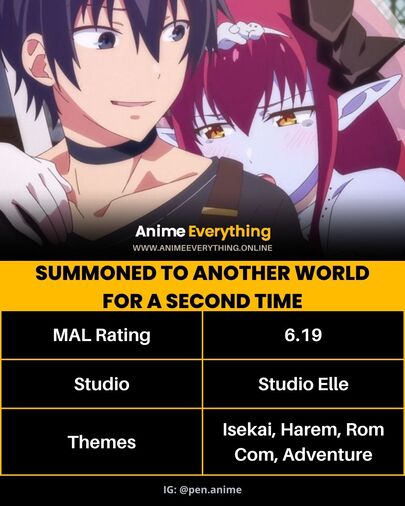 If you are a fan of isekai series then you will love this anime. This series  is based on the manga series of the same name.
The anime is about an incredible tale of a man summoned to another world as a hero who became a sensation there. But things took an unexpected turn when he got trapped and forcefully sent back to his original world. The twist? He had to restart his life from scratch as a baby!
Follow the extraordinary journey of this former hero, now a gloomy high-schooler, as he finds himself unexpectedly summoned back to the same fantastical world. Brace yourself for an adventure filled with laughter, magic, and romance.
This captivating story blends elements of adventure, comedy, fantasy, and romance, creating a unique blend of genres. Get ready for a rollercoaster ride through a world of harem and isekai, where the unexpected is the norm. Join our protagonist on this thrilling and humorous quest, and prepare to be enchanted!
2. The Aristocrat's Otherworldly Adventure: Serving Gods Who Go Too Far
On his way to a store, Kazuya Shiina tries to protect two girls from an armed attacker. Sadly, he gets stabbed and dies. But don't worry, his good deed pays off as he is reborn in a new world as Cain von Silford, the third son of a noble.
When Cain turns five, something incredible happens. He attends a special ceremony at the church and meets the seven gods who rule over the world. They reveal the truth about his reincarnation and grant him their divine powers. These powers give Cain extraordinary abilities in swordsmanship, magic, and more.
Now, armed with these amazing blessings, Cain embarks on a journey to live his dream life. But he soon realizes that the gods have bigger plans for him. They didn't just give him power for no reason. Exciting adventures and challenges await Cain as he fulfills his destiny in this new world.
3. The Legendary Hero Is Dead!
In a distant land, there's a portal called Hell's Gate that demons once used to invade the human world. But thanks to the hero Shion Bladearts and his friends, the Gate was sealed, and the demons were defeated. Unfortunately, the seal is weakening, and the demons are returning.
To protect his village, a farmer named Touka Scott digs traps to fend off the demons. Meanwhile, the legendary hero Shion meets an untimely demise when he falls into one of Touka's traps. But don't worry! Necromancer Anri Haynesworth steps in and puts Touka's soul into Shion's decaying body.
Now, accompanied by Touka's childhood friend Yuna Yunis, this unusual trio embarks on a mission to reseal Hell's Gate and save humanity. Get ready for an extraordinary and humorous adventure as they strive to be the most unlikely heroes ever!
4. The Café Terrace and Its Goddesses
Hayato was set to sell his late grandmother's dilapidated café by the shore. Little did he know, the café was also a haven for a harem of girls who considered themselves family! Determined to keep the café alive, they persuade Hayato to give it a chance. But can their efforts and intentions overcome the challenges they face? And can Hayato handle working with these spirited women? It's going to be a tough task, but he's up for the challenge!
This heartwarming and funny story falls into the genres of comedy, romance, and ecchi, with a harem theme. Get ready for an entertaining and lively adventure with a touch of romance and laughter!
5. Rokudo's Bad Girls
Tousuke Rokudou is a first-year student at Aomori High, a school known for its delinquents. He faces constant bullying from his classmates, except for his two close friends who are also outcasts. Tired of their mistreatment, the trio dreams of a fun and peaceful school life.
Everything changes when Tousuke receives a package from his late grandfather. Inside is a scroll, a family heirloom said to protect him. As Tousuke touches the scroll, a strange mark appears on his forehead, surprising him.
Though the mark doesn't stop the bullying, Tousuke soon realizes its power. It attracts the attention of delinquent girls, including Ranna Himawari, the strongest among them. Will this unexpected twist lead Tousuke closer to the school life he desires? Find out in this captivating story!
Best Harem Anime with OP MC
So here we present you the first category of Harem– Harem with OP MC. In these anime the MC is very overpowered and has to keep his abilities hidden. During their interactions, the MC tries to hide his power, trying not to scare away the female characters. Having an overpowered lead who is romantically involved with several hot female characters is a different kind of fun.
Here are some of the best harem anime to watch in 2023 that has an overpowered main character.
1. Tenchi Muyou!
Tenchi Muyou ist ein Harem-Anime mit einer erstaunlichen Handlung mit Tenchi Masaki, dem übermächtigen MC der Show. Lebt in Japan bei seinem Großvater, der ihn als Schwertkämpfer und Shinto-Priester ausbildet. 
One normal evening, a group of alien girls arrives at Tenchi's house. Surprisingly, the extraterrestrial chicks are interested in the OP protagonist and want to have a different kind of relationship with him. Tenchi Masaki who has now idea about his hidden powers, slowly starts to discover truths about himself as the series goes on. 
Episoden: 26
---
Verwandte >>
---
2. Dai Shogun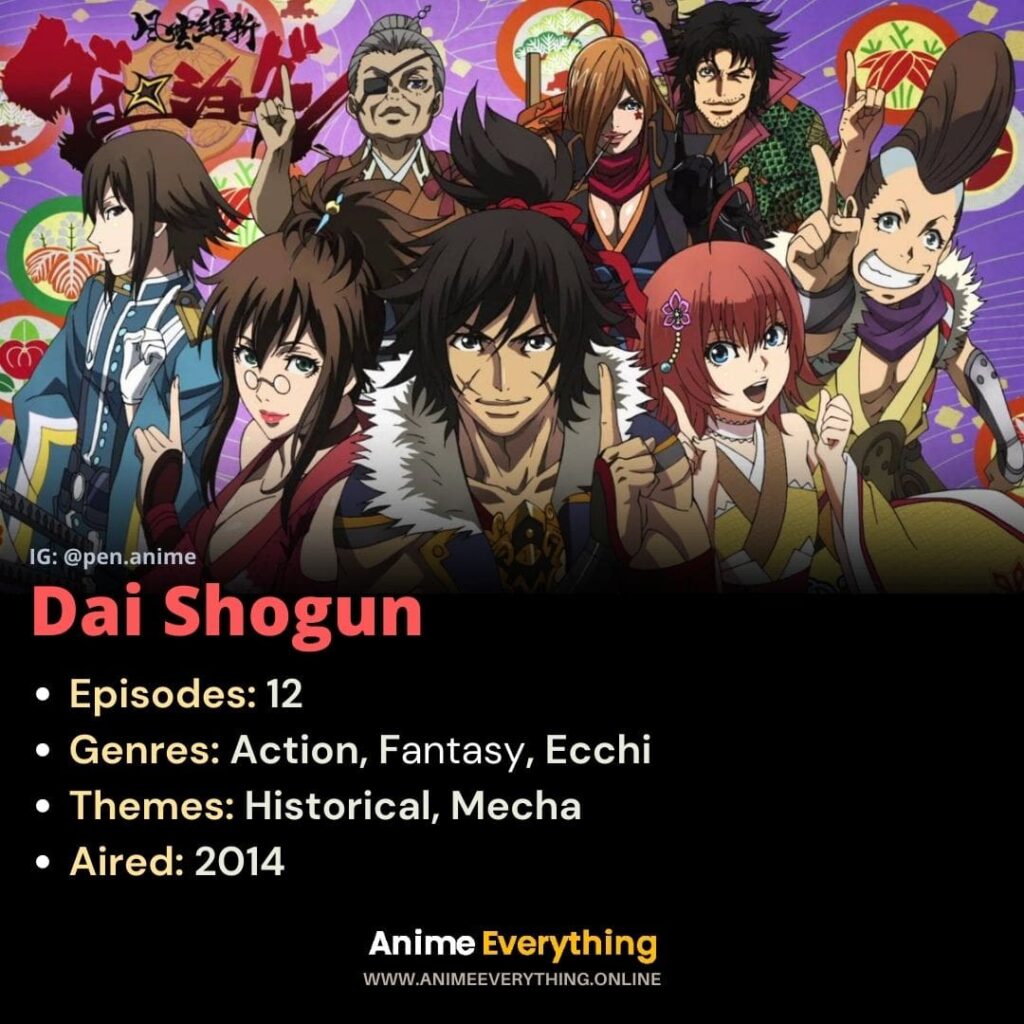 Diese Geschichte spielt in der Edo-Zeit in Japan, als ausländische Schiffe das Land angriffen, aber ein uralter riesiger Roboter namens Onigami die schwarzen Schiffe zerstörte. Keiichiro, der übermächtige MC der Show, ist ein Charakter, der weiter kämpft und trainiert, um besser zu werden. 
Seine Schärfe ist jedoch für Mädchen unwiderstehlich.
But, he also doesn't like to be involved with "welcoming" females who are trying to bind him. Watch Dai Shogun to find out if Keiichiro manages to train or gets bedazzled by some huge melons and pies.
Episoden: 12
3. Triage X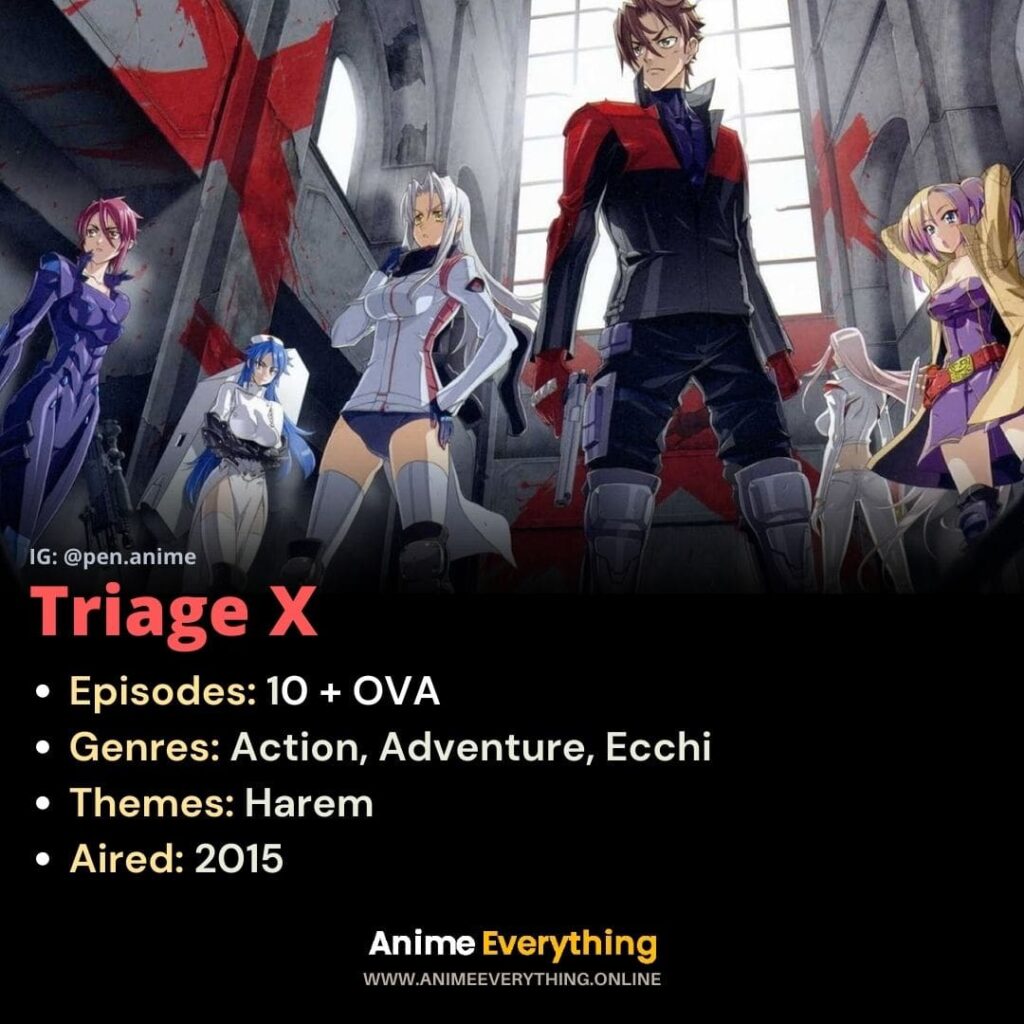 This anime is about a secret organization that has the goal of killing evil in society and doing God's work. They are known as the "Black Labels." Sounds badass, right?
Das Konzept dieses Anime ist sehr interessant. Sie werden Charaktere mit ansprechenden Körpern und Kräften finden. Der übermächtige MC dieses Anime ist Arashi, der am besten aussehende Mann im Anime. Er konzentriert sich gerne auf seine Missionen und neigt dazu, asozial zu sein. 
Er hat einen Teamkollegen namens Mikoto, der unseren MC nicht so mag. Aber wie es in einer Harem-Serie selbstverständlich ist, beginnt Mikoto langsam, während die Geschichte zum Leben erweckt wird, sich Hals über Kopf in Arashi zu verlieben.
Episoden:10
4. Hundred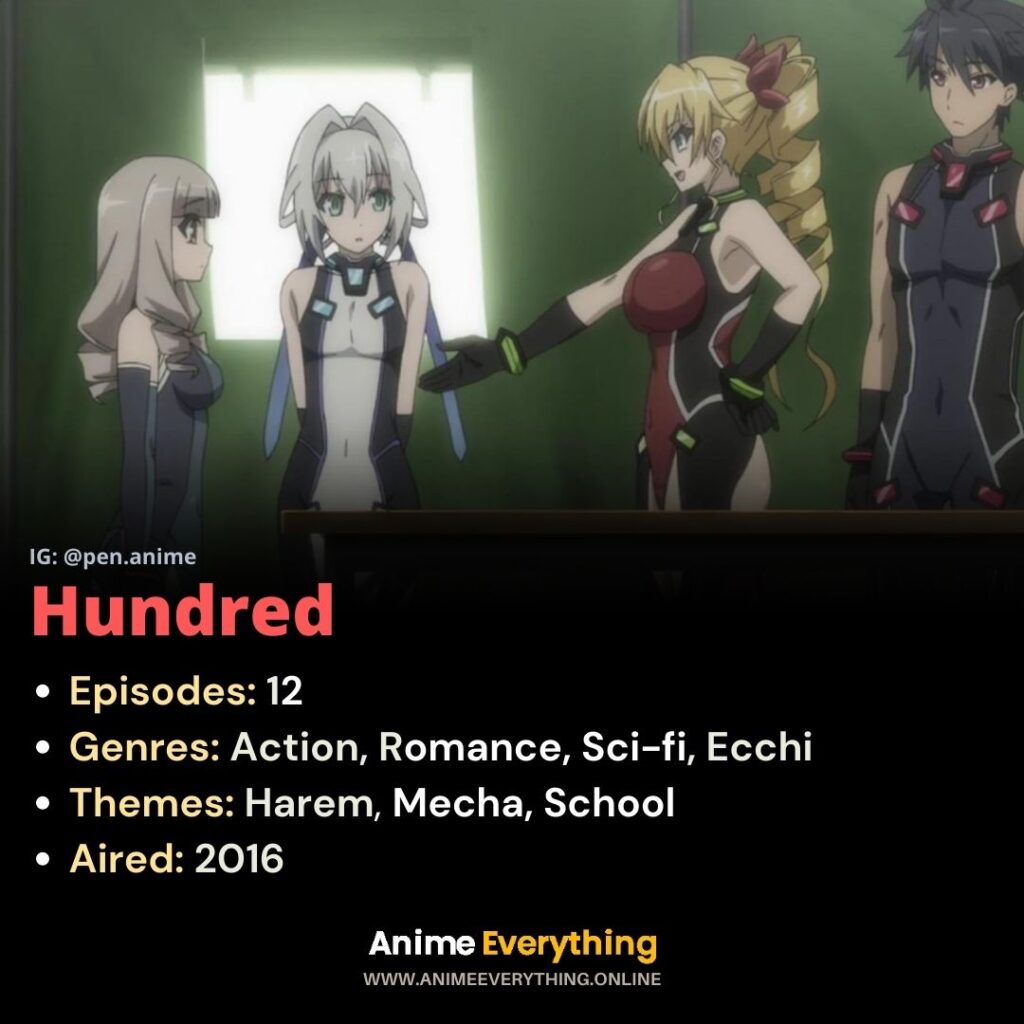 In the anime, the world is weaponised by a weapon called "Hundred", which can transform into anything. Amazing, right? To be honest, the start of the anime is a little off-putting, but after a couple of episodes, you try to soak in the interesting plot.
Aber abgesehen von der Verschwörung weiß ich, warum Sie hier sind. Der freche Teil des Anime. Der überwältigte MC der Show ist also Kisaragi Hayato. Er hat den besten Powerriegel im Anime, was viel weibliche Aufmerksamkeit auf sich gezogen hat. Außerdem ist der Fanservice in Hundred auf einem perfekten Niveau und Sie werden davon nicht enttäuscht sein.
Episoden: 12
5. Aesthetica of a Rogue Hero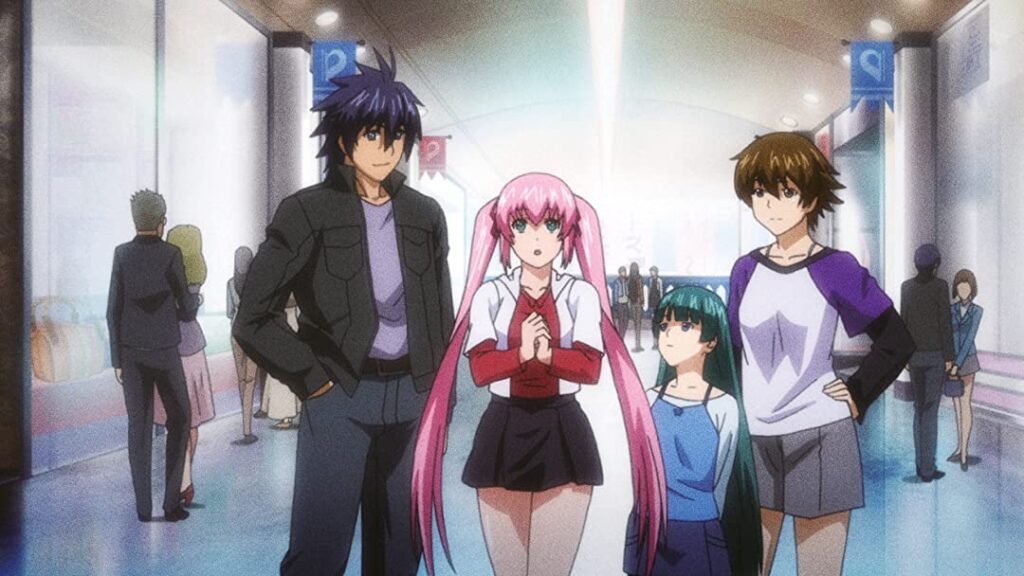 Diese Geschichte basiert auf einer magischen Welt, in der Charaktere von mehreren Meistern lernen, wie man Magie benutzt. Es gibt eine Organisation, die Kindern hilft, ihre angeborenen Kräfte zu entwickeln und sie für die Verbesserung der Gesellschaft einzusetzen. 
Die Hauptfigur ist Akatsuki. Nein, wir reden nicht über den aus Naruto Verse, also vergiss das für einen Moment. Akatsuki ist also der MC, der zufällig das am besten aussehende Gör in diesem Anime ist. Die weiblichen Charaktere in der Show haben eine Schwachstelle für ihn. Finde heraus, was in diesem erstaunlichen Harem-Anime passiert, indem du zusiehst, wie sich die Geschichte entfaltet.
Episoden: 12
6. How Not To Summon A Demon Lord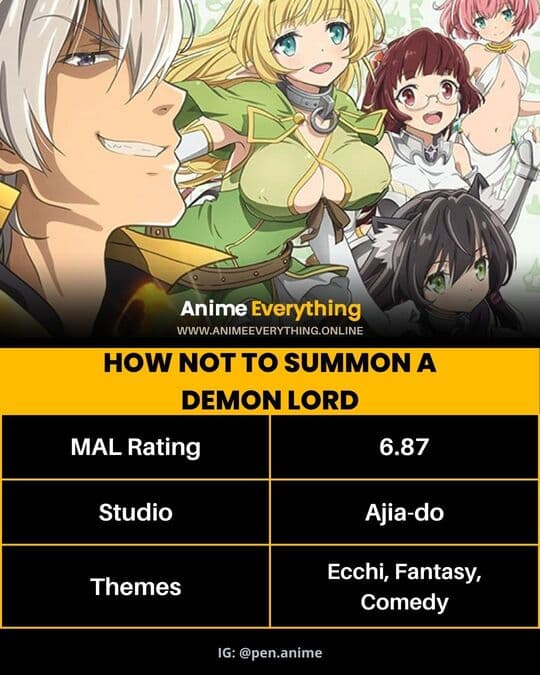 "How Not To Summon A Demon Lord"! anime TV series adaptation, produced by Ajia-do Animation Works, was released from July 5 to September 20, 2018. And guess what? A second season by Tezuka Productions and Okuruto Noboru aired from April 9 to June 11, 2021!
In this series, you'll meet a young person who spends most of their time at home and becomes a powerful demon lord in an online video game. But here's the twist: they suddenly find themselves transported into the game's fantasy world! Now, they must find a way to return to Earth while also helping two girls who admire them. It's a mix of adventure, comedy, and a touch of romance – truly one of the bester Isekai-Anime out there in the ecchi-harem genre!
7. Date A Live!
Step into the exciting world of a distant future where space invaders threaten humanity's existence. These relentless attacks trigger catastrophic space quakes, claiming countless lives. But fear not, because there's a hero with a unique strategy: Shido Itsuka.
In an attempt to save the planet, Shido embarks on a mission to date these beautiful invaders. Yes, you heard it right! By building relationships with them, he hopes to put an end to the invasions. It may sound hilarious, but brace yourself for thrilling action, abundant fan service, and an incredibly entertaining experience!
This series is packed with adventure, humor, and plenty of eye-catching moments. If you're looking for an anime that will keep you hooked from start to finish, this is the one! Join Shido on his extraordinary journey to save humanity and witness a mix of romance, comedy, and epic battles. Get ready for an out-of-this-world ride that will leave you wanting more!
Top Reverse Harem Anime You Must Watch
Wenn Sie sich die Harem-Sektion von Anime ansehen, finden Sie eine große Anzahl von Serienlisten mit einem männlichen Protagonisten. Aber wie wäre es dann mit einer Geschichte mit einer weiblichen Protagonistin? Ein Anime, in dem es einen Harem heißer männlicher Charaktere gibt, die versuchen, die weibliche Hauptrolle für sich zu gewinnen.
This category is a part of the harem, which is called the "Reverse Harem," where the whole story is twisted and turned for a female MC. We have listed some of the best Reverse Harem anime. Enjoy.
1. Kakuriyo: Bed and Breakfast for Spirits
Dieser Anime nimmt uns mit auf ein Abenteuer, bei dem die Charaktere menschenfressenden Monstergeistern gegenüberstehen. Das ganze Konzept dreht sich um den Geist. Aoi Tsubaki, die Moderatorin der Show, hat eine gottgegebene Fähigkeit, mit der sie diese Geister sehen und mit ihnen sprechen kann.
Der König der Geister taucht vor ihrer Tür auf und bittet sie, ihn zu heiraten, um einige Schulden zu begleichen. Aoi weigert sich und schlägt vor, ein Restaurant für die Spirituosen zu eröffnen. Sie serviert den Kunden, die heiße Junggesellen und menschenfressende Seelen sind, Essen. Sie wird schnell zur Augenweide für die männlichen Charaktere. 
Episoden: 26
2. Fruits Basket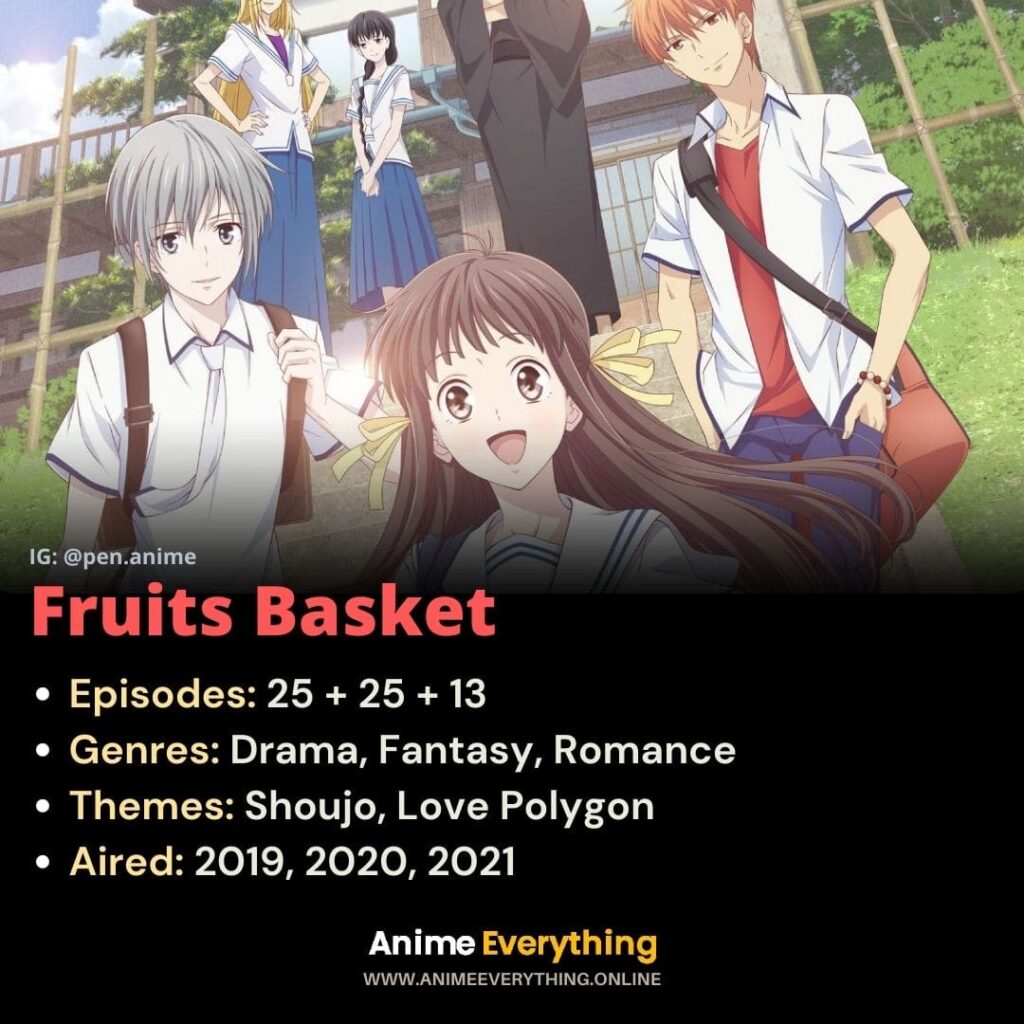 Dies ist eine süße Geschichte über Toorus Leben. Sie lebt in einer Familie von Brüdern. Es ist ein sehr gesunder Harem, aber als sich die Geschichte zu entfalten beginnt, findet der MC heraus, dass die Brüder verflucht sind, und wenn ein Mädchen sie umarmt, verwandeln sie sich in Tierkreiszeichen. 
Sie müssen sich Fruit Basket ansehen, um das ganze Dilemma hinter dem "Fluch" vollständig zu verstehen. Dies ist ein umgekehrter Harem-Anime, in dem Sie auch eine interessante Handlung finden werden, und nicht nur einige anzügliche Szenen.
Episoden: 63
3. Kamisama Kiss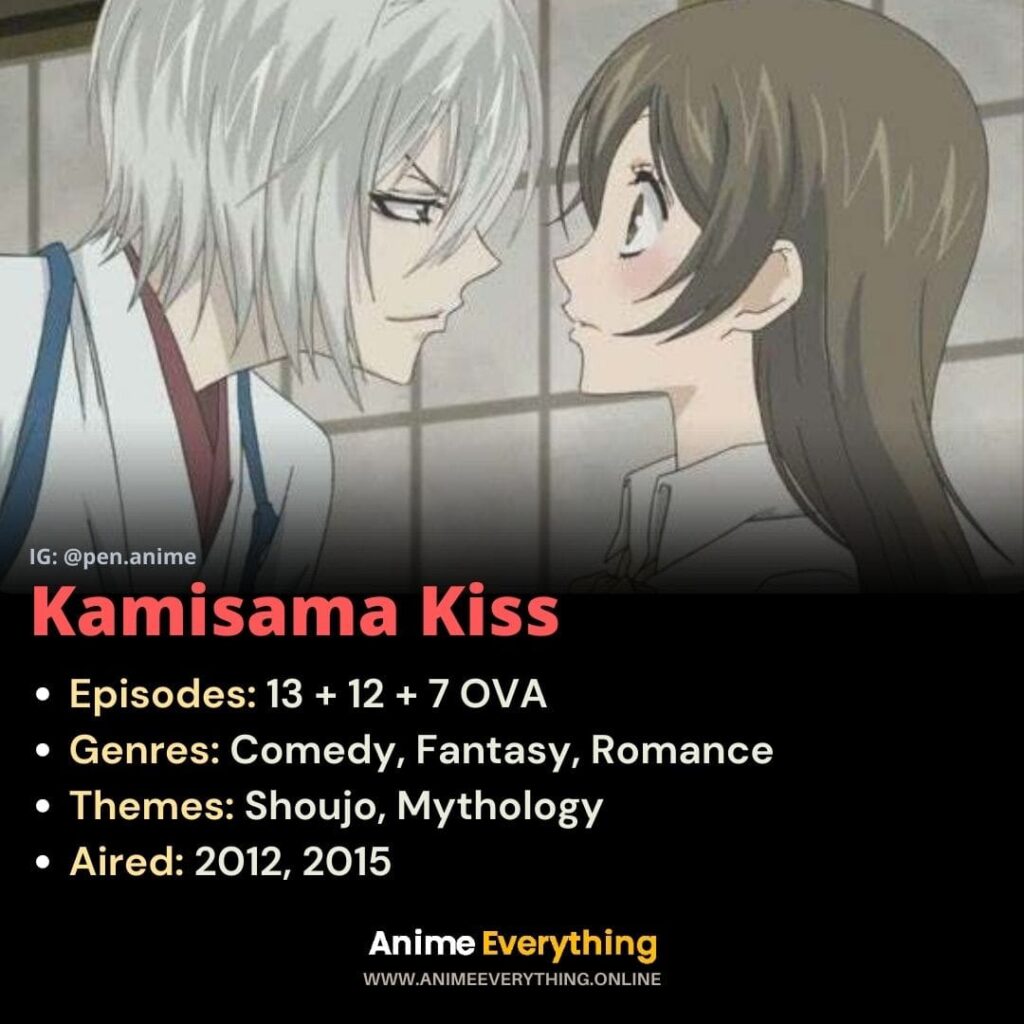 Dieser ähnelt Fruits Basket; hier steckt unsere weibliche MC, Nanami, in finanziellen Problemen und wird obdachlos. Da sie sich auf niemanden stützen kann, steckt sie in der Klemme. Zu dieser Zeit adoptiert ein Mann, der eigentlich ein Fuchsgott ist, sie. Nanami fängt dann irgendwie an, sich wie ein Gott zu verhalten. 
Nanami trifft dann auf den Schlangengott, der ihr einen Heiratsantrag macht. Sie verleugnet ihn, da sie Gefühle für den Fuchsgott hat. Es gibt Monster, die ihr den Kopf abbeißen wollen, aber es gibt viel männliches Interesse an der neuen Nanami. 
Episoden: 25
4. Brothers Conflict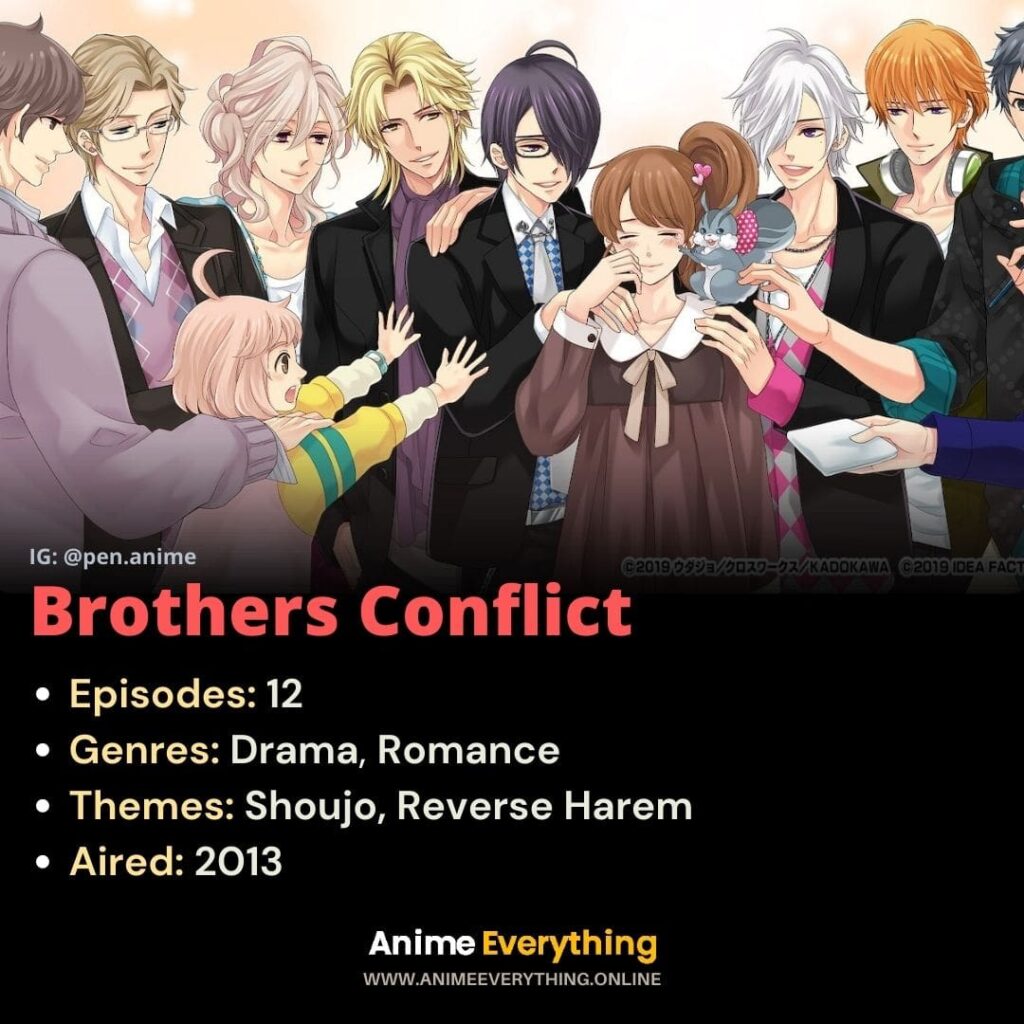 Meistens werden Sie 4-5 männliche Charaktere finden, die über die führende weibliche MC sabbern, aber das ist hier nicht der Fall. Der MC namens Ema kann aus 13 Stiefbrüdern wählen, die sich sehr voneinander unterscheiden. 
Während die Geschichte in diesem Reverse-Harem-Anime weitergeht, wirst du herausfinden, wie Ema in eine schwierige Situation gerät. Die Brüder sehen gut aus, sind anmutig und voller Liebe zu Ema. Für wen denkst du wird sie sich entscheiden?
Episoden: 12
5. Fushigi Yuugi
Fushigi Yuugi is one of the retros where our female MC, "Miaka Yuuki", gets "isekaied" to a fantasy world. This one is the most fun reverse harem anime you will ever see. Also, it is an anime filled with fantasy and some naughty action.
It turns out Miaka is a prophesized priestess who can summon a God where she can be granted 3 wishes. But before this happens, the new priestess must find out where her bodyguards are because she needs to be protected from the danger coming. The soldiers are actually some fine looking men in the fantasy world. Two of them try to win Miaka, while the remaining are just "heart eyes" for our priestess. 
Episoden: 52
6. Dance with Devils
Ritsuka Tachibana ist überrascht, als der Studentenrat nach ihr sucht. Rem Kaginuki führt den Rat bei der Befragung von Ritsuka an.
Ritsuka is apparently connected to the grimoire. Her mother is kidnapped and she finds herself in a battle between vampires and devils. Will his brother's return give her relief?
Episoden: 12
7. Diabolik Lovers
Diabolik Lovers ist ein Shoujo-, Vampir-, Reverse-Harem-Anime.
Yui Komori's father sends her to the Sakamaki brothers' mansion. Yui is a vampire's sacrificial bride. She is horrified that she will also provide their carnal pleasures.
Yui's nights of suffering begin when the vampires show no mercy. Will she find a way out or will a miracle occur?
Episoden: 24
Best School Harem Anime
Die High School ist die Phase, in der die Schüler viele neue und seltsame Entdeckungen über sich selbst und andere machen. Der Harem School Anime fängt diese Phase ihres Lebens sehr gut ein; die Verlegenheit, das Aufwallen von Hormonen oder das Experimentieren mit neuen unanständigen Dingen. 
The best part about this category is that the schools aren't always normal schools. They are Demon Schools, Magic Schools, Sports Academies, etc. You find out that the girl you find terribly cute is actually a demon goddess, and then you're intrigued to find out more about the story. We have gathered some of the best school harem series. Check them out and enjoy.
Empfohlen >> 15+ beliebteste Anime mit Magie und Harem
1. The World God Only Knows
This Japanese anime series, created by Tamiki Wakaki, is a delightful harem story. Meet Keima Katsuragi, a passionate player of gal games, who is famously known online as "The God of Conquests" for his incredible ability to win over virtual girls.
But here's the twist: in his real school life, Keima is labeled as an otamega, which combines the words otaku and Megane in a not-so-flattering way. Despite this, Keima's journey unfolds as he navigates both his virtual conquests and the challenges of his everyday life.
If you're a fan of harem anime, this series is a must-watch! Join Keima as he embarks on hilarious and heartwarming adventures, making "The World God Only Knows" an unforgettable anime experience. Get ready to be charmed by this captivating tale of love, comedy, and gaming prowess!
2. Shuffle!
Shuffle wurde Anfang 2004 veröffentlicht und als Videospiel für Erwachsene eingeführt, das auf den japanischen Straßen ziemlich berühmt war. Das Spiel wurde so beliebt, dass sie aus den Spielbögen einen Anime erstellten, der auch von den Otakus gut angenommen wurde. 
The MC is trapped in a world between demons and gods. Besides that, he also has to live a normal school boy's life. The animation and the characters do justice to the story. If you're interested in watching demon girls and angels get into it, then this is perfect for you.
Episoden: 24
3. Highschool of the Dead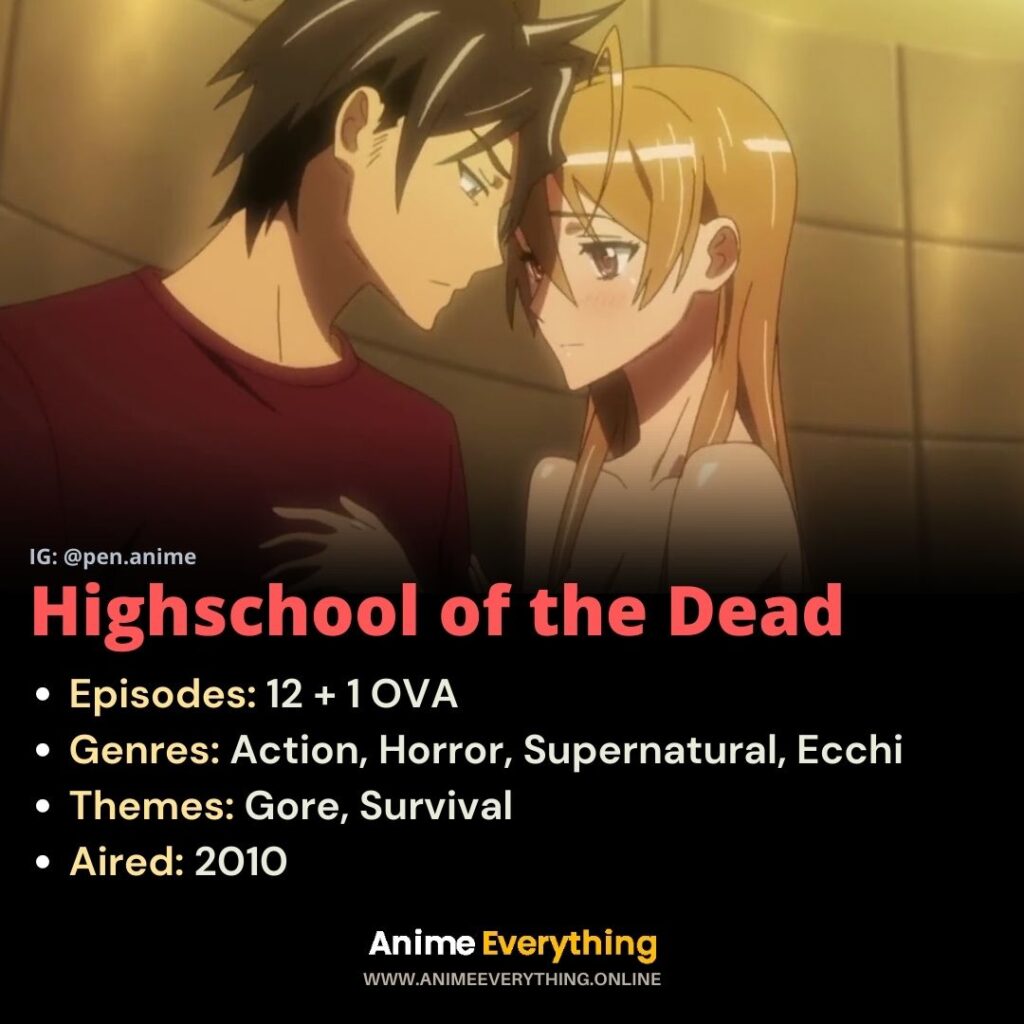 Highschool of the Dead is one of the best harem anime of all time. This is why it happens to be famous between the Otakus! The world faces a global pandemic, and Takashi, who is our MC, has to embark on a dangerous journey. 
Any ideas on what this journey might be? Well, Takashi has to survive a zombie apocalypse alongside some hot high school girls. This anime will keep you interested throughout. The amazing, crisp animation and music will keep you hooked. What's more, the fanservice in this anime is kind of borderline hentai. In particular, the final OVA episode almost crossed the lines.
Episoden: 12
4. Mayo Chiki!
Mayo Chiki revolves around Kinjiro Sakamachi, a student who has a fear of the opposite gender. You remember the good ol' horny nosebleed of anime characters? Yeah, that's what happens to Kinjiro when he comes into contact with a female.
There are many interesting characters in this romantic comedy series. The MC is someone who likes to help others despite his fear. He helps the butler named Subaru Konoe, who is actually a lady hiding herself from the world. The animation is top notch and you won't be bored binging on this series, so give it a go! 
Episoden: 13
5. Trinity Seven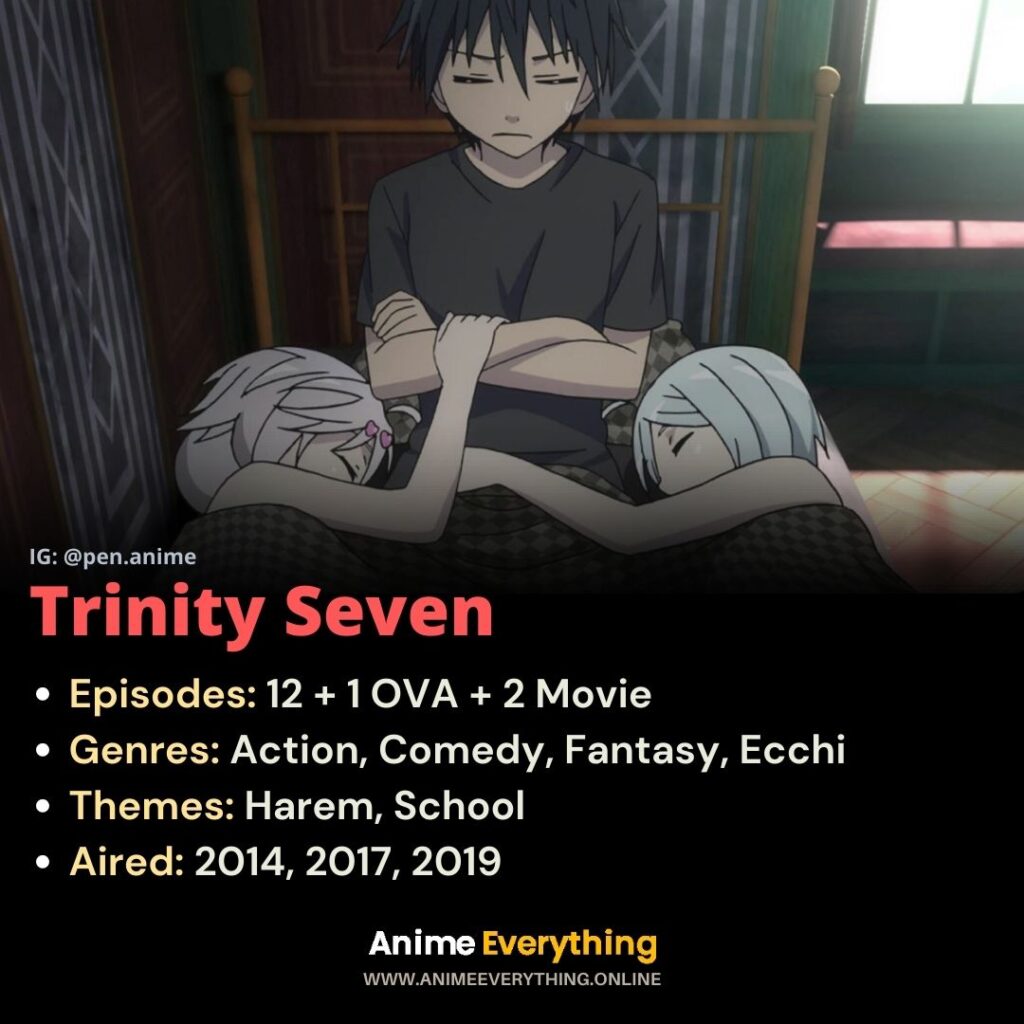 Diese Geschichte spielt, nachdem die Welt des MC durch das Gravitationsereignis der Schwarzen Sonne zerstört wurde. Er wird in eine Welt voller Magie teleportiert. 
Arata Kasuga (MC) trifft verschiedene Charaktere, die Magier sind. Dann schreibt er sich in eine Schule ein, die mit Zauberern und Hexen vollgestopft ist. Dies ist eine gesunde Serie im Haremsstil, in die Sie sich verlieben werden. Die Handlung, die Animation und die Musik bekommen von uns die volle Punktzahl. Wenn Sie sich für Fantasy oder Harem interessieren, müssen Sie sich diesen wunderbaren Anime ansehen.
Episoden: 12
6. Rosario & Vampire
For some reason, the anime industry has always been fascinated with the idea of sending vampires to schools. This harem rom-com series is about a ordinary high school student whose high school life changes forever.
Tsukune, who is the protagonist, unknowingly enrolls himself into a school full of monsters and mages. He comes across Moka, who is a hot female vampire. 
Also ist Moka Akashiya ein Herz für Tsukune und möchte einen Schluck von seinem Blut haben. Während Tsukune diese Schule nur betrat, weil er in keiner anderen Schule erfolgreich war, macht dies die Geschichte interessanter. 
Dieser packende Anime, in dem ein normaler menschlicher Junge in eine Monsterschule kommt, ist definitiv ein Muss. Sie werden die Charakterdesigns und Personas lieben.
Episoden: 26
7. Strike The Blood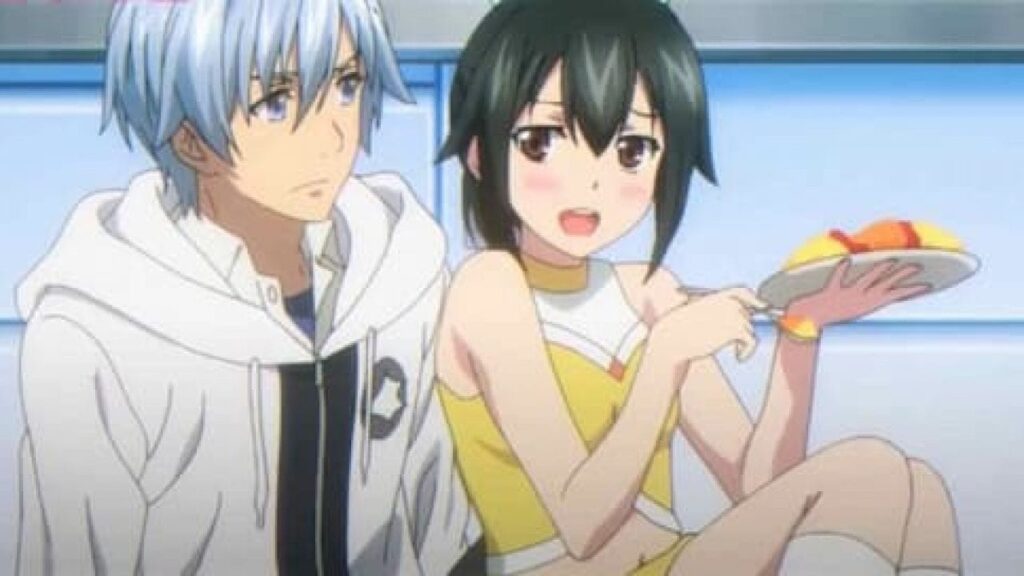 Strike The Blood ist ein beliebter Vampirromantik-Anime. Fanservice und Ecchi-Inhalte in dieser Show sind möglicherweise nicht jedermanns Sache.
Kojou Akatsuki was on Itogami Island. He was a normal school student on the island's Demon District. When he gets vampire abilities and learns he's the fourth primogenitor, his life is takes an unexpected turn.
His legends describe his destructive power. Fearing Akatsuki's power, the Lion King Organization sends a sword-shaman.
Episoden: 58
8. To Love Ru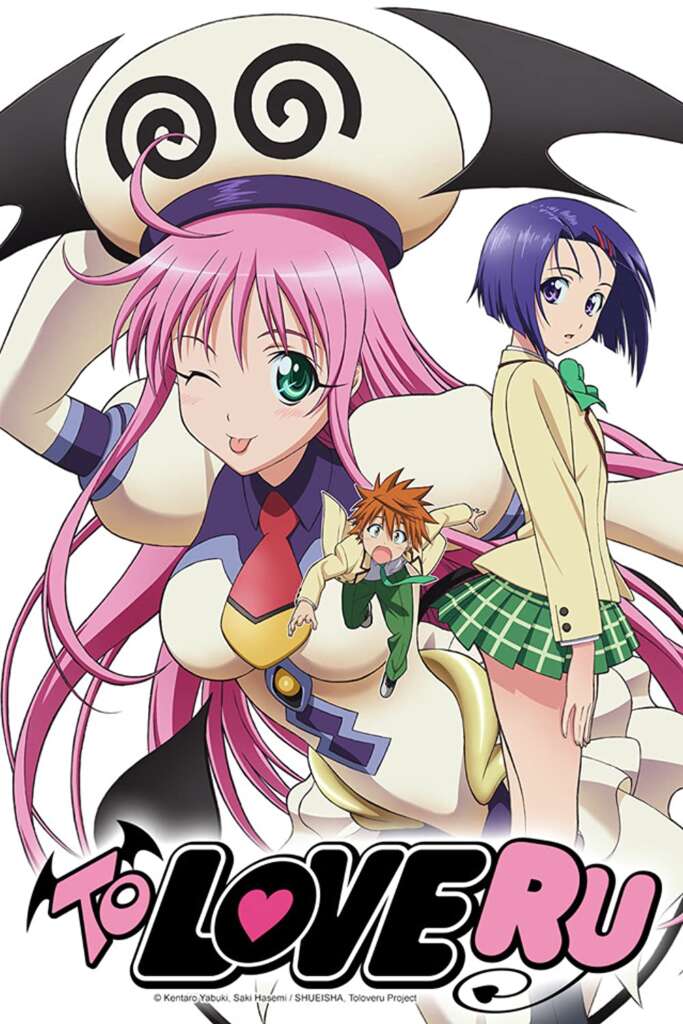 To Love Ru is a classic ecchi harem story. Most fans start with To Love Ru. Sometimes it's used to prank new anime fans. The story begins perfectly for an ecchi anime.
Rito Yuuki loves his classmate Haruna. Yuuki wants to confess, but a naked girl falls on him while bathing, complicating matters. Rito's life is about to take a wild turn when the girl introduces herself as an alien princess.
Episoden: 62
Top Harem Anime With Magic
Magic and Curse are the most over-used concept in Anime World, the point is how well the story is told to the Audience. Now let's add some attractive anime girls to the magical part, which makes it more interesting and fun. We have listed some of the popular anime where we get to see a harem of beautiful women, and a world filled with magic and fantasy.
1. High School DxD
High School DxD is the undeniable harem king in the world of anime. It's plot stands out among other ecchi anime in the genre. When the story gets boring, it's normal to lose interest in ecchi anime. The MC of this japanese anime is a high school boy who dies but gets a second chance at life. He is saved by an attractive girl who is a demon. His life changed completely after that.
High School DxD's great story and character development will hook you. Alongside it are ecchi scenes with the Occult Club girls. Throughout the story, president Rias Gremory, the fallen angel Akeno, and a harem of demon girls entertains you.
Episoden: 48
2. In Another World with my Smartphone
Wir alle machen Fehler, oder? Sogar Gott macht manchmal ein paar Fehler. Eines Tages schlägt Kami Sama versehentlich aus dem Nichts einen Blitz auf Touya Mochizuki und tötet ihn versehentlich. Als gute Geste erfüllt Gott ihm also einen Wunsch.
Other than a wish, he also offers him a chance to live in a world full of magic and fantasy. The MC wishes to keep his smartphone and accepts the offer to live in a magical world. Although Touya never had any plans to build a harem, he ends up with one. Throughout the series, gains numerous experiences with beautiful girls from the magic world. He shows them the concept of a smartphone and becomes a favourite among them.
Episoden: 12
3. Black Clover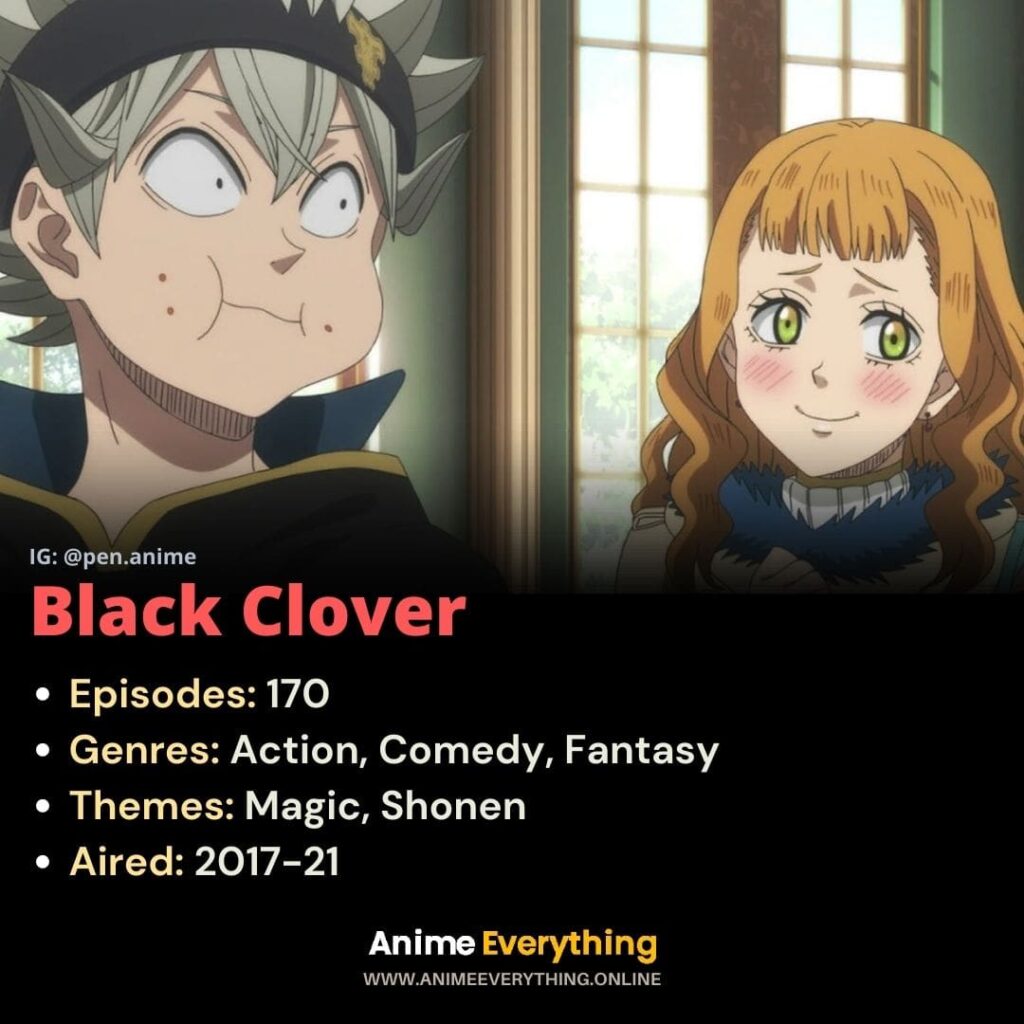 Black Clover is an action harem anime with magic. Asta, who is the protagonist of the show, is in love with the beautiful Sister Lily. He promises her that he will become the Wizard King and marry her, whereas whenever Asta tries to act funny, Sister Lilly blasts him off with her water magic.
Als sich die Geschichte zu entfalten beginnt, trifft Asta auf Noelle, die aus einer königlichen Zauberfamilie stammt. Sie endet mit Asta als Black Bull. Langsam stellt sich heraus, dass Noelle eine Schwäche für Asta und seine Possen hat, und dann werden wir Mimosa vorgestellt, die Asta offen liebt.
Episoden: 170
4. Yamada-Kun and the Seven Witches
Yamada-kun & the Seven Witches has one of the best storylines. This can also be considered in the category of High School Harem comedy. When Ryu Yamada (MC) joins a new school to start over his life for the better, which doesn't work as in the second year, Ryu starts with his old antics.
Als Ryu mit Urara Shiraishi zusammenstößt, einer wunderschönen Studentin mit Auszeichnung, fallen sie aufeinander, was zu einem versehentlichen Kuss wird! Jetzt entdecken sie eine magische Fähigkeit: Wenn sie sich küssen, können sie ihre Körper miteinander vertauschen. Langsam beginnen sie, mehr über die übernatürliche Fähigkeit herauszufinden. Sie finden die 7 Hexen der Suzaku High School.
Yamada-kun finds himself surrounded by a harem of beautiful girls, and there's seven of them! They are the 7 witches. All of them have different witch powers that are activated by a kiss. The Supernatural Club starts a study to find the truth about their magical powers. Watch the anime to enjoy the amazing plot and Yamada-kun's antics. The fan service is amazing in this anime.
Episoden: 12
5. Demon King Daimao
Akuto Sai (MC) wünscht sich eine bessere, friedlichere Welt und meldet sich an einer Constant Magic Academy an, einem Ort, an dem er seine magischen Fähigkeiten verbessern kann. Akuto trifft einen Shinobi namens Junko Hattori und sie werden gute Freunde. 
Ihre Freundschaft gedeiht, weil sie beide einen ähnlichen Traum teilen, der darin besteht, die Welt zu einem besseren Ort für die Menschen zu machen. Als die Geschichte Gestalt annimmt, finden wir heraus, dass Akuto prophezeit wird, der Dämonenkönig zu sein. Dies schwächt die Freundschaft und Junko beginnt das Vertrauen in Akuto zu verlieren. Die ganze Schule beginnt in Angst vor Akuto, dem zukünftigen Dämonenkönig, zu leben. 
However, there are a bunch of girls who are crazy for the MC. He is constantly showered with their love. The anime has a good plot and gets interesting episode after episode. Also, the harem aspect is just the right amount for the otakus.
Episoden: 12
6. Maken-Ki! Battling Venus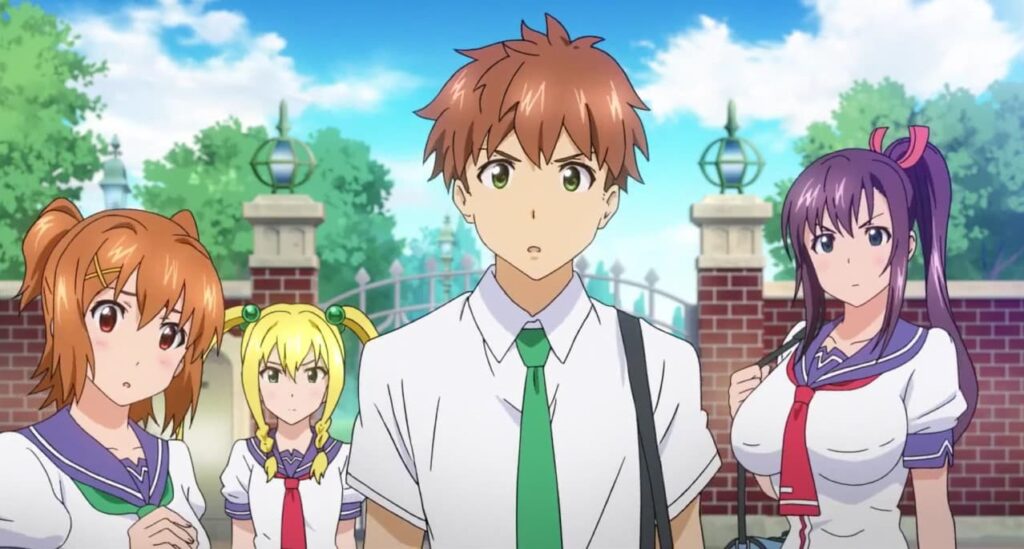 Takeru Ohyama, unser MC, ist ein einfacher Typ und ein großer Perverser. Er besucht eine neue Schule, in der Magie und Kampf unterrichtet werden. Takeru ist sich dieser Tatsache überhaupt nicht bewusst und beginnt, die Instanzen zu kennen. 
Inaho Kushiya, eine Studentin, die sagt, sie sei seine Verlobte, und Kodama Higema, ein blondes Mädchen, das Takeru hasst und ihn erledigen will. Langsam findet Takeru heraus, dass es neben Kodama noch viele Mädchen gibt, die ihn wegen seiner perversen Possen hassen. Eine spezielle Waffe namens Maken wird in dieser Schule für Kampf und Magie verwendet. Takeru braucht einen Maken, um ein Duell zu führen. 
Er findet heraus, dass er kein Maken hat und auch nicht zaubern kann und sich auch nicht im Kampf auszeichnet. Was wird Ihrer Meinung nach der nächste Schritt für Takeru Ohyama sein?
Episoden: 12
7. Redo of Healer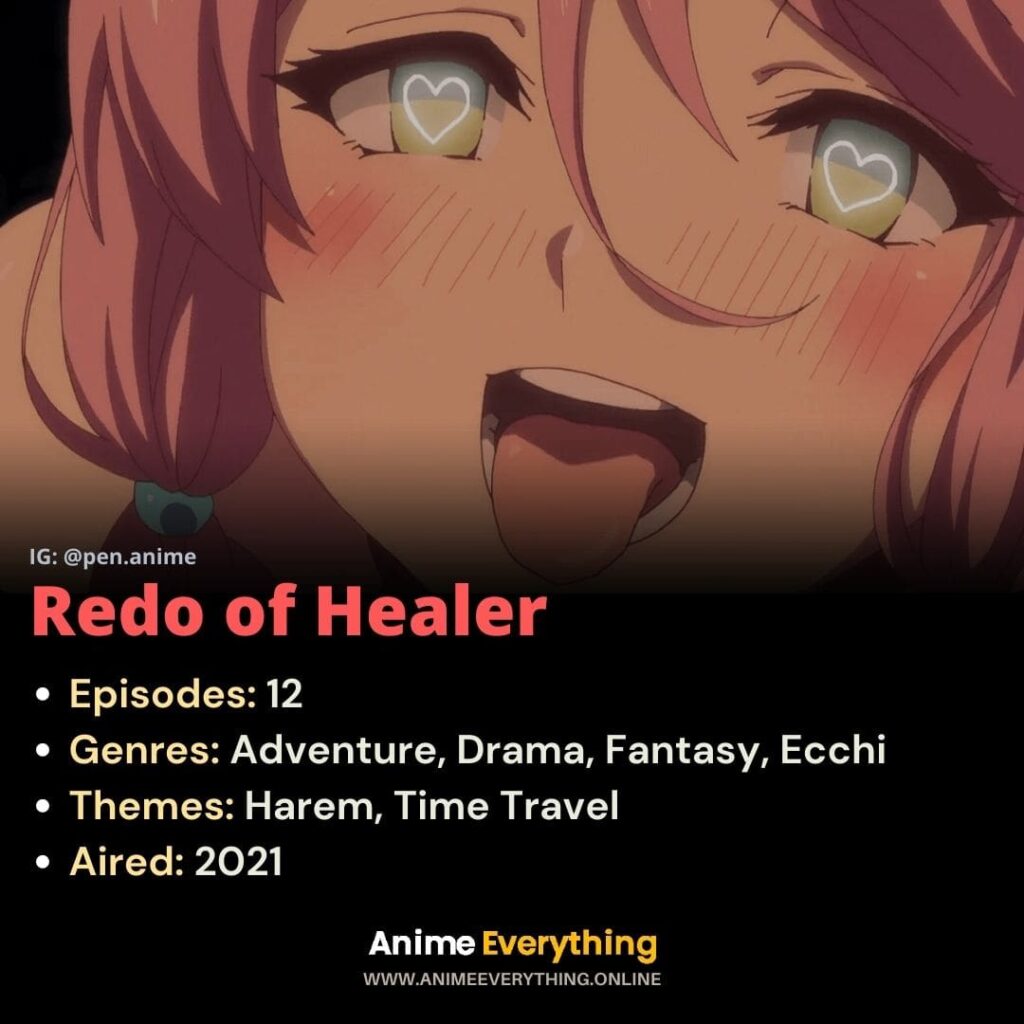 Redo of Healer is an infamous Japanese harem anime with extreme ecchi content in it. Since everyone is home due to covid, it's the perfect release year. No better time to watch an ecchi anime, right? But here's a fair warning. This anime has extreme adult content. Watch the censored version if you're not into explicit content.
Die Geschichte folgt Keyaru, einem Heiler. Normalerweise wird ein Heiler schonend behandelt, aber nicht in seinem Fall. Er beschloss, seine ganze Kraft einzusetzen, um die Zeit zurückzudrehen und sich für sein Leiden zu rächen.
Episoden: 12
That's it for this post! These were some of the most popular harem anime series that you must definitely try if you're into this category.
Wenn Ihnen das, was Sie gelesen haben, gefallen hat, ziehen Sie in Betracht, auf das Glockensymbol in der unteren Ecke zu klicken, um Postbenachrichtigungen zu abonnieren~
---
Loved the recommendations? Share it with your friends!
---